I am pleased to present a new Solo Travel Destination Post from Lia, a member of the Solo Travel Society on Facebook. Lia lives in Romania, and submitted the following report about Kapas Island. Do you have a solo travel destination that you would like to recommend? Submit your description here, along with a few photos, and share it with fellow travelers!
Solo travel rating: 1.5 (1 is easiest, 3 is most difficult. Please see chart below)
Languages spoken: Malay, English
Reasons to Visit Kapas Island
You know you've escaped civilization when you are swimming with turtles and tropical fish, in beautiful turquoise water. This is Kapas Island, a hidden gem in Northern Malaysia that I would define as a peaceful and relaxing paradise.
Put on your sarong or bathing suit and explore the white sandy beaches, looking for shade under coconut palm trees. Go kayaking around the island, snorkeling, or diving. Enjoy a relaxing massage, read a book in a beach hammock, have a drink on the beach at sunset, and just gaze at the stars.
For accommodation, I recommend Kapas Turtle Valley Beach Resort, with its own private beach, clean and cozy bungalows with beautiful views, free snorkeling and diving equipment, a lovely host, and great homemade food.
This is a place for those escaping stress and trading excitement for serenity and peace, and reconnecting with nature and themselves.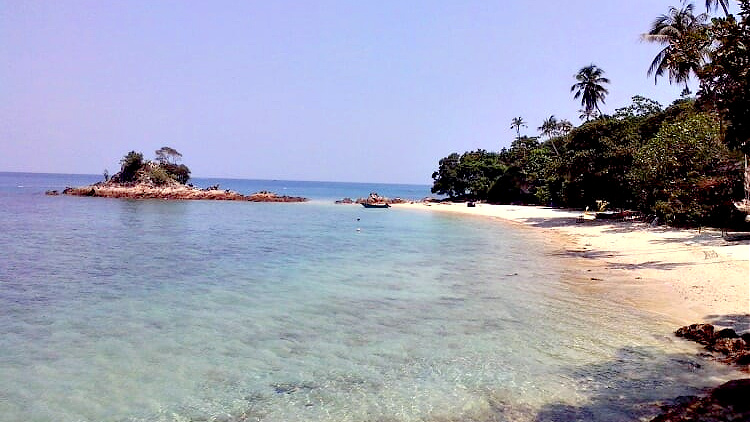 Solo Travel Destination Rating System
Safety – 1 (1 very safe, 2 safe in most areas, 3 be cautious at all times.)
Language – 1 (1 English is first language, 2 English speakers easy to find, 3 English speakers rare)
Navigation – 3 (1 easy to navigate by transit or car, 2 poor transit, car necessary, 3 not easy to get around)
Culture – 1 (1 Similar to North America or Western Europe, 2 Different from above but relaxed and easy, 3 Challenging)
Average Rating – 1.5 (1 is easiest, 3 is most difficult)