I am pleased to present a new Solo Travel Destination Post from Catherine, a member of the Solo Travel Society on Facebook. Cat is from Canada, and submitted the following report about her solo travels in Kaş, Turkey. Do you have a solo travel destination that you would like to recommend? Submit your description here, along with a few photos, and share it with fellow travelers!
Solo Travel Rating: 1.5 (1 is easiest, 3 is most difficult. Please see chart below)
Languages Spoken: Turkish, English
Costs at Destination: Cheap – Reasonable (local transportation, dining, tours, events, and attractions)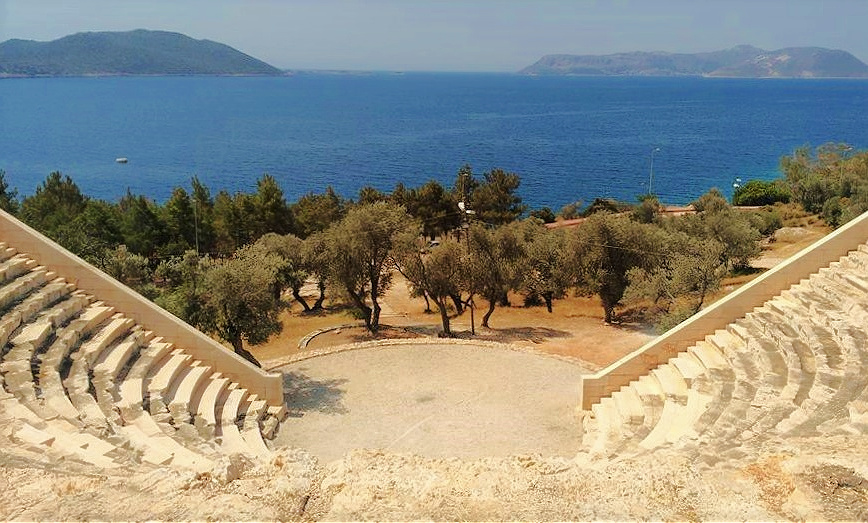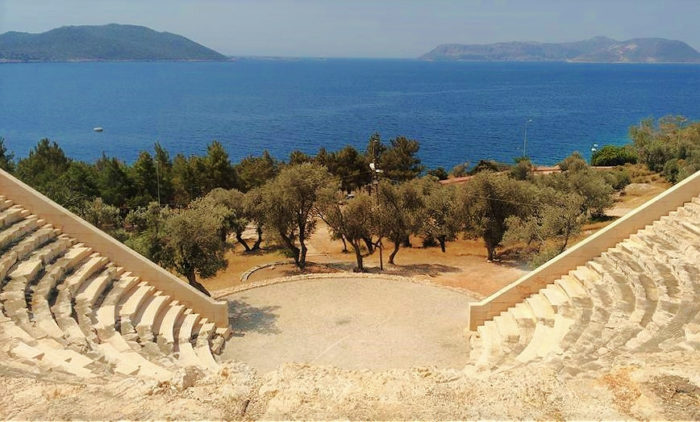 Solo Travel Kaş: Cat's Experience
Turkey is my favorite country. I love the bustle of the markets and bazaars, the layers upon layers of history, and the magical sound of exquisite mosques battling it out in the call to prayer. I spent the bulk of my last trip in Istanbul, and after three weeks in this vast and crowded city during a heat wave, I was looking for a week of quiet time and cooling down. A local friend suggested the Mediterranean town of Kaş, and I'm so glad I followed her recommendation.
Kaş is a fantastic solo travel destination as it is a relaxed and welcoming beach town, but also has much more to see and do. The one drawback is that it takes a bit of time to get there, but it's so worth it once you arrive. Kaş is a two hour drive from Dalaman Airport and, while there seems to be a coach service to and from the airport, I chose to take the easy route and had my hotel arrange a car pick-up. I am mainly a budget traveler, but this was well worth the extra money and, in the end, I was very happy with my decision.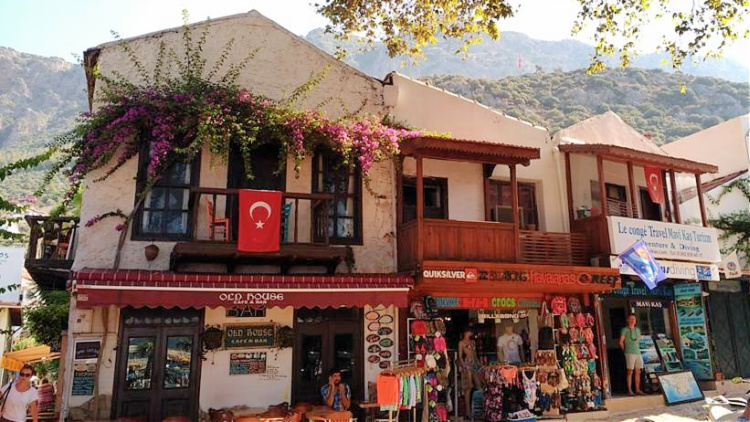 As the car wound along the coast, passing popular Kalkan beach, I could see the town getting closer and thought to myself, "this is where I'm going to retire." I say that about a lot of places but I still hope to make that a reality here one day! My home in Kaş was the lovely Hideaway Hotel, with its rooftop patio overlooking the ancient amphitheater and sea, its comfy mix of traditional and modern décor, and fabulous location, just a short walk from the town center.
Kaş is paradise for those who love their beach time and there are plenty of gorgeous spots to spend your days. For me though, the real gem of Kaş is its quaint town center with cool outdoor cafés and restaurants, pots of bright bougainvillea lining the old buildings, and unique artisan studios and shops. It is a joy to stroll the quiet, cobbled streets and meet the local artists and shopkeepers, sit with one of Kaş' stray cats and take in village life, or cool off with an ice cream in Republic Square.
Kaş is a major stop on the Lycean Way, one of the world's great long-distance walking routes, and evidence of the ancient history of these lands is scattered throughout town. Pay a visit to the Antiphellos Theatre, which is especially nice at night, and be sure to notice the fascinating Lycean tombs and sarcophagi which can be found all over town.
There are many different tours and activities offered to excite adrenaline junkies, history buffs, and those who want to immerse themselves in local life, and there are plenty of tour agencies in town to help organize your perfect adventure.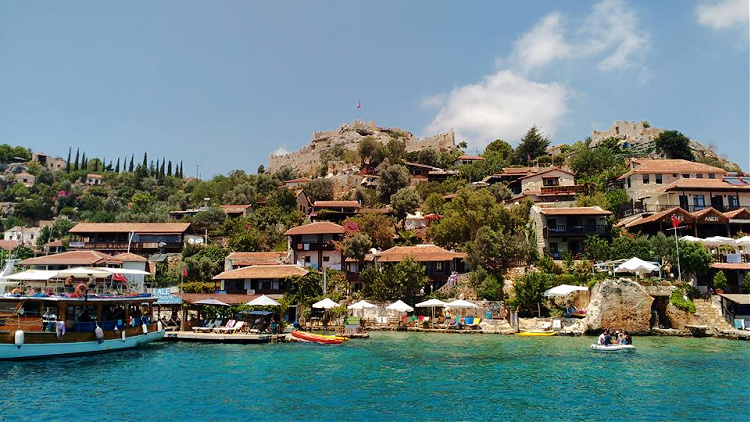 I spent an incredible day, with a delicious Turkish lunch included, on a gulet boat, visiting the village of Kaleköy, Kekova Island, and the Sunken City, a second-century port town which collapsed into the sea because of an earthquake. These boats take visitors all around the area for plenty of sightseeing and swimming in the clear, turquoise water. It is a popular excursion and a beautiful opportunity to visit this area, much of which is only accessible by boat.
The following day, I was looking forward to taking a historical walking tour, where I would have had a guided visit of different ancient sites in the area. However, due to the extreme heat Turkey was experiencing at the time, our tour was cancelled. I guess this can sometimes be expected during a Mediterranean summer and, although quite disappointed, I took it as a sign that I'm meant to return.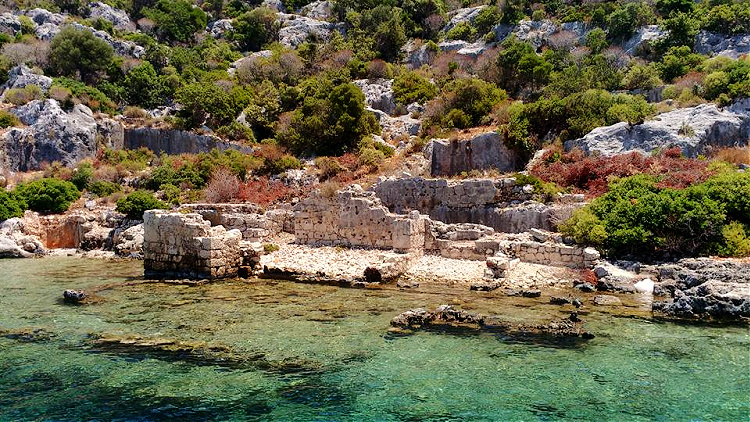 I'm not much of a chef, but whenever I visit a place, I love to take a cooking class and learn about local cuisine. My favorite day in Kaş was spent with Christine and Louise, a handful of other visitors, and a couple of neighborhood cats in their incredible outdoor kitchen, where we made a Turkish lunch that I still have cravings for to this day. Given that it was so hot, our vegetarian menu of stuffed peppers and grape leaves, cool salads, and other Turkish treats was exactly what I was after. Our group had a wonderful time cooking together and then, of course, the best part was sitting down to enjoy our delicious creations and getting to know one another. This was one of the best cooking classes I've done and it left me with lovely memories. If you travel solo to Kaş. I recommend checking it out.
While I was in Kaş, I fancied some international travel, so I hopped on the ferry and took the 20 minute, 2.5 km trip to Meis, one of Greece's Dodecanese islands. The town's colorful buildings and fishing boats which line the harbor make for the perfect photo op before the boat even docks.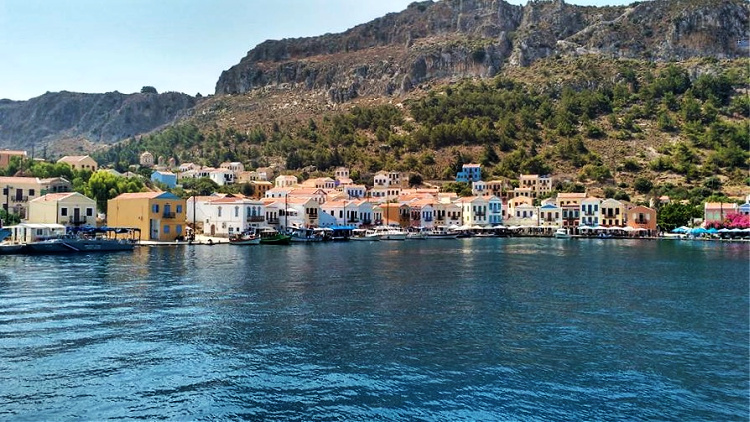 Exploring the cobbled back streets with their Anatolian-style Greek villas forced me to slow down and appreciate a simpler way of life, and the classic blue and white Orthodox church on the harbor front made me excited to finally be in Greece.
While it was too hot to do anything strenuous that day, Meis features wonderful hiking around the island, which rewards hikers with spectacular views. That's another adventure to be saved for next time.
Needing to escape the sun, I handed over 10 euros to Kostas and hopped on his speed boat which took a group of us to visit the Blue Cave, where we were able to spend some time swimming and marveling at the intense light. My day was capped off by browsing in the local shops and sitting at a harbor front restaurant enjoying souvlaki and ouzo. Because I was travelling to Greece and back to Turkey, I did have to go through passport control in both Kaş and Meis, but it is easy enough and there are plenty of people to help. Despite this extra step, a trip to Meis is a must-do day trip or overnighter when you travel solo to Kaş .
While Antalya gets all of the attention from the tourists to this part of Turkey, I prefer Kaş and, as a female traveling alone, I felt safer here. The town is small and easy to navigate, it's inexpensive, the locals are kind and love to engage with visitors, and at night, the town comes alive with families, so you're never alone after dark. I tend to stay away from beachy destinations, worrying that I will be bored, but I definitely could have stayed a little bit longer than my week in Kaş. If I come away from a place longing for more time, to me, that makes it a perfect solo destination!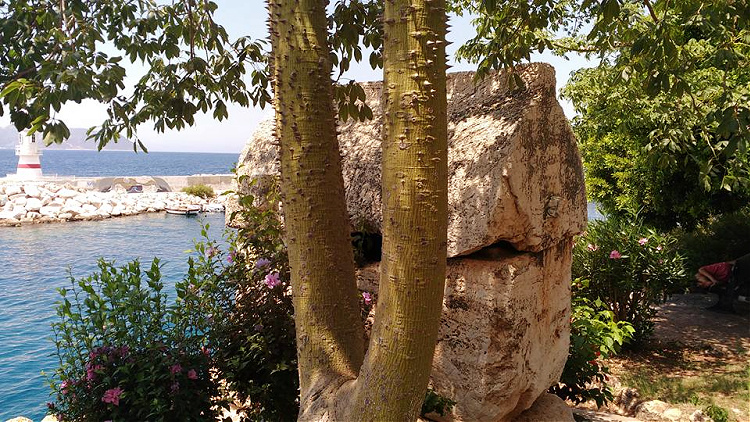 Solo Travel Rating
Safety – 1 (1 very safe, 2 safe in most areas, 3 be cautious at all times.)
Language – 2 (1 English is first language, 2 English speakers easy to find, 3 English speakers rare)
Navigation – 1 (1 easy to navigate by transit or car, 2 poor transit, car necessary, 3 not easy to get around)
Culture – 2 (1 Similar to North America or Western Europe, 2 Different from above but relaxed and easy, 3 Challenging)
Average Rating – 1.5 (1 is easiest, 3 is most difficult)