I am pleased to present a new Solo Travel Destination Post from Jessica, a member of the Solo Travel Society on Facebook. Jessica is from Australia and submitted the following report about La Fortuna. Do you have a solo travel destination that you would like to recommend? Submit your description here, along with a few photos, and share it with fellow travelers!
Solo travel rating: 1.5 (1 is easiest, 3 is most difficult. Please see chart below)
Languages spoken: Spanish, English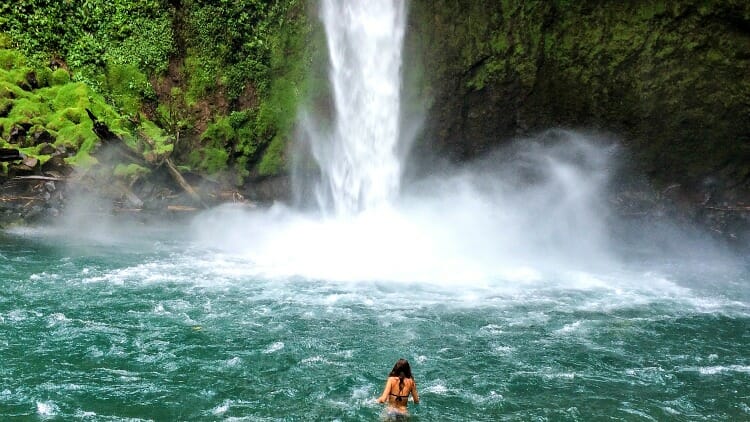 Reasons to Visit La Fortuna
Known as one of the most expensive countries in Central America, Costa Rica is often skipped by many budget travelers. Unfortunately for those who choose to bypass the country, they miss out on experiencing La Fortuna and the natural beauty of the La Fortuna Waterfall.
La Fortuna (Spanish for "The Fortune") is a small cosy town located in central Costa Rica, with easy access to supermarkets and restaurants, and a decent variety of hostels ranging from approximately US$15-$30 per night.
It is home to the impressive Arenal Volcano which can be seen from anywhere in the town on a clear day and there are an abundance of organized tourist activities in which you can participate. All interests can be satisfied in La Fortuna with activities including the popular hikes of the volcano and National Park, zip lining, rafting, hot springs, hanging bridges, horse riding, and ATVs. For those who enjoy less touristic experiences and prefer to unveil a country's best kept secrets, nothing compares to the alluring La Fortuna Waterfall.
Travelers of all ages can visit the waterfall on their own, without the need for a guide or organized tour, though this is also an option. The La Fortuna Waterfall is a short taxi ride from the town and costs US$18 to enter (this fee is reinvested into maintenance of the natural surrounding area run by a non-profit). The hike down is short, taking about 15 minutes to climb down the 500+ stairs through the protected rainforest. The hike back up to the exit is a little more demanding and takes approximately 25-30 minutes.
The 70m high waterfall leads into a shallow swimming hole filled with green-blue waters that is safe for swimming. Being able to swim in such close proximity to natural untouched beauty and feel the great strengths of the cascading water is an unforgettably surreal experience.
Although this waterfall is a stunning must-see, it's usually not an overly crowded tourist attraction and it is easy to relax and enjoy the surrounding rainforest and sounds of nature. The trip can take about 3-4 hours in total and is a cheap yet amazing experience that is not to be missed in Costa Rica.
Solo Travel Rating
Safety – 1 (1 very safe, 2 safe in most areas, 3 be cautious at all times.)
Language – 2 (1 English is first language, 2 English speakers easy to find, 3 English speakers rare)
Navigation – 1 (1 easy to navigate by transit or car, 2 poor transit, car necessary, 3 not easy to get around)
Culture – 2 (1 Similar to North America or Western Europe, 2 Different from above but relaxed and easy, 3 Challenging)
Average Rating – 1.5 (1 is easiest, 3 is most difficult)