I am pleased to present a new Solo Travel Destination Post from Chen-Chi, a member of the Solo Travel Society on Facebook. Chen-Chi is from Taiwan, and submitted the following report about a solo trip to Miyajima. Do you have a solo travel destination that you would like to recommend? Submit your description here, along with a few photos, and share it with fellow travelers!
Solo Travel Rating: 2 (1 is easiest, 3 is most difficult. Please see chart below)
Languages Spoken: Japanese
Costs at Destination: Reasonable (local transportation, dining, tours, events, and attractions)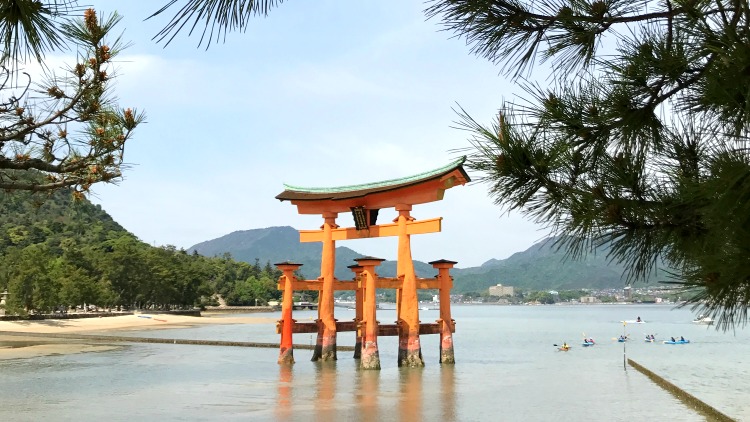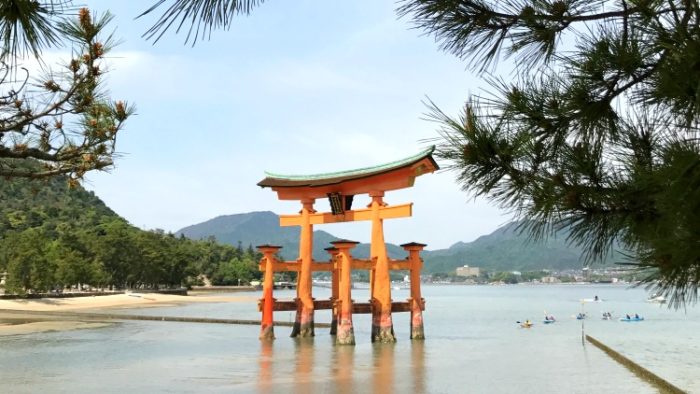 Reasons to Visit Miyajima
Itsukushima Shrine, the famous mystical shrine built over water, has been listed as a UNESCO World Heritage Site and also designated as a national treasure. It is one of the "Three Views of Japan". The shrine complex comprises multiple buildings supported by pillars above the sea. Visitors enjoy walking along the paths in the shrine while looking out on to the sea.
The shrine is located on an island officially named Itsukushima, more commonly referred to as Miyajima, which means "shrine island" in Japanese. The island is famed for autumn leaves and it is only half an hour train plus 10 minutes ferry from Hiroshima.
The great Torii, (torii is a gate at the entrance of a shrine, marking the boundary between the spirit and the human worlds), the iconic floating torii gate over water set out in the Seto Inland Sea located 200 meters offshore from Itsukushima's Main Shrine, has been rebuilt 8 times in history. The current one was rebuilt in 1875.
Surprisingly, the pillars are not buried in the seabed. It stands by its own weight. It is possible to walk out to the torii gate during low tide and see its foot covered with shells on the exposed sea floor, or pass through the torii gate on a boat or kayak during high tide. Check the timings of the tides before you go so you could experience both on the same day.
After sunset, the torii is illuminated and glimmers in the dark with subtle atmosphere. There are many wild deer wandering around on the island, which are quite well-behaved compared to Nara's deer.
Anago-meshi (broiled conger eel on top of rice) and Momiji cakes (maple leaf-shaped desserts filled with azuki bean paste) are popular local delicacies. Instead of heading to the famous conger eel rice restaurant, I opted for a teahouse. I had bumped into it when I was strolling along the walking paths in Momijidani Park, the main area for viewing maple leaves during autumn in Miyajima. In fact, I was drawn to the teahouse by the wisteria at its door. I enjoyed my Anago-meshi a lot in this teahouse with great ambiance.
On my way back to the pier I went by the overcrowded Omotesando Arcade for some souvenir shopping. Due to the weather conditions I did not head up Mt. Misen by ropeway for the spectacular view of the Seto Inland Sea, which is another good reason for me to come back here again in the future. (Note that the torii gate is currently closed for restoration works until August 2020 and covered by scaffolding.)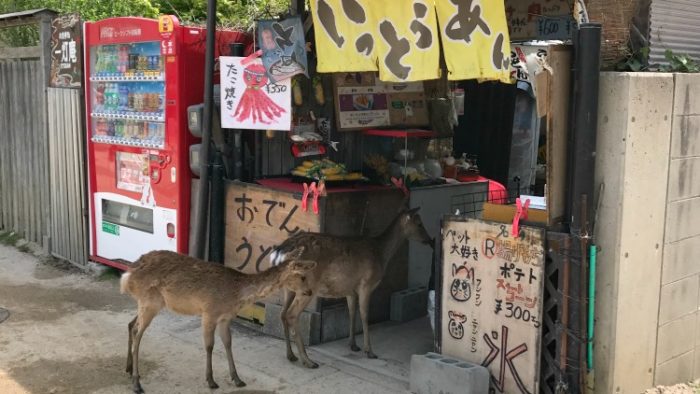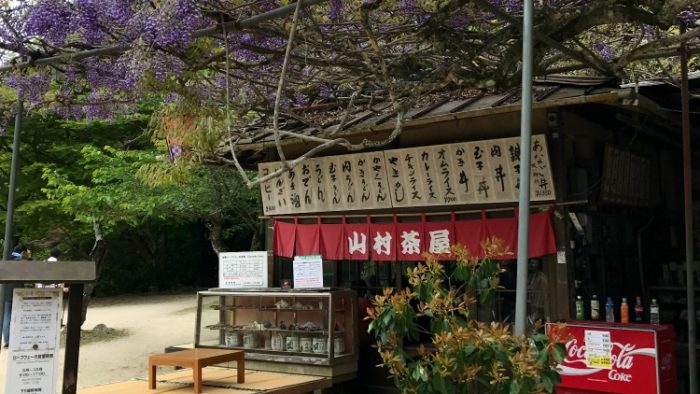 Solo Travel Rating:
Safety – 1 (1 very safe, 2 safe in most areas, 3 be cautious at all times.)
Language – 3 (1 English is first language, 2 English speakers easy to find, 3 English speakers rare)
Navigation – 1(1 easy to navigate by transit or car, 2 poor transit, car necessary, 3 not easy to get around)
Culture – 2 (1 Similar to North America or Western Europe, 2 Different from above but relaxed and easy, 3 Challenging)
Average Rating – 2 (1 is easiest, 3 is most difficult)