I am pleased to present a new Solo Travel Destination Post from Sofya, a member of the Solo Travel Society on Facebook. Sofya is from Russia, and submitted the following report about her trip to Norway. Do you have a solo travel destination that you would like to recommend? Submit your description here, along with a few photos, and share it with fellow travelers!
Solo travel rating: 1 (1 is easiest, 3 is most difficult. Please see chart below)
Languages spoken: Norwegian, English
Costs at Destination: Expensive (local transportation, dining, tours, events, and attractions)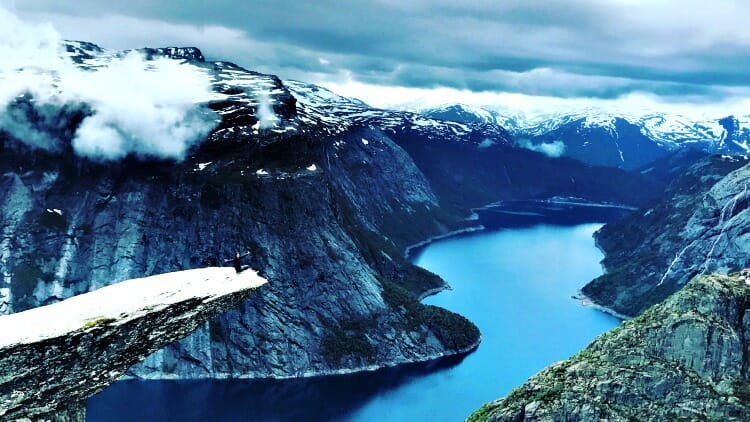 Reasons to Visit Norway
I had been longing to visit Norway for the last 5 years. It was a dream I had been postponing, knowing how expensive Norway was. But the desire to sit on the edge of Preikestolen (the Pulpit Rock) turned out to be much stronger than the fear of the hole the trip would create in my wallet and even stronger than the blood-curdling thought of traveling solo for the first time.
Having quelled my anxieties, in early June I finally hopped on a plane to Stavanger, the oil capital of Norway. My ultimate goal was to visit Preikestolen – a steep cliff which rises 604 meters above the Lysefjord. Stavanger itself is a lovely city which is very easy to explore on foot. Do not miss the Old Town with its cozy white wooden cottages from the 18th century and learn more about oil production at the Petroleum Museum.
Needless to say, the weather in Norway is capricious. It became my regular routine to check the weather forecast. However, I cannot complain – despite some cold, rainy, and misty days I was lucky to see this beautiful land shining in the rays of the sun.
The night before going to Preikestolen I prayed for good weather. But when I woke up I could see nothing – it seemed as if the entire world was wrapped in internal fog. I knew I would not have another chance to fulfill my dream, so I caught the first ferry. Return tickets can be bought online at a reduced price via Tide.no (you will save 30 NOK), from the quay before departure, or right on board the ferry. The ticket price also includes a bus service which takes you to the starting point of the hike.
The total distance of the hike is about 6 km and any person can complete the route. I met groups of elderly people and families with toddlers. But please come prepared – steady hiking boots are highly recommended. Don't be one of those girls fearlessly conquering the height in flip-flops.
It took me less than 1.5 hours to get to the top. The reward I got was absolutely worth the hike – a fairy-tale landscape glittering in the sun. I was rendered speechless. I still cannot believe that my eyes witnessed this astounding beauty. Sitting on the edge of Preikestolen is definitely not for the faint-hearted, but you will never forgive yourself if you miss this opportunity. When the crowds began to arrive, I climbed higher to see the plateau from the top and enjoy a picnic with the most epic view. Going down was a bit challenging and took me almost 2 hours because of a huge throng of people going up. In some spots I had to wait for several minutes to let people pass by.
My next stop was Odda, an enchanting small village surrounded by the fjord. From there, I set off on my new adventure to Trolltunga (the Troll's Tongue). To get from Stavanger to Odda you need to take 3 different buses and a ferry. The journey lasts for about 7 hours. The transportation system in Norway runs like clockwork and is absolutely safe, so you can relax and enjoy the magnificent views through the bus windows. My hotel was within a 15 minute walk from the bus station but it was raining cats and dogs and I needed to get up the hill with 20 kg of luggage (yes, I know, I desperately need to master my packing skills!). I decided to take a taxi which cost me a small fortune – almost 140 NOK for a 5-minute ride. It goes without saying that when leaving Odda I made my way back to the station on foot.
The Trolltunga Hotel is located in a very picturesque area. It provides both private and shared dorms. They also offer a drying room where you can place your clothes and boots after the hike, which is extremely convenient. For me, it was a perfect base before conquering Trolltunga – a 22 km hike of almost 11 hours. Since there was still a lot of snow and I was traveling alone, I decided to join the Classic Trolltunga guided tour offered by Trolltunga Active. It is recommended to book the tour at least one day in advance. At Trolltunga Active website you will find all the information you need to know before the hike. Believe me, proper hiking boots and clothes are a must! During the hike you will climb steep hills and stone steps, your shoes will get dirty with mud, and you will get wet from rain and snow. Please save your Converse sneakers for a better occasion.
I read tons of reviews and the majority of them stressed that the hike was extremely difficult and you should be in very good physical shape to attempt it. Though I exercise regularly, I was still afraid that I would not be able to complete the route. But the guide set a very reasonable pace and we had several stops to refuel our bodies with food and water. (Do not bring too much water. You can fill your bottle from waterfalls). I would not deny that the hike is demanding but it is absolutely manageable – except for the last kilometer. The goal of the hike is not to reach Trolltunga but to get down to the starting point. The last kilometer is a killer for your knees. After 10 hours of hiking it took us almost an hour to finish the last 1000 meters. The stone steps were very slippery and covered with mud and I had to engage every muscle in my body to remain in a standing position.
The memories of what you have recently accomplished will definitely keep you motivated. Your mind will be blown by the overwhelming beauty of the lake with the bluest water I have ever seen, waterfalls running here and there, and majestic fjords. Sitting on the edge of Trolltunga will fill your eyes with tears of happiness (or fear, if you are not a lover of heights). Trust me, this is an experience you cannot miss.
I took a bus from Odda to Bergen where I spent the last days of my Norwegian journey. Locals say Bergen and rain are synonymous – it drizzles more than 240 days a year. I was very lucky to see it in the sunshine. In Bergen, I went on a fjord cruise, climbed Ulriken and Fløyen to admire the city from the top, visited KODE Art Museum, and joined a free walking tour of the city.
Useful Tips to Save Money
Buy transportation tickets online. In most cases it will cost you less than buying from the driver (the same applies for buses going to/from the airports).
Buy food in supermarkets. Of course, it is also possible to find some places to eat with moderate prices. When in Bergen have lunch at Café AURA – a very cozy place with reasonable prices.
Drink tap water. During my stay in Norway I mostly drank nothing but tap water, because it is free and super delicious (especially because you do not have to pay for it).
Bring snacks for hikes from home. I brought nuts, crisps, chocolate, energy bars, and dried fruit.
Do not exchange cash in Norway. For the Odda-Bergen bus #930 you cannot purchase tickets online, only onboard. In addition, some internet resources stated that you can pay with cash only (350-400 Kronas). I could not check whether it was true or not, so I first tried to exchange money before the trip in Moscow (my home town) but I could not find any bank that sold kronas. I had to do this in Stavanger and it was a daylight robbery – I was charged a commission of almost 1.2 krona for every exchanged euro. In the end, it turned out that you could pay on board with a credit card.
Oslo Gardermoen Airport is perfect for spending a night. If you have an overnight connecting flight in Oslo Airport do not spend money on a hotel or hostel. Sleep in the airport. It is very safe and quiet there – and absolutely free.
Even in summer, take warm clothes. Do not forget a waterproof jacket and boots. You will love yourself even more if you take a hat and gloves. Clothes will make your experience or break it.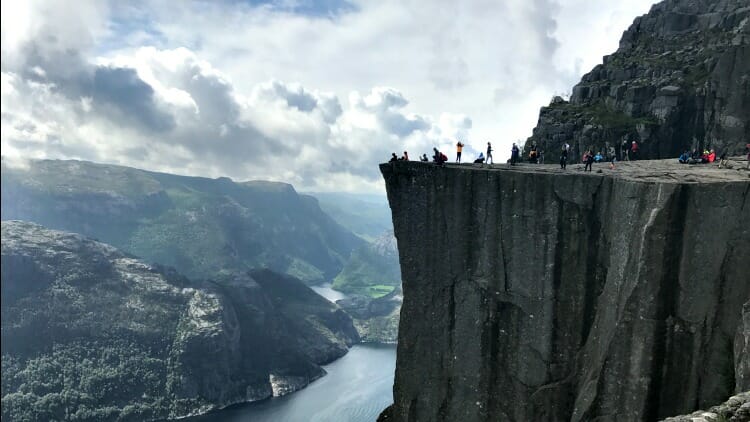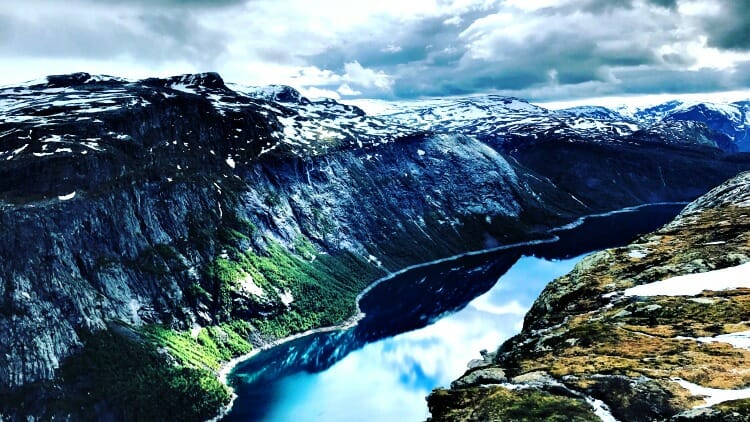 Solo Travel Destination Rating System
Safety – 1 (1 very safe, 2 safe in most areas, 3 be cautious at all times.)
Language – 2 (1 English is first language, 2 English speakers easy to find, 3 English speakers rare)
Navigation – 1 (1 easy to navigate by transit or car, 2 poor transit, car necessary, 3 not easy to get around)
Culture – 1 (1 Similar to North America or Western Europe, 2 Different from above but relaxed and easy, 3 Challenging)
Average Rating – 1 (1 is easiest, 3 is most difficult)