We are pleased to present a new Solo Travel Destination Post from Robin, a member of the Solo Travel Society on Facebook. Robin lives in the United States, and submitted the following report about Poland. Do you have a solo travel destination that you would like to recommend? Submit your description here, along with a few photos, and share it with fellow travelers!
Solo travel rating: 1 (1 is easiest, 3 is most difficult. Please see chart below)
Languages spoken: Polish, English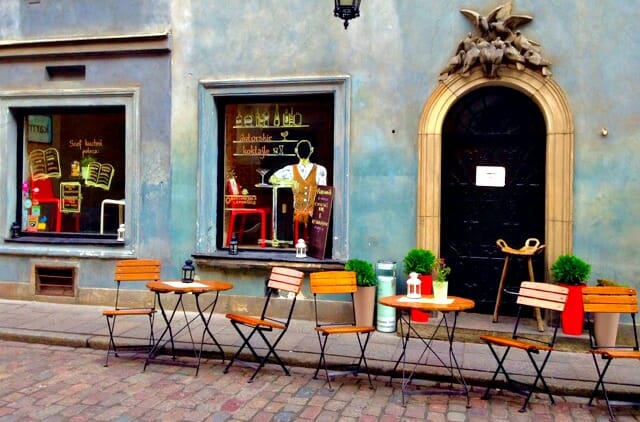 Reasons to Visit Poland
If you're a history buff, Poland is filthy rich with it. I am not a history buff but ultimately realized you can't understand the Poles' humility, resilience, and pride without comprehending Polish history. With all I've learned about the war, the Holocaust, and Communism, I'd put myself up against any VFW hall on WWII trivia night. If you had asked me in week two whether I'd be ready to leave after 6 weeks I would have confidently said yes. However, the end of this trip really snuck up on me. The long train rides through gorgeous, can't-take-your-eyes-off-it countryside and forests; the rows of charming, colorful houses; the peaceful trails and scenery of the Tatra mountains; the stunning churches and castles that dot every town's map; Krakow's regal beauty; Gdansk's nautical charm; and even the consonant-crazy language that confused me on the daily: I'll miss it all. I'm happy and gratified to have experienced it. And proud to be of Polish heritage.
One of my reasons for choosing Poland was to find the beautiful, impressive, and welcoming parts that most people don't associate with this country. I believe I experienced many of them and I hope you did too through my words and photos. Through any fears and frustrations that arose during this trip, the acts of kindness from strangers shone through. The great patience and smile of an elderly man in a grocery store made me feel proud of my first attempt at speaking Polish. A non-English speaking taxi driver somehow miraculously knew to wait rather than drive off at a middle of nowhere sight-seeing stop–and didn't even charge me for the 30-minute return trip. A group of four British seniors with whom I shared a ride to the mountains took my phone number and gave me theirs in case I got lost or needed help. Sweet Ola, the woman in the customer service office at the Krakow train station, welcomed me every day for a week with such patience while writing down every detail I needed for my upcoming train trips. For these, and the never-ending growth that comes from these experiences, I am so very grateful.
I've probably said my last enthusiastic "dziękuję bardzo" for a while (at least one that's followed by a Pole's chuckle), but I'll raise one last shot of vodka and say it again to you. Dziękuję Bardzo! Thank you very much for coming along on this special Polish journey.
Na zdrowie za Polskę! (Cheers to Poland!)
Solo Travel Destination Rating System
Safety – 1 (1 very safe, 2 safe in most areas, 3 be cautious at all times.)
Language – 2 (1 English is first language, 2 English speakers easy to find, 3 English speakers rare)
Navigation – 1 (1 easy to navigate by transit or car, 2 poor transit, car necessary, 3 not easy to get around)
Culture – 1 (1 Similar to North America or Western Europe, 2 Different from above but relaxed and easy, 3 Challenging)
Average Rating – 1 (1 is easiest, 3 is most difficult)