I am pleased to present a new Solo Travel Destination Post from Catherine, a member of the Solo Travel Society on Facebook. Cat is from Canada and submitted the following report about solo travel to Whistler, British Columbia. Do you have a solo travel destination that you would like to recommend? Submit your description here, along with a few photos, and share it with fellow travelers!
Solo Travel Rating: 1 (1 is easiest, 3 is most difficult. Please see chart below)
Languages Spoken: English
Costs at Destination: Expensive (local transportation, dining, tours, events, and attractions)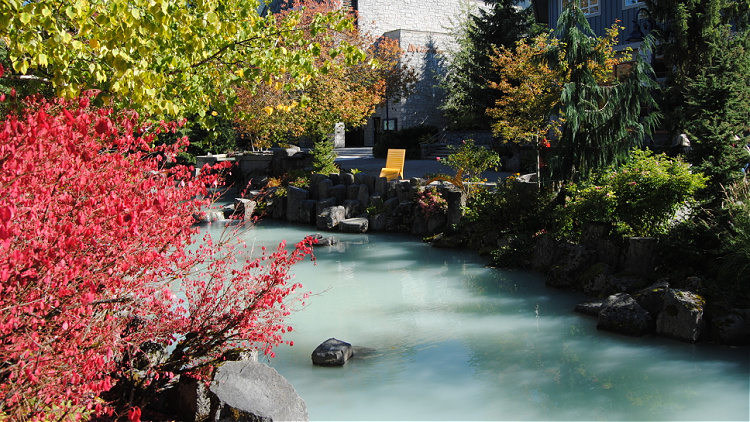 Whistler: A Perfect Weekend Getaway
About an hour and a half away from Vancouver, where I live, Whistler is an easy day or weekend trip and one I've taken many times with friends, but never on my own. With my pandemic fatigue in full force and still not feeling entirely comfortable travelling overseas, I decided to grab the last couple of days of sunny weather before the autumn rain set in, and headed up for a solo weekend away.
Because I have always been there with others, I didn't know what to expect traveling solo to Whistler. I'm no outdoorswoman, so would I be bored? Would I enjoy going out at night by myself? Turns out, no, I wasn't bored, and yes, I still loved going out at night, when I found Whistler to be especially beautiful.
Getting from Vancouver to Whistler couldn't be easier via the Sea to Sky Highway, one of the most spectacular drives in the world. I have always taken a car on my visits there, but gas and parking add up really fast, so this time I took the bus. There are a couple of coach services which take visitors directly to Whistler from Vancouver International Airport and the city center. I took Epic Rides, which offers a very inexpensive, stress-free, and comfortable service from downtown Vancouver.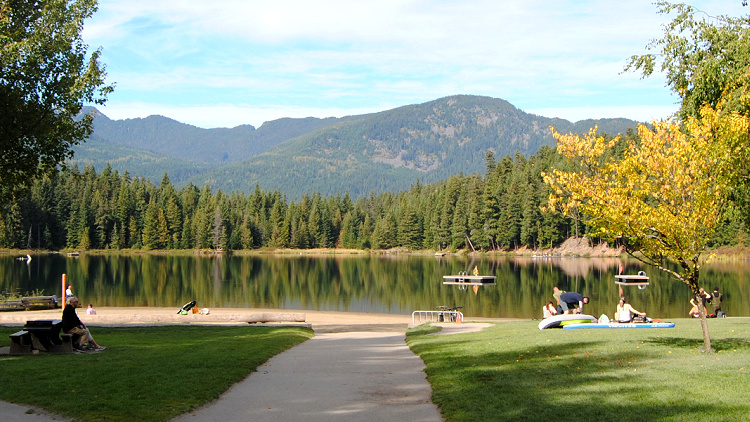 While you can certainly make a modest budget work in Whistler, it's still a resort with resort prices to match. Accommodation can be steep, especially in the winter months. There are hostels, private condo rentals, and a pod hotel which can be found for a reasonable price, but the hotels in the village center can be expensive. Choosing to go in the off-season (which is not a huge window of time) will always cut costs, but be prepared for this to make a big dent in the bank account of a solo traveler. However, it's worth it.
Those who love outdoor adventures will be spoiled for choice and these activities are what Whistler is known for. From skiing to mountain biking, golf to hiking, and zip-trekking to white water rafting, there are endless possibilities to feed one's adrenaline. But for those who prefer a more relaxed holiday or, like me, aren't really sporty, Whistler offers the solo traveler many alternatives in and around its delightful village center.
Quaint Whistler Village is exactly what you'd expect from a European ski resort. Its chalet-style architecture and pedestrian-only main street encourage visitors to meander, taking time to explore the many shops or stop for a meal or drink at one of the outdoor patios with commanding views of the mountains. It was designed to represent a river, with unexpected surprises and serene plazas at every turn. The Village Stroll, a pedestrian-only area lined with shops and restaurants is certainly a top Whistler activity in and of itself.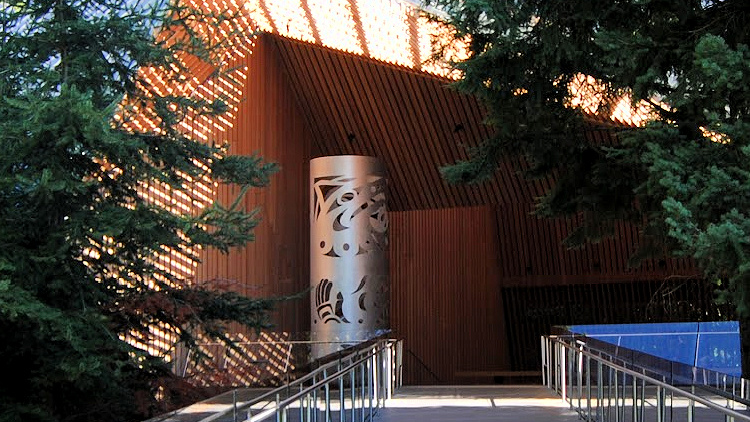 Even though I'm afraid of heights, a ride on the PEAK 2 PEAK Gondola is an activity I've done a few times and despite my terror, I love it. This gondola connects Whistler and Blackcomb mountains and is a Guinness World Record holder for the world's longest unsupported span at 4.4 km and highest lift at 1,427 feet above the valley floor. There is lots to take in and discover atop both of these mountains and it makes for an absolutely fantastic few hours. All the fear is worthwhile when you're up there.
As an art lover, I finally had the opportunity to visit the amazing Audain Art Museum. The building itself is a work of art and inside holds an incredible collection of First Nations art as well as works by celebrated Canadian artists such as Emily Carr, E.J. Hughes, Jeff Wall, and Jack Shadbolt, to name a few. It is the perfect place to immerse yourself in Canadian art and is enhanced by stunning natural surroundings, so much so that you forget it's located next to the day parking lots.
Whistler is small and, on the surface, doesn't seem like it would have huge historical or cultural significance. While taking one of the daily walking tours given by the Museum of Whistler, I discovered Whistler is much more than it appears and has a rich and interesting history. It was fascinating to learn about the area's very humble beginnings and how it evolved into what it is today. The Museum of Whistler along with the Squamish Lil'wat Cultural Centre provide great insight into the history of this land and its people.
Whistler was a host city for the 2010 Winter Olympics and still retains the legacy of these very successful games. It is a joy to spend some time in Olympic Plaza lounging with a treat from Pure Bread, a local bakery, or taking in a yoga class or a concert. And don't forget a photo op in front of the Olympic rings! I always love spending some time here and remembering how much fun the Olympics were for my province.
One thing about my hometown of Vancouver that I am very proud of is the food scene, and this certainly extends to Whistler as well. Whistler Village is packed with great restaurants, from the cheap and cheerful to world-renowned high-end dining. One of the most enjoyable activities for a solo traveler to do in Whistler is hop on a food tour. I went on a fabulous dinner tour with Whistler Tasting Tours and enjoyed a great evening connecting with fellow travelers, learning more about Whistler from our wonderful local guide, Christine, and eating at some of the nicest restaurants in the village that I wouldn't normally be able to afford.
For a luxurious treat, visit the famous Scandinave Spa. Even though massage appointments are hard to snag and can be booked up months in advance, visitors can still easily reserve or walk-in for some R&R in the hydrotherapy baths, which I think are more fun as you can get a massage anywhere. Alternating between hot and cold, these baths are located outdoors, in the glorious fresh air, surrounded by forest and mountains. It is a truly unique and rejuvenating experience. I wish I could do this at the end of every week!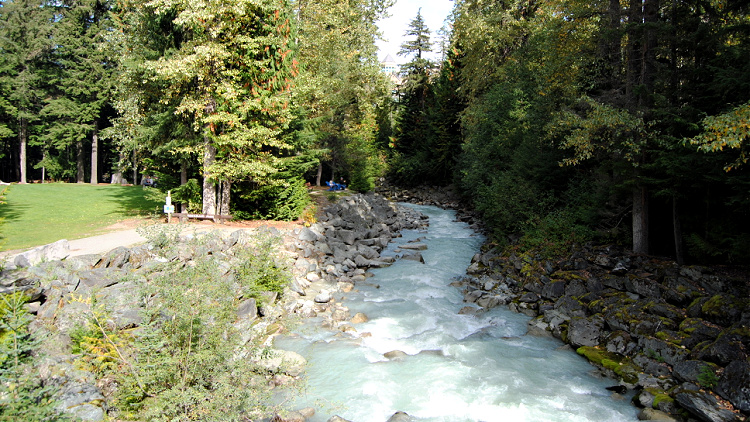 I may not be an expert skier or mountain biker, but I still love to experience the awe-inspiring natural beauty of Whistler. The Valley Trail is perfect for this. This car-free, paved 45 km trail connects Whistler's neighborhoods, lakes and viewpoints and is perfect for exploring whether you walk, run, cycle or rollerblade. It accommodates every fitness level and can be done at your leisure.
I was excited to set out on a new route of this trail during my visit, but just as I began my walk, a runner warned me of a bear up ahead, so, not wanting to become food for the hibernating season, I turned around and ended up walking a more populated and familiar part of this trail that took me to magnificent Lost Lake. It will quickly become evident to visitors that this is bear country, so it's definitely not a bad idea to brush up on your bear safety knowledge before venturing into nature.
Whistler is one of my favorite places and makes a wonderful trip on its own or as a side trip from Vancouver. I don't know what it is about it that I love so much–the relaxed, leisurely lifestyle, the fresh air, or the fact that being there is a nice escape from real life. Whatever it is, it's a destination I always enjoy visiting no matter how many times I go, and when it's time to leave, I always feel a little sad. While Whistler is really fun with friends and family, it shouldn't be overlooked as the perfect place to discover on your own.
Solo Travel Rating for Whistler
Safety – 1 (1 very safe, 2 safe in most areas, 3 be cautious at all times.)
Language – 1 (1 English is first language, 2 English speakers easy to find, 3 English speakers rare)
Navigation – 1 (1 easy to navigate by transit or car, 2 poor transit, car necessary, 3 not easy to get around)
Culture – 1 (1 Similar to North America or Western Europe, 2 Different from above but relaxed and easy, 3 Challenging)
Average Rating – 1 (1 is easiest, 3 is most difficult)
Thinking about exploring more of the country? You'll find what you need here: Solo Travel Canada: 60 Tips to Plan an Exciting Adventure.