Mariellen Ward is a writer, yogi and Indiaphile. She is passionate about sharing the beauty of India's culture and wisdom with the world. Read more about travel that changes you on her wonderful blog: BreatheDreamGo. Here is the forward to her recent book.

"India always changes people, and I have been no exception."
– Ruth Prawer-Jhabvala
In the years leading up to my decision to go to India, I experienced a period of devastating loss that included the deaths of both my parents and breaking up with my fiancé.
I didn't know, at times, whether I would live through it. As I tried to recover from one loss, another would hit me, knocking me into a depression I felt I would never emerge from. However, I threw my faith into my yoga classes with Bibi to get me moving and breathing.
Solo Travel to India
Slowly I gained the courage to follow a dream and enrol in a yoga teacher training course; and then follow a second dream, a dream of a lifetime, to go to India. I planned and saved money for a year, put everything in storage, gave up my apartment, left my cat with a friend and, on December 5, 2005, flew to Delhi. My return ticket was dated June 2, 2006. I had no idea what would happen to me during those six months in India. I just knew I had to go. My life depended on it.
Many people ask if I was influenced by the book Eat, Pray, Love. The year it was published I was already in India. So, while I can't say that the book influenced me in any way, I do owe author Elizabeth Gilbert a debt of gratitude for giving voice to a discontent and a yearning that I know well; for tapping into the zeitgeist and finding an audience; and for helping to give me the confidence to turn my journeys into a book.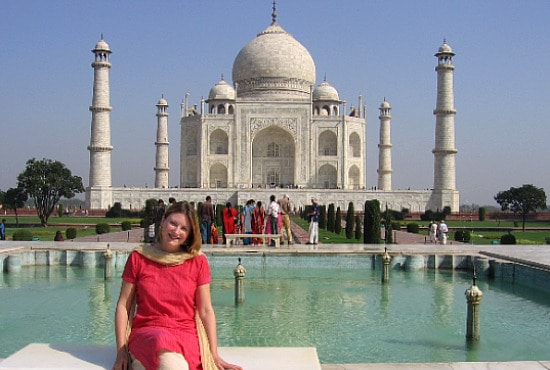 Perhaps more influential, to me, than the book itself are these words I found on her website in answer to the question: What was the biggest surprise about your journey?
Elizabeth Gilbert: "How well it worked. I found exactly what I was looking for during that year of traveling. In fact, I found more than I'd dared to hope for. Looking back on it now, though, I think that this amazing result was sort of inevitable. I've come to believe that there exists in the universe something I call The Physics of The Quest – a force of nature governed by laws as real as the laws gravity or momentum. And the rule of Quest Physics maybe goes like this: If you are brave enough to leave behind everything familiar and comforting (which can be anything from your house to your bitter old resentments) and set out on a truth-seeking journey (either externally or internally), and if you are truly willing to regard everything that happens to you on that journey as a clue, and if you accept everyone you meet along the way as a teacher, and if you are prepared – most of all – to face (and forgive) some very difficult realities about yourself….then truth will not be withheld from you. Or so I've come to believe. I can't help but believe it, given my experience."
Joseph Campbell said essentially the same thing more succinctly in his famous dictum: "Follow your bliss." I did it, and it worked: it changed my life.
My third dream was to become a writer.
MW