I'd like to introduce you to Sebastian Jacobitz, a street photographer from Berlin. Sebastian traveled solo to the Indonesian jungle and shares some experiences and wonderful pictures from his trip below. To see more of his portfolio, and pick up some tips to improve your own photos, you can check out his website, Street Bounty.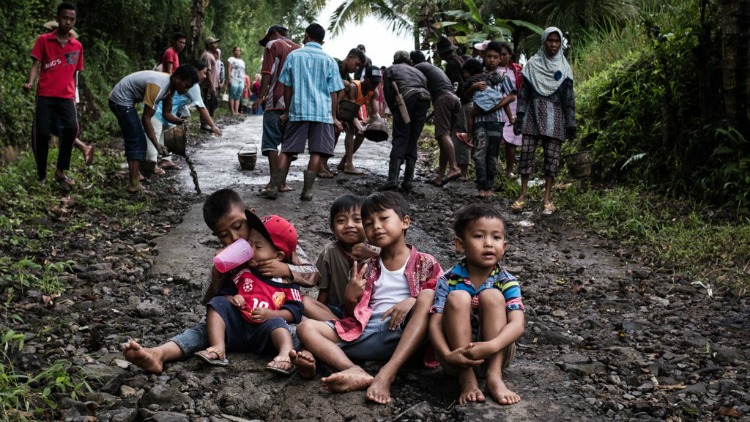 There are a lot of different ways to travel if you are on a tight budget. For me, I found that living in a homestay with a local family for several weeks in the Indonesian Jungle was not only a very budget-friendly decision, but it also gave me the opportunity to experience local life in a totally unique way. It was also a great way to have some company while traveling alone. As it was the first adventure of such scale for me and I was traveling by myself, I was a little worried that it might not go as expected. Well, this is probably true as the trip was a lot a better than I would have imagined! Here are some of the things that you can do while traveling solo in the Indonesian Jungle and some of the adventures I was able to experience.
I know that it sounds scary to live remotely in a place far away from home, but even the Indonesian jungle is not that different from western standards. You should definitely include the local village life in your travel plans if you are an adventure seeker.
The Adventure
Of course, the local village life in the Indonesian Jungle is different from staying at a 5-star resort. There are trade-offs in terms of comfort, infrastructure, and other minor living conditions.
In my particular case, this included the fact that there was no hot water, the mobile internet was a little bit wonky, and if the rain was too heavy, the power would cut out.
Nonetheless, I didn't find it to be a huge disadvantage and even for the duration of 5 weeks, it was very easy to adapt to life in the Indonesian jungle.
It was a huge surprise to me that the mobile internet worked very well. You can stay connected with your friends and family at home, or if you run into any problems, you are able to message your host and ask for help.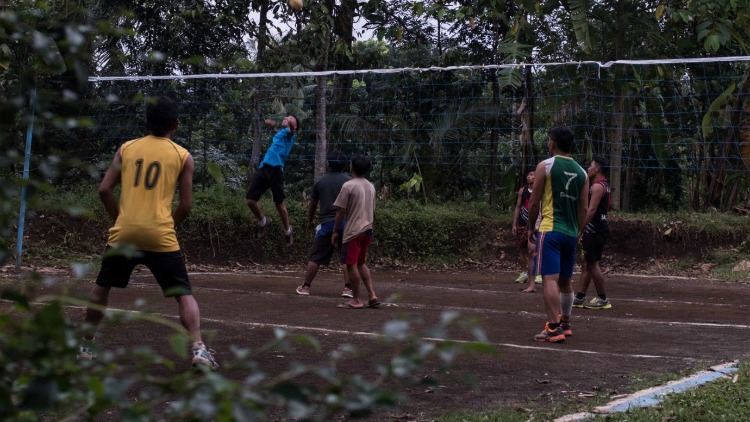 Aside from the little discomforts, there was nothing I was really missing. The food was great and included fresh ingredients directly from the farmers nearby. There is so much to experience there that you will never be bored. I saw my trip as an adventure where my goal was to explore life in such a remote place.
Living Like a Local in the Indonesian Jungle
Traveling for me is more than just relaxing at the pool. I want to get to know the culture and people of the countries I am visiting. Living in a hotel, secluded from the local people would make that a lot harder. The language barrier is a real thing and obviously English isn't in widespread use in the Indonesian jungle. But thanks to the growth of tourism, more and more people are willing to learn English in order to communicate with their guests. But even if most people don't understand a word in the English language, a smile goes a long way and everyone is very friendly.
I find learning about a new culture a lot more accessible when I am witnessing life from the "inside," rather than being a foreign visitor for a short duration. Being a guest in a homestay and living with a local family, I never felt like a foreigner, but more like a member of the family. I could enjoy breakfast with them and they would invite me to all sorts of local events and activities.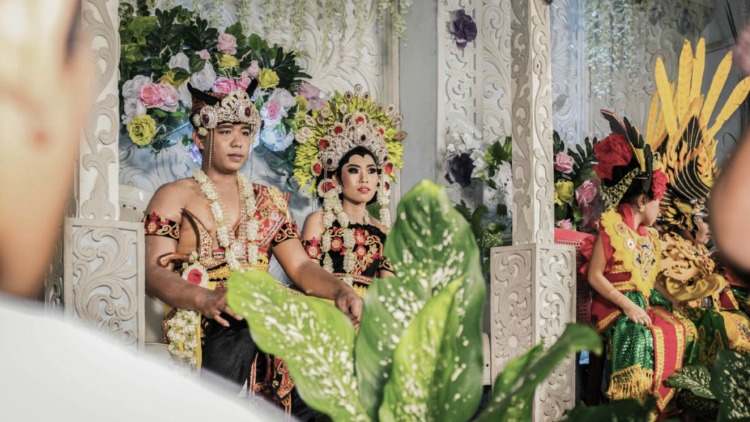 On my second day there, I was invited to a typical Indonesian wedding of the host's cousin. This tradition is becoming rarer, as more people are leaving for bigger cities to seek higher education.
There are a lot of communal activities because the villages can't expect the government to support them very much, so they mostly depend on each other. This means that they are responsible for the infrastructure and have to maintain the roads.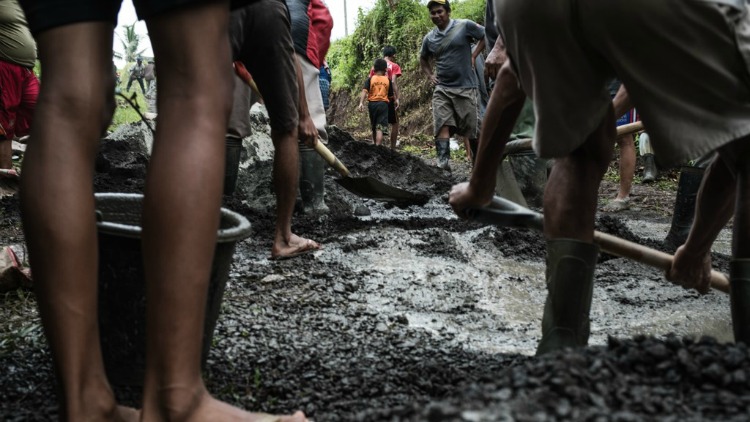 In a living environment that is very close to nature, the roads are an integral part of village life. They are the only way to access schools safely or drive to the next city. Due to heavy rain and very simple tools, it requires the effort of the whole village to keep the roads at a minimum standard.
Visiting Mount Ijen
The Indonesian Jungle has a lot of interesting places you can visit. Mountains and volcanoes are scattered across the whole country, as well as countless islands and other spectacular places.
I stayed near Mount Ijen, which is famous for the "Blue Fire" you can witness and photograph during the night.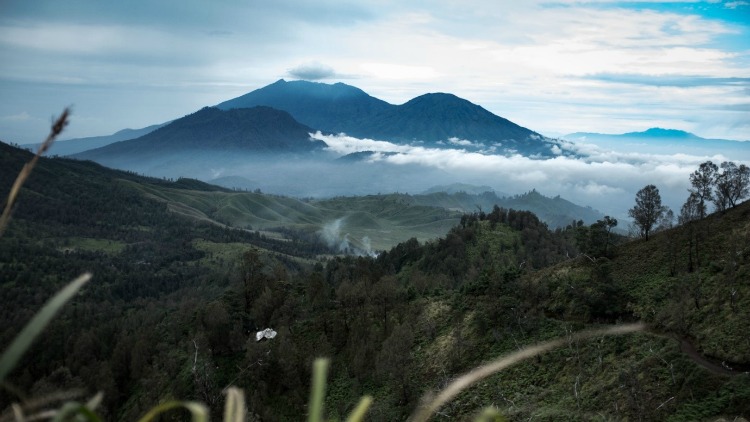 I wasn't interested in visiting the Sulfur Crater during the night, my interest was in the workers that mine the sulfur during the day.
The next big city is Banyuwangi, which is about a 90-minute drive away from the mountain. To save some time on the long commute was one reason why I decided to stay a lot closer to the mountain and lived with a local family.
If you want to be closer as well, there are places to stay in the city of Licin or in the surrounding areas. As already mentioned, the living standards might not be equal to a 5-star resort, but I didn't find it to be a problem. The homes are very clean, the food is great, and the people are very friendly. If you run into any problems, they will surely help you out.
From the village, it is a 45-minute trip to the "base camp" of Mount Ijen. The journey to the camp is already a great experience in itself because you are driving through the untouched Indonesian jungle.
Because of its characteristics, I would advise you to book a guided tour beforehand and not make the trip on your own. The drive can be very dangerous because local miners, as well as bigger tourist buses, share the roads.
Traveling from the base camp to the top of the mountain takes around 1 1/2 hours. It doesn't sound too difficult at first, but there are also sections where you need an hour to advance just 1 kilometer due to its steepness. A good physical constitution is definitely an advantage to enjoy the trip.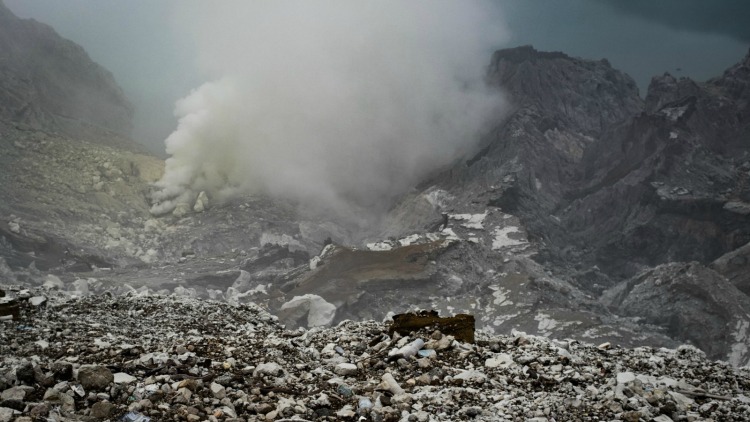 Once you reach the edge of the crater you will discover an incredible view. It is advised to wear a gas mask, because the wind can carry the sulfur smoke over a long distance.
Hiking to the ground of the crater is a real challenge and even more physically demanding than the trip to the crater from the base camp itself. There aren't any railings, so you need to be very careful and in good condition to make it safely to the bottom.
On your way down, you meet the sulfur miners that carry up to 70 kg of sulfur on their backs. Of course, you shouldn't get in their way and be very thoughtful when sharing the path with them. If you are into photography, then a short lens will be advised on the narrow paths.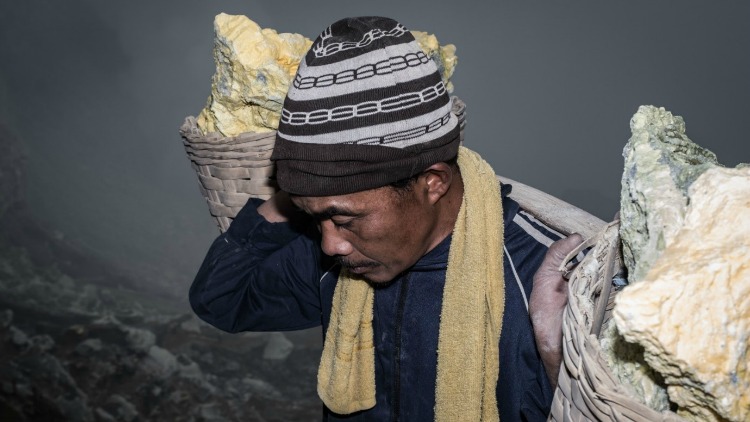 The whole trip to the bottom of the crater and back can take up to 5 hours.  You can witness the sulfur miners doing one of the most dangerous jobs in the world and find yourself equally in "hell" as well as beautiful nature. The sulfur is highly toxic, which makes it very unreal, but nature is unique and enjoyable.
You will find no other mountain in the world like the Ijen and therefore shouldn't miss the chance to take a trip there.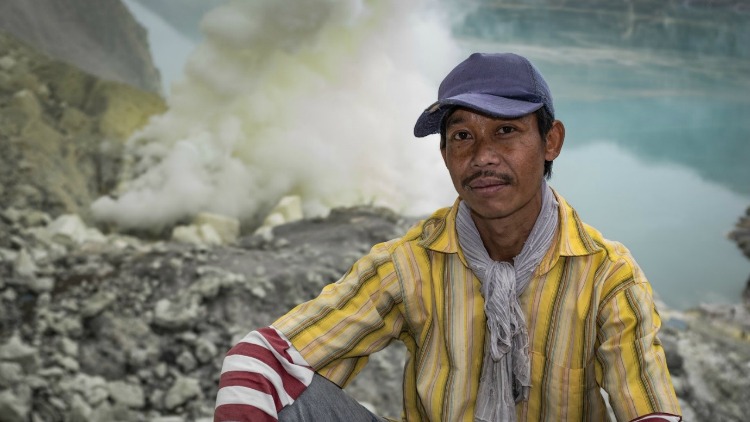 Solo travel in the Indonesian jungle will provide a unique life experience and a lot of stories to take home with you. Don't be afraid to try it yourself–I enjoyed every minute of this solo adventure.
You can find more photos and posts about solo travel in Indonesia here. You may also find this post helpful: 10 Tips for Travel in a Foreign Language.