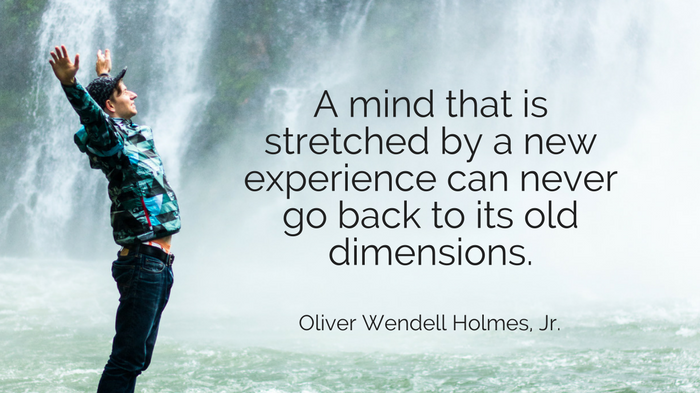 According to recent research, solo travel can make you younger – especially in your attitude towards life and mental strength.
Superagers are people in their 70s who have the mental function of those in their 20s. To me, that sounds impossible. But a recent study on superagers by scientists at Massachusetts General Hospital shows that it is, and their research points to how we can all move along the spectrum towards the superager end.
The good news: solo travel is one of those activities that could help you on that path. The conclusion of the study as described in Inc. Magazine is:
"Stop only doing what's easy and pleasant. If you're in a great routine at work, break out of it by adding new responsibilities. If you've got an effective workout that you can do without even giving it much thought, add some new elements or up the ante by making it longer and more intense. … Challenge yourself, and keep challenging yourself until you encounter enormous frustration. And then push on through that frustration and try some more."
The article suggests such things as trying your hand at public speaking, learning a new instrument or another language. I know that I'm feeling frustrated as I try to learn French. My goal for the year is to become fluent and in class, I have experienced frustration to the point of having the fight or flight instinct kick in. BTW, I'm a flight person. (Read A Language School Experience: Solo and Very Social)
But think about solo travel as the type of challenge they suggest. There are certainly no routines as you negotiate new situations and navigate new destinations. There are definitely frustrations when plans are foiled, trains are missed or reservations lost. As you travel solo everything depends on you which makes it a challenge. A healthy challenge. I think solo travel fits quite well into the type of effort the study suggests.
So, while I've frequently written that solo travel can make you feel younger. In terms of cognitive function, it could actually help you stay younger.
In addition to injecting youthful vigor into life, it could help you maintain the mental agility to really engage with all those younger people you meet on the road.
Age is a number. It's an arbitrary way of defining ourselves. In some ways it needn't be relevant.
10 Ways Solo Travel Can Make You Younger
Exercise your grey matter. You use your brain in a completely different way when traveling. Travel solo and it's really put to the test as you navigate new destinations and negotiate new situations. Perhaps you have to overcome language and cultural issues as well. It can be wonderful. It can be frustrating. But it's all good for your brain.
Take time off to do something different. I recommend solo travel for everyone, at least some of the time. But, if you're being held back from taking your vacation time because you don't have anyone with the time or money to go with you, well head out on your own. According to Skift, 42% of Americans said they didn't take a single day of vacation in 2014. Yikes! While other countries do better, still many people leave important holiday time on the table. According to Healthnet vacation time may decrease chances of heart disease, depression, and stress.
Get up and move. Most of our day jobs involve sitting at a desk. That doesn't happen when you travel. Explore the nooks and crannies of the world on foot. Walking is considered to be a major contributor to good health.
Challenge the idea of being age appropriate Traveling solo you can discover who you are when no one's looking. Without the presence of family and friends who expect you to act in a certain way, age appropriately, you can be yourself more than at any other time. Read The Power of Solitude: Emily Dickinson Meets Reese Witherspoon.
Nurture your positive side. Without the weight of companions, solo travelers can view the world through their very own lens. And if it's not a positive perspective, you can work to create one. After all, as Ron, whom I met in Key West told me, "Positive thinkers go everywhere. Negative thinkers go nowhere." Read about Ron here: Positive Thinking and Solo Travel.
Inject hope into your worldview. If your worldview is being affected negatively by news reports, then it's definitely time to travel. Travel solo and meet more people than you would otherwise. They will almost always be good people because the majority of us share similar values and desires for our lives, children, and communities. See how the world really is rather than how it is presented. Read: Solo Travel: Go to Dance
Encourage your curiosity. When traveling solo you can follow your own interests, go down paths that companions may think boring, talk to people that others wouldn't. Allow your curiosity to take flight. It is a youthful trait.
Meet people of all ages and learn. By traveling solo, we meet more new people than we do at home or when traveling with a companion. Stretch your perspectives by learning from people of different generations, especially those younger than you. Read: "So, like, you've had botox, right?"
Get back your childlike sense of wonder. Children know immediately what they like and what they don't like. They are not cynical. They easily get caught up in the wonder of what's before them. Be alone and allow that trait to emerge once again. Read Travel with the Wit of an Adult and the Wonder of a Child
Return and share the youthful, adventurous you. Being adventurous (in this case, traveling solo) is often related to youth. You may find that family, friends, and co-workers see you as being younger when you return from a solo trip than when you left. This, naturally, will affect how you see yourself.