I have just completed my fifth visit to New York City.
Dragging my bag up Eighth Avenue, I thought "this is the last time." I guess I was a little tired having gotten up at 5:15am and through bleary eyes New York City had lost a bit of its shine for me.
But, by the end of the next day I knew I'd be back again. Everywhere in this city, on every block, in every neighborhood there are interesting things that have happened and interesting things that are happening.
Part of the reason for my enthusiasm was two tours I took. Both are great for those who solo travel.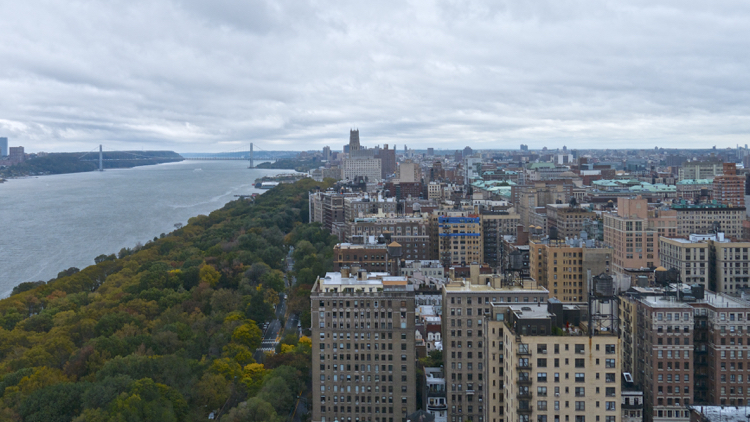 Big Apple Greeters: Travel Solo and Hang Out with a Local
On my first day I met Tony from Big Apple Greeters – the original volunteer greeter program that spawned many more around the world. Tony is a professional tour guide who got his NYC tour guide license because he enjoyed being a Big Apple Greeter so much. We met in the lobby of his apartment building on the Upper West Side. He said that he chose me to guide (he only does 12 tours a year) because on the form that I filled out requesting a greeter I said "guide's choice. Fortunately, his choice was most definitely my choice – he showed me his neighborhood.
We started our tour on the roof of Tony's building. Knowing that he wanted to start there had me a little nervous before meeting him. However we chatted for a while in the lobby during which time I met his wife and there was a concierge there who knew what we were doing and he had also been vetted by the greeter program…. it all added up to being safe. Any of you who have read much of Solo Traveler know that I hesitate going out of a public space with someone new but calculations of safety are okay too.
To get to the roof we took the elevator to the 25th floor. Then we walked up four more flights, then we climbed a ladder. At the top Tony pushed open the hatch door and we were there. From this vantage point we had a view of Manhattan in almost all directions. From the Bronx to the east and the Hudson River to the west, to Central Park to the Chrysler Building and numerous landmarks in between, we chatted about Tony's beloved city. Then, we descended and set out on foot.
Within a few blocks we saw a building called Gershwin House where George and Ira lived at some point in their lives. There was the house where Humphrey Bogart was born and lived for the first few years of his life. The house where Randolph Hearst's mistress, Marion Davies, lived and Tony's favorite park – Straus Park as seen above.
From Straus Park, which, incidentally is at the upper end of Broadway, we walked to the diner that was used in every exterior diner shot in Seinfeld (see top). But more importantly, just down the street is Saint John the Divine , the massive cathedral that has been under construction since 1892. Given the length of time they have been working on it, you can see several architectural styles in the one building. The transept still isn't built. Inside is everything you'd expect in a cathedral, and also art exhibits.
At this point I was hungry. We had started at 10am and it was now 2pm. While Greeters are volunteers and take no tips I decided to take Tony to lunch. Fortunately, we were near V&T Pizzeria – Tony's favorite. As he said, it's none of that healthy pizza but it's good and made with fresh ingredients. He was right.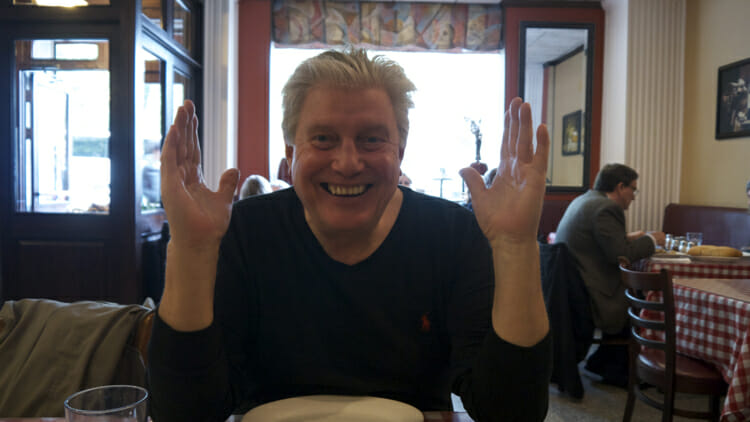 A New Take on Greenwich Village
My second day in New York was quite different but equally wonderful. I took the new Official Mario Batali™ Greenwich Village Food Tour as a guest of Walks of New York. I had taken their Venice food tour last year (Walks of Italy) and I had eaten at Otto's, a Mario Batali restaurant a few years ago. When I heard about this new tour I definitely wanted to go.
We met our guide, Simona, just a block away from the Fourth Avenue subway station. It was very easy to get to. As was the case in Venice, there were only three of us on the tour – I don't think there are always so few but such is the benefit of traveling on the shoulder season. The tour focused on Greenwich Village which I have been to often but have only viewed through the lens of poets and the music scene. This was a completely different take on it. It shared with us the history of Italian immigration to New York and America through the taste of Italian food, both traditional and modern.
We started with a snack of rice balls. They are, as they suggest, primarily made of rice with cheese and herbs all of which is formed into a ball and lightly deep fried. From there we experienced two Batali restaurants and one belonging to a Batali sous-chef who started a restaurant of his own. I had only a banana for breakfast that day and there was no need for lunch later. My photos just don't do the food justice but hopefully you get a sense of how delicious it was – think cheese tastings, salad made with the most tender of greens, a lentil appetizer, fresh focaccia, and gnocchi made with ricotta rather than potato – all amazing.
Simona, being Italian, had much to tell us about Italian cooking and Batali's approach to it. Two things have stuck in my head.
If you have to modify a recipe based on what is local and available and also to the palette of the eater, change only one ingredient. In the case of the gnocchi we had, potato was replaced with ricotta cheese.
If you don't really enjoy cooking or aren't confident in it, start with just one meal a week. Plan it and make sure to make an event of eating it.
As Simona explained, the food we ate was similar to that which her grandmother made – simple and made with fresh, quality, local ingredients. The value of the food alone is well worth the price of this tour, which is $64.
Tours are great for solo travelers. Enjoy the company of a local and other travelers for a bit, learn more than you would likely on your own and then, yes, head out on your own again.
Don't miss: