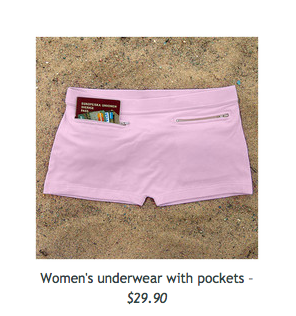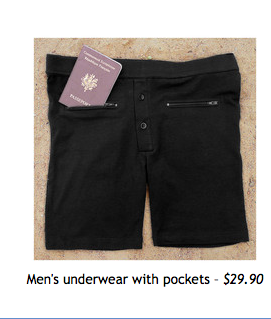 I was in Naples, Italy walking across an intersection with the green light. There were people in front of me and people behind me. My sense is that there wasn't room for a scooter to fly between us without crashing but that's exactly what one did.
Yes, I was mugged by a scooter bandit. At least, it was an attempted mugging. I was wearing my purse across my body, from my left shoulder to my right hip, and all the bandit got was the strap that broke away. I'll never forget how the bandit looked back in disbelief – with the strap hanging from his hand. Thank goodness my purse broke.
Travel Safety Gear is Important
I recently received an email about underwear with pockets for your passport. It made me smile and think of that incident with the scooter bandit. If he had got my purse, my passport would be gone as well. If I had my passport in my knickers, it would be safe. I haven't bought this product. (If you're interestested, you can check them out at Clever Travel Companion).
All these thoughts prompted me to ask members of the Solo Travel Society on Facebook for their recommendations about travel gear. And, interestingly, a similar story about a mugging in Barcelona came up.
Travel Gear Recommendations & Warnings
Rosemary – Well, I have been known to carry emergency cash tucked in my bra, but not sure I'd want to carry my passport in my knickers. Wow! can you post a photo of this item? I haven't seen this before..useful for travel! (See above Rosemary 🙂
Donna- I know I won't use another of those security bags that you wear across your body. I was mugged in Barcelona and he pulled the bag off around my neck and cut me pretty deep… and then I tried to grab the ends as he was pulling and got rope burns on my hands. I am definitely going with the hidden underwear/bra bags!
Marcia – Be cautious with Pac Safe products. The strap broke away from my bag. (two separate bags ). Same story. If I was not paying attention, would have lost my bag.
Klaus – Just a money belt and one of those empty fake lighters for a $100 survival bill.
DanibIs – Saftey pins. I safety pin money to the inside of my pocket, and sometimes (if I have to carry bank cards, large amounts of money, or id) I safety pin my pocket shut as well. It takes a few more seconds to pay for stuff, but your average pickpocket is not going to take the time to attempt to unpin money from your pocket. They will go for an easier target
Zachary- A hollowed out compartment in a shoe always works for me. (I'd love to know how you do this Zachary.)
Casey – I bought a pair of pants at REI with a hidden pocket inside the pocket. I just end up using my money belt though.
Nino – I never leave for a solo trip without a) cable ties as they can strap down stuff in a pinch and b) a flexible bike chain. Only used the chain once while waiting on a early morning train but the ties are damn useful. (Yikes, I don't like the sound of the chain story.)
Velo – I Use safety pins, too. As an extra precaution, I pin my house keys to the bottom of my pocket. Can't lose those. I'm using Pacsafe right now in South Africa. It feels like overkill, but my old pack would open it's zips if you looked at it sideways.
Nienke – A leather money belt with zippers on the inside (a genuine belt to hold up your pants).
Just to let you know, there are about 25 pages dedicated to Safety in The Solo Traveler's Handbook. From the link on the left, you can also buy the Kindle version for $4.99 (and download Kindle software for any computer for free.)
You can read a review of the knickers here.