Readers of Solo Traveler and members of the Solo Travel Society on Facebook regularly share with us photos from their travels. Enjoy these Greece photos contributed by members of the Solo Traveler community from around the world.
This photo of sea, sand, and mountains in Stoupa was shared with us by Cheryl, member of the Solo Travel Society. Stoupa is situated on the coast of Greece's southern Peloponnese peninsula.
Check out the incredible color and detail in this photo taken on the island of Lesvos by Solo Travel Society member, Laura.
Do you have a great photo from your travels that you would like to share? Join our community of more than a quarter million solo travelers on Facebook. You can submit pics for consideration there anytime, along with a description of where the photo was taken.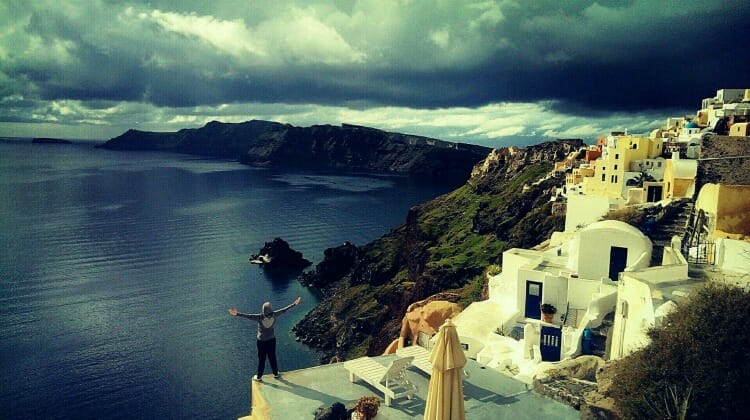 Solo Travel Society member Ly shared this photo taken – literally – on the edge of the village of Oia. This photo was from her backpacking trip on the island of Santorini.
You might also enjoy this post: Solo Travel Destination: Santorini Island, Greece.
The perfect way to end a day of exploring Greece: a glass of wine, a plate of olives, and a beautiful sunset. This photo was shared by STS member Sandy from her solo trip to the island of Hydra.
Have you traveled solo to a destination that you loved and would recommend to other travelers? Consider submitting a post about your trip with photos, tips for where to stay, what to eat, how to get around, and advice for enjoying the destination. You can use our easy online form.
Never underestimate the difficulties of making an epic selfie, says Solo Travel Society member Barbara of her gorgeous photo from the Greek island of Folegandros.
For more Greece photos and solo travel stories, most of which have been submitted by readers, check out our Solo Travel Destinations Page where you can search by country.
Reader Lampel from The United Arab Emirates found Santorini to be a great choice for a first-time solo traveler and shared this photo from just before sunset in Oia.
Crete is the largest of the Greek islands and the southernmost point of Europe. You can experience a Mediterranean island rich in culture, history and mythical legend. This is Balos Lagoon.
Ready to start planning your trip? Go straight to our Start Here page. Here you will find links to our most popular resources on Solo Traveler, our best solo travel tips, advice for saving money for and as you travel, and our top safety information.