Readers of Solo Traveler and members of the Solo Travel Society on Facebook regularly share with us photos from their travels. Enjoy these Jordan photos contributed by members of the Solo Traveler community from around the world.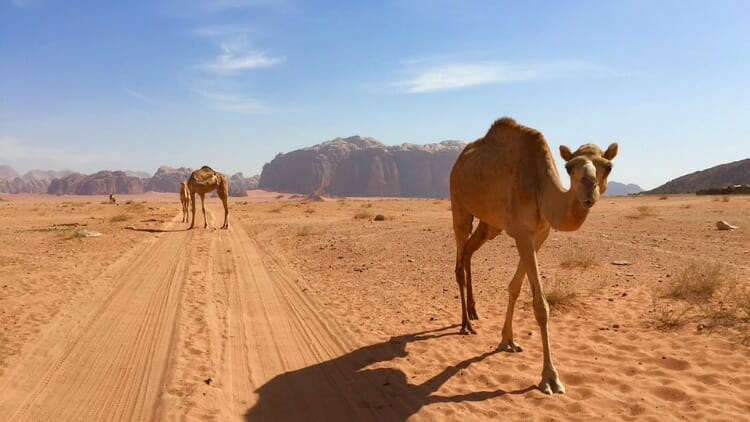 "I came across a herd of friendly camels on my Jeep tour in Wadi Rum, Jordan, aka The Valley of the Moon," said STS member Julie.
Do you have a great photo from your travels that you would like to share? Join our community of more than a quarter million solo travelers on Facebook. You can submit pics for consideration there anytime, along with a description of where the photo was taken.
Gorgeous Corinthian columns against the blue sky of Jordan.
This photo shows a view of antiquities and the new city from the Citadel in Amman.
Have you traveled solo to a destination that you loved and would recommend to other travelers? Consider submitting a post about your trip with photos, tips for where to stay, what to eat, how to get around, and advice for enjoying the destination. You can use our easy online form.
Hadrian's Gate, the south entrance to the ancient Roman city in Jerash.
A view of the Jordan Valley from Mount Nebo.
You might enjoy this post as well: Solo Travel Jordan: Two Perspectives. Whether exploring completely alone or with a tour group, solo travel to Jordan comes highly recommended by these Solo Travel Society members.
This photo shows a section of a 6th century mosaic map of Jerusalem and the Holy Land that was uncovered when building a Greek Orthodox Church in 1896. The map is on the floor of the Church of St. George in Madaba.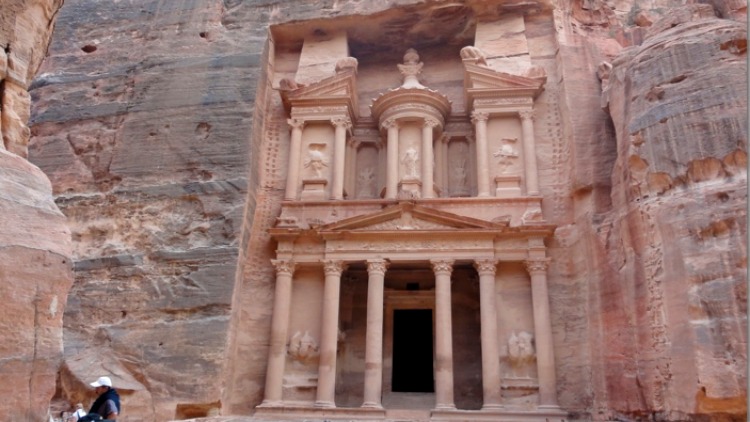 The treasury building in Petra, the capital of the Nabataeans dated to 1500 BC.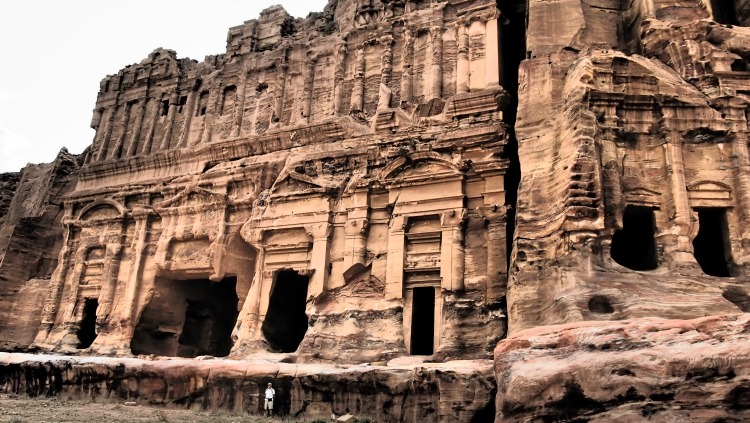 You might enjoy this post, in which two Solo Travel Society members from different countries share their individual experiences of visiting Petra: Solo Travel Destination: Petra, Jordan.
I hope you've enjoyed these Jordan photos, generously contributed by members of the Solo Traveler community. Ready to start planning your trip? Go straight to our Start Here page. Here you will find links to our most popular resources on Solo Traveler, our best solo travel tips, advice for saving money for and as you travel, and our top safety information.