Readers of Solo Traveler and members of the Solo Travel Society on Facebook regularly share with us photos from their travels. Enjoy these Myanmar photos contributed by members of the Solo Traveler community from around the world.
Kyaiktiyo Pagoda, or Golden Rock, is one of the most important Buddhist pilgrimage sites in Myanmar. This photo of Golden Rock in Mon State was shared by STS member Jasmine.
You might also enjoy this post, contributed by a reader who visited Naypyidaw, also known as The Ghost City of Myanmar, and found it truly lives up to its nickname: Solo Travel Destination: Naypyidaw, Myanmar
This pic of the monks in Myanmar lining up for lunch was taken by Jasmine at Kha Khat Wain Kyang Monastery in Bago.
Do you have a great photo from your travels that you would like to share? Join our community of more than a quarter million solo travelers on Facebook. You can submit pics for consideration there anytime, along with a description of where the photo was taken.
What a great way to get a broad perspective on a destination! This photo of the view over Bagan from a hot air balloon was shared with us by STS member Roddy.
For more Myanmar photos and solo travel stories, check out our Solo Travel Destinations Page where you can search by country.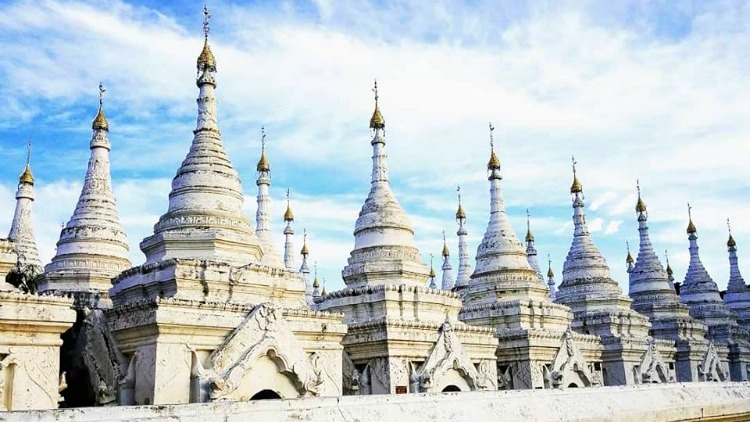 This photo of stupas set against a backdrop of cloud and blue sky was shared with us by STS member Dean, who was traveling solo in Mandalay.
Have you traveled solo to a destination that you loved and would recommend to other travelers? Consider submitting a post about your trip with photos, tips for where to stay, what to eat, how to get around, and advice for enjoying the destination. You can use our easy online form.
This photo of a temple in Bagan, in the Mandalay Region of Myanmar comes to us courtesy of Sheila, a member of the Solo Travel Society.
I hope you've enjoyed these Myanmar photos, generously contributed by members of the Solo Traveler community. Ready to start planning your trip? Go straight to our Start Here page. Here you will find links to our most popular resources on Solo Traveler, our best solo travel tips, advice for saving money for and as you travel, and our top safety information.