Let's view the world through the eyes of an artist.
We are delighted to bring you the art and world view of this year's Solo Traveler Artist in Residence, Marie Pottiez, a visual artist and traveler. On her blog, Miles of Happiness, Marie illustrates her journeys, inspiring people to travel beyond their comfort zone. Seems like a good fit to us. Here is Marie's perspective, sharing her travel experience and a series of images of New York. Marie's illustrations are also available for purchase on her blog.
Images of New York
I am sitting in the bus, staring out of the window. We just left the airport, we're on the highway, on our way to the city, and I am more impatient than ever. There it is–I see it! The sign showing "New York City." I'm afraid my alarm is going to ring and wake me up from this beautiful dream. But here I am, in the city that never sleeps, the one that has only existed for me in cinema so far. Arriving at the hotel, I throw my luggage in my room, grab a quick coffee to go (the first time in my life that I have seen a Starbucks!) and jump in a cab.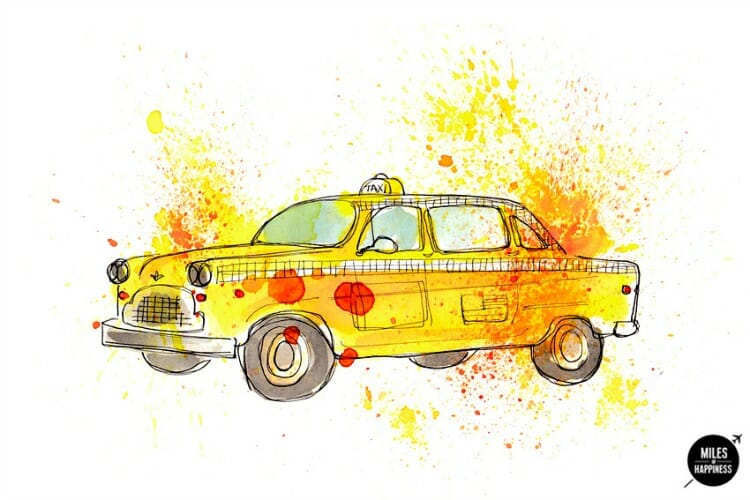 Even though it's my very first time in New York, I feel like I belong here. I've seen so many movie scenes taking place in these streets. It's very inspiring. I could stop on every corner to just sit and draw. There are tons of little exciting stories happening all around me right now. That guy selling hot dogs and giant pretzels on the street, this elegant old woman walking her five ridiculously small dogs, the legendary yellow cabs waiting in line for costumers, this stylish guy making his show figure skating…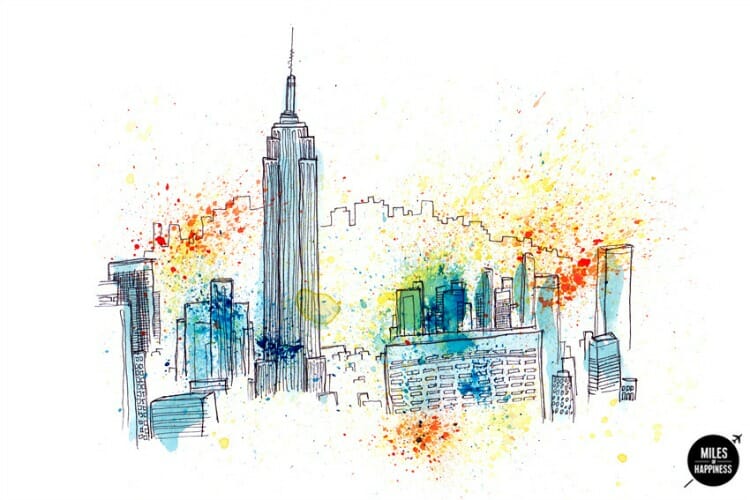 It is my first trip outside of Europe, and I am overwhelmed by emotions –excitement, curiosity, inspiration, effervescence. It's 2008 and for the first time in my life, I am seeing the world through different eyes. I want to see everything, to travel, to explore, to meet the New Yorkers, to make the most of my time.
For my first stop in New York, I choose the mythical and so cliché Times Square. It's midnight, I have jet lag, and I am far too excited to do anything else but explore the Big Apple.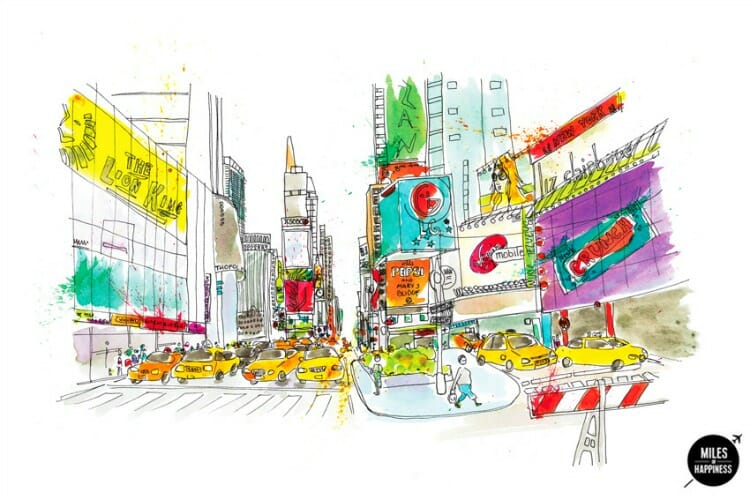 If you enjoyed these images of New York, see more from the Solo Traveler Artist in Residence in Images of Tokyo, Images of Beijing, Images of Singapore, Images of Australia, Images of New Zealand, and Images of Hong Kong. You can connect with Marie on facebook, twitter, instagram, and pinterest.