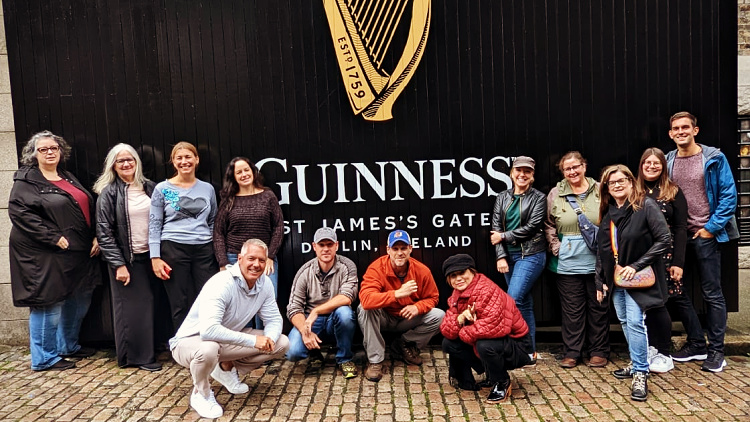 What is it like for an independent solo traveler on a group tour?
It's a question that is often asked in our Facebook community, the Solo Travel Society.
Strong opinions are sometimes expressed. There are those who believe that only those who travel independently are solo travelers. There are those who believe that as long as you set out alone to join a tour, you are traveling solo. Some prefer the company of others on a tour. Some prefer solitude.
At Solo Traveler, we take the more expansive view that you can decide for yourself what constitutes solo travel. So whether you plan every little detail yourself or prefer to have someone else take care of it, whether you wander about a destination alone or in the company of people you meet along the way, whether you set out alone and join day tours from time to time or book yourself on a group tour in a private room or even share with a stranger, you are practicing your own style of solo travel.
Almost all of my travel has been of the independent variety, so when Globus invited me to experience their new travel style called Choice Touring, I jumped at the chance. I took their Green with Envy: Ireland by Design tour so I could give you a perspective as an independent solo traveler on a group tour.
Solo Traveler on a Group Tour: 8 Days in Ireland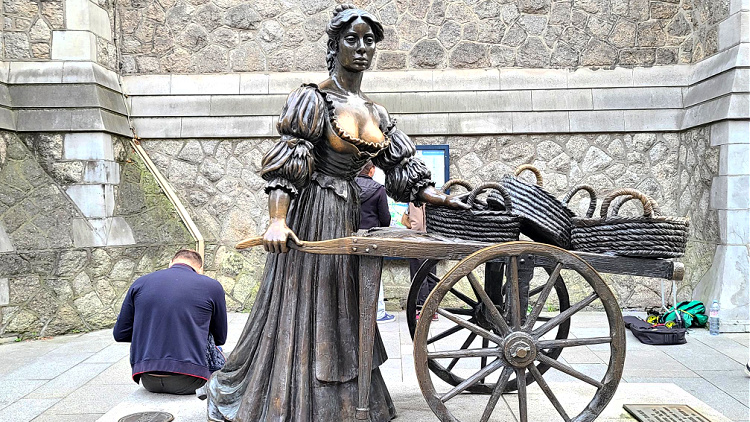 Day 1: Arrive in Dublin
Depending on arrival time, some travelers had time to explore a bit of Dublin on the first day. The first scheduled event in the itinerary is dinner at your hotel to meet your tour director and the rest of the group. We stayed at The Gibson, a modern, 4-star hotel in the Dublin Docklands area.
A really nice buffet breakfast is included every day, with lots of variety. If you are a coffee lover, I will venture to say that you will not be impressed with any regular coffee served to you in a hotel restaurant in Ireland. The key is to look for a coffee machine that makes cappuccinos and lattes. That's the best you're going to do, but it also offers the added bonus of takeout cups so you can grab and go.
If, like me, you're not a morning person, you will appreciate that takeout coffee. You may not appreciate the 7:00 am breakfast time if you are accustomed to waking on your own schedule when you travel. As the trip progressed, though, I discovered that as a solo traveler on a group tour, I got more out of my day by having a defined wakeup time. With a deadline to be packed and have my luggage ready to be picked up and loaded on the bus, my day was extended and I actually ate breakfast, which I frequently don't do.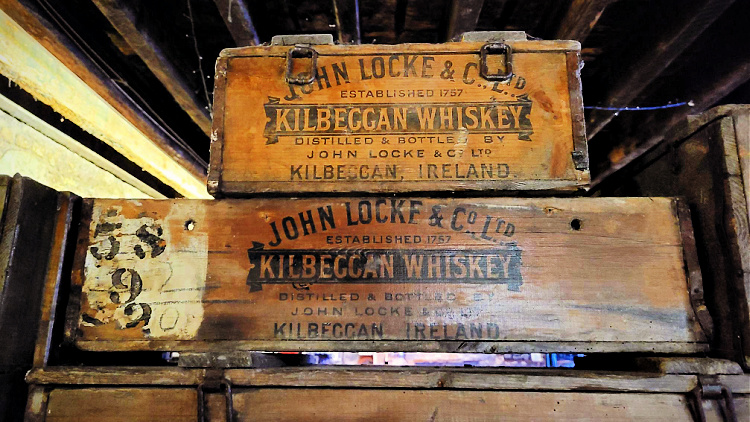 Day 2: Dublin-Kilbeggan-Athlone-Westport
On Day 2, we hit the road and started the trip off with a bang with a guided tour of a distillery and a morning whiskey tasting at Kilbeggan Distilling Co. Established in 1757, there's a lot of history within those walls. The tour was really interesting, but I'm afraid I wasn't strong enough to taste the three whiskeys that were offered. My fellow travelers made up for it, though.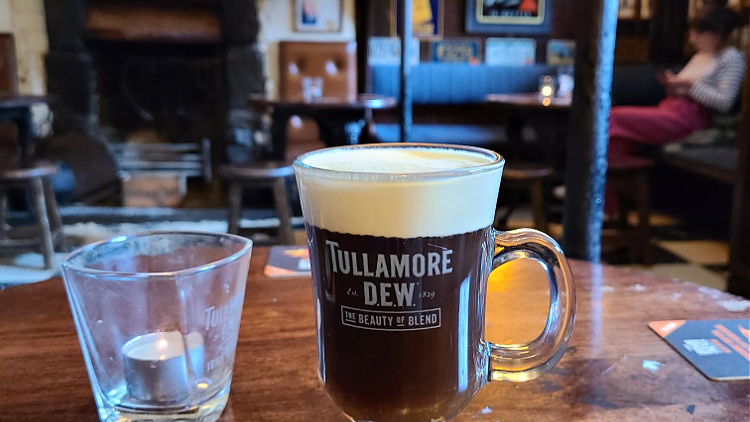 Next up: more whiskey! We traveled to Athlone and visited the oldest pub in Ireland, Sean's Bar. As our Tour Director pointed out, many places claim to be "the oldest in Ireland" but this one has some credentials; Sean's Bar has been officially recognized by the Guinness Book of Records as Ireland's Oldest Pub. They make a mean Irish Coffee. It was still before lunchtime when I visited, but it struck me as a pub I would love to return to in the evening.
I wandered around Athlone, marveling at the stained glass windows in St. Peter and Paul's Church, created by the Harry Clarke Studios. I joined some of my group members for lunch in another pub, and then it was off to Westport.
I found the pacing of the tour to be excellent. There was plenty of time to wander and do your own thing, but not so much that you were waiting around for the bus to take you to the next destination. It was also a treat not to have to be constantly figuring out how to get from place to place. Having that part taken care of by someone else meant that I could cover more ground more easily than if I had been traveling independently.
If you're considering a group tour but are deterred by high single supplements, check out our constantly updated list of tours which, like this one by Globus, feature supplements of 20% or less.
In Westport, we stayed at the 4-star Westport Plaza Hotel. The rooms were spacious, some with jacuzzi tubs, and mine had a small balcony. A gastrobar was located on the ground floor, where I joined the tour group for dinner. This was also where breakfast was served. The hotel has a spa, which I was not able to make time to visit. All in all, a very comfortable place to rest your head at the end of a day of exploring.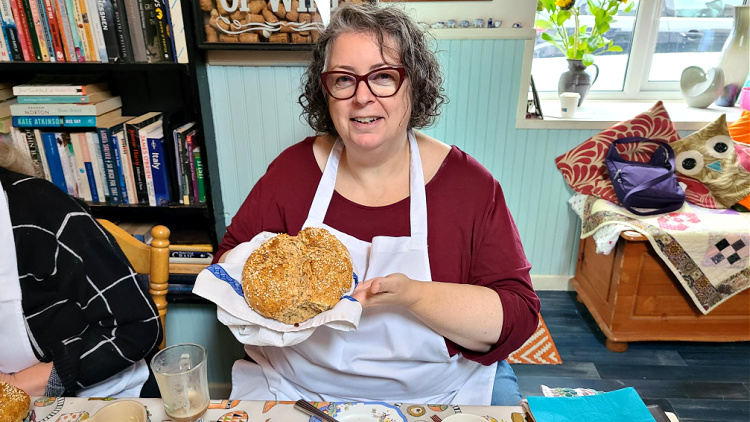 Day 3: Westport
In Westport, we had our first opportunity to pick from a roster of activities. This is one of the advantages of the Choice Touring by Globus offerings–you don't have to do the same things as your travel mates, you can choose according to your interests.
In my case, I was really excited to learn to make Irish soda bread and scones. Childhood friends, Mary (previously a medical scientist) and Carmel (previously a home economics teacher), own and operate The Irish Soda Bread Way in Westport. Since only one other traveler in the group joined me, Mary drove us to Carmel's home for our baking class instead of the commercial kitchen where they would normally host larger groups. What a wonderful opportunity to not only learn to make traditional baked goods, but to sit around a table and chat about life with locals over tea and Irish coffee!
For those who were not interested in baking, there were more outdoorsy options to choose from. Some of the group chose a guided e-bike tour of Westport and others explored the beaches and cliffs of Achill Island, Ireland's largest island.
Dinner was on our own on Day 3, so my classmate and I enjoyed a lovely, leisurely meal of local, seasonal ingredients at The Curious Fish then wandered back through the pretty town of Westport to our hotel.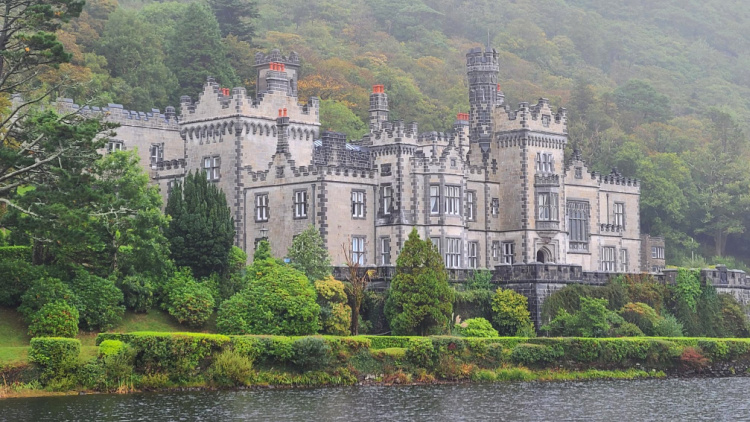 Day 4: Westport-Kylemore-Maam Cross-Galway
Having visited Kylemore Abbey on a previous trip to Ireland, this time I bypassed the Abbey and took the shuttle bus out to the gardens. In spite of the fact that it rained non-stop, it was a colorful, solitary walk and a breath of fresh air.
From the formal flower garden, planted in the late Victorian style and containing only plant varieties that had been introduced prior to 1901 to the glasshouses where fruit and tropical plants were grown to the less formal wooded trails, the beauty of it all transcended the grey and rainy weather. As someone who needs a lot of alone time, it was perfect. I particularly enjoyed the Fern Walk, where a multitude of ferns grow alongside a burbling stream in the shade of tall trees.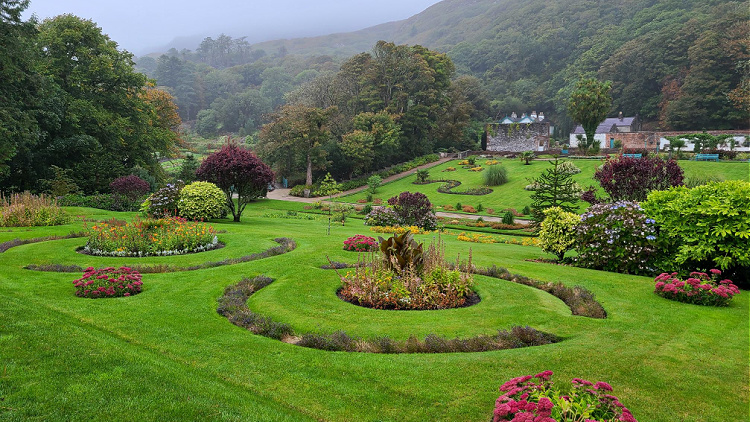 I love the landscape of Connemara and the drive from Kylemore to Galway is one of my favorites. Being able to sit back and take in the view is such a pleasure. Our Tour Director arranged for us to stop along the way to take photos.
One of the things I had wondered about group tours was whether I would find it exhausting talking to people all the time. Our group, at least, fell into a very comfortable pattern of chatting when we felt like it, staring out the window (or even snoozing) when we felt like that. There was no pressure to be "on" and we were all respectful of one another's space.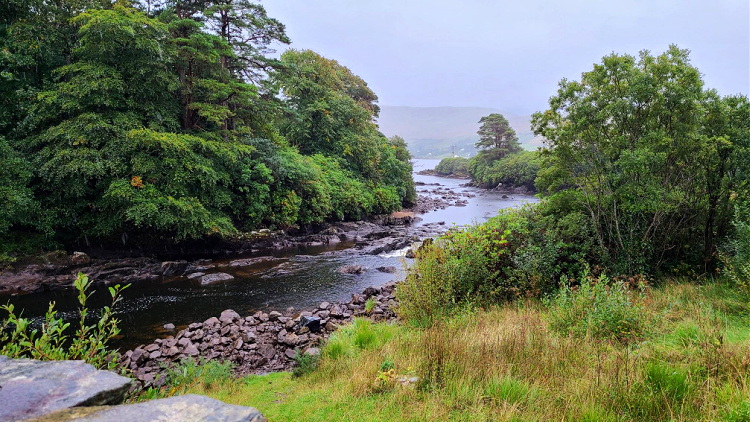 Our Tour Director, Helen Lee was astounding. Her knowledge of Irish history and culture is encyclopedic. She regaled us with stories of myths and legends, personal anecdotes from her own family, historical events, and more. She was funny and fun but also kept us all in line so we were always on time and never missed a thing. I sat close to the front of the bus, so I could see how hard she worked. I learned so much more than I would have while traveling independently, and the information was all delivered in such a personal way that it felt like a conversation with an old friend.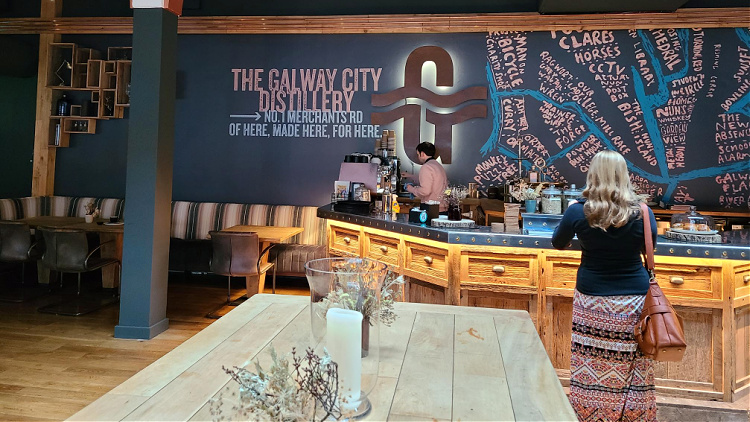 The next stop was Galway and time for another Choice Touring option. We could choose from a walking tour of the city followed by dinner and drinks in a local pub or a food tour of Galway's specialties with tastings at every stop.
I heard great things about the walking tour, and I can vouch for the food tour. We tasted everything from coffee to ice cream, pastries to cured meats, oysters to cheese, and more, washed down with beer, brandy, whiskey, and gin. My favorites were the gin and pink peppercorn ice cream at Murphy's and the gin and tonic (is there a theme here?) at the Galway City Distillery Co. If I were to go again, I would plan ahead to take their gin-making class.
Another good night's sleep was had, this time at the Maldron Hotel Galway. This one was a little out of the way, which was fine for me, as I was ready to put my feet up. But even for those who were ready to keep going late into the evening, it was just a cab ride away from the pubs.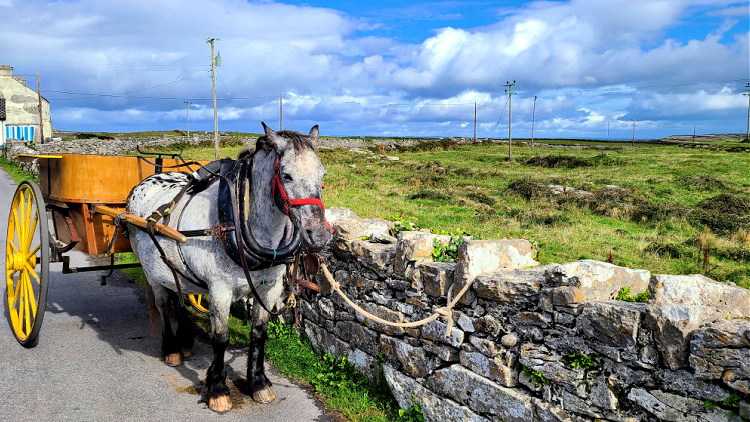 Day 5: Galway-Inis Mór
On Day 5 we had the most beautiful weather of the entire trip–and it couldn't have happened on a better day, as we were taking a ferry to Inis Mór, one of the Aran Islands. The skies were so brilliantly blue and the sun so bright on the intensely green grass, it seemed unreal.
After lunch at Ti Joe Watty's pub, including a musical performance by a local musician, we set out on a minibus tour of the island. It was a great way to cover a lot of ground, with huge windows and a running commentary from the driver.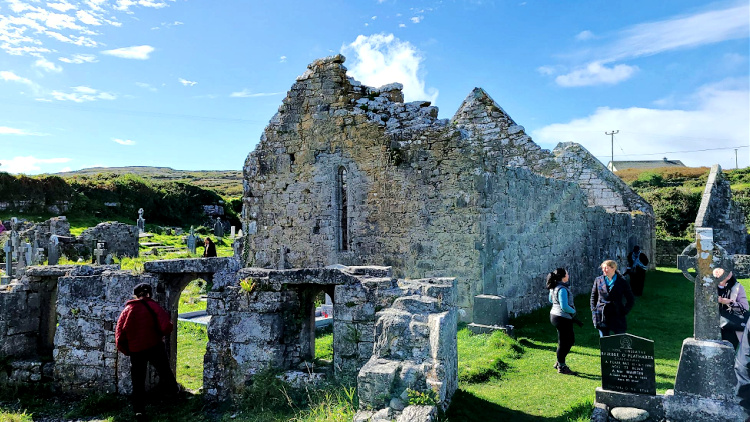 We made a few stops to wander about and take photos, then headed for the prehistoric clifftop fort of Dun Aengus. Most of the group made the trek up to the fort, but I chose not to climb up. Instead, I wandered around the shops, watched a thatched roof being installed (something I had never seen before), admired the scenery, met a woman who shared with me a recipe for Sea Spaghetti Salad (so of course, I had to buy sea spaghetti!), and purchased some of the gorgeous Aran Island wool products (which, much to my surprise, they shipped home to Canada for me at no cost).
Following the visit to Dun Aengus, the driver took us back to where we had started. Along the way, we saw more Island sights, including the area where the film The Banshees of Inisherin was filmed. Some went shopping, some of us gathered at a pub for refreshment, then we headed back to the ferry.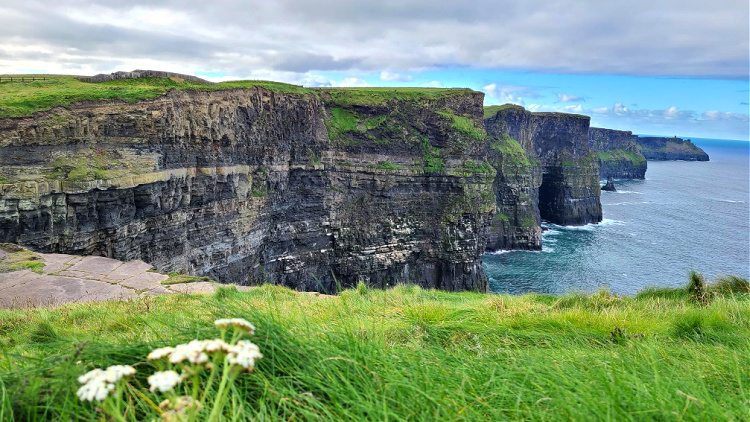 Day 6: Galway-Cliffs of Moher-Rathbaun Farm-Dublin
The Cliffs of Moher are one of those iconic Irish landmarks that I'd seen in photos, films, and travel books, but never in person. They do not disappoint! Our tour took us there on Day 6 to view the cliffs, take photos, and wander through the visitor center. This was really the only point where I felt like I was on my idea of a stereotypical group tour, where buses pull up, people empty out into a crowded visitor center, there are big lineups for washrooms, etc. But, if you want to see a popular site like that, there's really no getting around it.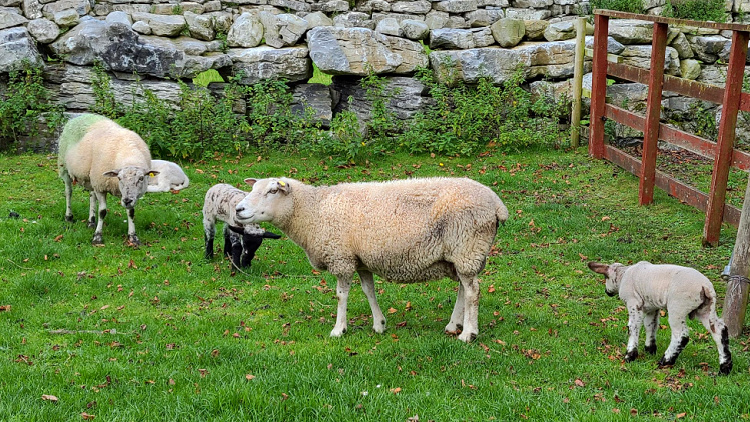 The Cliffs of Moher were followed by an experience that was completely different and would not have been available to me as an independent traveler. We visited Rathbaun Farm, a working sheep farm, for a delicious lunch, including fresh baked scones, a tour, and a demonstration of sheep herding by a dog in training. It was a wee glimpse into a life I knew little about.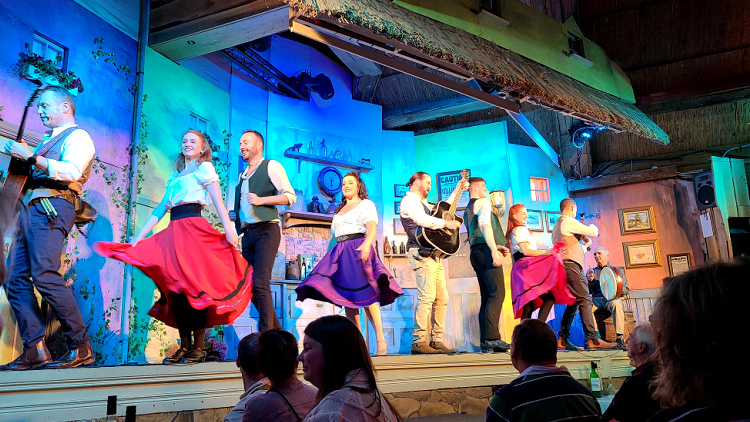 Evening brought us to another Choice Touring selection: an evening at Taylor's Irish Cabaret, including a 3-course dinner with wine and a show or a literary pub crawl around Dublin including dinner and drinks. I chose the cabaret because I had never seen Irish dancers perform live, and I'm glad I did. These were not just any dancers, but world champions who traveled the world representing their country. The dinner, in spite of the fact that they were serving a huge crowd, was delicious and it was fun to meet other travelers seated nearby.
Back in Dublin again, we stayed at The Samuel Hotel, just a stone's throw from where we had stayed on the first night, in the Docklands.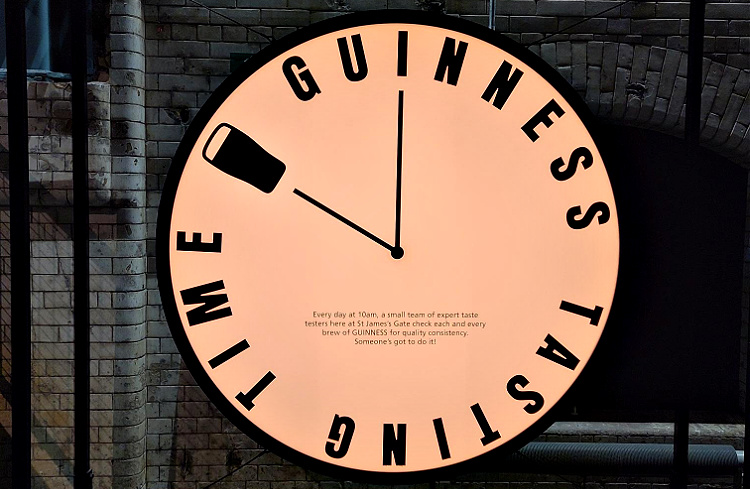 Day 7: Dublin
On our final tour day, we started with an orientation tour of Dublin. It was a great overview of some of the highlights, and gave people ideas of things they wanted to explore more on their own. We then toured the Guinness Storehouse, which was pretty spectacular. I'm not really a beer drinker, and even I found it fascinating. Floor after floor of exhibits about the history and production of Guinness can really make you work up a thirst. Which is why, when I reached the 7th floor, I took a seat in the Gravity Bar and enjoyed a beer. It's true that it tastes different in Ireland!
The rest of the day was free time until we all gathered for a final farewell dinner at a nearby restaurant. It was a fun wind down to a great week, and a chance to thank our amazing guide and Tour Director–and pick her brain for more things to do in Dublin, for those of us who were staying on.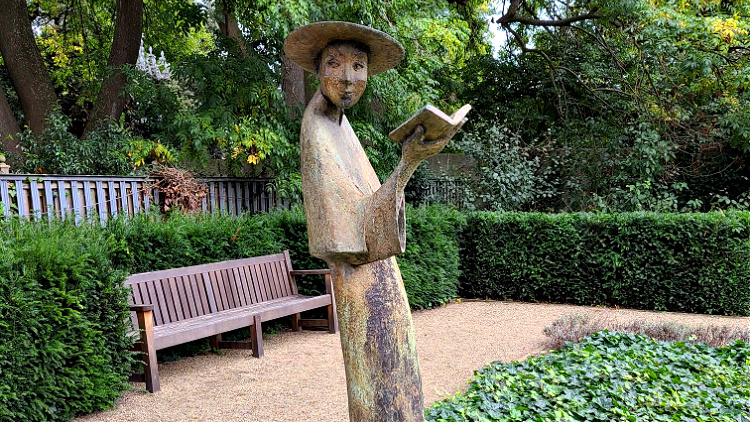 Day 8: Depart or Continue Exploring on Your Own
The final day ended with breakfast and people departed for the airport at various times or, if they had time, stuck around to enjoy Dublin for a day or two.
You can read more about how I spent my free time in Dublin in this post: Solo in Dublin: A Fantastic Destination to Explore.
Did I Enjoy Being a Solo Traveler On a Group Tour?
So there you have it: a blow-by-blow of my experience as a solo traveler on my first group tour. Would I do it again? A tour like this one, with so much free time and choice of optional excursions, yes. Many of the tiresome aspects of independent travel were eliminated, and many things were made easier: no worrying about how to get from A to B or calculating the timing, no lugging bags on and off buses and trains, no stress over hotel reservations or day tours that won't take single bookings. Would I give up independent travel? Not a chance. But there is a happy spot in between group and independent travel where this tour sits, and I enjoyed everything it had to offer.
Thank you to Globus for sponsoring my trip on their Green with Envy: Ireland by Design tour. All experiences and impressions are my own, and Solo Traveler maintains complete editorial control over all content.