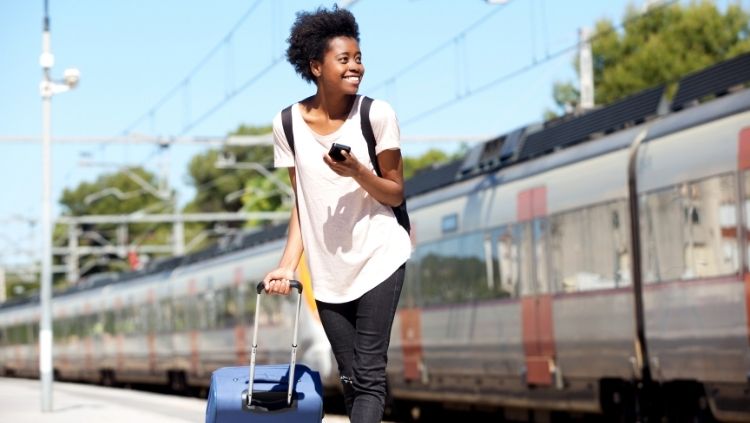 Spontaneous travel is truly possible when you travel solo.
You don't have to coordinate with anyone on where, when, or how to travel. You can leave home at a moment's notice. As you travel, you can change plans, leave a place early or stay longer, or turn left rather than right, whenever you want.
Spontaneous travel is adventurous. It's responsive to your personal needs and interests. Traveling spontaneously means that you travel to your own vibe.
So, how do you make it happen?
With the right attitude and the right tools.
7 Ways to Become More Spontaneous
For many, spontaneous travel, booking a trip without a lot of planning, is stepping out of their comfort zones.
Routines are useful. They help you get things done, act responsibly, and feel safe knowing what is going to happen and when.
But we can get too attached to routines. They can also make life boring.
If you feel you are stuck in your routines, here are seven tips to become more spontaneous without completely shaking up your world.
Get curious. This is a skill that can be developed. If someone tells you a story or refers to a news item, ask at least two follow-up questions. Challenge yourself to ask more.
Engage more. Turn away from mindless activities like watching a television series and turn to things that cause you to think and interact with people.
Get it done in a different way. Whether it's changing the route of your morning run or stopping into the library rather than a bookstore, find new ways of doing the same thing.
Go random. Deciding between two things to do? Flip a coin and let chance decide.
Say yes more often. Accept invitations you might typically turn down. Throw yourself into situations that come your way. These are opportunities to broaden your comfort zone.
Talk to strangers. A good conversation with a stranger always makes your world a little bigger and the unknown a little less frightening. Read Travel Solo and Talk to Strangers.
Practice spontaneity. You can do this at home. Try having fewer plans in a day so you have the time to see what you really want to do and be spontaneous.
3 Steps to a Spontaneous Trip
Deciding to travel at the last minute can be expensive. It can also be cheap. You can get sales on travel opportunities that have not sold out. Here is how to take a spontaneous trip without breaking the bank.
Choose your destination. Typically, this decision will be based on one of two things: a place you have always wanted to go and have already researched or, simply, the destination that is within your budget. If you're driving, you can figure out your transportation costs easily. If you are deciding whether to take a train, bus, or plane, check out Omio, who sponsored this post. Their search and booking tool helps you understand the time and price of each option. Here's an example of how it works if you are looking to go from Paris to London.
Make sure you can afford the entire trip before you book. Check the price of accommodation before you book your train, bus, or plane. If it's all within your budget, go ahead. If not, think twice. You don't want the price of spontaneous travel to be returning home broke.
Book at least your first night's accommodation. You're being spontaneous so you don't have to book every night of your trip, but you should book at least your first night. I recommend either Booking.com or Hostelworld.
Download a guidebook and go. You haven't had much time to plan, so research your destination while you are in transit. Download a guidebook onto your phone and start exploring before you even get there.
If it's a cruise or tour you want, there are clever ways of using the booking sites. If there are cabins still available, cruises can be incredibly cheap at the last minute. Go to a site like Expedia, enter your dates but not a destination, and see what pops up. If you're looking for a tour, you can use TourRadar to search trips by continent to see if there is a deal worth grabbing. In both cases, make sure the search results are sorted by lowest prices. Read the fine print for what is and isn't included. Make sure you factor everything into your budget including flights, meals, entertainment, and transfers from the airport to your departure point.
Being Spontaneous as You Travel
Being spontaneous as you travel can result in the most wonderful, unexpected experiences.
You're solo. You are in control of when, where, and why. You may have had a plan for this trip, but you made the plan so you are also able to change it.
Here are some tips to keep your travel flexible so that you can leave room for serendipity.
Stay central. When your accommodation is centrally located you have better access to public transport. This gives you more opportunities to explore in more directions.
Ensure that you can cancel. The cancellation policies for accommodation and transportation are important for the spontaneous traveler. Know what your commitment is when you book.
Plan little before you go. Being in a destination is very different than reading stories or watching videos about it. If there is something you absolutely want to do, plan for it. However, it's likely that when you are there you will discover more things you want to do. Leave lots of time on your trip to explore without a plan.
Talk to locals and other travelers. They are wonderful sources of surprising things to do and, because you didn't over-plan, you'll have time to do them.
Move on if that's what you want to do. As with all aspects of our trip, you are in control. Because you booked with a flexible cancellation policy, you can move on when you want or stay longer if you wish.
Getting from A to B without a lot of planning can cause a misstep or two. Showing up at train stations and learning to use the different kiosks that countries have can be a challenge. This is where having one app on your phone that you can use to research and book your travel is helpful. The tips above are my own but I am thankful to Omio for sponsoring this post. Their platform works for Europe and North America.