With current concerns and limitations to travel, we've decided to put together a short-list of multi-day Canada tours and Canadian day trips that we think will appeal to solo travelers.
We're highlighting Canadian companies with updated booking, payment and cancellation policies for today's circumstances.
Please note that the links to these tours, day trips and experiences are affiliate links which means that, while you'll pay the same as anyone else, we'll receive a small commission for every purchase.
We hope you find it helpful.
Multi-day Canada Tours
Omega Tours
Omega Tours features a portfolio of trusted travel itineraries in Europe and North America. Featured here, two of their Canadian tours.
Experience the dynamic waters of Canada's legendary Ottawa River in a guided raft. Overnight in your own Cabana, with a riverside view and en-suite. The next day, get your feet wet, as you splash and roll through one of the world's great whitewater routes.
Duration: 2 Days
Historic Li-lik-hel Gold Mine Horseback Riding Expedition
Spend three days and two nights in BC's spectacular Coast Mountain Range. During this time, you'll explore the beautiful mountain range between Birkenhead Lake and the Li-lik-hel mine. Rivers, lakes, forests, alpine meadows, old mine packhorse trails and single track await your expedition.
Duration: 3 Days
G Adventures
G Adventures' Travel with Confidence policy features new health and safety procedures from the moment you arrive to the moment you leave, without taking away from having the time of your life.
Vancouver Island and Northern Rockies
Discover the many landscapes, animals, and ways of life in the Canadian Rockies through an engaging 11-day tour. Venture to Vancouver Island and embark on the Inside Passage ferry, which takes you through glacial fjords to spot orcas and porpoises. Visit a collection of totem poles and immerse yourself in First Nation cultures. Read more…
Duration: 11 days
Atlantic Canada Day Trips and Experiences
Ontario and Quebec Day Trips
A Novel Idea for Home and Abroad
Flytographer has photographers all over the world. But why not book one when you're at home?
You can see each photographers portfolio and book them online. Very easy. The only province they don't have a photographer in at this point is Saskatchewan.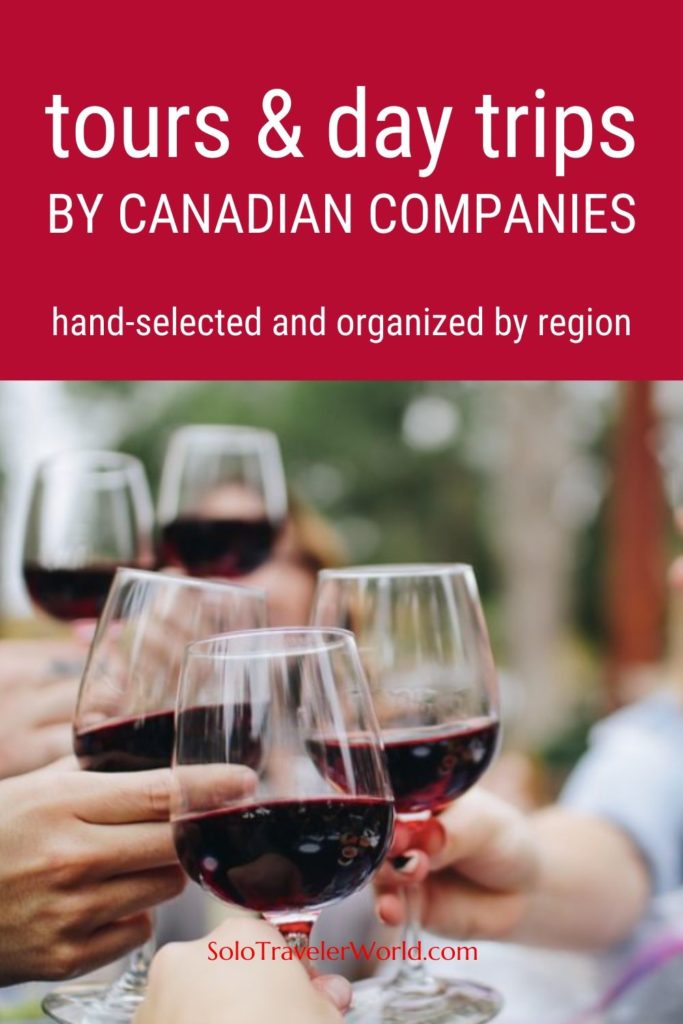 Day Trips Prairie Provinces
British Columbia Day Trips and Experiences
See Canada Naturally
Parks Canada is open for your to explore from coast to coast.
The Discovery Pass is your gateway to Canada's history, nature, and adventure from coast to coast to coast. Discover world-famous Banff and Jasper national parks, or connect with the stories of Canada at national historic sites like the Fortress of Louisbourg and L'Anse-aux-Meadows.
Don't Forget Your Accommodation
Airbnb is well known for booking apartments, homes or rooms. Click here to book and you'll get a $25 credit.
VRBO is similar to Airbnb but tends to include more holiday and resort options.

Booking.com offers hotels, hostels, B&Bs and boutique hotels. Studies show that it offers the widest range of budget hotels as well as luxury.
Our Picks for Safely Booking Canadian Day Trips
We have selected two day trip companies and one gift pack company to work with based on their refund policies.
Viator is a massive site with thousands of tours and day trip experiences. Not all have the perfect combination of the policies below so we've been careful to comb their site for tours that allow you to:
Reserve Now & Pay Later – According to their site, "Reserve Now & Pay Later' allows you to make a confirmed reservation for most of our 200,000+ tours and activities with no upfront payment! No deposit is required, however, you must add an authorized credit card at the time of making your reservation.
Full Refund Cancellation Policy – With Viator's standard cancellation policy you can cancel your booking for a full refund up until 24 hours in advance of your activity. You can cancel your booking by following the instructions found here.
The second tour company we're going with is Urban Adventures. They give a full refund if cancellation happens 48 hours prior to your trip. As per their terms and conditions: "Cancellations made more than 2 days prior to travel receive a full refund".
As always, read the fine print before you buy.