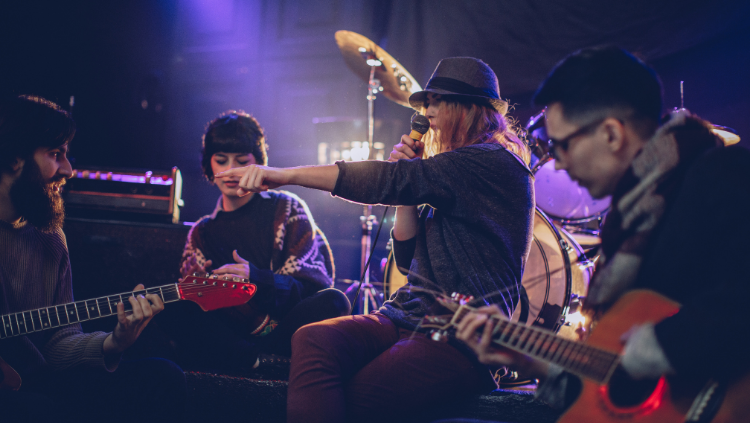 Many solo travelers find the evenings the most difficult part of the day when traveling alone. Not me. I usually go out to explore the local music scene. I take in the nightlife. It is by doing this that I have developed my tips for going to a bar alone.
Music is the universal language. Even if you don't understand the words, you can still enjoy the sound.
Large concerts tend to be expensive. However, seeing live music in a local club or pub is not only less expensive but also more personal. You get to enjoy the local culture as well as the music, possibly a local drink, and you might meet people.
To access the local music scene when you travel, ask around, find the local weekly entertainment publication, or check sources like Time Out.
I go out to more clubs and pubs on the road than I do at home. Here's how to travel solo and enjoy the nightlife. Here's how to go to a bar solo, be safe, and enjoy it.
Going to a Bar Alone: 12 Safety Tips
Dress conservatively. Consider the culture you are in and dress conservatively by its standards. It is respectful and sends a positive message.
Ensure someone knows where you're going. Before you leave, leave the details of your evening plans with someone responsible. That could be someone at your hotel or hostel or someone at home.
Arrive early. Show up early so that you have your choice of where to sit.
Take a seat at the bar. It's more social at the bar so you will have an opportunity to chat with people. Plus, you'll be sitting physically higher than most people in the room, giving you a good view for safety.
Choose a seat with a good vantage point. Pubs often have bench seats with tables along adjacent walls creating an L shape. When going to a pub alone, sit on the short side of this "L". It's like sitting at the head of a table. You are in a position of power and have access to more people for chatting.
Don't carry a purse. Bring one credit card, some cash concealed in a different location, and ID, preferably a driver's license rather than your passport. Leave other money options and your passport securely at your accommodation.
Never leave your drink unattended. If you leave to dance or for the the restrooms, get a fresh drink when you return.
Choose a safe person and connect. If there's a huge lineup outside a club and you're feeling a bit uneasy, find someone in line who looks really safe and approach them as if they are old friends. Yes, this means that you are butting into line, but it's for a good reason. Explain that you are alone and would like to join them just until you get inside. They'll understand that you need a bit of safety. Once inside, you can either make a graceful exit from them or discover you have made new friends.
Notice where the exits are. If anything goes wrong you want out fast.
Choose who you want to talk to and go for it. By being proactive you prevent the wrong person from monopolizing your evening and you'll have a great time with the right people.
Never drink too much. In fact, when going to a bar alone, drink far less than you would if you were at home. You want to have all your faculties about you to deal with any surprising situations.
Leave as you arrived: alone. If you have made friends, how you exit the bar is important. However nice they may seem, don't accept a ride from them. Get a taxi. This may require leaving early or after them. You can also discreetly leave and ask for a taxi to be called so that when the offer does come you have other arrangements.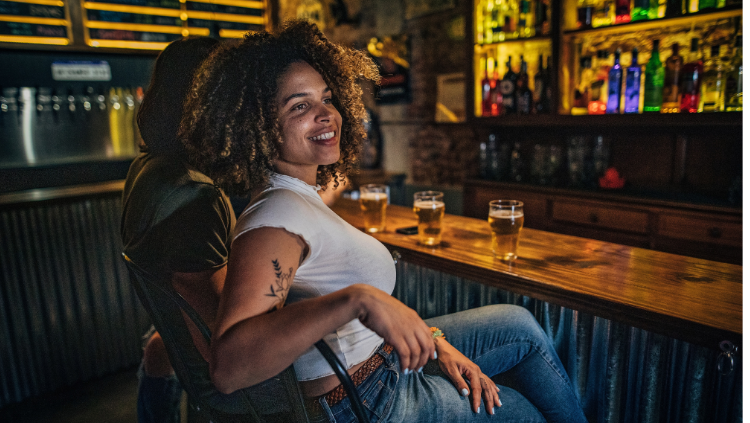 Go to a Bar Solo and Enjoy the Nightlife
Going to a bar alone when you're traveling solo can be a bit of a challenge. I always take a deep breath before entering because I really don't know what I'm walking into. The results can be very worth the effort.
Here are some tips to help you have fun.
Manage expectations. Not every evening out at home is amazing and the same applies when you're traveling. Plan to have a nice night out just to see the scene. If more happens, it's a bonus.
Make friends with your bartender or server. Ask how the night is going for them. Ask for drink recommendations. They'll notice that you're alone and take care of you in case of unwanted attention. Also, tip well.
Go when it is not too busy. If the bar is crowded there will likely be groups of people partying. That's hard to break into. If you go when the bar is quieter, you have more of a chance to meet people and have a good time.
Take a book with you but don't open it right away. Be patient. Allow some time to pass so that you can see what opportunities arise. If none do, take out the book. Bring a book that is funny. You will be more approachable if people see you having a good time.
Start conversations. If you see someone else reading a book and they seem willing to be interrupted, ask questions. A conversation could begin. Likewise, use conversation openers with others nearby. Do not ask if they come here often. Too cliché. You can, however, ask about the history of the bar or the band that is playing.
Dance. If everyone's dancing, get up there and enjoy yourself as well.
If bars are really not your thing, here are 7 more ideas for ways to spend an evening when traveling solo.
Do you have tips of your own for going to bar alone while traveling? Please share them in the comments section below.