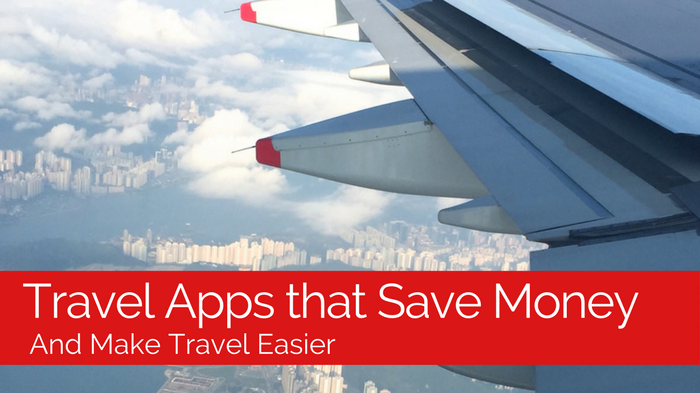 When I returned from Western Canada on August 30th I swore off my DSLR camera – except maybe in very specific circumstances.
I didn't use it!
It was simply extra weight.
I don't pretend to be a photographer. My phone takes more than adequate photos. In fact, when I compare them to the camera I was using even five years ago, it takes much better photos.
So, from here on, my phone it is for my camera and, of course, so much more. It can hold guide books, novels, a translator, and maps. I can write notes in it or record notes.
There's an app for just about everything you could dream of but there's no need to clutter your phone either. Here's a list of my favorite apps.
Travel Apps that Save Money and Make Travel Easier
FlightNetwork – On three occasions, Flightnetwork has saved me a lot of money. Hundreds of dollars. They saved me almost $200 on a $500 flight to New York City. They don't just offer price alerts, they also have Price Drop Protection which they say has earned their customers over $3.2 million in credits. This service takes the guesswork out of when to buy your tickets.
Skyscanner – I have used Skyscanner for years and still compare prices between FlightNetwork and Skyscanner. I also like their anywhere option. Instead of putting a specific destination into the search box you can put in "anywhere" and get a list of destinations from the cheapest to the most expensive.
Booking.com – According to an analysis by Frommers, "Booking.com remains the top direct booking site. It smokes all competition…"
Open Table – This app lets you find restaurants based on location, popularity, price, and availability. You can read restaurant reviews, see menus, know approximately what a meal will cost and make reservations on the fly. You can also earn points with the app that will, with time, give you a credit for a free meal.
Skype – There are times when I want to connect with home and this is where Skype comes in. With Skype and free WiFi which is so easily found these days at libraries, coffee shops and fast food restaurants, I can make a call to anyone really inexpensively, text chat or, of course, video chat.
Whatsapp – Whatsapp is similar to Skype. It's for texting, calling phones and video – all free. The nice thing about it is that you can create a group so that you can provide a status update to a group of people with one text.
VPN – A virtual private network is a download onto my phone, tablet and computer that allows me to securely use public WiFi. Why? Because then I can book accommodation over public WiFi with my credit card and know that my data is secure. It allows me to do many things. When I lost my credit card I could go online and see whether the card was being used. I can securely do my banking online. I use StrongVPN. At about $5 a month, it's a wise investment. Read VPN for Travel: What, Why and an Easy Setup Guide
Camera+ – This is my favourite camera app that actually improves the results of my phone's camera. I discovered it thanks to a photographer. Using Camera+ you can use either the horizon level or grid to get a straight horizon line. The grid is also useful to position the horizon at the perfect 1/3 or 2/3 mark. (Read Better Photos: Taking, Storing and Sharing Your Pics) It shoots in 6×19 mode which is my preference-I really don't like the 4×3 ratio that my iPhone uses. I should also mention that the app's editing functions are also great, especially the clarity mode.
Google Translate – This app has many purposes. You can use it to translate signs by using your phone's camera. You can also use it so that you can talk to someone using your phone's microphone. Simple step-by-step instructions will guide you through every application.
Google Maps – Google Maps gives you walking, driving or transit step-by-step instructions that make getting around easy in any new destination. I used it throughout my trip around the Adriatic and it was great, even in Slovenia and Croatia. Google Maps has a cool, voice-command option that is great for solo travelers on a road trip. With voice commands, you can use it totally handsfree. Here's a link on how to use voice commands on Android. On iPhones, you have to ask Siri to open Google first. Here's a video that shows how to use Google Maps by voice commands for iPhones. Google maps is heavy on data use so be careful about excessive usage fees and roaming fees if you're out of the country. I still really like and use paper maps too.
Weather – When I went to Las Vegas for the Society of American Travel Writers convention I was one of the few people who had an umbrella with me. Yes, I took an umbrella to the desert and yes there was a massive rain storm. It had been predicted. It's one thing to know what the weather is typically like at a destination and another to know what's likely to happen. I start tracking my destination's weather about a week before leaving. And I check it each morning to make sure I pack what I need.
Sleepcycle. I use this when I'm changing many time zones. It is basically an alarm clock that will wake you within a half hour of the time you set but when you are not in a deep sleep. Regular alarms try to wake you regardless of the quality of sleep you're getting.
Audible with a Free Audiobook – I love listening to talking books as I travel. They are great for road trips, long flights or just sitting and relaxing in a park. Your phone and a pair of earbuds are all you need. Sign up and you can get Audible and a Free Audiobook. If you love it like I do you pay $14.95 a month for a new book every month. If you don't like it, you can cancel at any time.
Twitter. Put Twitter on your phone and as you travel you can search the hashtag of your destination to find out what's going on there. I did this for Prince Rupert. I sent a Tweet in response to one I found interesting and ended up meeting with a scientist to learn about the whale program on the northwest coast of Canada.
Instagram. As is the case with Twitter, you can search for the hashtag of your destination. Photos will likely pop up showing you highlights you might not want to miss.
Netflix. If I'm traveling for a while I usually end up spending some time watching Netflix on public WiFi.
Save
Save
Save