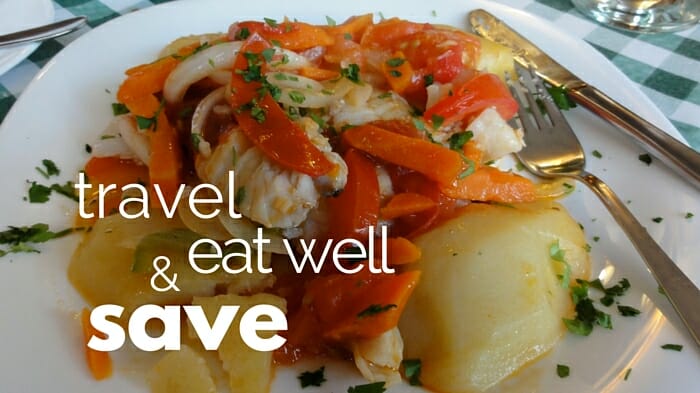 When it comes to travel, the big three in terms of cost are:
This is the first in a three-part series taking on the big three. We'll feature our top tips on how to save on each – starting with food.
There are no suggestions for chain fast-food joints (yuck for your body) or making a food plan so strict that you can't be spontaneous (what fun is that?).  These are realistic, practical tips to help you eat well and save on food as you travel.
10 Tips to Help You Travel, Eat Well and Save on Food
Know before you go. Know what your food budget is before you leave. Set an overall food budget for the trip. Splurge some days and save on others.
Choose accommodation that will lower your food expense. You don't need a kitchen to save on your food costs. Choosing accommodation with a mini-fridge is enough to keep all you need for simple breakfasts and those salad/sandwich meals of the day. Note: if you take the hotel treats out of the mini-fridge to store your things, make sure you return them. These are costly items. Check your hotel bill carefully in case your mini-fridge was monitored electronically and you are charged for all the things you moved. If this happens you can ask for a physical count of the fridge and have your bill adjusted.
Eat your main meal at lunch. Lunch menus are always less expensive than dinner menus. Whether you're going to that restaurant you've read about and always wanted to experience or simply having a basic meal, eat your main meal at lunch. Save the soup, salad or sandwich menu for dinner.
Enjoy food trucks. With a lower overhead, food trucks can give you all the quality of a restaurant at a lower price. When I was in Kauai earlier this month I certainly found the food trucks to be a more affordable food option than restaurants. And since they are where many locals go to eat, if they're not great they won't last. Food trucks generally offer good value for the money. You can always google for the best food trucks in your destination. Watch for the date on whatever food articles you read to make sure they are relatively recent.

Eat street food. From hot dogs in Toronto to pho bo in Saigon, street food has its place in every traveler's experience of a destination. It's fast, cheap and sometimes healthy – though more so in Asia than the west. Are you a bit nervous about street food? Read 5 Tips for Eating Street food in Vietnam or The Ultimate Guide to European Street Food. If you really want to learn how to "eat safely in developing countries, source cheap but delicious streetside meals and discover how to make food a tool for understanding a new place and connecting to its local culture" read The Food Traveler's Handbook.

Take advantage of meal deals and discounts. Groupon is a great source of meal deals. Google "Groupon 'your destination' restaurants" and you'll find deals specific to where you're going. Only buy deals from reputable sites. Doing some research for this post I found a site called restaurant.com. The deals seemed too good to be true so I looked for a review of the site. Sitejapper had 392 reviews of it and 292 of them gave the site only one star.
Take in food festivals. Winterlicious starts today in Toronto. In the summer there's Summerlicious. During these two-week festivals restaurants put on special menus so that you can taste their fare at discounted prices. Most cities have their food festivals to allow you to enjoy local specialties. Google your destination and "food festival" to find out what you may enjoy as you travel.
Make the most of that free breakfast. If your hotel includes a free breakfast, don't binge there and don't grab more than is appropriate. That said, there's nothing wrong with taking that packaged cheese, apple or banana for the road to reduce your cost of snacks during the day.
Get takeout from a high-end grocery store. It can be a Whole Foods but doesn't have to me. I ate very well quite often at the Safeway in Kapa'a in Hawaii. I particularly loved their kale salad and salmon steaks. And when it comes to takeout pizza, I prefer Whole Foods. A good size slice comes in at under $5.
Know how to spend at grocery stores. Focus on proper meals for your health and your wallet. Buying snack foods that add up to a meal in terms of satisfaction is an expensive proposition and an impossibility in terms of your health. As at home, shop on the stores outside edges where food basics like fruits, vegetables, dairy, bread and meat are typically located. The inner aisles are where the high sugar, salt and fatty products are typically located.
That's it for this Friday. I hope this post helps you travel, eat well and save on food. Next Friday, Cheap Tricks Part II: Accommodation.
Janice