Bottom line first: Travel planning for 2022 will continue to be complicated.
I truly wish I could say that all will be breezy and light but that's just not the case. We continue to stare down the pandemic. It has flinched on occasion but it always seems to rise for another round. The vaccine has certainly helped matters but now there's Omicron. It's affecting not only travelers' decisions but also the travel industry's ability to deliver service.
Will there be another variant? It's likely. So what do we do about travel?
How do we plan for travel? What is the travel industry doing that can make planning easier for us? Does it really make sense to plan a solo trip right now? If so, how should one choose a destination?
There are so many questions and they need to be answered as it looks like we're going to power through and travel one way or another. As our industry go-to source says:
Either omicron will be the pandemic's last gasp or we'll act like it is. You don't have to be a doctor to make this prediction. All you have to do is understand human nature or read emails from your readers.

Christopher Elliott, Consumer Advocate
After a lot of research, here are the most useful trends and tips I've found for travel planning in 2022.
2022 Travel Trends and What They Mean for Travelers
Travel, without doubt, has been turned upside down with the pandemic. While it has forced many of us to stay home and dream, it has also prompted new industry standards and trends in travel that offer opportunities.
Booking windows continue to shrink. The uncertainty caused by the ebb and flow of the pandemic has driven consumers to book closer to their departure date than in the past. The industry has responded, allowing travelers to be more spontaneous. According to data from Expedia, "Domestic flight prices usually start to increase 21 days before departure, while prices for international flights start to increase 28 days before."
Flexible cancellation policies abound. On many booking sites, from hotels to flights, you'll find pricing options that affect the flexibility, rebooking, and cancellation policies of the purchase. The lower the price the less flexible your booking will be.
New financial products hit the market. Buy now, pay later; monthly payment plans; freeze your fare; and flexible fares will lead to permanent changes in how people book travel.
House swapping is on trend. House exchanges have been around for decades but they have grown significantly through the pandemic. People are using it as way to offset the high cost of travel in other areas.
Workcations are now a thing. The pandemic has taught us that, for many, going to work is unnecessary. Many jobs can be done as effectively from home as in an office, which also means they can be done from almost anywhere. This has given rise to the "workcation" during which people go to live in a destination and work during their home office working hours and gain the benefits of travel at other times.
Soft adventure travel meets luxury travel. Outdoor or soft adventure travel saw a big surge during the pre-vaccine days of the pandemic. With the deployment of the vaccine, urban travel is coming back but adventure travel is not waning. For some, this is a new and welcome discovery that promotes personal well-being.
Sustainable travel gains traction. As you can see from the results of our November 2021 survey, sustainable travel is on people's minds with almost 40% of respondents wanting to travel more sustainably. Primarily, this means fewer flights and supporting local businesses rather than multinational corporations.
Trip stacking provides value. Trip stacking is another way to travel sustainably and affordably. Rather than taking a number of short trips during the year, people are booking and traveling longer thereby getting more value from the cost of a long-haul flight.
Hostels will have their heyday. With the price of travel going up and the restrictions on socializing experienced over the last many months, hostels are a desirable accommodation option. 63% of respondents aged 18-34 who answered a G Adventures survey said that they are likely to try a hostel experience following the pandemic.
Fundamental Travel Planning Tips for 2022
With the exception of a careful reading of the fine print, much of the travel planning process is the same as it ever was. Oh, but there is so much in the fine print. Reading it begins at the very beginning, when deciding where you want to go. It doesn't end until you are safely ensconced in your destination. Then, returning home presents a whole new list of fine print to read.
Check with Sherpa first. Keep up to date with the latest travel restrictions and requirements based on where you're from and where you're going with Sherpa. This site is a go-to resource for the travel industry as well as individuals.
Take a zen approach to travel planning. Settle into your planning process with the expectation of bumps along the way. Know from the outset that anything that goes smoothly is a gift and anything that is challenging is simply the way it is. Don't rush. There are too many details to get right.
Book expecting to change your booking

. Change is the new normal and you should book with this in mind.

Domestic flights have

a higher likelihood of take-off than international flights so you might want to look within your own country for a destination that excites you. Whether your flight is domestic or international, read the fine print for details on cancellation and changes. Some airlines offer full change and cancellation at no cost. Others only offer it on certain fare levels.

Try to book all legs of your fight with the same airline so that you don't get stuck between providers.
Book directly with the airline or hotel. If you need to make changes to a booking, you'll likely find it easier if you have booked directly with the provider rather than through a search site. By doing so, you eliminate the risk of getting stuck between the provider and search site in a battle of who owes you money.
Use your travel points, if possible. There are all sorts of stats on this but, basically, the travel industry is in recovery mode and one way to recover is to decrease the value of the points you've earned. Spend them to get as much as you can with them. They are not going to go up in value.
Travel insurance is necessary in 2022. I've beaten this drum before so this time I'm giving you another source. According to the Washington Post: "Bottom line: You probably need travel insurance if you're going somewhere in 2022." The airlines laid off a large percentage of their staff last year and have not been able to hire quickly enough to meet demand. Canceled flights are not going away any time soon. Insurance can protect your investment beyond flights. You can read our travel insurance recommendations here.
Otherwise, the basic trip planning tools remain the same. Read Solo Traveler's Recommended Trip Planning Resources.
Your 2022 Travel Planning Checklist
There is no doubt that more goes into planning a trip in 2022 than in 2019. Steps 2, 6, 7, and 9 would not have been part of my planning process two years ago. Now, they are essential.
Create a destination shortlist. You likely have more than one destination that you'd love to visit. Given the pandemic, one may be better than another for practical reasons.
Choose your destination. Check with Sherpa (see above) to determine which is your best bet given the pandemic.
Set your budget. Travel can require a lot of money or quite little. It's important to know what is realistic for you to manage financially so that you don't continue paying for your trip long after you've enjoyed it.
Research your destination. What do you want from your trip? What do you want to do there? What do you want to see, eat, experience?
Research travel options. Given your goals for the trip, is it best to go with an organized tour or independently? Read the next section for why a tour may make sense right now. If a tour is your decision, read How to Choose a Tour: Top Tips for Solo Travelers.
Before putting any money on the line, check again. Check with Sherpa one more time about the requirements of your destination. Do/can you meet them?
Create a personal departure checklist. Do this before you book anything. Based on the information from Sherpa and the embassy for your destination, make a checklist of requirements, including: vaccinations, tests and the timing of tests, the type of proof of vaccination and tests you need, any apps that the country requires that you have, visas, passport, the type of masks required at your destination, and anything else that shows up in your research. It's amazing the details this can include.
Book your flights, accommodation, or tour. When it comes to travel planning in 2022, keep in mind that change is the new normal. If you have to change plans, you want the process to be as easy as possible. Book with as few companies as possible. For example, if you're going with a tour company, I suggest that you get your flights through them (as an added bonus, sometimes this can save you money). If you're booking flights, get them all with one airline. And, of course, read the terms for cancellation and changes very carefully.
Now, buy insurance. Insurance will help protect your bookings investment should anything come between you and your trip, even COVID. Select insurance carefully as all do not offer the same pandemic coverage. Make sure that your country's current travel advisories don't void your insurance. Don't forget medical insurance. Truly, it's a small price to pay to know that an accident is not going to break you financially. Read Going Alone? A Complete Guide to Travel Insurance for Solo Travelers.
Start working your personal departure checklist. Get your vaccinations and documentation, and schedule any required tests. Get everything done or organized as soon as possible to reduce the stress at the time of departure.
Pack and check one more time. Is there a new variant? Have things changed? It's always worth checking Sherpa one more time. Then breathe, smile, and pack. Read Bare Minimum Packing: Here's Your Packing List.
Smile and get to the airport early. At this point, you've done all you can. Check your checklist and head to the airport early as everything takes longer now, and you don't need any added pressure.
The one item not on the planning checklist is "save money for your trip". For avid travelers, this is a non-stop process. Read How to Save Money for Travel: Top Tips to Help You Save.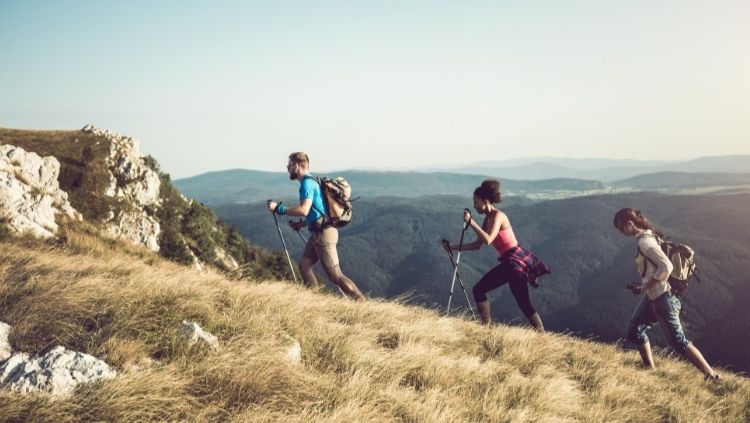 Why a Group Tour or Cruise May Be the Right Choice for Solo Travel in 2022
An escorted tour has its advantages, especially for solo travelers, when travel is complicated. I saw this firsthand when I was trying to get home from Morocco in March of 2020. Those who booked their flights with the tour company had the easiest time. Those who booked through a travel agent/advisor had to get in touch with them but did have their support for getting home. The few who booked online were left to their own devices in the chaos of that time.
If you balk at the idea of group travel, bear in mind that it might not be what you think. Here are 11 different types of group trips.
Given that travel planning in 2022 will continue to be complicated, taking a group tour with the support of a tour manager on the ground, a local tour guide, and people in the home office makes sense for many. Should your destination suddenly become unavailable due to another variant, you'll have only one company to deal with rather than an airline, hotel, car rental company, and possibly more. Check out our exclusive list of tours for solo travelers here.
Questions to Ask Before Booking a Tour or Cruise in 2022
For the last 21 months, tour companies have been working on the issues around group travel from a health and safety perspective as well as a financial one. Here are a few questions that are specific to travel planning in 2022 you'll want to ask before putting your deposit down.
What are the cancellation terms in case you have to cancel your trip?
What are the terms if the tour/cruise company cancels or reschedules your trip?

In both of the above cases, have the company point out where this information is in your purchase agreement.

Are travelers being screened to ensure that they are clear of COVID-19, that they have had the vaccine, or both?
What health precautions are being taken on the trip?
Who is in charge of ensuring that the health precautions are being implemented? What will happen if they are not?
What health and safety protocols will you be required to follow?
And, of course, in these times your own room, preferably with no (or a low) single supplement is very important.
Traveling Solo During the Pandemic Has One Big Advantage
We've discussed the benefits of traveling solo in many ways on the blog. Read Why Travel Solo? It's Not Just about the Trip. However, during the pandemic there is one more very significant benefit. When you have travel companions, what happens to them affects you. By traveling solo, you have reduced by 50% the possibility of personal pandemic issues interfering with your trip.
Have you discovered other changes to travel planning in 2022? Please share your thoughts in the comments section below.