Here we have it: today's Travel Quote of the Week. Is there a favorite quote that you would like us to consider for a future post? Add it in the comments below, providing your first name and the full name of the author.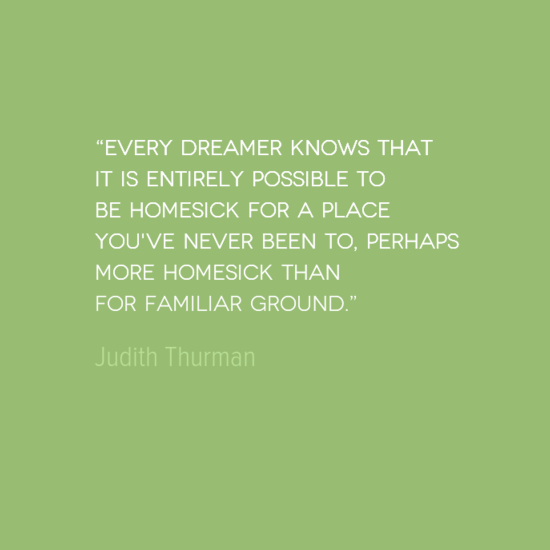 Today's Travel Quote of the Week comes from American writer, Judith Thurman. I was struck by her words, not because I have experienced this phenomenon of feeling homesick for a place that I have never been, but because I have witnessed it in a friend and fellow traveler.
For as long as I have known him – close to 20 years – D-G has longed to travel to and live in India. Having grown up in Newfoundland, then lived for many years in Quebec, he was accustomed to Canada's long, cold winters and lots of space. Yet, somehow, he could not shake the idea that India was where he belonged. So, off he went to travel around the country on his own. When he returned, I swear that he pined for India as though it had been his childhood home. He was absolutely homesick for this place he had never lived, and desperately wanted to return.
He left his job, sold all of his belongings, and set off on a solo adventure to build a new life. And so he has. Years later, D-G has created a beautiful life for himself in Bangalore, and continues to travel extensively throughout the country, with no plans to return.
I have never felt this pull to be somewhere else. In fact, every time I return from a trip, I see my home country a little bit differently and appreciate it more. It brings to mind a previous Travel Quote of the Week: The Value of Home. But it is clear to me now that the possibility of feeling homesick for a foreign land is very real.
Have you ever felt homesick for a place you've never been?
Please share your thoughts on this week's quote below.