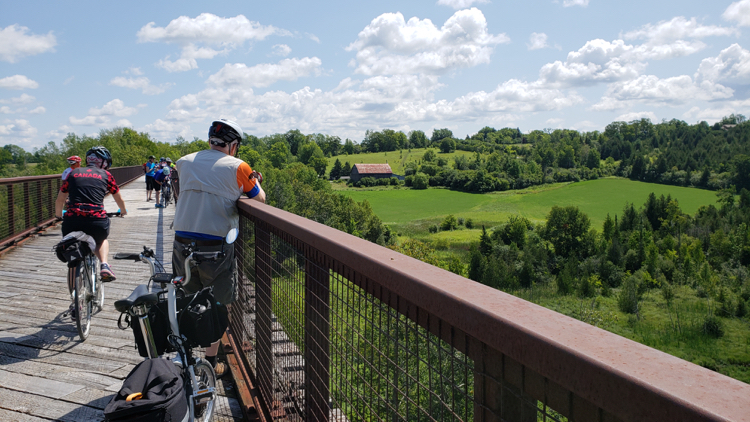 When I was ten years old my mother told me about her days as a teenager cycling and hosteling in the Eastern Townships outside of Montreal.
It struck my romance bone and launched me into a lifetime of travel.
Four years later I was on my first cycling tour. I saved my money carefully for 10 months to take a trip that my parents didn't really think I'd manage to do. I spent one month in Wales and southern England cycling and hosteling. My bike was a white Peugeot.
I actually remember every bike I've ever owned.
The one my parents bought me at the age of 8 that I left in the driveway and my father drove over. I was in such pain at the loss that he actually replaced it! A huge extravagance for our family.
The orange foldable bike I bought from Canadian Tire. It was useless.
The white Peugeot I bought secondhand for my first trip ever in 1973. That was the best bike I ever owned.
The new bike I invested in in 1999 which was then stolen from the University of Toronto.
The heavy iron castoff bike passed onto me by my stepson. I rode that bike for 10 years.
The bike pictured below. I bought it secondhand and I love it! I thought I couldn't make it up the small mountain that is my street due to poor fitness. It was actually that darn heavy bike I'd been trying to haul up the hill.
Yes, my bikes and cycling have been a big part of my life.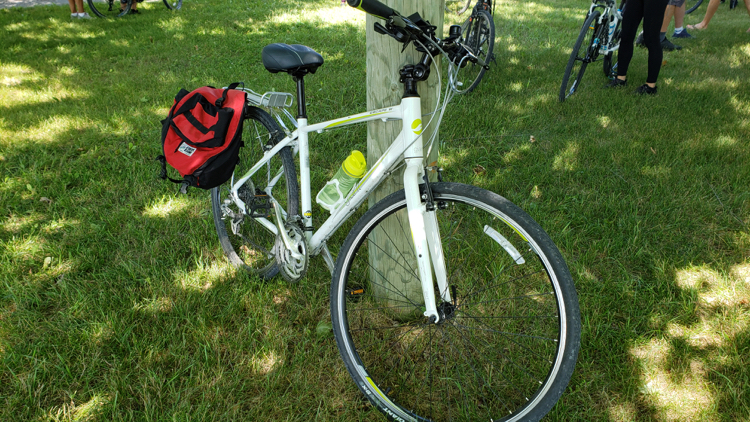 Touring a City by Bike
When I plan an urban trip, I always do a bit of research to determine whether the destination is a good one for combining solo travel and cycling, whether exploring by bike will be a good option.
Chicago is definitely a bike-friendly city. Before going to Chicago I requested a guide from the Greeter program and specifically asked for someone who cycled. The result was a fabulous day. I rented my bike at the McDonald's Cycle Center in Millennium Park (a fabulous facility) and rode with my greeter along the waterfront as far as Wrigley Field then back to Millennium Park through neighborhoods. We made a stop for lunch along the way.
In Hamburg, Germany I cycled the city as well. It's a fairly flat city with many parks and a great network of bike lanes. It's a really easy ride on your own or you can join one of a number of guided bike tours. As an alternative to the inner city, you can take the train to the suburbs for many rides there or ride right out of the city into the country. There's even a cycle path that takes you from Hamburg to Bremen. You can return by train.
In San Francisco I rented a bike at the beginning of the riding season. Neither my thighs nor my butt were up for the challenge. Still, I did one ride – I cycled the Golden Gate Bridge which is a standard cycling route for tourists. I rode to Sausalito/Tiburon and returned by ferry back to Pier 39. There are many more options in the San Francisco area and, if you want more of a mountain biking experience, they are within reach as well.
At home in Toronto, my bike is transportation from April to October. The system of bike trails and lanes in Toronto is quite good and growing. If you plan to visit Toronto you can get a free cycling map from the city. As with most major cities there is a bike share service. The bikes are good for a short commute or casual ride. For a real bike ride through the ravines and waterfront of Toronto, I would recommend renting a better bike at one of the many bike shops around town.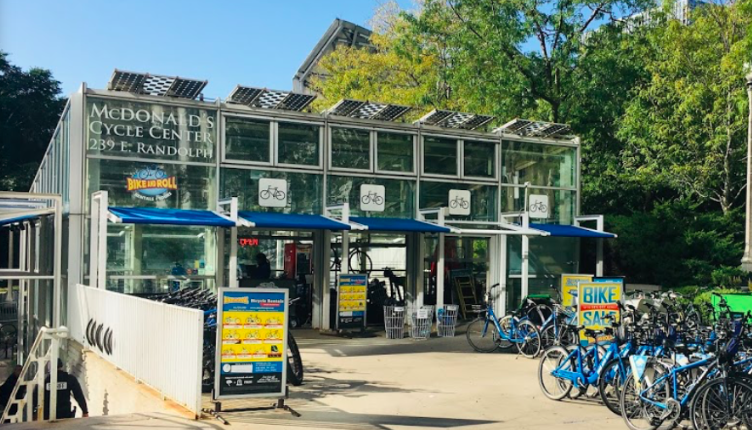 Solo Travel and Cycling between Cities
Touring by bike through the countryside between towns is a fabulous way to travel. The pace is slower. It involves more of your senses. It's inarguably healthy. It has no environmental impact. And, I've found that you meet more people just because you're on a bike.
After that first UK trip, I did a number of others. Some with friends and others on tours that I joined, often solo. My most recent was almost two years ago now. Read Bike Ontario: Rail Trails Make it Easy
There are hundreds of companies that offer tours that combine solo travel and cycling. Here are two that have been supporting Solo Traveler for many years: Explore, Exodus.