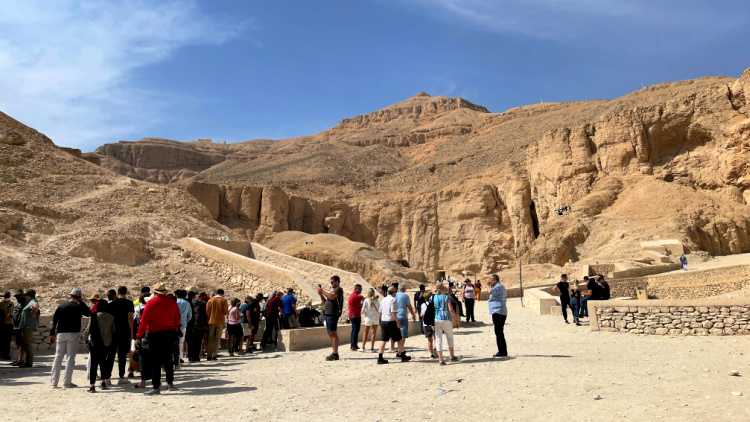 I wasn't pleased to be waking up at 3:00 am to catch my flight from Cairo but knowing that I was on my way to visiting Luxor and the Valley of the Kings gave me the strength to carry on. Well, that and coffee.
Luxor is also where the river cruising portion of my Nile Cruise Premium tour with Exodus Travels would begin. I had never been on a cruise prior to this, so I was interested to see what all the cool kids already knew about this form of travel.
What Was So Special about the Valley of the Kings?
The Valley of the Kings. Those words evoke so much grand imagery that it was hard not to be excited. I did wonder why this seemingly random spot in the middle of the desert was chosen to bury Egypt's Pharaohs and I got my answer when I saw a pyramid-shaped hill that overlooks the valley. This naturally forming structure provided the Pharaohs with the pyramid that they desired for their tomb without it becoming a billboard announcing its location.
For those who would like to visit the tomb of King Tutankhamun, or Tut as he's known to his fans, make sure you purchase the additional ticket required prior to entering the complex. I decided not to visit King Tut's tomb, but please give him my best if you see him. If you hadn't already heard, while many of the contents of his tomb are on display at the Egyptian Museum in Cairo, his mummy remains at the Valley of the Kings.
I toured three tombs while visiting Luxor and the Valley of the Kings (if you'd like to see more, just purchase the appropriate ticket) and these were the tombs of Tausert-Setnakht, Merenptah, and Rameses III. The tomb of Tausert-Setnakht was unique in that it had two tombs. It was originally built for Queen Tausert, who was one of the few queens to rule Egypt as a Pharaoh. It was expanded and taken over by Setnakht, the Pharaoh who succeeded her. What a jerk.
It is unfortunate that the tombs no longer contain any of their amazing treasures. Some of them may have a sarcophagus remaining, or fragments of one, but that's about it. Sadly, even hiding the tombs in the Valley of the Kings was not enough to keep the robbers away. The only exception is King Tut's tomb, which was discovered undisturbed. The reason Tut's tomb was likely saved from robbers is that the entrance to his is located almost next to another one and no one expected them to be so close together. Despite the lack of artifacts in the tombs, the walls and ceilings still bear their original engravings, and some paint has managed to survive to provide a mesmerizing glimpse into what it looked like when it was finished.
The tomb of Rameses III was the grandest and most colorful. I'm not sure if it was because the walls/artwork were better preserved or if the clout of being a Rameses allowed him to get better quality work done. I do recommend adding this tomb to your list during your visit if it is available.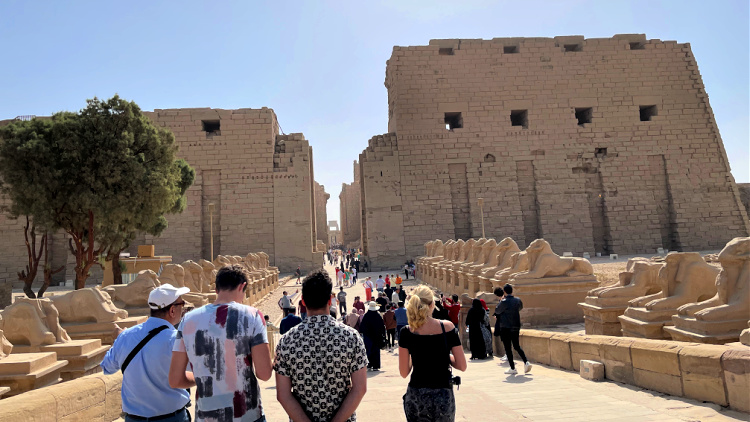 There are more than 60 tombs in the Valley of the Kings, but only selected tombs are open for visitors at any given time. Some are closed for restoration work, and some are closed in order to minimize the deterioration that is caused by human activity. I'm not suggesting that visitors are deliberately damaging the tombs, but even the increase in humidity from people breathing inside the tombs speeds up the rate of deterioration. Giving them a break from people helps to preserve these treasures for many more years to come.
Quick Tips for the Valley of the Kings
Bring sun protection. Make sure you have hats, sunscreen, sunglasses, or whatever you need to protect your skin. It's really sunny and not much shade is available.
Plan out your visit. Some tombs are more popular than others, and it's possible everyone likes the same tomb that you do. Scout out the tombs you're looking to visit, so you can immediately jump in line if your favorite tomb has a long wait. I waited about 20 minutes before I was able to get into the tomb for Rameses III, so I imagine the wait would be much longer during the high season. This isn't an issue if you are flexible, but if you're on a tour you will have to watch your time.
Assume nothing is free. As with other parts of Egypt, assume that everyone who offers to help you with something will expect a tip. This is also true of security guards in tombs who offer and insist on helping you take a picture.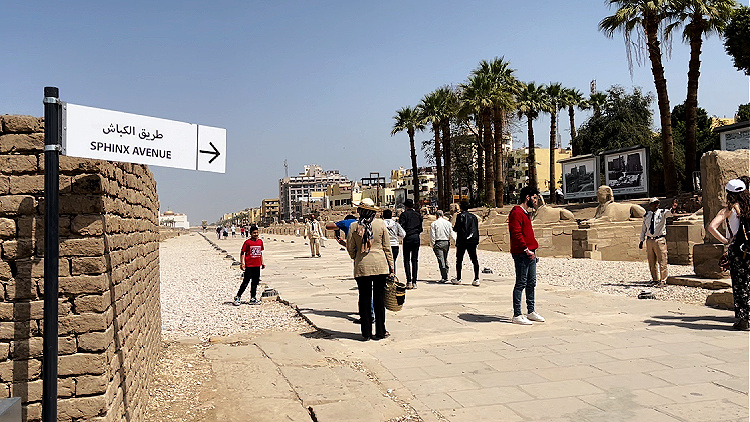 If You Love Sphinxes, You'll Love Visiting Luxor!
Luxor is home to the amazing Karnak and Luxor Temples which perfectly reflect the wealth and grandeur of ancient Egypt. Whether standing in front of the enormous stone walls of the temples or in the ocean of stone pillars at the vast site at Karnak, it's hard not to be awed by the scale of these structures, and to wonder about all the secret ceremonies that have taken place within their walls.
Work on Karnak began almost 4,000 years ago and was continually expanded by various pharaohs for 2,000 years. This is why the complex is so large, covering over 50,000 square feet.
While you're visiting Luxor Temple, be sure to check out Sphinx Avenue. This was once a two-mile (just over three kilometer) road, lined with hundreds of stone sphinx statues on both sides, that connected Luxor and Karnak Temples.
Hold My Drink While I Cruise Down the Nile
This was my first cruising experience, but it won't be my last. As I boarded my riverboat, I was pleasantly surprised at how much they could fit on this ship. It was vastly bigger than I had expected and definitely bigger than it looked from the outside. I'm still amazed that they could fit a restaurant, bar, spa, and other amenities, along with around 60 guest rooms, on my ship. There was also a sundeck with a pool, a bar, and additional lounging areas that were very popular, and where I spent a significant amount of time as well. I'll share more about my "Cruise King Lifestyle" in my next post.
Warning to Wi-Fi Addicts Visiting Luxor
For those who equate Wi-Fi with life, I'm sad to say that you're going to have a difficult transition. Unfortunately, the Wi-Fi in Egypt is notoriously unreliable and slow. Thankfully, I had roaming data to fall back on, but it's not a substitute for good Wi-Fi. However, even the roaming data on my phone would often revert to 3G service, so be sure to manage your expectations.
You could also look at your trip as a digital detox session that will allow you to focus on the moment and to interact more actively with the world around you. It can be a valuable and positive experience as long as you plan accordingly and embrace it with a positive mental attitude. Or, just load up on roaming data and pray to the 4G gods like I did.
You can read more about my trip to Egypt in Solo in Egypt: Cruising, Temples & Murder Mysteries.
Thank you to Exodus Travels for sponsoring my trip on their Nile Cruise Premium tour. All experiences and impressions are my own, and Solo Traveler maintains complete editorial control over all content.