I met travel photographer and filmmaker Luke Fandrich on my trip to the Canadian Badlands this year. Not only does his work showcase his home province of Alberta in a spectacular way, but he clearly loves his subject and we spoke at length about life and solo travel in this part of the country. Who better to share advice on a solo Western Canada road trip than a photographer who regularly travels and captures the beauty of the area?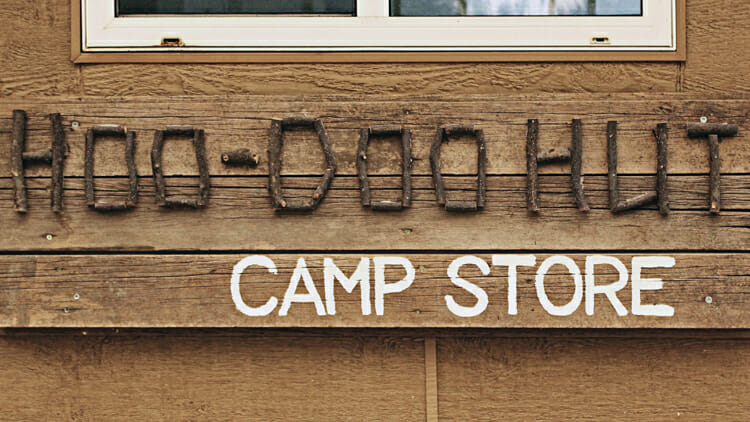 As someone who grew up in Southern Alberta, I've gained a lot of appreciation for how beautiful this province is the more I've traveled abroad. In fact, one of my favorite drives in Alberta is one that your average tourist probably hasn't considered – specifically, because it omits Calgary, Edmonton, Banff, and Jasper.
Western Canada is a big place, and nothing will help you appreciate that more than a road trip that takes you across several distinct prairie landscapes in a matter of hours. Ditch the Trans-Canada and the Crowsnest Highway and let me tell you how a drive from the Saskatchewan border to the British Columbia border is actually a lot more fun with a few detours involved.
Starting off on the eastern edge of Alberta you'll find Elkwater in Cypress Hills Interprovincial Park.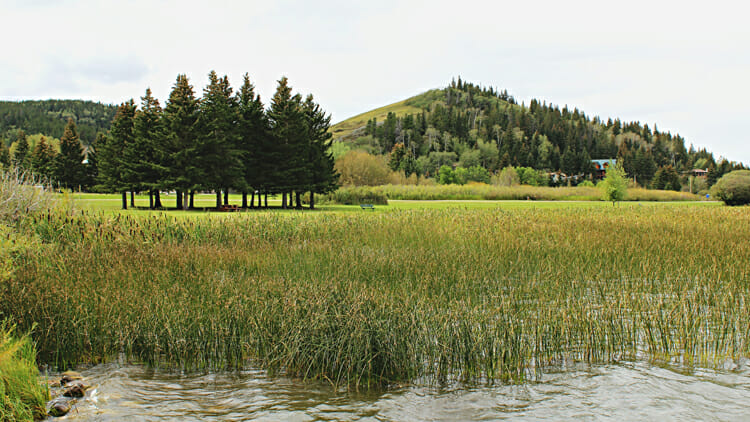 From fishing, biking, and camping to boating, golfing, and skiing, this unique area is where the prairies transform into rolling hills dotted with pine trees. The park stretches between Alberta and Saskatchewan, and if prairie vantage points are your thing, the Cypress Hills are actually the highest point in Saskatchewan. Viewpoints abound!
This is one of those places where you can feel the air change with the sudden increase in elevation. Even better, because of the relative isolation of the Cypress Hills you'll almost never be competing with crowds to find a space for yourself. Take a moment to listen to the sound of the wind blowing through the giant lodgepole pines on the hills. It's amazing and is something that has stuck with me since I first camped here as a kid.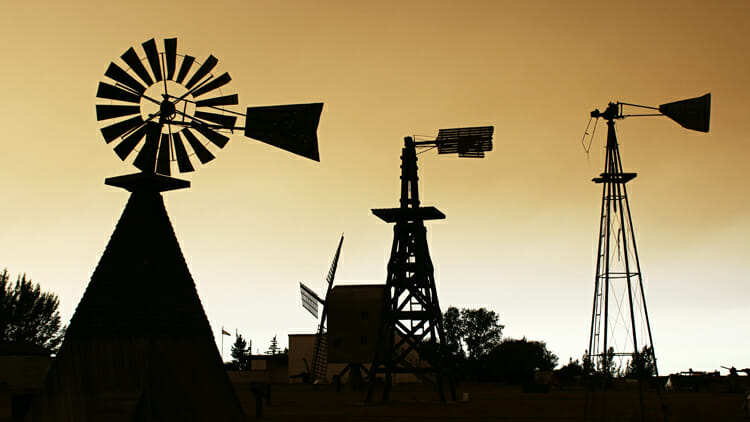 Next, head southwest to the small town of Etzikom, Alberta. You'll link up with the Red Coat Trail (Highway 61), which derives its name from the North-West Mounted Police who traveled this route in 1874 to bring law and order to the Canadian West.
Stop in at the Etzikom Museum & Historic Windmill Centre. This seasonal museum features a handful of prairie artifacts that are sure to add a bit of character to any Western Canada road trip – think one room schoolhouses, farm houses, etc. The outdoor windmill garden next to the museum is especially noteworthy. You aren't likely to stumble onto this many antique windmills anywhere else.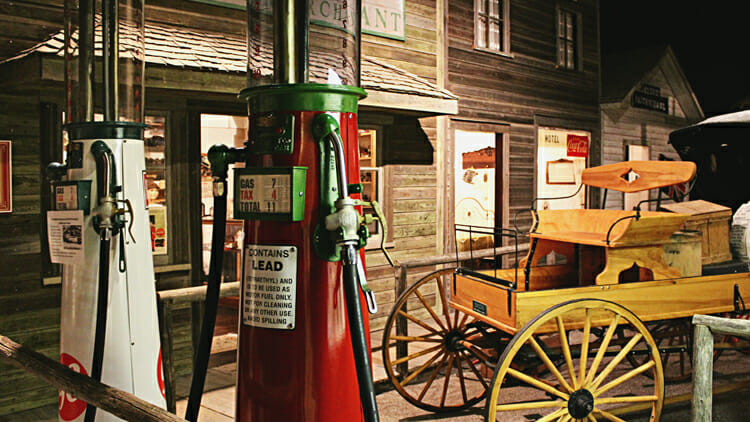 Continuing further south, almost to the Montana border, you'll reach Writing-on-Stone Provincial Park. This river valley is full of sandstone formations known as hoodoos, and is arguably one of the most dynamic prairie landscapes you'll come across in Alberta.
This park is a National Historic Site of Canada and is significant for the aboriginal petroglyphs that were carved into the sandstone here – hence the name. A guided tour is required to see some of the protected sites, and in my opinion it's worth it. You'll not only come away with a greater appreciation for the history of the area, but you'll also get a chance to take in some incredible views that the general public otherwise doesn't get a chance to see.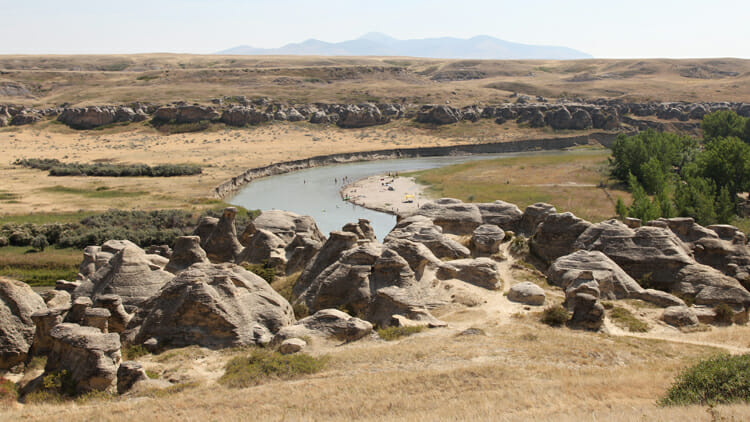 Speaking of views, Writing-on-Stone Provincial Park has some amazing trails that wind through the hoodoos and provide stunning outlooks over the Milk River. Climbing, wandering, and very briefly getting lost in these sandstone giants is what coming here is all about.
Keep in mind that if you are taking your Western Canada road trip in the summer, it gets pretty hot. The sandstone holds and radiates the heat, and a hot prairie summer can quickly feel like a hot desert summer when entering the park. Bring a lot of water and sunscreen.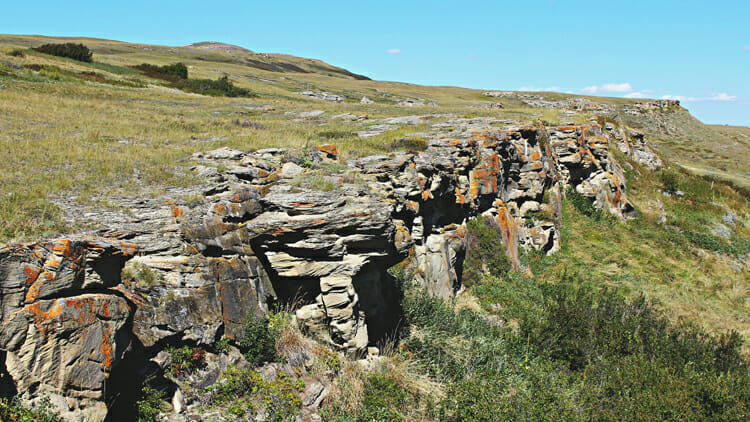 From here head north on route to Head-Smashed-In Buffalo Jump.
As you reach Lethbridge, Alberta take a moment to stop and check out the High Level Bridge (also known as the Lethbridge Viaduct). The bridge isn't hard to miss, it was completed by the Canadian Pacific Railway in 1909 and is the largest railway structure in Canada. It's a landmark popularly used to identify Lethbridge.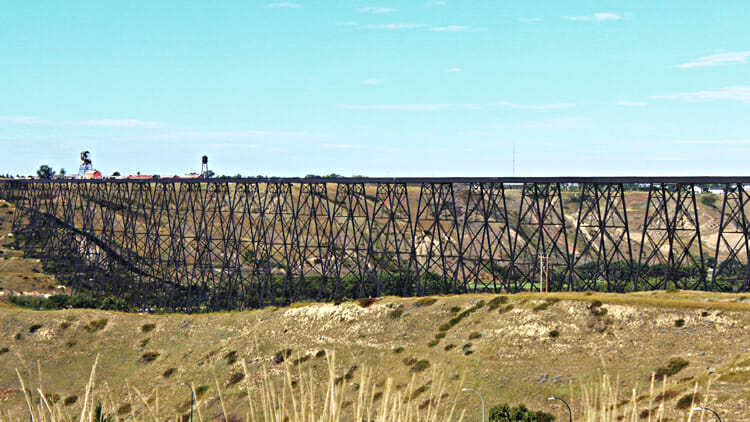 Continuing through Fort Macleod, Alberta take note of their beautiful historic main street. With a collection of unique little shops, the character of the old buildings has been preserved and has made the community into a popular filming location. Portions of Ang Lee's Brokeback Mountain and Christopher Nolan's Interstellar were filmed in Fort Macleod.
Head-Smashed-In Buffalo Jump is where the prairies begin to meet the foothills of the Rocky Mountains. The cliffs here are where early first nations would drive buffalo off the edge to then harvest the animals for food, create tools from their bones, and use the buffalo hides for clothing and shelter. This fascinating history is showcased within a beautiful museum, which is just one part of this UNESCO World Heritage Site to explore.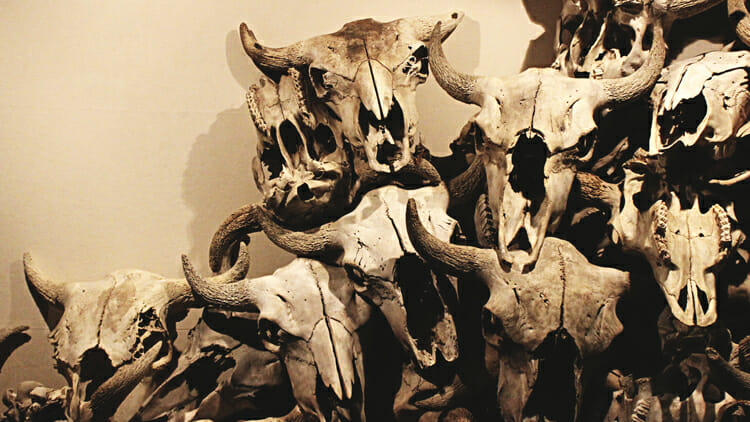 Take some time to walk the trail along the cliffs / buffalo jumps to appreciate the significance of where you are. The mountains and vast prairie are breathtaking here, and you'll be standing on an early hunting ground that was used by the indigenous people of the plains for over 5000 years.
The final stretch of this Western Canada road trip will take you south towards Waterton Lakes National Park. This drive along Highway 6 has always reminded me of the image on the Alberta provincial flag – yellow fields, green hills, mountains, and a blue sky.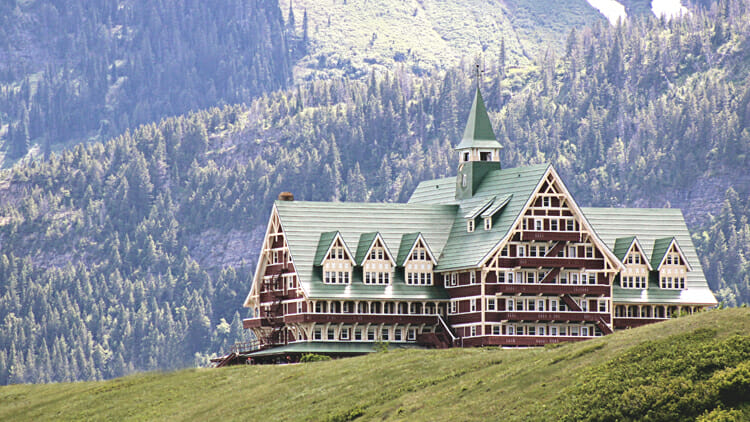 Waterton has increased a lot in popularity, but it's still the most underrated of Alberta's Rocky Mountain parks. That has a lot to do with it being smaller than the others and it being tucked away in the southeast corner. However, this also means that if you time your visit accordingly you can enjoy these world-class views in a much less crowded setting (and yes, I'm using Banff as the benchmark here).
From Red Rock Canyon to Cameron Lake, you'll find unbelievable scenery all over this park. Be sure to take in the view of the lake from the Prince of Wales Hotel. This is one of Canada's grand railway hotels, however unlike all the others, this is the only one that was built by an American railway company – the Great Northern Railway.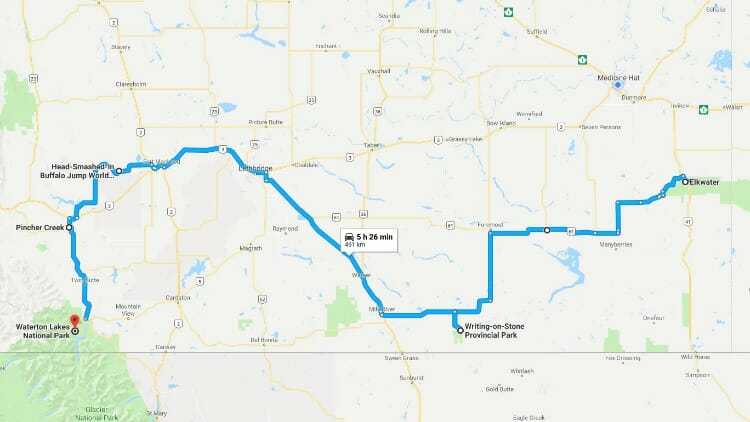 At under 500km this road trip is far from the lengthiest journey you could take to explore Western Canada. However, the variety of scenery that you'll come across will leave you feeling like you've covered a lot more ground. This is the Alberta that not everyone gets the chance to see.
Luke Fandrich is a professional travel photographer and filmmaker based in Alberta, Canada. His website, Editing Luke features a diverse collection of original multimedia content that has reached over 45 million people around the world.