The short answer is: YES!
If you have read the back story you know that, after a very full life of travel with family – lots of travel – I have recently returned to solo travel. I say returned because I used to travel solo, before husband and kids. Now, with three solo travel adventures complete as an adult, I have to say: even if I wasn't single, I would still travel solo.
Is that weird?
I don't think so but I decided to ask a few well traveled individuals for their opinions. Evelyn is known far and wide as Journeywoman. She, like me, is single. Keith of the Velvet Escape and Linda, a prolific traveler who has been to 45 countries so far, are both in relationships. It seems that status doesn't matter – all three have a definite commitment to solo travel. Here are their thoughts.
Evelyn Hannon, editor Journeywoman.com Twitter @journeywoman
I've been traveling solo for 27 years. I see it as my natural state. It's not that I don't like the company of other people; it's that I like the challenge of figuring out the travel destination all by myself. That's part of the fun for me. I'm not really a tourist that has a check list of things I have to see. I like being a meandering detective, finding out where the swimming pool is, popping into the library, chatting to the staff at small bookshops, feeling the pulse of the different neighbourhoods, perhaps dipping my toes into a different culture. However, when I go on a leisure holiday (taking a cruise, yoga camp, spa) I have a completely different mindset. Then I love to have a friend or two with me. In this situation there is no travel challenge whatsoever. I can relax completely and spend all my time enjoying the facilities and the company of my pals.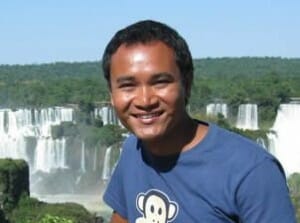 Keith, editor The Velvet Escape, Twitter @velvetescape
I consider solo travel an essential ingredient of personal development. It's easier to do if you're single but I believe it's important to go on the occasional solo trip even if you're not single. My partner and I both love to travel solo. We travel a lot together but we always make it a point to go on a solo trip a few times a year. We're both staunch believers that these 'breaks' from one another strengthen our relationship as it gives us the room to do our own thing and develop ourselves as individuals. More importantly, the occasional break in established routines is an effective antidote to jaded relationships. As awkward as it may seem, I actually enjoy the 'missing each other' part when I'm on a solo trip. I find that going solo helps to create a greater appreciation of my partner. In addition, the 'welcome home' bit is always a joy! 😉
Linda, educator, researcher, multilingual advocate for global education, world traveler, Twitter @smittytabb
It was in Christchurch, New Zealand that it all of a sudden dawned on me that I had never occupied a hotel room alone before. I was twenty-one years old and had embarked upon a solo journey to the South Island on my own. To this day I can recall all of the many feelings that came to me – excitement, anticipation, anxiety, loneliness, and the new sensation that I alone was responsible for both my own well being and that most precious of commodities, my time. Now that I have children that age, I still have those same feelings when I travel solo.
Having seen the question floated, "would you still travel solo if you were no longer single?", I jumped at the chance to share my own experiences. I have not been single for almost thirty years, and yet I still travel solo. Why? I still revel in the joys and the challenges of traveling on my own. I am just as independent and just as adventurous, if not more, than when I was single and didn't have four children. Sure, I miss sharing the experiences and I do things differently than when I am traveling with my husband, one of my children, a friend, or a group. There are also the practicalities. Sometimes it just works best for me to travel solo, especially in the context of a busy and active family. It helps that I have a supportive husband, whose mother was a solo traveler, and who knows me well enough to recognize that my passion for travel is an important part of who I am.
So it all comes full circle. One of my daughters is now an avid solo traveler. She traveled to Japan and China on her own last summer and even went to the Olympics by herself. In not too long I will be on my way to New Zealand again, where my soon to turn twenty-one year old son is planning his own solo journey later this year. What goes around comes around!
Thank you to Evelyn, Keith and Linda for contributing thoughtful and inspiring words that really make it clear why solo travel is so important – even if you're not single.
As for me… well, I have rediscovered just how liberating, empowering and fun solo travel is. Yes, a husband or partner would be great in the future but I'm afraid there will be certain conditions. He'll have to get it – solo travel is what I do.