All-inclusive resorts can be the solo traveler's perfect getaway.
Resorts have typically been for couples and families but that doesn't mean they are not for solo travelers.
In fact, for the solo traveler who needs a break from work that has been too intense or caregiving that has been important but demanding, or any other sort of life challenge, a resort can deliver the solo vacation you need.
You can go to rejuvenate or for fun. You can rest and read, do some light travel through excursions off the resort or live the full resort experience from the swim-up bar to the dance floor at night. It's up to you.
How to Go Solo to an All-inclusive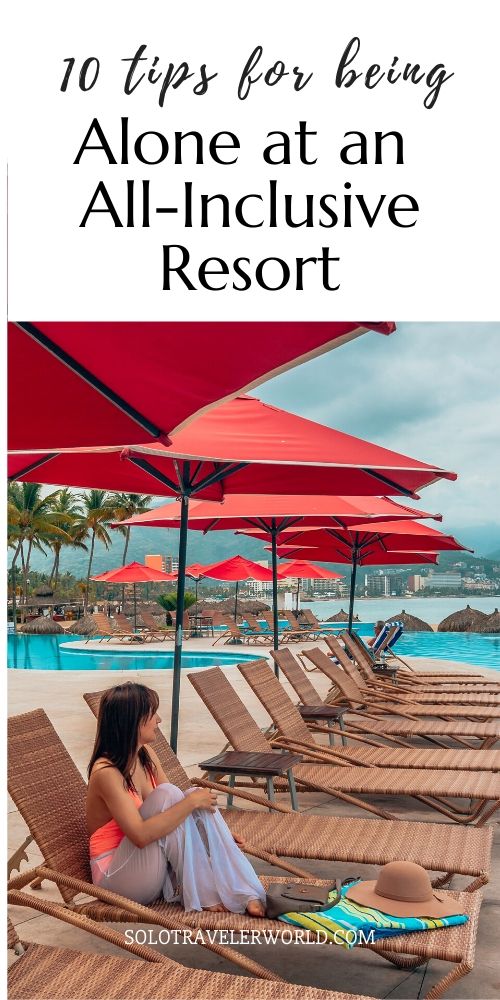 The key to going to an all-inclusive resort as a solo traveler is to know what you want out of your vacation and how to get it. Here are some tips.
At reception ask… Are there communal tables in the restaurants? Is there a welcome reception for solo travelers? Where are the quiet spots on the resort? Ask the questions that will get you the information for the type of experience you want.
Go to the welcome reception. Because many resort vacations start and end on Saturdays, there are sometimes welcome receptions or, at least, Happy Hours. If you want your resort vacation to be a social one, you want to be visible right from the start. This is also a great opportunity to spot other solo travelers.
Go to breakfast at the busiest, or least busy time. Again, this depends on what you want. Want to be alone? Go when it's not crowded so that you have your own table. Want to meet people? Go when it's busy and you're forced to sit with someone. They just may end up being a buddy for a week.
Take some alone time. Don't forget to take some alone time. Whether you find a cabana at the end of the beach or sit on your balcony and read, a bit of down time is healthy for everyone.
Join day tours. Most resorts have excursions off the resort. Take one and you'll not only enjoy the tour but also meet other people staying at the resort – people you could meet for dinner or a drink later in the day.
Participate in activities. Whether it's beach volleyball, cooking lessons or learning the basics of a local craft, there are activities going on at every resort. Find out what they are, mix and mingle.
Pamper yourself. I love a massage though it is not something I typically get at home. At a resort, with time being on my side, I always get a massage or a facial or some other sort of pampering. It's a treat!
The swim-up bar is friendly. If you really want to party during the day the swim-up bar is usually where it's at.
Soak in the jacuzzi. While much lower key, the jacuzzi is another place to meet people and have a chat, especially at the end of the day.
Enjoy the night life. Take in the evening entertainment or just sit and people-watch but get out and enjoy the evenings. In Mexico and the Caribbean they are beautiful.