This is a resource page for those who want to travel alone. It points you to many of the most popular posts within Solo Traveler.
It's designed to help you quickly find the posts that go to the heart of the matter:
Over on the Best of Solo Travel resource page, you'll find posts about why it's great to travel alone and stories to inspire your travels. But here its all about where and how.
Traveling alone is an amazing experience but it can also be demanding. Everything from your itinerary to how much fun you have is all up to you. Check out these posts to help you thoroughly enjoy your experience as a solo traveler.
How to Travel Alone
My top 10 tips and top 20 posts on how to travel alone. This article has, or will direct you to, all the info – all the basic solo travel tips – you need.
After safety, the number one concern of solo travelers is feeling lonely. I've addressed this issue in many ways. This post pulls all those ways together in one place. Please share this resource with friends so that everyone can enjoy solo travel.
Single supplement waived – that's what solo travelers are looking for. After all, who wants to pay for someone else when you're traveling alone.
There are complicated travel hacks and simple travel hacks. The tips in this post are the latter. I hope some of them help you save money and travel more.
Solo travel accommodation – where to stay is one of the biggest decisions a solo traveler has to make. This guide is full of suggestions by solo travelers.
Packing lists are the key to packing light. Most people have trouble with this but, in my opinion, it's an important skill for the solo traveler. Here's how to do it.
Checked baggage is a completely different game than carry-on – and it's about more than weight restriction. Here are tips for to avoid checked bag problems.
As you know, I'm all about packing light so don't have a long gear list. I consider every one of these products worth its weight to…
The Solo Traveler Accommodation Guide contains some of the best places to stay for solo travelers in over 51 countries. It was crowdsourced from readers, other bloggers and sponsors. Full colour ebook that's free!
We are all raised not to talk to strangers. But it can be a good thing. A really good thing. Here's how to travel alone and talk to strangers safely.
Every trip I try to improve my use of technology. This time I'm making a big leap forward with the help of Doug from iHelpinnovate.com. Doug has refined my technology strategy. Here's his first post in a three part series.
There were many responses to the post last week on Pub Life in the Lake District. It seems that people want to go out at night when they travel alone but are somewhat intimidated. So… I give you 10 tips on Clubbing & Pubbing Solo.
Is couchsurfing out of the question when you travel alone? Maybe not, if you follow tips from an experienced couch surfer.
Here are 5 tips for traveling alone in silence and 5 more for traveling solo socially that even shy people can use.
How to make the adventure of traveling solo to India a bit easier.
Eating alone is one aspect of solo travel that some people really don't like. Here are casual and elegant dining alone options.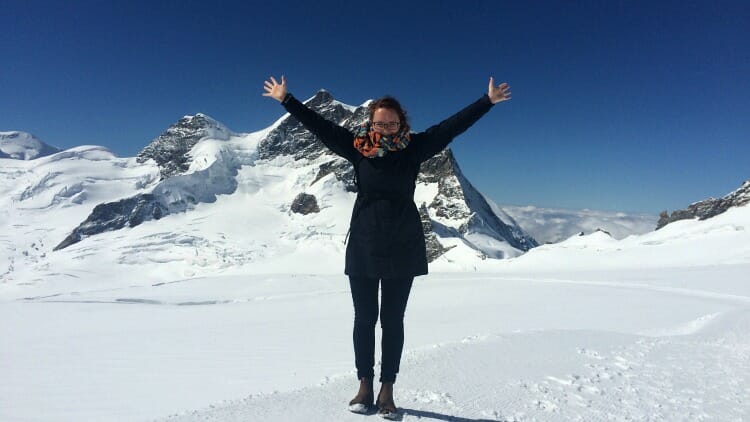 It's a real thrill to travel alone.
Travel Alone Safely
There are safe and not quite so safe ways to find a travel partner. Here are my recommendations.
Solo travel objection #1 is about safety. Well, fear not. Here are ten ways to travel solo and safe.
Understanding the logic of how a destination works helps with solo travel safety. Here are tips on finding the logic to stay safe.
My white curly hair stands out in a crowd – especially traveling places like South America or the Middle East. Here's how to blend in when you really can't
Common sense in one country is not necessarily common in another. Travelers must have travel common sense. Here are 20 tips to help you get yours.
Sometimes the things you learn as a child stay with you your entire life. This was the case with me. This safety tip informs much of the safety information I offer for solo travelers.
Preventing travel sickness – malaria, poison ivy, diarrhea, lime disease, altitude sickness – is really important for solo travelers. Here's how.
You don't appreciate it until you really need it. Travel insurance is a travel necessity… should things go wrong.
Respect for a culture, its customs and laws is fundamental to personal safety when traveling. Here are 8 tips to help you be respectful even if you don't know the nuances of the country's customs.
My new friends smiled when they realized my clever answer that told them nothing yet satisfied their curiosity. Answering questions safely is an important skill when one travels alone. Here are 5 polite and sufficiently vague answers to common questions that will keep you safe as you travel solo.
This post was inspired by a comment made by a reader: "safety is an inside job" she said. Yes, confidence is a traveler's armor. But, what if… Here's how to appear confident even when you're not.
Where to Travel Alone
Every Tuesday we suggest another destination that is great for traveling alone. Readers of the blog make their suggestions by completing this form. We do need you to include a photo but it doesn't take long to do and you get to brag about a trip and share your knowledge with other solo travelers.
This is where all posts about destinations can be found. Most have been written by readers who travel alone.
What are the best destinations for solo travelers? I'm asked this all the time. Here's my answer
Sidling up to the bar for tapas or strolling along Las Ramblas, Barcelona is a fine destination for solo travelers
Grenada comes highly recommended as a Solo Travel Destination. Gorgeous beaches, stunning waterfalls and the scent of spice in the air…what's not to love?
A Solo Travel Society member from Brazil brings us this profile of Patagonia, recommending it as a great option for solo travelers
Solo Travel Society members from England and the Philippines both recommend Thailand as a wonderful destination for solo travelers.
A Solo Travel Society member recommends Cuba as an interesting Solo Travel Destination for its history, architecture, beaches…and mojitos.
Prague is a great option for solo travelers, offering a wealth of art, culture, history and beauty.
A Solo Travel Society member recommends the beautiful Lake Powell in Page, Arizona as a great destination for solo travelers.