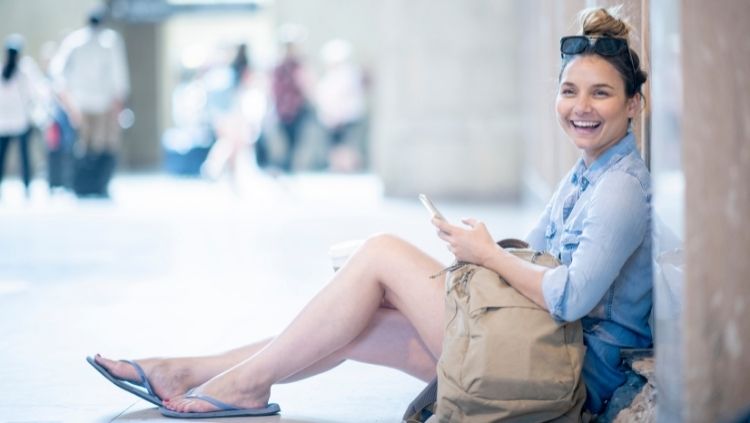 Solo travel came naturally to me.
For Tracey, it was born out of a bad travel experience with a friend.
People discover solo travel for a wide variety of reasons.
And many more ask: why travel solo?
The answer is a combination of factors, some of which are unique to the individual and others which are common to us all.
For me, freedom, meeting so many more people than when I travel with someone else, and the boost it offers to my self-confidence are the main reasons that I travel solo. That last point is particularly important.
Here's an example of how solo travel boosts confidence in baby steps. I was riding the somewhat complicated London tube a number of years ago. It always required my concentration to ensure that I ended up at my destination. But that time, I suddenly realized that I had navigated the whole process myself with little difficulty and no anxiety. At that moment I had a small revelation and my confidence jumped a notch.
Gather up all such incidents, such revelations, large and small, and you'll know why solo travel is so great.
Solo travel is not just about the trip. It's also about you.
14 Reasons We Travel Solo
We all have our own, personal reasons for traveling solo. We have our own reasons for being passionate about solo travel. Here are some that solo travelers share in common.
Traveling solo offers the thrill of:
Leaving other people's baggage behind. We all have personal baggage. I'm not talking about what you pack for your trip, I'm talking about personal histories, scars, and more. Traveling alone means that you are free of a companion's baggage (anxieties) and free to work on your own.
Expanding your comfort zone. Stretching boundaries by traveling solo can be uncomfortable at first but give yourself a bit of time, hang in there, and your comfort zone will expand. As a result, in your life at home as well as traveling, you will be more comfortable in more situations.
Prioritizing your personal interests and passions. Enjoy the luxury of doing what you want, when you want. Traveling solo you don't have to do things that don't' interest you and you don't have to suffer the stress of dragging your companion to things that are not of interest to them.
Exploring your destination without distraction. With a travel companion, you are naturally distracted by their needs, concerns, and interests. Traveling solo, you are free to explore a destination your way, focusing on what really interests you.
Meeting more locals. Because, as a solo traveler, you are not talking to your travel companion, you are more open to the people around you. Many of those people are locals and you'll thrill to how much they'll engage with you because they want you to love their city, town, or country.
Discovering who you are when no one's looking. Without the presence of family and friends who expect you to act in a certain way, you can be yourself more than at any other time. Read What Traveling Alone Teaches Us About Ourselves.
Engaging on your terms. You're on no one's schedule but your own. Get the rest you so greatly need or break loose from a meandering home life restricted by responsibilities and crank up your energy and your timetable. When you travel solo, it's up to you.
Reflecting. Traveling on your own presents an opportunity for transformative travel. Being alone, you can let your mind wander and watch where it goes. You'll learn a lot about yourself doing so and be able to make and practice changes that you may bring home.
Knowing your own strength. As you negotiate and navigate every aspect of your trip you will discover just how capable you are. How strong you are. That inevitably results in greater self-confidence.
Experiencing your resilience. Being resilient is a quality that helps us weather the challenges that life throws at us. As a solo traveler, you will experience a greater variety of situations and manage them on your own. That experience and the confidence gained as mentioned above, builds resilience.
Developing a positive outlook. I have met people on my travels who have inspired a more positive outlook on life. There is one person who really stands out. Read Positive Thinking and Solo Travel.
Experiencing freedom. When asked what solo travel means to them, the members of the Solo Travel Society on Facebook used the word "freedom" more than any other. Being free of responsibilities to others offers a truly unique sense of freedom.
Feeling young. Now this applies to those out of their twenties. After 30, most people pine somewhat for their fancy-free youth. While you can't actually turn back the clock, traveling solo can make you feel as though you have. Solo travelers are often seen as adventurous and exotic and, as a consequence, younger than their age. An adventurous outlook makes one seem younger.
Growing. As you travel solo you learn more, experience more, and become more interesting. Return to your family and friends an enriched person.
And remember, just because you're traveling solo for yourself doesn't mean you're being selfish. Read Travel, Guilt, and Separate Vacations.
To learn more about the how of solo travel, read