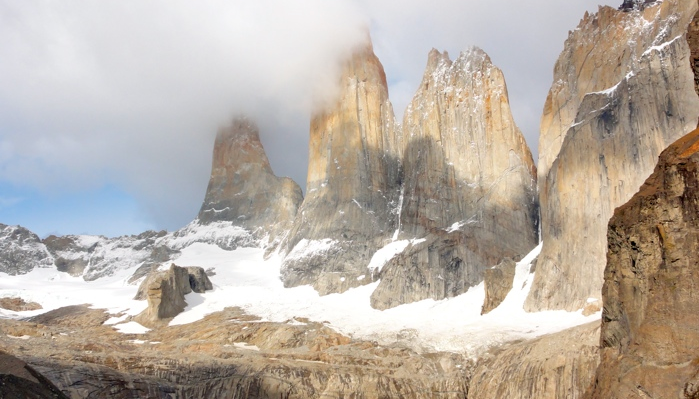 Backpacking solo through Europe, Southeast Asia, or South America has been a right of passage for young, budget travelers for decades.
In the sixties and seventies, the popular hippie trail started in London, Paris or Berlin and ended as far away as Bangkok after traveling through the Middle East and South Asia.
Currently, backpackers traveling to South America follow what's known as the Gringo Trail, a far cheaper option than Europe today.
But the cheapest destination for backpackers that also has a well-developed infrastructure is Southeast Asia. It is currently the most popular destination among budget-minded backpackers.
But it doesn't matter how cheap a travel destination is, you still have to save the money to go. Have a read of our top post about saving money for travel here, How to Save Money for Travel: Top Tips to Save. Here's and overview post for people in the 20s and 30s backpacking.
Now, let's get into the details of how to plan your trip, buy your backpack and pack it.
How to Choose Your Backpacking Destination
Where you will go will be determined by your budget and your personal imaginings of the world. You will have your own countries in mind. Whether from tales from friends' travels, books you've read or movies you've seen, you will be inspired to go and explore specific places.
To help you make up your mind, here are some posts you'll want to check out:
And, of course, there's our Destinations section with hundreds of posts organized by continent and then country. Finally, if you plan to go to an expensive destination, search "32 tips" and the name of the city in the search box in the upper right below our logo. We have great advice for budget travel to places like London, Paris, New York City, Sydney and Kauai.
How to Plan Your Solo Backpacking Trip
Start with your budget. You need to know what you can spend to determine where you will go and what you will do. Once you have your the magic number, add it to the Solo Traveler Travel Budget spreadsheet to keep track of your projected spending. Read How to Plan Your Solo Travel Budget – On Any Budget.
Create a folder for information you gather. This can either be on your computer or in the cloud on Google Drive. Your budget is likely the first thing that will go into your folder. Your flight confirmation, train tickets, etc. will go here. Create sub folders for each stop on your trip. Your hostel bookings will go into the folder according to destination. You can also create sub folders for research on each destination. A Pinterest board can also be a good tool for gathering research on your trip.
Decide where you will go, when and for how long. This will be affected by your budget and how flexible you are with your time. If you go in high season which is usually summer, your money will not last as long as if you go in the shoulder or off-season.
Create a price alert on flights. If you're flying to your destination, use FlightNetwork or Skyscanner to set up a price alert so that you'll be notified of any price drops on fares.
Plan how you'll travel on the ground. Train and road trips. Here are some posts for you.
Plan an itinerary. This will be affected by how long you have to travel. At bare minimum, I suggest at least three nights in any location but if you can stay longer all the better. As for your what you want to do when you get where you're going, make sure that you book the really popular activities that you absolutely want to do in advance. Otherwise, leave yourself lots of room to be spontaneous.
Book accommodation – tentatively. If you're traveling a long time and not in high season you won't have to commit to booking every night of your trip however it is recommended that you book your first night at any new destination before you get there. Hostels are great. They're cheap, social, a fabulous source of information for travelers, and often have pub nights or other events. See below on how to book a hostel and read Sleeping with Strangers: The Hostel Experience.
That takes care of planning your trip. However, there are a few more, less exciting details to take care of.
Backpacking Solo and Essential Planning Details
How to Book and Stay at a Backpacker Hostel
I have almost always loved the hostels I've stayed at. How to book a hostel.
Book online or by phone. You can usually book either way but I prefer to book online so that I receive a confirmation email of my booking.
Research and book. I use Booking.com to research my options and book my hostels. Since there's no extra charge for a refundable booking, I'll often book a number of hostels for the same night, secure a bed in each and then cancel the ones I don't want once I finalize my decision.
Read reviews. Booking.com has reviews by people who have completed their stays at the hostel. Every time I check out of a hostel that I've booked through them I receive an email looking for an honest review which I happily provide since it will help other travelers.
Know what your getting. Most hostels have kitchens though the two I stayed at in Japan did not. Breakfast? Coffee shop? WiFi? Parking? Laundry facilities? Know what your hostel has before your go.
Women-only dorms. Mixed dorms are becoming very common. If you're not comfortable with this, watch when you book that you're getting the dorm gender you want.
Use Google Streetview. To know whether you'll be comfortable with the location of your hostel, use Google Streetview. Will you feel safe walking down that street?
Discount cards. Hosteling International membership gives you 10% off your booking through their site, plus discounts on many other travel services like Greyhound, Urban Adventures and World Nomads. You'll also find benefits by becoming a member of YHA (UK) and YHA (Australia).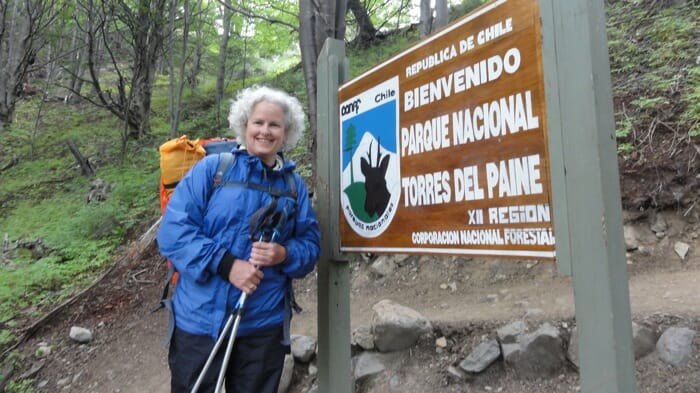 How to Choose Your First Backpack
I use my backpack mostly for trips that involve a lot of train and bus travel. It's so much easier going up and down stairs, which happens at just about every station, with a pack on your back rather than with a roller bag.
My pack cost Cdn$130 and I love it. It doesn't have to be an expensive pack to be comfortable and do the job. Here's what to look for when you go to buy a backpack to travel. Note, if you plan to hike and camp with your backpack, you will have different requirements.
Keep it smallish. My backpack fits carry-on specifications and I think it's the perfect size. It's about 40 liters. Unless you're camping for a period of time, you'll be able to fit all you need into a pack this size even if you're traveling for a long time. I've done a month with my backpack. I prefer to hand wash clothes now and then than carry too much weight.
Lots of straps. I have occasionally used my backpack for a short hiking/camping trip in the middle of a longer trip. In such a case, I store unnecessary clothes at a hostel to make space for my sleeping bag and food inside my pack. The side straps on the outside of my pack are great for holding a tent on one side and a sleeping mat on the other.
Multiple sections. My pack has five sections and each makes sense for specific purposes. I use them as I do multiple drawers in a dresser.
Padded hip belt and shoulder straps. Thanks to the hip belt, your hips will carry the majority of your pack's weight. The shoulder and chest straps are there to keep the pack firmly against your body, again to minimize the affect of weight on your body.
Adjustable torso. Look for a pack that has an adjustable suspension system. This enables you to fit your pack according to your torso length. This is important for a comfortable fit.
Contoured back. This keeps the pack away from my body which is especially important in hot weather.
Water-resistant material. You don't want to have to pull our a rain cover with every drizzle. Water resistant material is a good choice.
Rain cover. Make sure it has a built-in rain cover. You'll appreciate how easy it is to use when it rains.
Pole straps are a bonus. Poles are becoming more common for hikers of all ages. Their main benefit is that they protect your knees. However, some people consider them a nuisance. This is where the pole straps come in. Carry collapsible poles and a pack with pole straps and you have your choice of whether to use them or carry them. Most airlines won't allow you to take poles onto the plane. A bag with poles will have to be checked.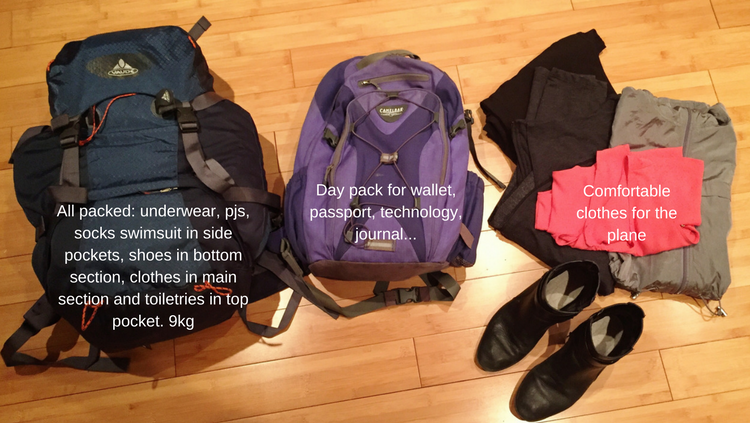 How to Pack your Backpack
Here's how to pack a backpack.
Clothes are best rolled. Roll and stuff clothes into your pack to take full advantage of your pack's flexible shape but don't pack to the limit. Leave some space in case you buy things along the way.
Keep the weight against your back. If you have heavy items, say, a computer, place it against your back rather than away from it.
Using the sections. My pack has five:

Bottom section. These are for my spare shoes, cords and cables.
Side compartment one. The equivalent of my underwear drawer.
Side compartment two. My bathing suit, socks and pjs.
Main compartment. Clothes with the most commonly used on top. If I expect it might rain, my rain jacket and pants are on top.
Top compartment. Everything that typically lives in my bathroom from toothpaste to vitamins to makeup.

Pull the compression straps. Your pack will have compression straps on the side. Pull them taut to keep your pack as compact as possible.
Notes about stuff sacks and compression bags:
Size vs. weight. Stuff sacks and compression bags can be useful to keep the size of your pack under control but if you pack more because they give you more space, you will be carrying more weight. Be mindful of how much you can carry comfortably.
Don't put everything in bags. When you use stuff sacks or compression bags, they make one larger item to pack. These won't necessarily take advantage of your packs flexible shape. Keep some things separate from these bags to fill in the gaps inside your pack.
How to Meet People Solo Backpacking
It's great to have all the freedom of traveling solo offers but that doesn't mean you want to be alone all the time. You may just want to connect with people for a day but on some trips I've connected with people and traveled with them for a week or more. Here's who to safely meet people as you backpack solo.
Stay at hostels. Hostels are, by their nature, social. With common rooms and communal tables, they are great for making a connection and sharing stories at the end of a day – or planning for the next day together.
Settle in for a bit. If you want to meet people that you might travel with for a while, settle in. The faster you move the less likely you'll make a real connection with someone. Plus, you won't have enough time to really assess whether you can travel with the person for a while or, really, a couple of hours is about all you could handle.
Take a free city tour. What's better than free? Free and a chance to meet new people. On a city tour of Paris I met a woman and the two of us cut out and went to have lunch together.
Break up a long trip with a tour. Backpacking solo for months on end can be a challenge. You can get road-weary and a little lonely. Take a break, join an organized tour, meet new people and let someone else take all the responsibility for a while.
Solo Backpacking in a Group or Independently
There are pros and cons with each of your options. Traveling in a group makes everything easier. The plan is created for you. You'll always have companions. Your guide knows how everything works making the logistics easy. And you'll be taken around by knowledgeable people who can can answer your questions. Backpacking independently you'll have to create the plan, navigate new territory and find the answers to your questions yourself. However, you'll be more flexible. You can stay as long as you want in a destination. Figuring out how things work can be exciting – empowering! You can truly follow your own interests.
Yes, there are benefits to both travel styles. If you'd prefer to travel in a group check out our Deals page
Solo Backpacking Stories