There are many exciting, safe, and, if you'd like, easy hiking destinations for solo travelers. Hiking, trekking, or walking, as taking to wilderness trails has different names in different locations, is a great focus or addition to any solo trip.
Hiking is a joy that I didn't discover until I was traveling solo. I was raised in major cities and city travel had been my mode with family, partners, and friends. It was on one of my first solo trips that I indulged a romantic notion that walking the Lake District would make me a calmer, more centered person. And it did, while I was there. But not in the long run. Back in the city I always pick up the pace and wait for the next trip out to the countryside.
But it was that trip to the Lake District on which I discovered a love of hiking. This post is about safe and easy solo hiking destinations that I've discovered in my travels. As you will see from the list below, there are all sorts of experiences to be had hiking. From well-groomed, sometimes paved paths to narrow, craggy trails with hazardous roots and stumps, to mountainous routes that will take you to spectacular views, there are many kinds of hiking to enjoy. From Canada to Europe, from Patagonia to the Lake District, hiking has its own unique flavor and each of them is wonderful.
Great Hiking Destinations for Solo Travelers in Europe and the UK
Europe has a long tradition of hiking. Getting out of the cities and onto trails is a typical Sunday excursion. The Germans especially have a reputation for being long distance hikers. There is a romantic view of hiking in Germany. They actually called the route along the Tauber Valley from Tauberbischofsheim through to Rothenburg the Romantic Road. However, hiking is a common activity throughout Europe, especially where there are mountains. Here are the places I've hiked.
Solo Hiking in Iceland
The best thing about Iceland is its natural beauty. I don't think anyone would argue this point. Food is fine. The people, though hard to meet, are welcoming. But the landscape took my breath away. Whether you want an afternoon hike or one that covers many days, you will never tire of the landscape. It's also worth noting that there are not really any dangerous animals in Iceland.
Solo Hiking in Zugspitz Area – Austria
The magnificent Austrian Alps is the big attraction in Zugspitz Arena. There, the hiking trails are wide and well groomed. There are no rocks or roots to trip over. It's civilized and the paths are designed to take you from one place to another, from a lake for swimming, to a restaurant for lunch, to another for a beer. And along the way, there are wonderful views of the stunning Alps.
Solo Hiking in Bavaria – Germany
Bavaria is probably the most traditional area of Germany you can visit. Think chalets with balconies and carved wood railings. Think of mountains and the famous Neuschwanstein Castle. There is hiking almost everywhere in Bavaria but for hiking and more I'd suggest Tegernsee, a small spa town about 50 minutes south of Munich and 90 minutes east of the castle. It offers plenty of circular hikes around lakes and in the mountains. For the end of the day, there are the spas and some fabulous restaurants including the Michelin 3-star Restaurant Überfahrt.
Solo Walking in the Lake District – England
Walking (hiking) in the Lake District is where I first discovered that I liked hiking. The first day I was puzzled by it – did I like it? But the next day I awoke eager to go again. This surprised and delighted me. There are over 100 different trails in the Lake District (many people make it their mission to complete them all) at various levels, making it a great destination for multi-generational families, serious hikers, and yes, casual hikers/solo travelers like me. The paths are very well marked and the views are breathtaking.
Solo Hiking on The Isle of Skye – Scotland
I loved the Isle of Skye. There is a sense of separation from the mainland in the culture. It's quiet and beautiful despite the number of tourists that visit every year. The hiking is safe and possible even for those at a beginner level. You definitely need hiking shoes at a minimum, though hiking boots are better. You can expect rain so rain gear is important as well. For details on where to stay, where to hike, and how to get around, read: The Spectacular Isle of Skye Without a Car.
Solo Hiking the West Highland Way – Scotland
Here's what one of our readers wrote about the West Highland Way: "The whole trip was truly an awesome experience. Not only was I blown away by the landscape, but also by the Scots themselves. These are warmhearted and welcoming people, always friendly, with a very good sense of humor (which I really like). They offer the best whiskies (of course) you can think of and food you cannot get enough of." Read Solo Travel Destination: The West Highland Way, Scotland.
Solo Hikes In Canada and the United States
Much more of North America is left in its natural state than Europe. Many hikes go through dense forest with a destination of a waterfall or a view. Rather than looking at the views that are often in every direction in the UK and Europe, in North America, a hiker's focal length is often quite short, to the forest floor and the flora around.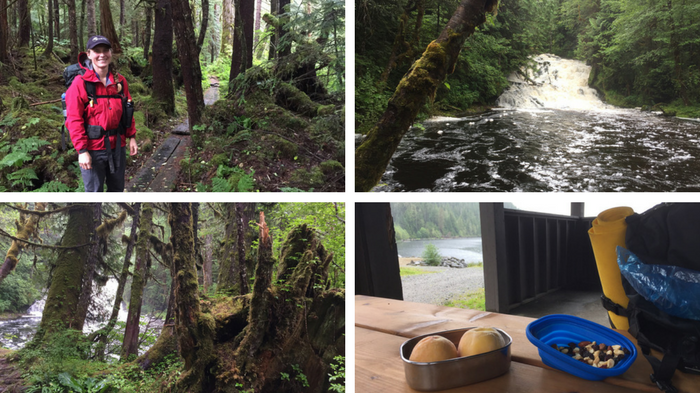 Solo Hiking in Prince Rupert, British Columbia – Canada
These photos show classic hiking in North America. Narrow trails, lightly managed, deep in the woods. For the hike above I had a guide with me. Going deep into the forest along an unfamiliar trail on which you are unlikely to meet another person is not the best idea for solo hikers. However, there are trails just outside Prince Rupert that are accessible by bus, well-used and safe for solo travelers.
Solo Hiking in The Bay of Fundy, New Brunswick, Canada
In Canada, we hike through the woods. Occasionally, we have a view or come across a waterfall and then we stop and marvel at the beauty. I'm reminded of an architectural theory I once read that suggested that the best view from a home should not have a massive window in a convenient place. If the house is designed that way, the view eventually becomes commonplace and overlooked. The idea is to force the looker to pause, to really take in and enjoy the view. That's what we have in Canada. Beautiful woods rich with the smell of flora, and only the occasional view, making each all the more delightful.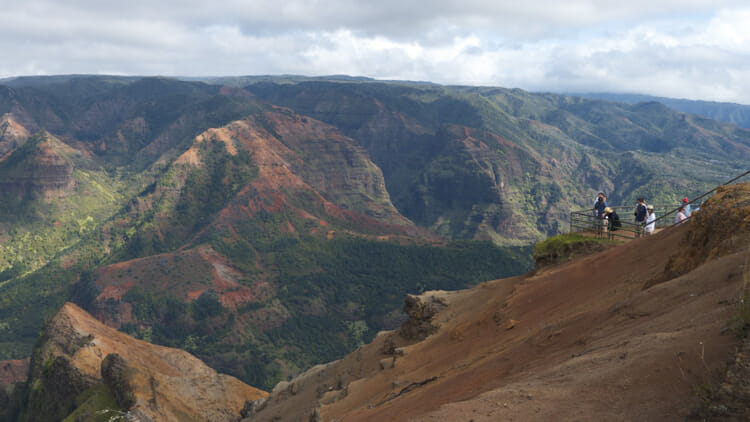 Solo Hiking in Hawaii – Kauai
Solo hiking in Kauai is safe in terms of wild animals. The only potential problem is wild boars and I'm told they're inclined to stay away from you. They have no bears and no snakes. And every trail I was on had some people on it – not lots, but enough that if something happened to you, a person would be by in about 10 minutes who could help. The greatest danger I found hiking in Kauai is how slippery it can get when the red soil/clay is wet.
On a hike along the ridge of the Waimea Canyon, my first really slippery climb up, a man, shirtless, moving like a billy goat with two hiking sticks said to me, "you'll need this" and passed me one of his sticks without stopping. It was like he dropped out of the sky just to take care of me! Kauai is a great place for hiking.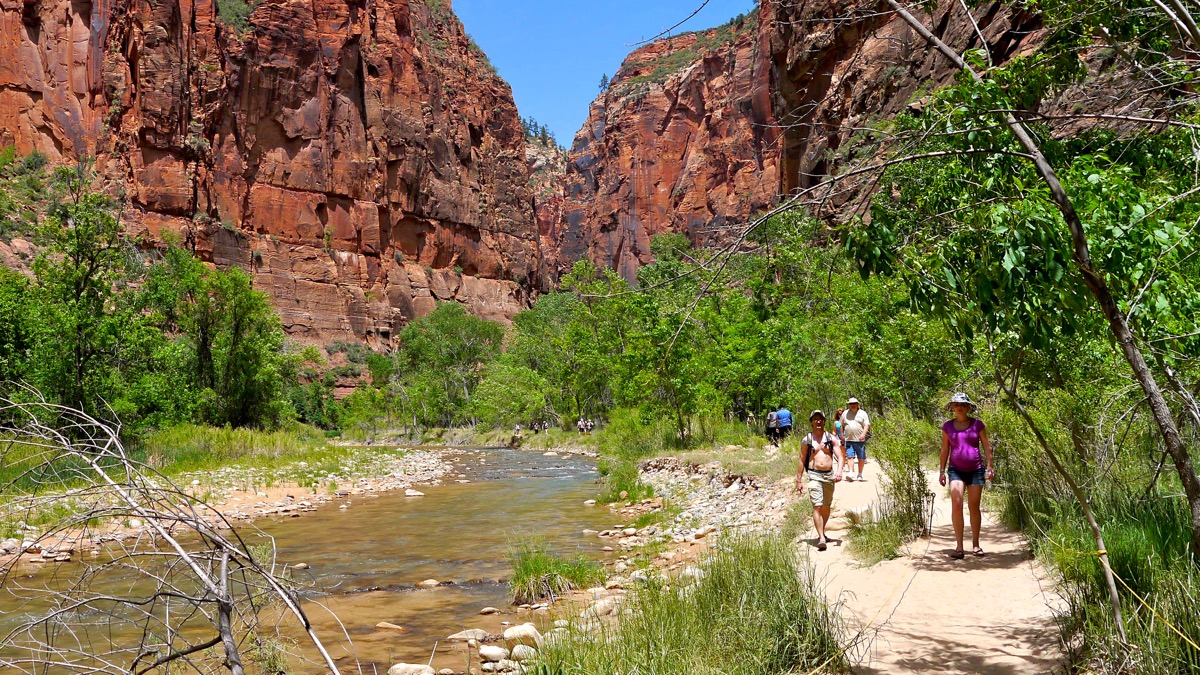 Solo Hiking in National Parks, Utah – USA
There are many National Parks in Utah but there are five that really stand out: Arches, Bryce Canyon, Zion, Canyonlands, and Capital Reef. I couldn't reach all of them on my trip through the American Southwest. I went to Zion and it was wonderful, though a little crowded. In these wilderness parks I think a solo hiker needs to strike a balance between too busy and not busy enough. There are dangerous animals in the National Parks but if you stay where there are usually people, it is highly unlikely that one will come your way. You'll want to visit at a time when the parks are less busy but stay on the main trails so that if something should happen, you will have another hiker come by shortly.
Great Solo Hiking Trips Around the World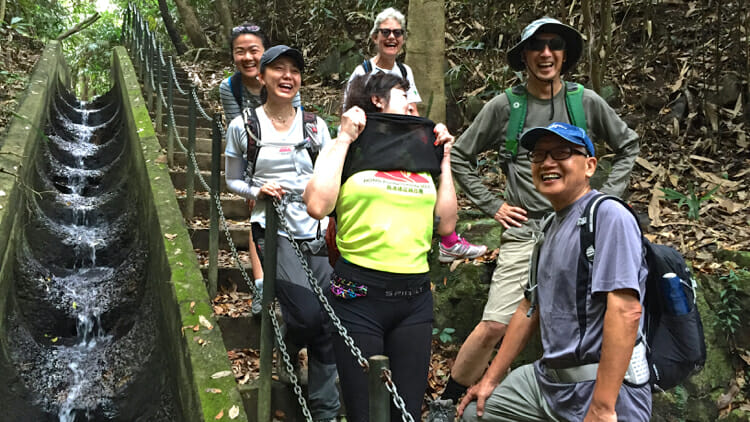 Solo Hiking with a Group in Hong Kong – Urban Hiking
Hiking is a popular activity in Hong Kong – though I'm sure it ranks far behind shopping.
Nevertheless, when I looked to see if there was a Meetup group I might want to join to connect with locals when I was there, hiking showed up as number 1. So I joined a group and off I went. I made a couple of mistakes.
I scheduled my hike the day after arriving from Toronto. I needed more time to recover from jet lag.
I didn't take into account the impact the change in climate would have. I went from a cool, dry spring to very hot and humid overnight.
Yet, with the caveat of giving yourself time to acclimatize to Hong Kong's weather and time zone, I would recommend hiking there. You can read about my hike here.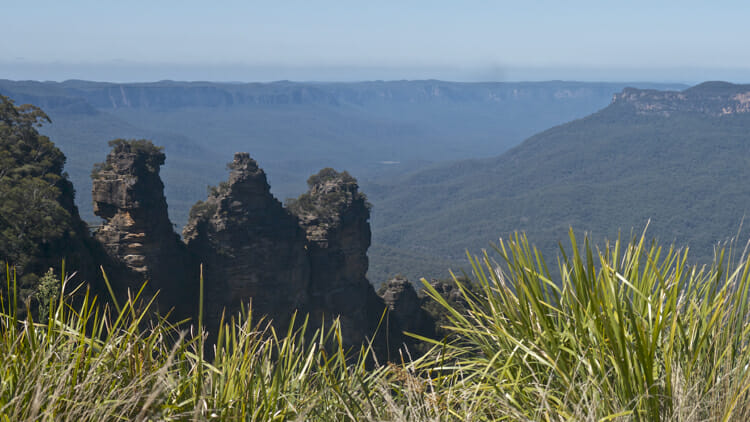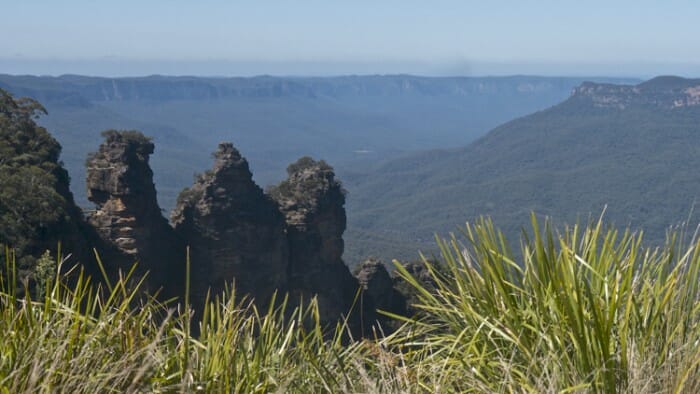 Solo Hiking The Blue Mountains – Australia
Hiking the Blue Mountains, or bushwalking as it's called in Australia, is available to all levels of hikers. What you see in the photo below is just a smidgen of the Great Dividing Range that runs over 3,500 km along the eastern coast of Australia from Queensland through New South Wales to Victoria. Hiking trails are well marked, especially around Katoomba where the Three Sisters is. Yet, according to posters put up by the local authorities, more than 130 people get lost in the bush of the Blue Mountains every year and some don't make it out at all. It's advisable to stay on the path. Click here for more on where to go, stay, eat, and hike.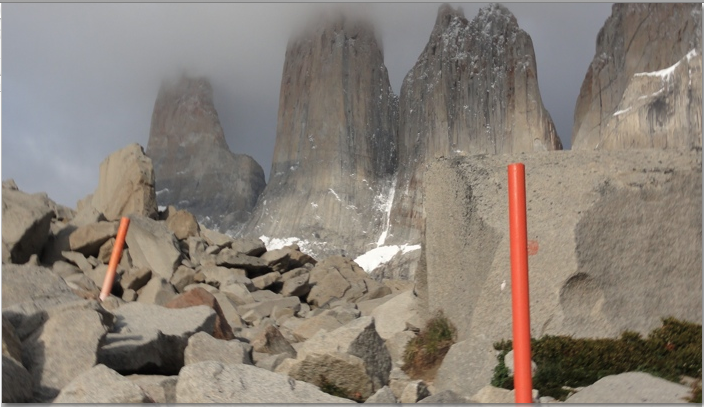 Solo Hiking in Patagonia – Chile
There are two main options in Patagonia: the W and the circuit. Each can be done in a number of ways. The W trails were designed and built less than twenty years ago for the average hiker. Before then you had to be an expert climber to go. The hiking involves fields, wide trails, narrow trails through woods, and very rocky portions near the top. There are major rewards in hiking Patagonia such as the Towers as shown above.
Here are more posts on hiking alone.