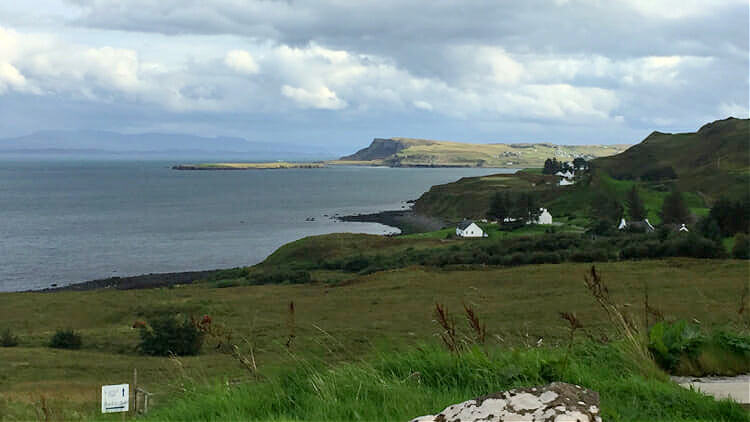 The Isle of Skye is small: just fifty miles north to south and 25 miles east to west. I could feel that smallness. It was cozy. It felt good. Despite the small size, it took some planning to travel the Isle of Skye without a car.
Hours from Scotland's cities, houses dot Skye's landscape. The separation from the mainland and the distance between houses had me reveling in the isolation and, at the same time, feeling a sense of community, despite being a traveler.
And then, of course, there's the landscape for which Skye is best known.
Having arrived at my destination, I sat in front of my hostel and looked left where the land of grasses, moss, heather, and bracken faded into the sea. Then I turned my attention to the right, where the land rose toward jagged cliffs of granite and a range of rocky cliffs.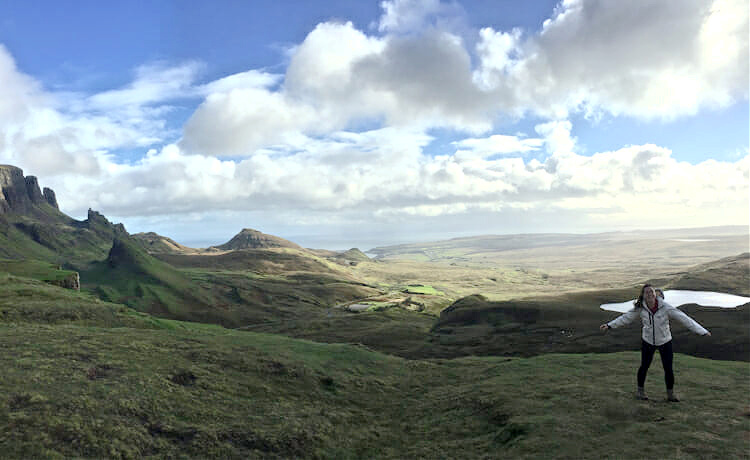 How to Get to the Isle of Skye on Public Transit
Before you can explore the Isle of Skye, you first have to get there.
Citylink is the Scottish bus service between towns. You can take the train to the Isle of Skye but that will only get you to the bridge that connects the island to the mainland. To get to Portree you will need to transfer to a bus. I chose to take the bus the whole way. To save money, consider the Explorer Pass or booking at least two days in advance. It's recommended to book in advance during high season.
From Glasgow

Buses leave Buchanan Bus Station in Glasgow for Somerled Square in Portree three times daily. The trip takes 6.5 hours and costs about US$45-$65.

From Edinburgh

Buses leave West End, Queensferry Street and Princes Street for Glasgow three times daily. In Glasgow you'll change for the bus to Portree as above. The trip takes about 8.5 hours.
Train and bus. Take the train from Edinburgh to Inverness and then pick up the bus. This would be a spectacular train ride except that it travels through the high country overnight so you would miss the best views. The trip takes about 13 hours.
Confirm your travel options with Rome2Rio.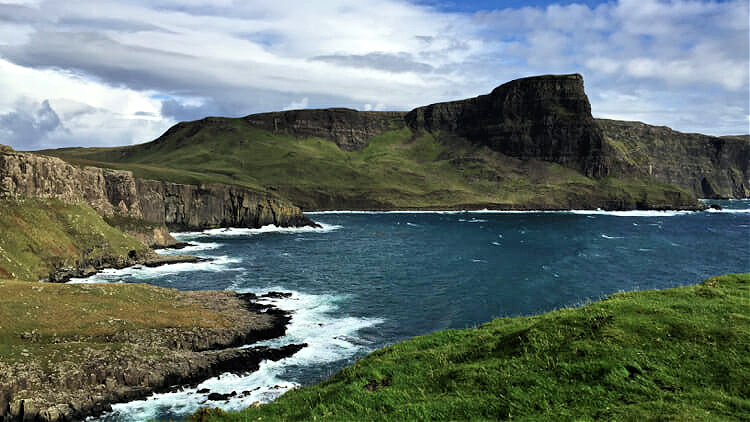 Settling In on The Isle of Sky
Skye is a feeling as much as a destination. Going to the Isle of Skye without a car forced me to take it more slowly. To walk more, take buses, and, yes, even hitchhike. Slowed down, I felt myself sinking into this wonderful part of the world.
One can go to admire Skye's beauty but I suggest that to really appreciate it, one should spend time enveloped in its landscape–a landscape better described by photos than words. Here are a few of my favorites.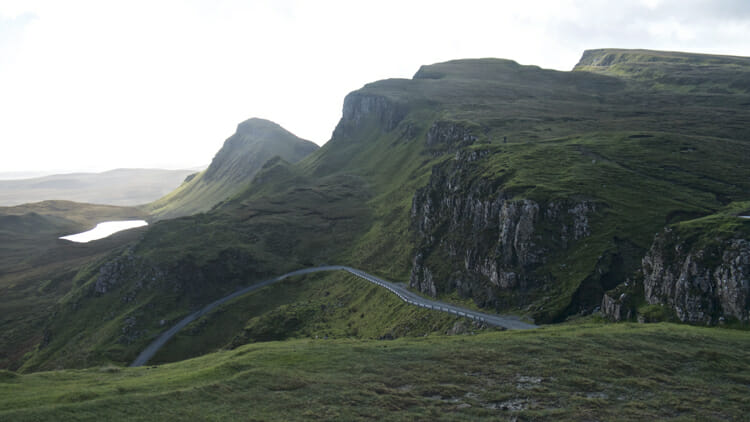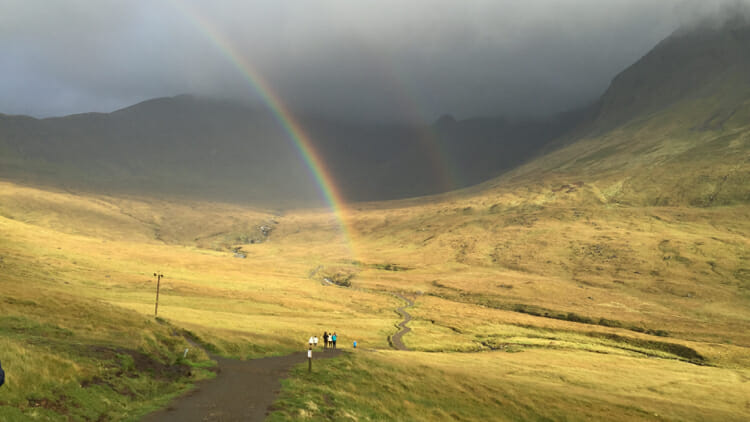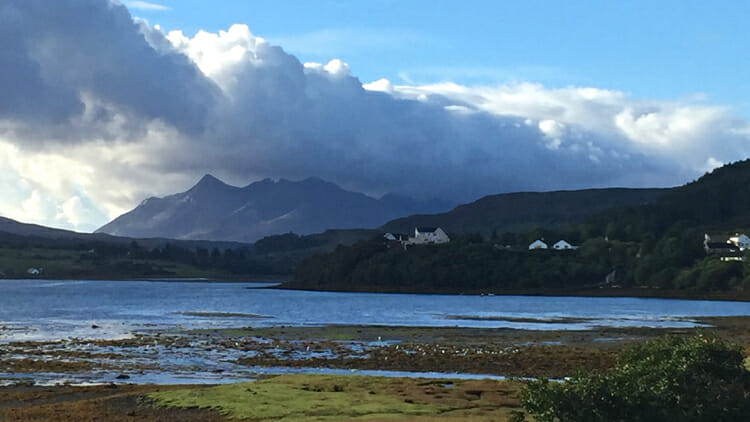 Getting Around the Isle of Skye Without a Car
Planning my trip to Skye was a challenge logistically. I could have rented a car but I'm not confident driving on the left side of the road. There are many places to stay, however, they are expensive. Most were out of my price range. Plus, I was looking for a bit of quiet. I didn't want to be in a town. Research took me all over the Internet learning what was possible. Here's the information I think you need to travel to Skye without a car–what I learned in advance and while there.
Lay of the Land

Portree is the main town on the Isle of Skye. It's the hub for buses. There is a tourist information office in the town to answer your questions and a Co-op where you can buy groceries. There are also a number of restaurants there.
The Old Man of Storr is the most popular walk. It's busy and unless you're there on the off-season it will not give you that feeling of really being on the Isle of Skye.
The Quiraing is a hike very worth doing. Most people start at the parking lot on the south end and don't complete the walk. Consequently, that section of the walk is busy. I recommend that you start at the north entry point, which I did. As a result, I met only one party of three until I was at the halfway mark.
The Fairy Glen is really worth visiting. The Glen is as beautiful as the Fairy Pools and easy to reach by bus. Walk in from the road. It will be about a 4 km round trip.
The Fairy Pools main entrance is difficult to reach by bus but it is only a 2.4 km round trip to see the pools from the parking lot. You can take a bus from Portree to Sligachan Hotel and then hike to the pools from there. It's about 8 km each way so you would need a very early start.

Isle of Skye Without a Car

Stagecoach is the local bus service on Skye. It is not frequent but their planning tool is helpful. I got caught on a Sunday afternoon in Portree after 5:00 pm when the service had ended and had to pay for a taxi to my hostel. That was expensive. It's important to note that, outside of the towns, you don't have to be at a designated bus stop for the bus to pick you up. You can flag the bus down.

Walking paths are everywhere and are an option. However, if you're trying to get somewhere in particular it's probably not your best choice.
Hitchhiking is done on Skye. I had not hitchhiked in decades but because transportation is so limited and the island so small, it's done there. I hitchhiked three times and each time I was picked up by tourists. On one occasion it was a couple from Denmark, one of whom is known as Monsieur Guerlain, a perfume blogger. The three of us went for coffee.
Real Scottish Journeys is a tour company. I did a one-day tour with them to ensure that I didn't miss the Isle of Skye's highlights. I'm glad I did because I could not give you an opinion on places like the Fairy Pools otherwise. Bill was an excellent guide, weaving traditional music and folklore into his commentary. If I had a week I would definitely recommend the tour for orientation. However, with little time I would recommend a long walk rather than a bus tour as that's how to experience the real Skye.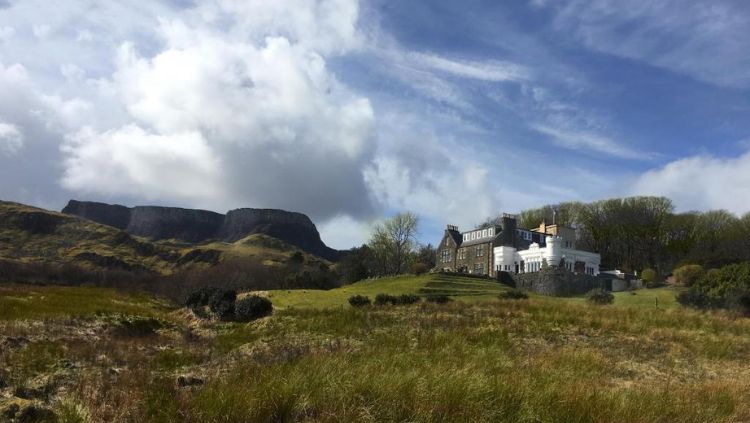 Where to Stay on the Isle of Skye
Finding a hostel in Skye was a challenge. But it's been three years since I was there and, now that I'm updating this post, I have found some interesting options.
I stayed at Dun Flodigarry Hostel. The location is fantastic on the east coast of Skye. It's off the grid and uses a windmill for power. It has a fantastic kitchen and dining room. The dorms are mixed, there are no lockers, and I didn't find the beds comfortable. So it gets a recommendation, but not a high one. Here are other options I've researched for you to consider.