Catherine Driver, a contributor to Solo Traveler and member of our Solo Travel Society on Facebook, walked the Camino solo–800 km over 37 days. In this post, she shares what anyone preparing for the Camino needs to know to get ready for this life-changing experience.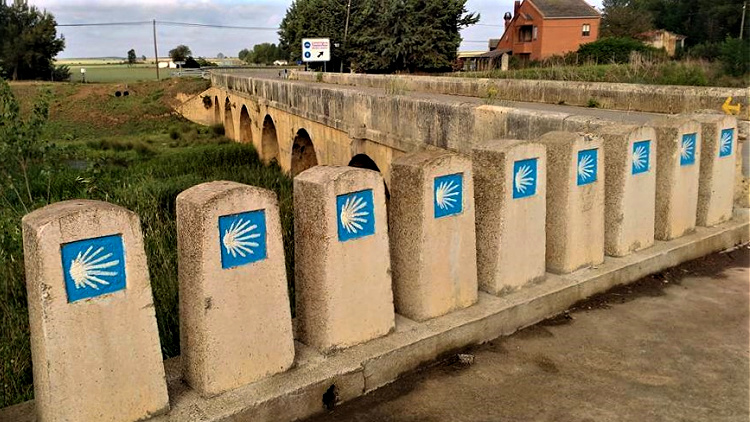 What if I get lost? What do I need to bring? What kind of shoes should I wear? Do I need to reserve accommodation? Should I do this alone? Can I do this?
These are all questions that run through the mind of anyone preparing to walk the Camino de Santiago pilgrimage in Spain. Well, maybe some people are more go-with-the-flow, but these questions and many more kept me up at night in the months before embarking on my 800 km walk on the Camino Frances in 2017.
The Camino Frances, from St. Jean Pied de Port in France to Santiago de Compostela in Spain, is by far the most famous route of the extensive Camino de Santiago. Because of its popularity, it is a well-marked and well-serviced route which is perfect for solo travelers wanting to make this remarkable journey.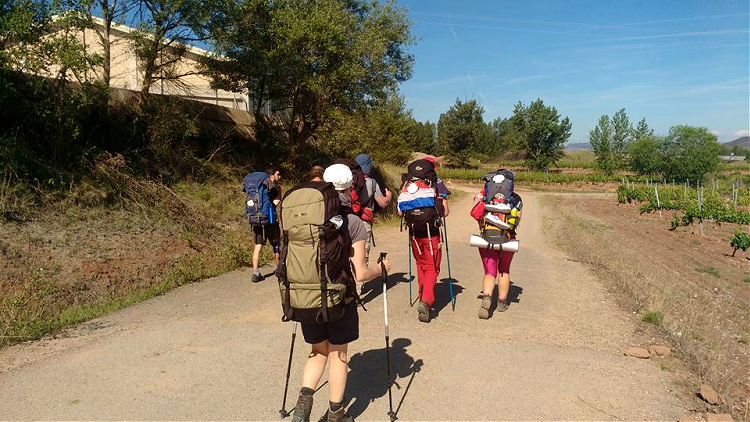 Preparing for the Camino: Before You Go
The reasons for wanting to walk the Camino de Santiago are different for everyone. Some see it as a spiritual or religious pilgrimage, others are at a crossroads in their lives or mourning a loved one, some want a good workout and to meet new people, still others want an opportunity to unwind in the tranquility of nature. Your reasons are yours and they are the right reasons for walking. Knowing why you want to take this journey is the first step to preparing for it and will make it all the more special once you're there.
Since we do not currently live in the 9th Century (when the remains of St. James were discovered, inspiring this centuries-old pilgrimage route), we have the benefit of the internet for all things Camino. Caminodesantiago.me is a popular forum on which you can find an answer to absolutely any question you might have. It's a great resource, but because of the volume of information and personal opinions, it can sometimes leave you feeling more confused than when you began. Use it, but don't overthink too much.
Spend some time reading about the history of the Camino de Santiago and join the many filmmakers and authors whose videos and books capture their journeys so beautifully. These will not only inspire you and get you excited but will help put into context all of the wonderful things that you will see along the way.
So, you've officially decided to do this and are excited to go? Congratulations! You made the right decision. Now what?
Find out if your hometown has a dedicated Camino group and join it. I belong to the Canadian Company of Pilgrims, where for a $10 annual fee, I can participate in weekly Camino training walks in my city, attend events and seminars on a variety of Camino-related topics, and meet a community of fellow pilgrims. This is an invaluable resource for anyone thinking of walking and a wonderful place to make new friends and share stories about your Camino once you return home. As anyone who has done a Camino can attest, pilgrims LOVE to talk about their experience to anyone who will listen, so members of these groups offer a wealth of information. I met people from all over the world on my Camino and these groups seem to be fairly easy to find in Canada, the US, the UK, and Australia.
Walking across a country is a daunting thought and you may wonder if it's even physically possible. Although the Camino is not Mt. Everest and the route is well-maintained, you will be walking uphill, downhill, and around corners on a mix of paved roads, gravel paths, cobbled village streets, and mountain trails for a few hours per day. It is tough on the body. However, I met pilgrims of all abilities from the ages of 5 to 91, happily (well, maybe not the five-year-old) traversing Spain, one step at a time.
Consult your doctor if you are unsure and when preparing for the Camino, begin a training regimen at home by simply taking regular long walks in your own neighborhood a few months in advance. Even a local "Camino" in your hometown can bring about new and exciting discoveries.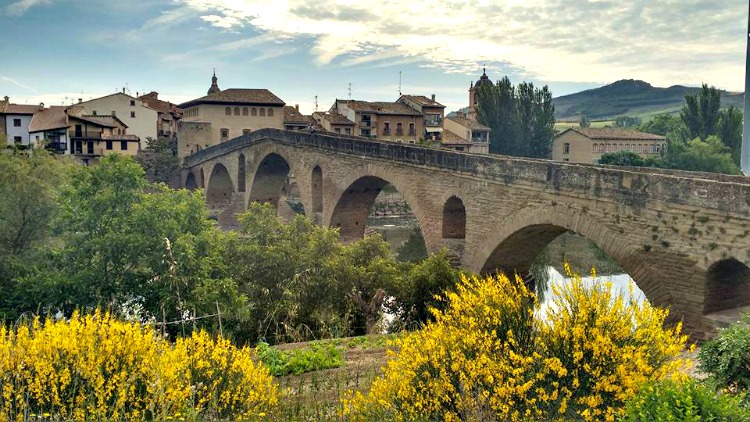 How Long Will It Take?
Well, that's entirely up to you. My pilgrimage took 37 days. I walked 20 to 25 km most days and took three rest days in Pamplona, Burgos, and León.
Many people don't have the luxury of a month and a half off work, so why not do a week or two? Others have all the time in the world and can walk at their leisure. Nothing says you have to do it all at once, so create an itinerary and a pace that works for you. It will be a fulfilling experience whether you walk for a few days or a few weeks.
I walked my Camino from May to June and the weather was, for the most part, pretty amazing. My days were mainly dry, but I experienced some high winds at the beginning of my walk while crossing the Pyrenees, very hot temperatures at the end in Galicia, and one very memorable downpour in Navarra. Although spring and fall are becoming busier, weather-wise they are the best times to go. Summers in Spain are hot, and July and August bring large crowds to the Camino as those are the peak holiday months in Europe. Winter brings a quiet magic, but also snow in some parts and some service closures that would require additional packing and planning.
The starting point for the Camino Frances is quaint St. Jean Pied de Port in the Basque region of France. When you are preparing to begin the Camino in a tiny village nestled in the Pyrenees mountains, you might wonder just how on earth you will get there. Luckily, there are many options.
I flew from London, England to Biarritz, France. Biarritz is a treat in itself, so I definitely recommend a couple of days there if you choose to go that route and have the time. From Biarritz, take a train, bus, taxi, or car hire to Bayonne where there are train and bus connections to St. Jean Pied de Port. Many pilgrims I met also arrived via Paris and Madrid as well as smaller Spanish cities like Bilbao and Pamplona. One even walked from her home in Belgium, so there's always that option if you're really up for an adventure!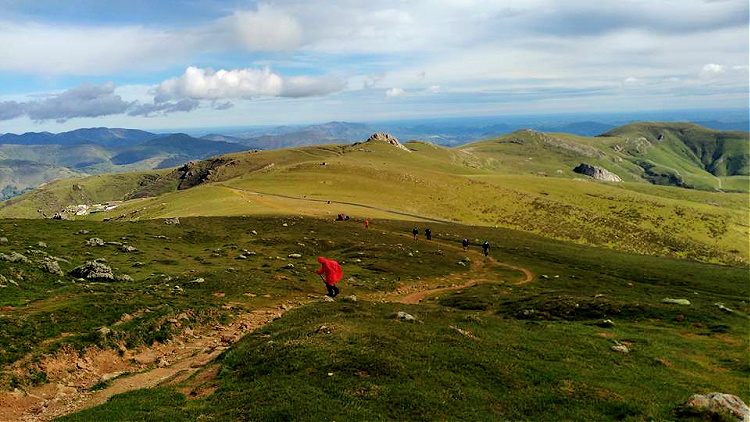 Preparing for the Camino: How to Pack
One of the things the Camino teaches you is to let go and live life with only the essentials.
I met a woman on my first night in St. Jean Pied de Port who was walking with a full-sized bottle of perfume in her backpack. I admit I was a little jealous, but in the end, I was happy that I was not carrying that extra weight. I also came to terms with the fact that I would be stinky for over a month.
Packing as light as possible on the Camino is paramount. You'll pack too much, we all do, so also be prepared to let go of some things along the way and remember that you're not going to the middle of nowhere. Anything you could possibly need, you can find on the Camino whether it be from a shop, supermarket, or another pilgrim. The Camino always provides.
Great packing lists can be found online and tailored to your needs, but the two most important things will be your backpack and your shoes. Spend the money on these items and break them in well before you go. Have your backpack fitted, fill it up, and go on practice walks to make sure you can carry it with ease. Have your shoes fitted properly and walk long distances in them at home. I used an Osprey 36-liter backpack, which seemed to be a common size amongst many pilgrims, and wore New Balance trail runners which were comfortable, lightweight, and breathable. Have the professionals help you find the best backpack and shoes for your body.
Whichever season you choose to walk in, you will need to take the appropriate clothing. For spring and fall, when preparing for the Camino, you will need the following:
athletic pants
breathable shirts
fleece sweater
hat
some waterproof layers
a poncho to protect you and your pack on rainy days
wool socks to keep your feet comfortable and prevent blisters.
In the summer, you will most likely need less than this, and in the winter, more.
Walking poles were an item which I did not use but wish I had. While certainly not essential, looking back, they would have made things a lot easier on my body, so I will never do another Camino without them. These can, of course, be tricky on flights, but the Decathlon store is ubiquitous in Europe and sells them at reasonable prices if you run into problems flying out and want to pick up some there.
First aid supplies can be found all along the Camino, in hostels, pharmacies, supermarkets, and even in vending machines. So, while it's helpful to carry some basics like tissues and bandages, there is help available everywhere and Spanish pharmacists will quickly become the people you never knew you needed. They are true Camino angels.
A sleeping bag or sleep sack is always a good item to take, along with a pillowcase. Many albergues provide pillows and blankets as well as sheets, but many don't and sometimes you could find yourself sleeping on a simple mat on the floor. I also liked bringing those for personal hygiene. At least I knew I was sleeping in my own germs. I bought a very inexpensive and lightweight sleeping bag on Amazon.
Other than a guidebook–I used the very popular A Pilgrim's Guide to the Camino de Santiago by John Brierley, which worked really well for me–leave the books at home. You will most likely not sit under the stars and read them after a long day of walking; you'll socialize with fellow pilgrims over a shared meal and crash before 10:00 pm.
If you do carry an extra book, let it be a small journal. Anything else creates too much weight. Same goes for a camera. Cellphone cameras these days are good and perfectly adequate for snapshots of your journey.
While English is spoken in many places along the route, it will benefit you to learn some Spanish while preparing for the Camino. Locals are very patient and helpful as they are used to pilgrims and the Camino is their livelihood. Even if it is just pleasantries, learn those and use them. Your efforts will be appreciated.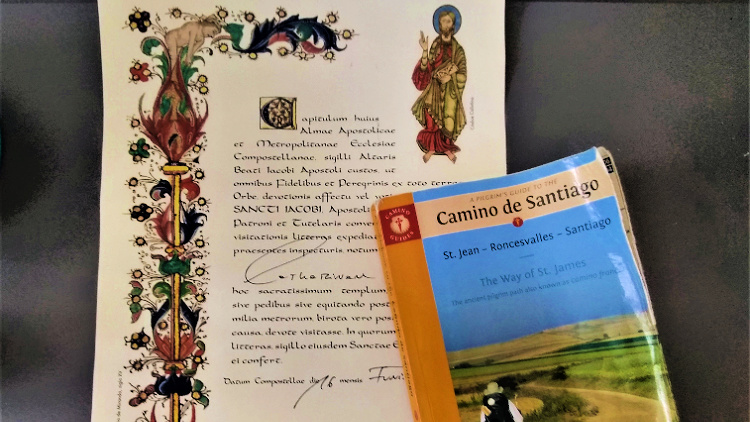 What to Expect in Spain
You have arrived in St. Jean Pied de Port, excited to crack open a bottle of a nice La Rioja wine with those who will become your Camino family in the coming days and weeks, but there are still some things to do before the fun begins.
First, you need to obtain a pilgrim's credential, which is a small paper booklet with blank pages. This is essential as it gives you access to all the pilgrim's hostels and services. It also acts as proof that you have completed the pilgrimage, which you will need in order to obtain your Compostela in Santiago, which is your certificate of completion.
You can purchase these at different churches in and around the Camino or through local Camino groups at home when you are preparing for your trip. Just do a search online to find them. Get your credential stamped and dated in each place you visit. Every hostel, church, and bar has a unique stamp and, at the end, you will have a beautiful souvenir. If you cannot or do not want to walk the entire 800 km to obtain a Compostela, the last 100 km from Sarria to Santiago will do just fine.
A visit to the pilgrim office in St. Jean Pied de Port is also a must. You will register there and they will provide you with some paper maps, hostel listings, and a shell, the symbol of the Camino, to tie to your backpack, identifying you as a pilgrim.
Some people choose to tack on some additional travel before or after their Camino, which is always a nice idea. Since Camino clothes would not be the greatest to wear on a night out in Madrid or Barcelona, an additional wardrobe (and perfume) might be required. The Camino has great transport services which, for a fee, will transport any additional luggage and safely store it in Santiago to meet you when you are finished. I used Express Bourricot, which is located next to the pilgrim's office, and it cost €75.
Baggage transport along the Camino is also readily available if you are ever struggling with your backpack. All you have to do is arrange with them where you will end your day and your pack will meet you there. Staff at the albergues can help with this. There is no shame in not carrying your pack every step of the way. Some days, you just can't and that's okay. If you find yourself pressed for time or you are having an off day, there are also buses and taxis available to take you on to further destinations.
I didn't get lost on the Camino and neither will you. The route is extremely well waymarked through a series of shell symbols and yellow arrows. And because so many people will be walking with you, it's really difficult to get too lost. Even locals will point you in the right direction if you look slightly perplexed. I did not use my phone for directions, but maps.me seems to be a popular app to use on the Camino. There is Wi-Fi available along the Camino and inexpensive SIM cards with data can be purchased in Spain through carriers such as Vodafone, Orange, Movistar, and Yoigo.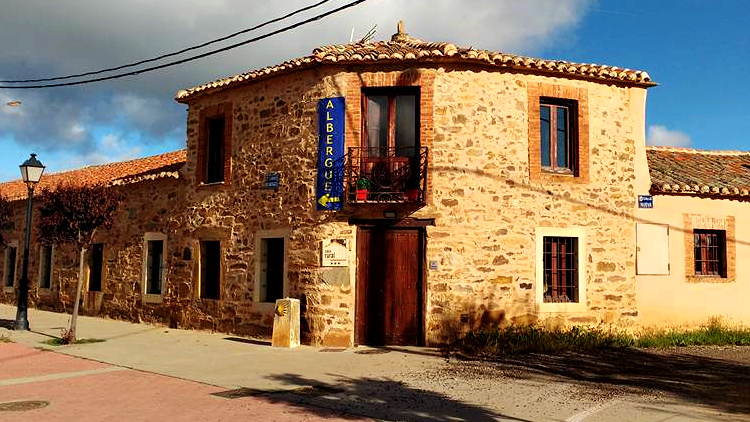 A big question for many pilgrims is about booking accommodation. When preparing for the Camino, it is advisable to book your first night in St. Jean Pied de Port as well as subsequent nights in Orisson and Roncesvalles at least a couple of months in advance. It's the start of the Camino and it's busy. Also, a night in Orisson is a wonderful experience you don't want to miss out on. You will notice a significant change in the volume of pilgrims in the final 100 km from Sarria, so it doesn't hurt to reserve a bed in each town between there and Santiago.
As a woman traveling alone, I did sometimes like to have places booked in advance. My guidebook had plenty of accommodations listed with phone numbers, so I would call in the morning to reserve a bed wherever I planned to end up, and it was ready for me when I arrived. If you don't make it to your reserved destination, they'll give your bed to someone else, no problem.
Hostels along the Camino are known as albergues. These are dormitory-style accommodations with bunk beds. They vary in standards and price, although none are too expensive. Some are available by donation, with very modest sleeping quarters and self-serve laundry; others are a bit more luxurious with nice showers, bedsheets, and laundry service for a fee, which cost roughly €15 per night. There are also many private rooms available which are reasonably priced, because sometimes you just need a night with your own bathroom and some peace and quiet.
If you want to indulge on your Camino, why not book a night in one of the magnificent Paradors? These are beautiful historical buildings which have been converted into luxury hotels. They also have really nice buffet breakfasts if you want to experience them, but an overnight stay is out of your budget.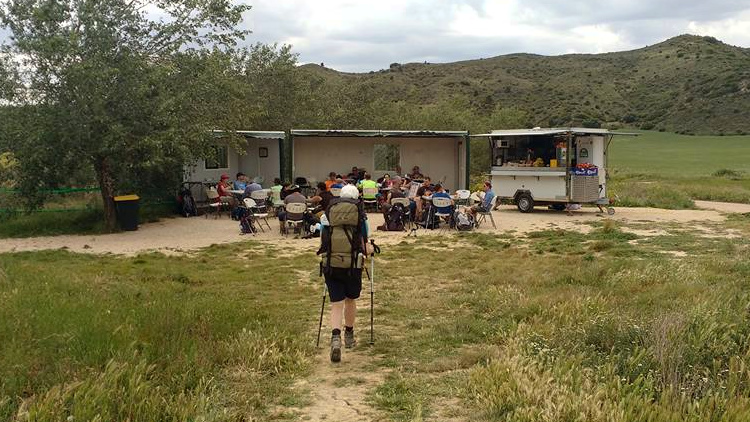 You will not starve on the Camino. There are bars, restaurants, and supermarkets all along the way, rarely with more than a few kilometers in between. At the end of the day, most albergues and restaurants serve a pilgrim's menu, which for around €10, will include a three-course meal with bread and a bottle of wine. Many places can accommodate different dietary needs, so always check. These meals are normally communal and a wonderful way to recap your day and connect with fellow pilgrims.
For solo travelers, safety is often top of mind and for the most part, I would say the Camino is extremely safe. So many people are walking that if you want time alone, you have to ask for it. However, just as in everyday life, I did come across a small handful of people I didn't feel great about. Follow your intuition. Just because it's a pilgrimage, it doesn't mean everyone has the best intentions. Don't be afraid to move on from a person or place that makes you feel uneasy.
While the Camino is incredible, just like in "real life", you will likely have the odd tough day. Either your body will be really hurting or you will have lost something, your shoes won't be working out as well as you thought or bed bugs will have made a meal out of your legs. Things like this are bound to creep up and they are good lessons in how to overcome challenges and lean on others for support. Chances are that you will help someone in need as well. It's okay to have a bad day on the Camino. Expect it to happen.
For solo travelers who aren't entirely comfortable walking alone or don't want the hassle of planning too much, it doesn't mean you can't experience the Camino. Every year, more and more tour companies, such as Santiago Ways, Traveling Steps, and Intrepid, are offering great tours of the Camino where they take care of everything for you; you just have to show up, walk, and enjoy. They will arrange your accommodation, transportation, meals, and sightseeing and be there to guide and support you along the way. While these tours can be expensive—I spent an average of €35-€40 per day walking independently for 37 days—they are a nice option for those who would prefer the benefits of an organized group or who have less time and can only walk a portion of the Camino.
The Camino de Santiago is open and ready for pilgrims, but because of COVID, things may be a little different now as businesses have been affected and some have had to close, vaccine passports and mandates are continually shifting, and travel insurance may be a bit more complicated. Be sure to check all of this when you are preparing for the Camino and be ready for a little bit of extra planning and flexibility. You will still have a great time.
Regardless of your reasons for wanting to walk, it is hard to deny that there is a special mysticism and magic which will guide you along the Camino. Plan and prepare well but leave room to embrace all of the wonderful things that will come your way, because that is what this journey is all about.
Buen Camino!