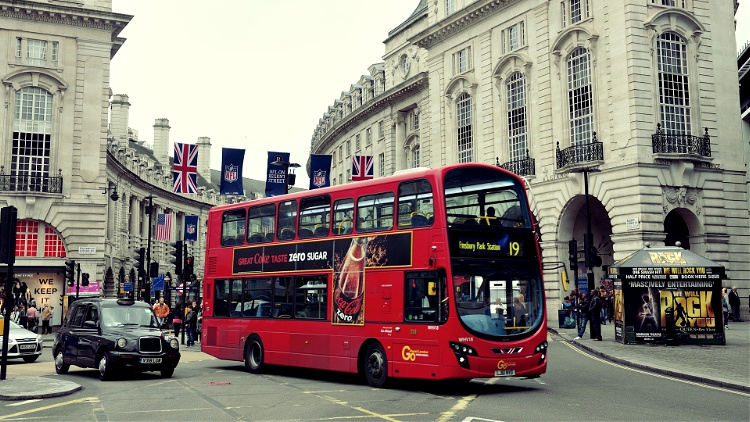 Solo travel to London on a budget. Does it sound impossible?
We're here to tell you, it's not.
As with any big city, there are many opportunities to spend a fortune, if a fortune is what you have to spend. Likewise, though, big cities usually also offer cheaper options to explore and enjoy. If you're working with a tighter budget, we have lots of tips to help you get the most out of the city without returning home with debt. From getting into the city from the airport to finding reasonably-priced accommodation to saving on food and transportation to enjoying arts, culture, and attractions on a dime, we've got what you need to successfully enjoy London on a budget.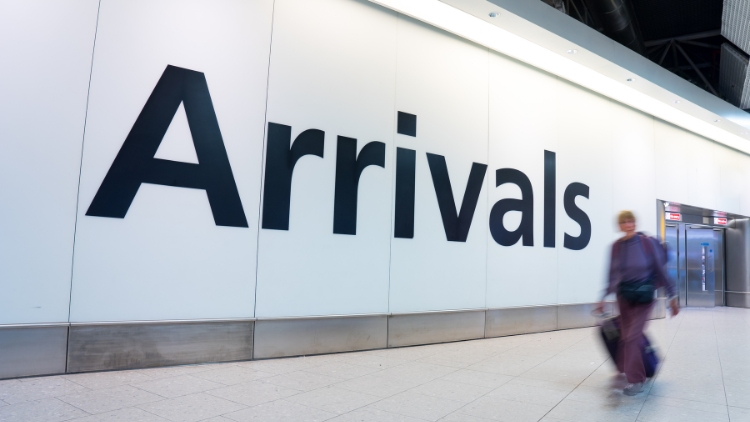 Your Solo Trip to London: Getting from the Airport to the City Center
You'll likely arrive in London by plane so that's where we'll start. As a solo traveler you'll have to navigate the city all by yourself. Here's what you need to know.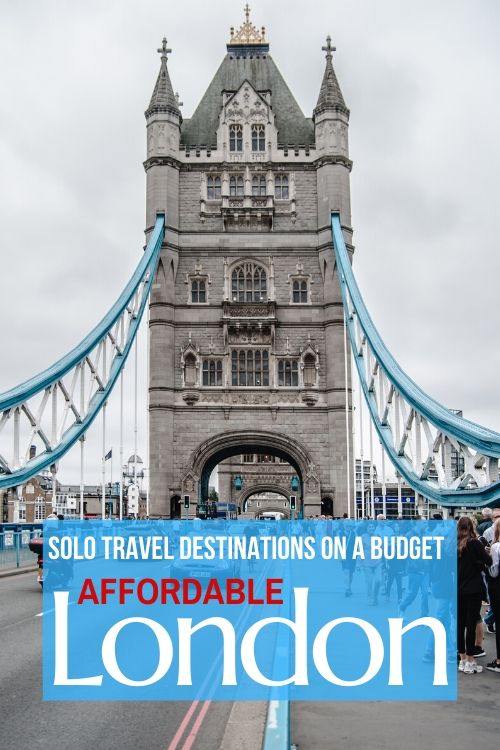 The Cheapest Way to Get from Heathrow to London is the Tube
First, pack light so that you can manage public transport with your bags. Here's your post for that: Carry On Packing List That Makes Sense: Traveler Tested. You can go from Heathrow to the center of London very inexpensively by the Underground (it's a subway also known as the Tube). This is from the Heathrow website: "Journey time by Tube is under an hour and you shouldn't have to wait longer than ten minutes for a train, even off-peak. Underground tickets are available at all stations." The single cash fare to central London (Zone 1) is £6.70. Oyster or contactless pay-as-you-go fares are £5.60. The Oyster fare refers to London's transit card. See below for more on the Oyster card.
Word to the wise: the train is likely to be quite empty when you board at Heathrow, but by the time you get into the city, it may be very crowded. Choose a seat as close to a door as possible to make exiting with your luggage quicker and easier.
When you leave the arrivals area of the airport just follow the signs for the Underground. At the entrance to the Underground, go to the ticket booth and buy an Oyster card. Top it up with the amount you've decided is best for your stay and get information on how to get to the Tube station closest to your accommodation. To save you the hassle of buying the card when you're jet-lagged, it's a good idea to buy one in advance, which you can do here: London Visitor Oyster Card.
More Heathrow to London Transfer Options
You'll actually have a number of options in a variety of price ranges. Though nothing beats the Tube when you're exploring London on a budget, here are some additional ways to get to and from the airport.
National Express Heathrow Coach Transfer – The price is right, starting at £6.00, and you don't have to lug your bags like you do on the tube, but the time ranges from 40 minutes to 2 hours 35 minutes, depending on traffic.
Heathrow Express Tickets – The Heathrow Express is a high speed train between Heathrow and London. The trains depart up to every 15 minutes and take just 15 minutes. You save £5 per ticket when you buy in advance. Price: £25.00 (£22.00 off-peak).
Heathrow to Central London by Uber or Private Transfer will start at around £60.00 and go up (in some cases, way up) from there.
Gatwick Airport Transfer Options
If you're flying into Gatwick, consider the train at US$35 and the bus from US$18.
Planning to Go Beyond London?
Consider a British Rail Pass. The BritRail Pass will get you around the country. The pass is sold by number of days and you have a choice of a pass that only allows consecutive days and a flexi pass that allows you days between trips. If you use it at the beginning or end of your trip, you will also save on your airport transfer as it includes the Heathrow Express. Note that it is not available for purchase in the UK. You must buy it in advance of your visit.

Budget London Accommodation Great for Solo Travelers
Cozy into a neighborhood and likely save some money by renting an apartment. I've had great success with VRBO.com (Vacation Rental By Owner). Here's a link to their London listings. Of course, there's also Airbnb, but I've found better prices on VRBO.
But there's more. This topic requires an entire post unto itself. In fact, we have Where to Stay in London: Budget to Luxury + Interactive Map, which covers recommended places to stay in London from luxury to budget to hipster and everything in between.
The map above is from the Where to Stay in London post. The map is your cheat sheet on accommodation for solo travelers.  It's interactive so click on one of the colored markers:
yellow for budget accommodation
green for middle-of-the-road prices by London standards
blue for luxury hotels
purple are hipster hotels
When you click on a marker, the name of the hotel, hostel, or B&B and a link for more information will slide in from the left. Click on the link and you'll be taken to detailed information on the hotel. Hit the left facing arrow and the information will slide back out of the way.
You can also zoom in and out with this map to get a better look at what's near the various hotels. I love maps and study them before traveling so that I have a sense of the destination.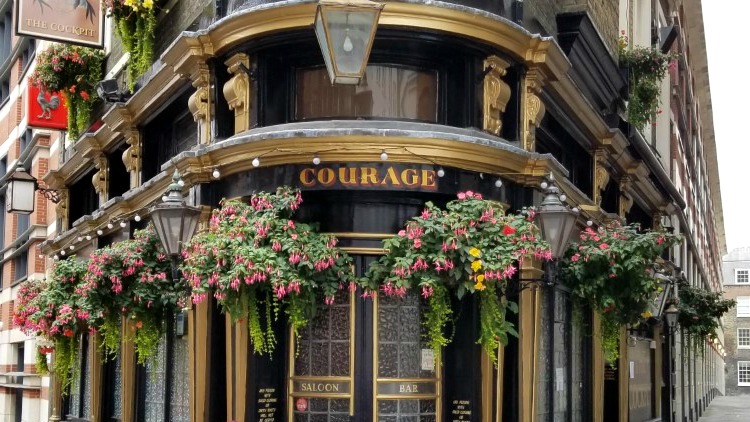 London on a Budget: Cheap Eats for Solo Travelers
London's street food. A city with a diverse culture always makes for really interesting food truck and market options. Time Out has an excellent list of possibilities for you to consider.
St. Martin's-in-the-Field Cafe. Beneath the church is a cafe and gift shop. It's reasonably priced with a wonderful ambiance.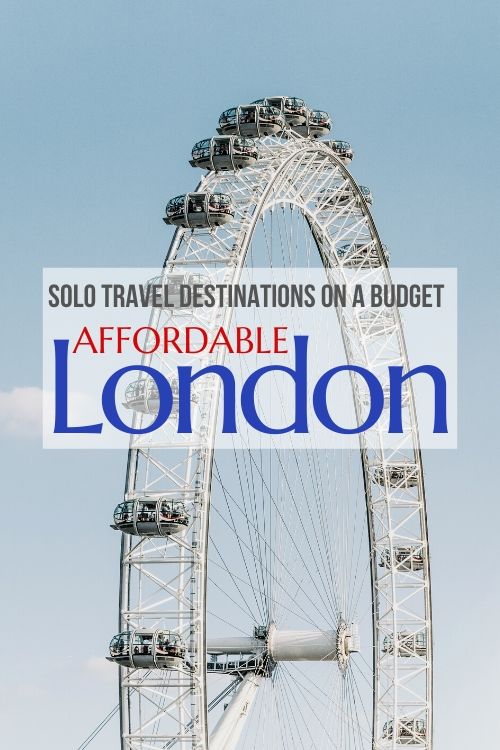 Hostels have great breakfasts. A full breakfast with juice, cereal, yogurt, coffee, and a croissant was £4.95. Just cereal (which is all I want in the mornings) was 95p. And, they had adult cereal. I'm not into sugary cereal, so it was great. The cost of food throughout the day was very reasonable, plus there's a kitchen onsite if you want to cook your own.
Eat at a pub. Not only will you be fed, but you'll also get a classic London experience. And watch for happy hours when there are often special promotions.
Marks & Spencer takeaway section. They have an extensive section dedicated to takeaway and easy fix meals. Some you have to cook, which is fine if you're staying at an apartment or hostel.
Check out the markets. There are many markets to try. Tracey loves Borough Market, which has been around for about 1,000 years (though only open to the public in its current form for about 20). Here's a list of food markets around the city, including maps and opening times. Try the Brixton Market as an interesting place to mingle with locals as well as for the best pizza.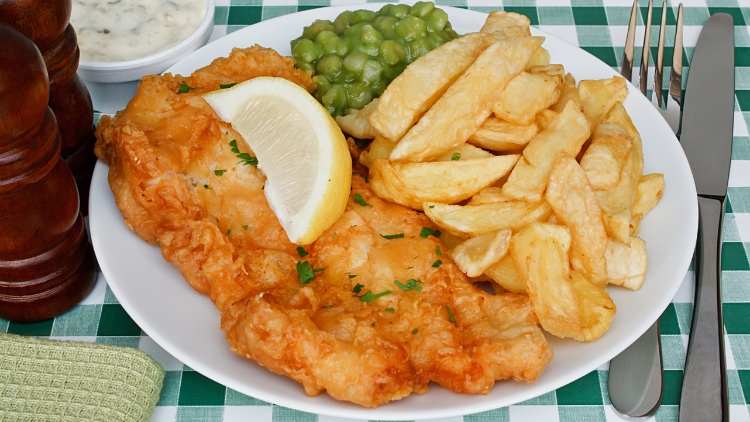 Fish and chips. I've never had a bad fish and chips meal in the UK. Affordable and delicious, but not something to have every day.
Don't let the windows fool you. As you wander the streets looking for a place to eat you may think that every place is full. Step in to confirm this as many places have additional seating upstairs or down.
Another tip from Tracey: check out London cheap eats here for a wide variety of meal options around the city, all under £10.00. The people at Timeout have compiled a list of 50 inexpensive places to dine when you travel solo to London on a budget.
Now this is worth it!
Spend a little of what you save by taking a fabulous food tour. I've had wonderful experiences with Eating Europe. Enjoy the following London tours and you won't only learn things but you'll leave full as well.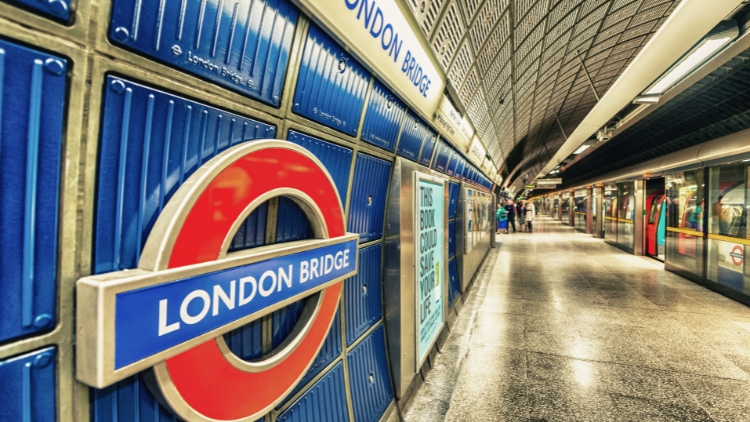 London Solo Travel: Budget Ways to Get Around
Taxis add up. Public transit is the most cost-efficient way to go any distance in London and it is easy if you have an Oyster Card, which is a transit pass. A Tube journey in central London costs £2.40 with Oyster or £4.90 with cash. The Oyster card is a good deal.
You can buy one in advance of your trip here: London Visitor Oyster Card . You'll buy it already loaded with your choice of credit on the card. Doing this means you have one less thing to think about when you arrive in London. Alternatively, you can buy the card for £5 at any Underground station and pay as you go. Don't worry about putting too much on the card because if you have money left at the end of the trip you can go to a ticket booth to get a refund. You can also give your Oyster card back and get your £5 reimbursed or save your Oyster Card for future trips. As far as using it as you go, it's a tap in/tap out process.
We mention the Oyster card first because we find it the easiest. However, when Tracey put the question out to members of the Solo Travel Society, using a contactless debit or credit card was also recommended. She hasn't been able to make this work with a Canadian-issued debit card, so you'll want to check whether your card has this feature (some non-UK issued cards don't currently work on this system) and whether or how much your bank charges for transactions so you can keep costs down. You can also use your phone to make mobile payments using services such as Apple or Google Pay. Just remember to tap out with the same payment form you tapped in with, and be sure to keep your device charged. Get all the details from Transport for London.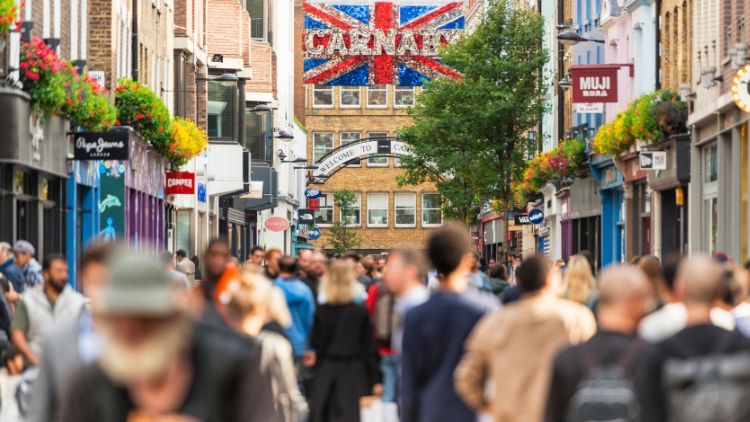 More Tips for Getting Around London
Download the London Tube app. The London Underground is large and complicated. Use the routing option of this app to get detailed instructions on how to get where you want to go from where you are. It will also tell you approximately how long it will take.
Don't forget that there are buses as well. Tourists tend to opt for the Underground because there are maps to show where you're going. However, sometimes buses are a better option. You can also download an app called the London Bus Free Map and Route Planner.
Rent a bike. Like most major cities, London has bikes available for short-term rental. Officially called Santander Cycles, they are more commonly known locally as Boris Bikes. The pay-as-you-go cost is £1.65 for up to 30 minutes, then £1.65 for each additional 30 minutes.
Walk, walk, walk. As far as London budget options go, you can't beat walking! This is a big city but most of the tourist attractions are within one big walking district, so take yourself on a walking tour as you head to your destination. Note that one street can have many names. These go for main streets as well as small ones. Charing Cross turns into Tottenham Road. Mortimer turns into Goodge. Knowing the changes will help you navigate more easily. Also, be careful. At every intersection look down and you will see painted on the ground which way you should look for traffic. There's a reason they invested so much to paint these. It takes time to adjust to the different traffic flow.
Get the Google Maps app. I don't like to walk about looking at my phone but with all the tiny streets in London the Google Maps app can be very handy at times.
Pick up a free map at a hostel or your hotel. The free map at hostels tends to have some of the better low-cost recommendations.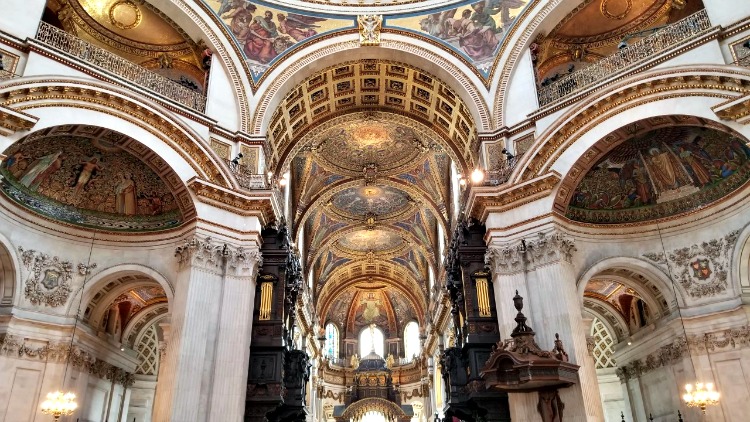 Budget London: Attractions for Solo Travelers
Once you're on the ground in London the question is what to do. Let's start with getting an overview of the city.
Hop-on Hop-off with a discount. A hop-on, hop-off London sightseeing bus tour is great if you're short on time or want to get an overview of the city before you dig into its specifics. This company has five different routes and live commentary which is always better than recorded versions.
Take a free walking tour. Take a free tour of the city. There is a 3-hour tour offered by Sandeman's and several different 1.5-2-hour tours offered by Strawberry Tours, along with other, more specific itineraries. Remember to tip your tour guide. In addition to not being paid for their time and expertise, they have to pay the company for every person who attends.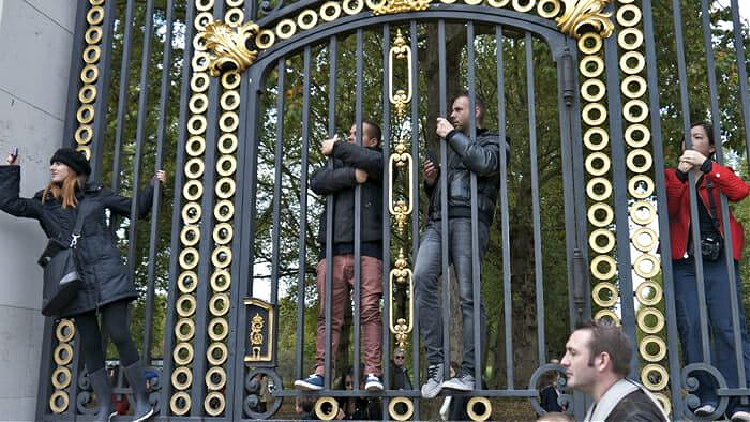 Royal and Historical Highlights of London
If you're going to take in a number of London attractions, then the London Pass is likely worth it. It gets you into Shakespeare's Globe Theatre, museums and historic houses, Wimbledon, and more. If you won't take in many attractions your better bet is likely the hop-on, hop-off tour. Ask the driver if they have any discount coupons. They often do.
What the London Pass covers. The London Pass includes 1-Day Hop On Hop Off Bus Tour, Skip the Line on certain attractions, admission to 85 attractions including Westminster Abbey, Tower of London, Windsor Castle, View from the Shard, London Zoo, Kensington Palace, and Thames River Cruise. It's sold on a per day basis. Even better, it's valid for two years from the date of purchase. If you don't use it all in one shot, you can use it on a future trip.
National Trust Touring Pass. The National Trust takes care of British heritage sites. The National Trust Touring Pass gives you free entry to over 300 historic houses and gardens in England, Wales, and Northern Ireland. It's really worth a look. In London, you can visit many Georgian houses and even a Tudor house. They hold special events as well. This pass is especially valuable if you'll be traveling beyond London.
Buckingham Palace and more. The palace and its gardens open to visitors for 10 weeks (mid-July to late September) every summer. Advance purchase of tickets is recommended. If those months don't work for you, why not visit Windsor Castle, which is an hour outside of central London, or get a ticket that takes you into all palaces. You can get to all three with your Oyster card.
The Changing of the Guard. This time-honored ceremony takes place daily from May to July and every other day the rest of the year. If you want to actually see the spectacle without climbing a fence, get there by 11:00 am. Free.
Afternoon tea. Traditional afternoon tea is a lovely experience and makes for a wonderful break in a day of exploring London. It can be very pricey, though. Luckily, Browns restaurant, which has been operating for over 50 years, has several locations in London serving a very reasonably-priced tea. Try the one in Covent Garden for just £26. Bonus: they also offer a gluten-free menu.
Check out Shakespeare's Globe Theatre. This is a replica of the theater that Shakespeare and his fellow artists built. It's just across the Millennium Bridge that connects, in my mind, St. Paul's Cathedral and the Tate Modern. There are tours and, during the high season, plays as well. If you don't mind standing, tickets for performances at the Globe can be had for as little as £5.
London museums rich in heritage and free. To really stretch your London budget, go to the museums which offer free access to their permanent collections. There is usually a fee for special exhibits. Unless you're a real museum enthusiast, you may want to ask at the front desk for a recommendation as to how to approach the museum. I did this at the Tate Modern and, rather than dashing through trying to take in a lot, I took in a little but with more appreciation. Here's a list of 25 free museums in London. Free
Day trips from London. The country is not large and there are many wonderful destinations that can be visited in a day from London. Check out day tours from London here.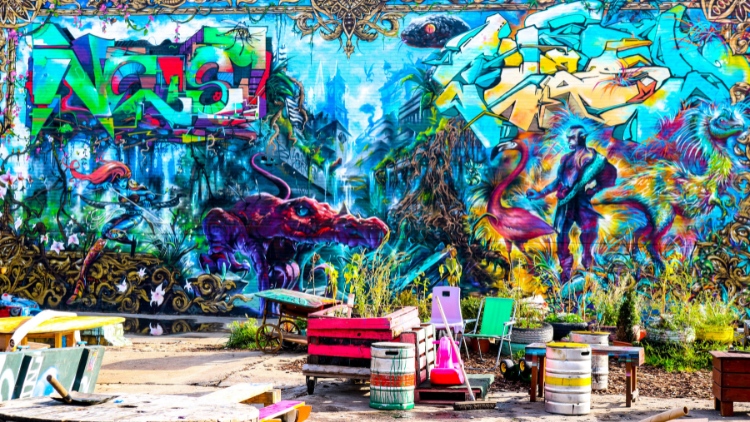 Explore London As a Local
Feel London at a different pace. Walk the Victoria and Albert Embankment from the Houses of Parliament to the Millennium Bridge and you'll enjoy London at a more relaxed pace while seeing some of the major sights.
Take in the street art. London has lots of great street art and many famous street artists. Here's a free street art and graffiti tour.
Window shopping. There are many places to shop in London but I love to go to Covent Garden for some unique shopping. While there, wander the West End theater district to see the range of plays. It's a sight unto itself.
Go to the best bookshops in town. Stop into Daunt Books on Marylebone High Street and check out the travel section for which they're famous.
Go to the parks. There are a number of lovely parks in London. Hyde Park is famous for Speaker's Corner which is often entertaining if not thought-provoking. Here's a list that's sorted according to park locations in the city.
Wander the neighborhoods. London is made up of neighborhoods made famous in literature and film. They have a certain familiarity to them and yet there's more to them when you see them live. Go to Notting Hill, Bloomsbury, Marylebone, and for more action, Camden.
London's Theater and Music Scenes On a Budget
London's West End theater scene. Buy tickets for the shows at Leicester Square. There are a couple of places there. Go to the one on the south end with the permanent structure as I was told by a theater box office person that they sell their best available seats to them. While they promote half-price tickets, not all tickets are half-price.
Don't forget Off-West End productions. Check the reviews carefully and enter the really local theater scene.
Enjoy a pint with your play. For something a little different, check out this list of pub theatres. Comedy nights, musicals, and plays are performed upstairs at London pubs at a fraction of the cost of theaters.
Royal Albert Hall tour. I love touring grand opera houses and theaters when I travel. Doing so reveals so much about a place's history and culture. The Royal Albert Hall is one of London's absolute top historic buildings. But beyond historic, it's a magnificent building where anyone who is anyone has played. You can buy a ticket for Royal Albert Hall Tour or get free entry with your London Pass.
Handel and Hendrix House. "Separated by a wall & 200 years are the homes of two musicians who chose London & changed music." This is a new find for me. Check it out.
Free concerts in Trafalgar Square. Go to St. Martin-in-the-Fields at noon for a free concert most days. It's usually an organ recital. If you don't like the idea of that, go just to enjoy the church. It's very pretty, a refreshing change from most churches. FREE
The Scoop. In the summer, The Scoop amphiteater, which is beside City Hall, close to Tower Bridge, offers live music, plays, or film screenings almost every evening. FREE
Take in an event or festival. The Time Out app is a great resource for local events and festivals.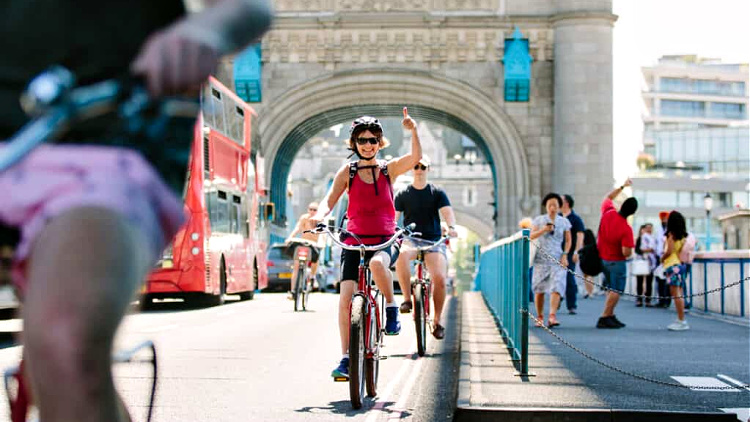 Adventure and Active Travel in London
What's your favorite sport? Why not do it in London on a tour or by joining in with locals?
Run London. What about a tour company that's specifically for runners? Here's a list of a number of running tours.
Bicycle Tours of London. Check out the variety available from Fat Tire Tours.
Kayak on the Thames. Kayaking London is another company that offers unique, active tours of London.
Join a local race. Use Find a Race and search on London to see what races might be going on when you're there. Running, swimming, cycling – this site offers a lot.
Good to Know
Need a computer? If you need access to a computer you can go to any of the libraries and get it free.
Need help? The emergency number in London is 999, not 911.
More Posts to Help You Plan and Save on Travel
Whether you're traveling solo to London on a budget or anywhere else, here are lots of ways to help you save money.
When planning your trip to London you may want to click here to…