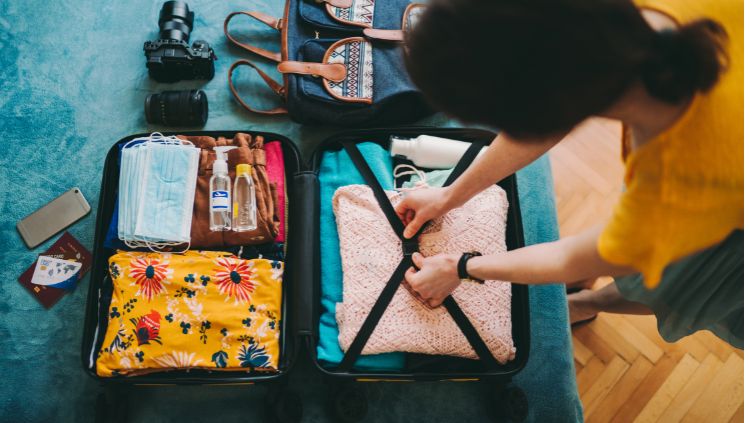 As a solo traveler, it is important to pack light. To help you do so, I have the ultimate one bag packing list for your carry-on luggage.
Why should you pack light? Because it puts you in control.
Be more mobile so that walking a few blocks is not a problem and you don't have to look for an elevator rather than use stairs or an escalator.
Face fewer lineups at airports, both at check-in and when you get off the plane. Smile and walk by all those people watching the bags go round in circles on the carousel.
Save money by taking buses and trains rather than taxis.
Be the least interesting target for a thief. Someone who has a large suitcase or multiple bags must have a lot of great stuff to steal.
Avoid losing luggage in transit and the wasted time shopping and completing forms.
Face no extra charges for bags on budget flights.
Avoid paying extra for a porter to bring all your bags to your room.
For the last 15 years, I've only owned carry-on sized luggage. I have a roller bag and a backpack. That's it.
Solo Travel Packing Lists for Men and Women
To me, packing light just makes sense, but it seems that it is a challenge for many. As I travel to conferences, other delegates wonder at my ability to put it all in one carry-on suitcase and a day pack.
One year I went to Los Angeles for four days (it was hot), then to London for four days (it was cool and damp), on to Wales for a lot of walking, then north to Liverpool and Edinburgh. I traveled for 19 days in total and for the first eight I was at conferences. Needless to say, the weather and activities between LA and Edinburgh were very different, but I had everything I needed in one carry-on and a day pack.
Packing light, in just a carry-on suitcase, can take a bit of effort – but it can be done with a well-thought-out packing list.
How to Pack Light – Travel Essentials for Everyone
This is a checklist that every traveler needs to go through before going out the door. Be sure that you have:
All your travel paperwork. I save all my travel information in Dropbox but I take paper copies with me as well.

Hotel confirmations. According to Frommers 2023 list, "Booking.com smokes the competition when it comes to the number of city-center lodgings it can find, especially for under $200." Given the significance of the cost of accommodation, this is a quality I look for in a booking site.
Flight information.
Passport and visas as necessary.

Travel insurance. I'm proof that travel insurance is essential. Read A Complete Guide to Travel Insurance for Solo Travelers.
Cash. It's always good to have some cash with you. The US dollar is the most commonly accepted currency worldwide.
No foreign transaction fee credit card. If you're outside your home country this will save you 2-4% on everything you put on your card compared to the typical credit card. When I travel outside Canada I prefer to use a card with no foreign transaction fees. The only no fee, no foreign transaction fee, Canadian card I know of is the Home Trust Visa card. In the US, Chase is known for their no foreign transaction fee cards, but check with your own financial institution.
Backup card with no annual fee. I have a basic free Visa card that is a backup to my backup. And yes, I have had to use it.
Roadside assistance. If you have AAA or CAA, you'll be fine in North America. If you don't, it may be worth considering or, if you're renting a car, you could purchase from the rental agency. However, watch the price. It could be more than an annual place from AAA and CAA.
VPN. I have a VPN on my phone, tablet, and computer so I can safely use public Wi-Fi. I would never travel without it. For more details, read Best VPN for Travel: What, Why, How & New Recommendations.
Technology.

E-reader Kindle, iPad (whatever you use)
Journal and pen
Phone and charger
Camera and charger (to be honest, as of my last trip, I'm cutting this from my personal list). Phone images are getting so good that I hardly ever pull out my DSLR.
Computer and ac adapter, if you're so inclined

Personal items.

Prescription medication, vitamins, supplements, water bottle
Small first aid kit
Your bathroom essentials: conditioner, hair product, face cream, makeup, deodorant, toothbrush, toothpaste, floss, brush, razor, shave soap
Masks
Hand sanitizer

Practical stuff.

A few feet of duct tape
A couple of resealable plastic bags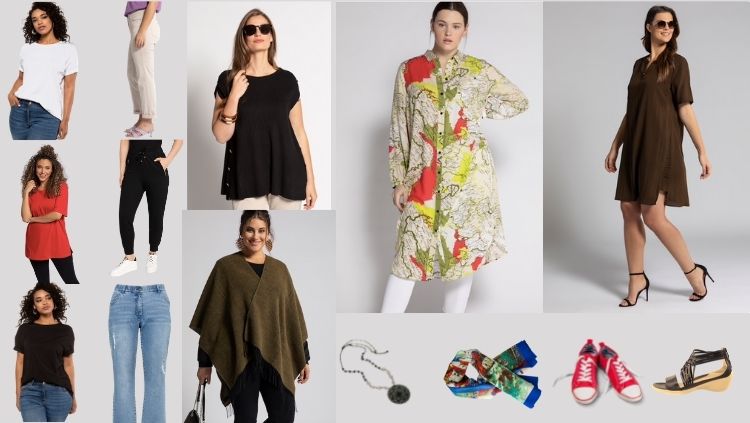 Solo Travel Packing List for Women
Here's how to think about clothes if you want to pack light.
To be pack-worthy, everything must go with many things. Nothing can have a one-time, one-purpose use.
To have clothes for a range of activities that work together, choose one color palette. Working with a base color like black or brown, along with a contrasting color such as gray or beige, plus an accent color makes sure that everything you're carrying works together.
Shoes make the outfit but they can also break a trip. Take shoes that have proven to be comfortable.
The packing list:
Shoes – 2 pairs total. One pair of street shoes and one pair of dressier shoes plus a pair of light flip-flops if you're staying in a hostel. I take low-cut boots for most seasons but sandals if it's summer. If you need hiking boots, wear them on the plane. You can tie them onto your carry-on or backpack and wear your street shoes at your destination.
Pants – 3 pairs total or two pairs and one dress or skirt (wear your most comfortable on the plane).
Tops – 4 tops, 1 light sweater, and 1 camisole (that works as an under layer for hiking and under a jacket for a dressier look).
Cardigan or light jacket – something that you can dress up or down depending on jeans/pants and accessories.
Accessories – belt, inexpensive jewelry, one scarf to dress up casual clothes.
Pashmina scarf – It has so many uses from head cover to beach cover-up to protection in a wind storm.
Jacket – I have my second Marmot Women's Precip Jacket. It took me over 12 years to wear out my first one.
Basics – umbrella, scarf, gloves, rain pants, hat, vest, pair of sunglasses (depending on the weather of your destinations, you may not need all of these).
Bathing suit, if needed.
Fundamentals – pajamas, 5 pairs of underwear, 2 bras, 3 pairs of socks.
It sounds like a lot but it's not. Rinse clothes out when necessary. Take note of what you didn't use when you get back and don't pack it again.
One-Bag Packing List for Men
A men's packing list is not a lot different from a women's except that it's easier. There is not as much nuance in a man's wardrobe. Throw a blazer onto a guy wearing jeans and a t-shirt, and he looks great. So, here's the men's packing list.
Shoes – 2 pairs total. One pair street shoes (or sandals) and one pair of dressier shoes. If you need hiking boots, wear them on the plane and only bring shoes that have proven to be comfortable.
Pants/shorts – 3 pairs total. You know your style but one pair of pants should be long and not denim.
T-shirts – 4 (make sure at least one of them is white to wear under a dress shirt). If you're going someplace tropical or humid, make sure that they are very light and pack more of them.
Collared shirt – 1 golf shirt or or other casual shirt with a collar.
Dress shirt – 1 for dressier occasions.
Blazer – This is optional, of course, but really useful. Choose a light fabric.
Belt and tie (if you're into that look)
Basics – umbrella, scarf, gloves, rain pants, hat, vest, pair of sunglasses (again, depending on the weather of your destinations, you may not need all of these).
Bathing suit, if needed.
Fundamentals – pajamas, 5 pairs of underwear, 4 pairs of socks
Rinse clothes out when necessary. Take note of what you didn't use when you get back and don't pack it again.
Minimalist Packing Tips
Don't pack the bulky things on your packing list – wear them on the plane.
Follow carry-on rules according to your airline. Be really careful about the weight. Just because you can fit it into a carry-on suitcase does not mean they will let you on the plane with it.
Watch the restrictions on the size of bottle liquids and other items you are allowed to carry on board.
Be considerate of other passengers and don't hog the overhead space.
Are you getting ready to go? You may find these useful: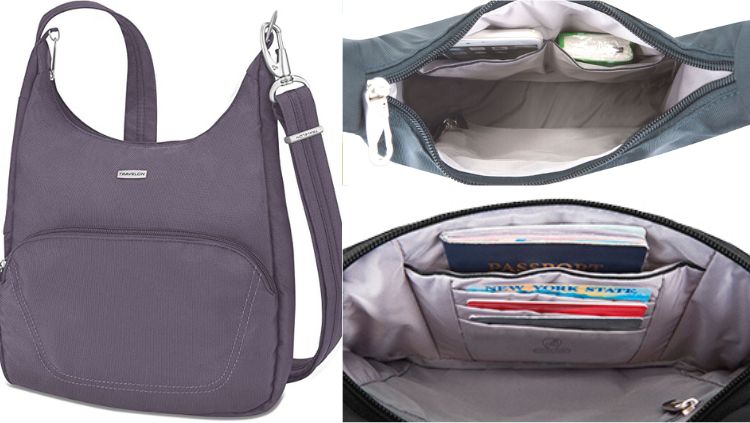 Travel Product Reviews
Luggage Trackers – Review by King
AirTags are the most widely known tracker that people use for their luggage, but they only work with iPhones. Android users have many alternatives, and in this article, I will review the Tile Mate which is compatible with both Android and iPhone.
No doubt you have heard about the chaos at the airports and the horror stories of lost luggage. Many travelers have turned to technology to help take some of the anxiety out of checking luggage. While I recommend only using carry-on, those who cannot avoid checking bags can use a tile luggage tracker and other electronic tracking devices.
King's review is detailed, explains how luggage trackers work, and includes his and his and Tracey's personal experiences using them while traveling solo. Read the full luggage trackers review here.
Messenger-style Bag from Travelon – Review by Tracey
I don't like to buy many products that are only for travel. I prefer to invest in things that I can use all the time that are also useful when I'm on the road. When looking for a new bag I settled on a messenger-style bag from Travelon, for a number of reasons, including the fact that I can (and now do) use it as much at home as away.
Travelon bags have a 5-Point Anti-Theft Security System which includes:
Lockdown Straps which help prevent grab-and-go thieves from dashing off with your bag. You can secure your bag to a stationary object or chair when seated.
Locking Compartments help prevent pickpockets from getting into your bag. Locking zippered pulls secure your bag contents. (These are really cool.)
Slash-resistant Body helps prevent slash-and-grab theft in busy areas with a slash-resistant mesh barrier in all 4 sides and bag bottom panel.
Slash-resistant Straps help prevent slash-and-run theft with a stainless steel wire inside the strap.
RFID Blocking Pockets help prevent against electronic identity theft with RFID blocking card slots and passport pockets.
I don't know how valuable the RFID technology actually is, but the pocket and slots for cards was a bit of a game-changer for me. Transferring my cards and passport to slots inside this bag, which I wore across my body meant that my hands were always free and there was no chance of me leaving my wallet behind.
The water-resistant material kept everything inside dry as I wandered around Ireland in off-and-on rain and drizzle. The messenger bag is very compact, which was really good for me and meant that I never became loaded down with extra stuff that I "might" need.
I found the quality of the materials and the utility of the organizational components to be excellent. I would not hesitate to recommend Travelon products. They offer many different styles of bags for everyone, in addition to things like packing cubes, backpacks, and a tech organizer (I just ordered this one in lime green so it will be easy to find in the sea of black that is my suitcase).
Noise Canceling Earbuds for Travel – review by King
If you don't have them already, you have probably considered noise canceling headphones or earbuds at some point. You may be wondering if they are worth the extra money. This is understandable as they can be double the price of regular ones, but I'm here to tell you they are worth every penny. These devices do an amazing job of completely eliminating engine noise and can reduce the sound of crying babies to barely a whisper.
After much thought and research, I chose a pair of the Bose QuietComfort 20 Acoustic Noise Canceling Earbuds. There's a newer model now–without the pesky cords to deal with–called Bose QuietComfort Earbuds II. These wireless, bluetooth earbuds intelligently personalize the noise cancellation and sound performance to your ears and are going on my Christmas list.
Sony also gets high praise in the marketplace for their noise cancelation headphones, and Apple's Airpod Pro (not the entry-level model) gets the job done well if you'd like something more stylish and are willing to pay a premium for that style.
One additional benefit, if you turn on the noise cancelation feature without any music, you'll create your own cone of silence that will muffle the voices of annoying co-workers or that person seated next to you on the plane who can't quite understand that you don't want to hear about how much they made on cryptocurrencies.