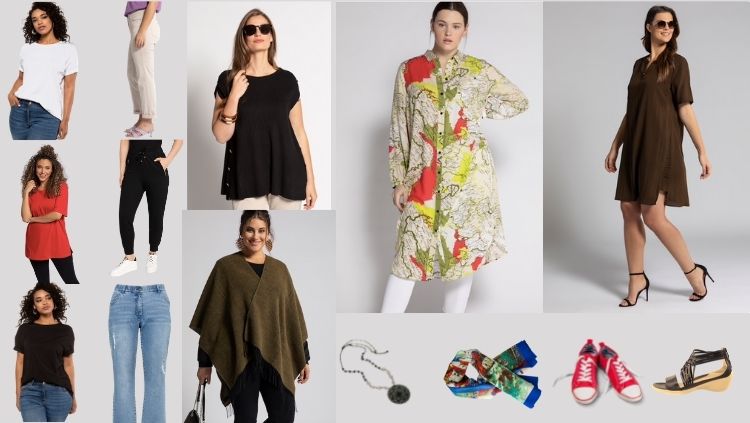 In our last reader survey, you told us that you plan to travel in a bit more luxury in the future. This calls for a different travel wardrobe than the one on our general packing list post. It calls for travel clothes that have style. But, in my world, they must also be comfortable. Yes, both are important.
In this post I take a minimalist approach to a stylish travel wardrobe for women. Since some people find packing light to be a challenge, my goal here is to show you how it can be done with minimal stress as well.
It all comes down to deciding on a color palette, having quality foundational pieces, and knowing how to throw some fun into the mix. I've created two capsule wardrobes using two different sources. I selected all items from Ulla Popken, which is a plus size clothing company and Anatomie, which produces clothes designed specifically for travel. Both companies have good reputations and sustainability and/or social responsibility policies.
Whether you're traveling to New York or taking a river cruise, I hope you'll find these suggestions helpful.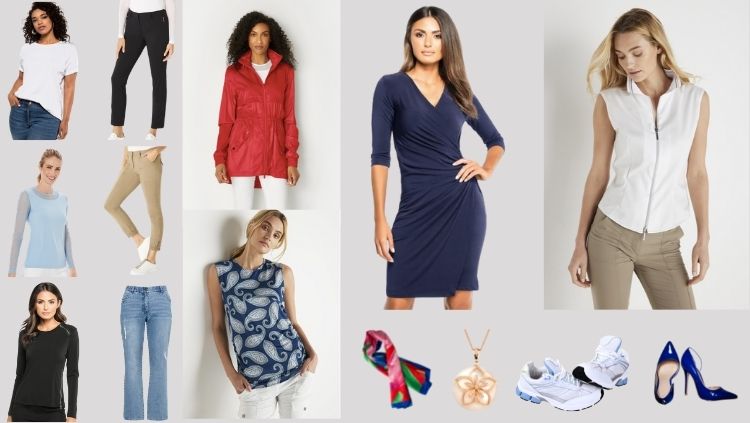 How to Plan Your Travel Wardrobe
The fundamental strategy for packing light and with style is to choose pieces that mix and match to make multiple outfits. For things to work, it's important to:
select clothes within a coordinated color palette
ensure that you have the foundational pieces
include a few standout items
choose your shoes carefully as they can make or break an outfit
pack accessories that pop with style and color
Not everything you take can stand out. The basics, like a white t-shirt and a pair of jeans are needed in a travel wardrobe. The key is the quality of the t-shirts and jeans. In the two capsule wardrobes above, those basics are in the two rows on the left. For your standout items, include:
a dressier top to go with any of the pants
a layer for warmth that has some drama
two really different pieces, one being a dress
shoes, bag, and accessories that are interesting and go with everything
How to Create Your Travel Clothes Color Palette
The Ulla Popken wardrobe above starts with brown. The Anatomie wardrobe starts with blue. Black and white are basics in both color palettes as they go with everything. I guess I'm partial to red as it's the pop color for both.
So how do you create a color palette for your travel wardrobe? Start by choosing your base color, either in the cool tones of blue or grey, or warm tones such as camel or brown. Jewel tones or bright colors are great to add pop to your palette. With the limitations of a carry-on bag, it's best to just choose one pop color.
Solid colors are the easiest to mix and match, but mixing in the occasional print and textures can make your wardrobe more interesting. There's one print in each of the capsule wardrobes I've created and, in each case, their colors tie in with the palette as a whole.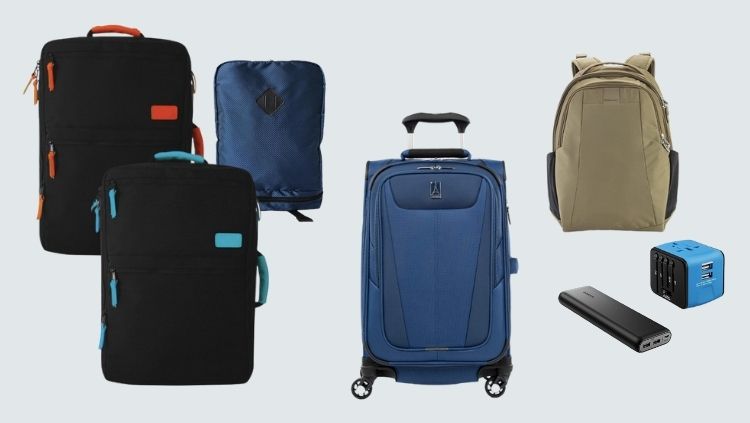 Travel Carry-on Packing List
Start by laying out all the clothes you intend to take with you. Ensure that they really do mix and match as you want. Then set aside the ones that you'll wear on your first transit day and start packing. This list is my go-to list that is good for a week-long trip or longer if you take advantage of the laundry services at your destination.
Bottoms – One pair of jeans that are casual enough for day but dressy enough for night, a pair of quality yoga or sweat pants, and a third pair of pants within your color palette to give you more options. Pants are sometimes where women sacrifice comfort. Make sure your pants are comfortable enough for long plane, car, or train trips.
Tops – Two interesting tops and three t-shirts. Even a t-shirt can be dressed up or down.
One Dress – A dress is a really comfortable option for day or night.
Outerwear – Your outerwear doesn't get packed but is worn or carried onto the plane.
Footwear – Take a maximum of three pairs of shoes, counting the ones you wear: a pair of walking shoes, a pair for dress, and a third that are a bit more fun. Make sure you've worn them before leaving so that you know they are comfortable.
Accessories – A long pendant necklace, stud earrings, and a scarf that pops.
Underwear – Seven days worth of quick-dry undies.
I've emphasized comfort a couple of times above. I can't stress it enough. All these items were selected for style and comfort.
For a complete packing list with more casual options for men and women, read Bare Minimum Packing: Here's Your Packing List.