Solo travel is for those over 50 just as much as it is for those under 30.
In fact, solo travel over 50 is one of the hottest travel demographics. The number of people going solo in their fifties and older is growing and they are seen to be more financially ready to spend on travel than their younger solo travel counterparts.
If you're over 50, you are of the Boomer generation, a somewhat complicated category in a few different ways.
You probably have 2+ adult children and possibly a few grandchildren.
You're part of the sandwich generation as you likely have one or more parents alive and requiring your attention.
You may have an ex-spouse and a new spouse to be concerned with and, by extension, step-children and step-grandchildren.
In the complicated world of boomers, relationships are everywhere as are the demands on your schedule. These relationships provide great satisfaction and meaning to life. However, they don't always allow one to feel lighthearted. This is where solo travel can help.
Ten Reasons to Travel Solo Over 50
Regardless of whether you travel on a group tour or independently, here are my top 10 reasons for traveling solo.
Are you facing midlife? Is it time for change? Travel alone, reflect, analyze, and explore your possibilities without the influence of others.
Have you been in the same relationship for decades? Is it getting a little tired? Take a solo vacation and return with lots to say to each other.
Are you suddenly single, either by divorce or loss? Solo travel is a real confidence builder, a great way to make a comeback.
Have your kids just left the nest? Then it's time to find out who you are again. You can't really do this with a companion who knows you and expects you to act in certain ways. Get away. Travel alone and rediscover yourself.
Is your spouse or partner uninterested in travel? Going solo is your answer. See the world and return refreshed to your relationship.
Are you concerned that people at work see you as old? Head out on a solo adventure and people will quickly adjust their attitude.
Is money tight? Solo travel can be inexpensive. It's much easier to book hostels, hospitality stays, great deals, and cheap flights when you travel alone.
Do you have health problems? Stress is a major contributor to most health problems. Plan a solo holiday where you set the schedule and take a break from the stress in your life.
Is work dull with little hope of things changing? Then inject some challenge into life by traveling solo.
Did you retire early? Do you have time to travel but family and friends don't? No need to sit around and wait for them. Go solo and enjoy.
Traveling alone in your fifties is very safe. You have the life experience that tells you how to avoid potential problems and, if you should find yourself in one, the know-how to get out of it quickly. So get out and enjoy a great solo travel experience!
10 Benefits of Solo Travel Over 50
Autonomy and choice are fundamental to happiness. It's important to take a break from the demands of others and spend some time living on your own terms. Whether you're single or have a partner, solo travel is an opportunity to make choices and:
Feel free. Feel free to do what you want when you want. It's a rare opportunity.
Gain confidence from that independence. Whether you're traveling solo on a tour or independently, there is a confidence-building element to solo travel for having jumped into a somewhat unknown situation on your own.
Discover who you are when you're not meeting the demands of a spouse or children. When responding to everyone else who has time to get to know oneself? Solo travel gives you that opportunity.
Spend time developing your talents or discovering new ones. Take a painting course. Go hiking. Discover a new skill or talent.
Build confidence after a divorce or loss. There are times in life when we all feel more than a little shaky. Solo travel will help you through those times.
Return to your relationships with new ideas, experiences, and dreams to share. Sometimes we run out of stories. Make new ones that are all your own to share by traveling solo.
Demonstrate your youthfulness to co-workers. Does it seem like suddenly everyone at work is younger than you when you used to be the youngest? We all know how that feels. Get out, travel solo. You'll feel younger and others will see you that way as well. It's difficult to see an adventurer as old.
Reduce stress. Stress is a major contributor to health problems. By relaxing and traveling on your own schedule you'll settle the stress down.
Reboot your life that may otherwise be on autopilot. Feeling a bit bored? Need to shake things up a bit? Need new stimulation? Solo travel can give you this.
Do what you couldn't afford or didn't have time to do when younger. You can now afford to do what you couldn't before.
Fulfill lifelong dreams that may not be shared with a partner. Many partners take separate vacations to pursue their personal dreams. Go for it.
Feel really useful when your nest is empty. Volunteer programs need the lifetime of skills you've developed.
Happiness can be elusive. The number of self-help books on the subject confirms this. Maybe we all need a little time to ourselves, to make decisions, discover our strengths, and experience more autonomy. Maybe we all need to travel solo.
See also: Senior Solo Travel: Don't Let a Number Hold You Back for advice and encouragement from members of the Solo Travel Society.
How to Travel Solo Over 50
There are two basic ways to travel solo.
Independent solo travel
Solo travel on a tour.
Independent Solo Travel
Independent solo travel is when you plan, navigate, and negotiate everything yourself. The downside is all that work and responsibility if you don't enjoy it. The upside is freedom and independence. It's exhilarating!
Also read:
Solo Travel on a Tour or Cruise
This is solo travel in a group where the planning and organizing is all taken care for you. Every day you have a guide and the group heads out to another activity. No fear of being lonely, eating alone, or your safety. The tour takes care of everything.
Most companies organize tours and have a few solos on them. There are a few companies that just cater to solo travelers. Check out our Deals page for the only list of solo-friendly tours from multiple companies that we know of. You can also receive our monthly Newsletter and Advisory of Deals by email. Just click here and sign up for the Solo Traveler Newsletter.
Also read: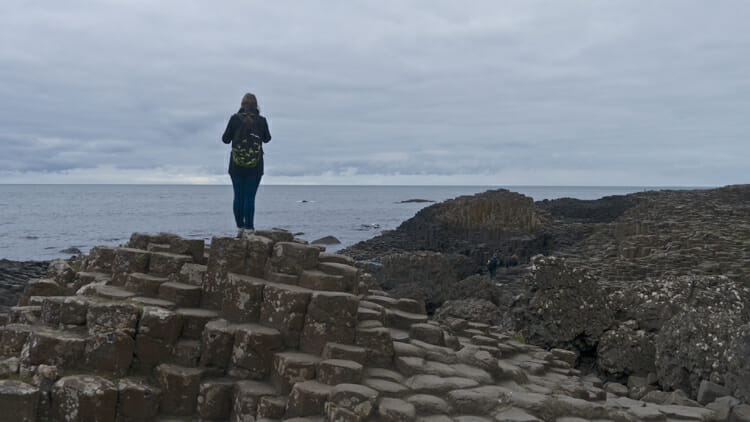 Solo Travel Safety for Boomers
Every week, people reach this blog by searching the words: "solo travel after 50." These words are frequently paired with concern for safety. There seems to be some concern about age and solo travel. From my perspective, there shouldn't be.
Being 61, I think I'm qualified to address this issue. And, as you might imagine, I believe that it is not only safe to travel solo after fifty but also, for all the reasons above, important.
That said, at a certain age we become more aware of safety issues. When we were young, optimism prevailed. Concerns were tossed into the wind. Not so much now. So here I have a few safety tips specifically for older solo travelers.
Get travel insurance. Now if you're over 65 this can be a problem. It gets more expensive the older you are but it can also save your bacon. Read how travel insurance has saved me a number of times in Going Alone? Travel Insurance is a Must.
Put medications in your carry-on. Eliminate the possibility of being separated from your daily medications should your luggage go astray. Pack all medications in your carry-on. It's always recommended to keep all meications in their original containers from the pharmacy. Read How to Get Through an Airport by Yourself
Request special services in advance. I've walked more than a kilometer from my plane to the airport exit. For some, this may be too long a trek. Consider your abilities and request any special support you need in advance.
Travel light. There's nothing worse than being in a position where you can't get help and you can't manage your bags on your own. Read these two posts to help you pack light: Bare Minimum Packing: Here's Your Packing List and Bare Minimum Packing: Urban and Luxury Travel.
Wear quality shoes. Balance starts to go after a certain age. It's a subtle process. Not obvious at first but, under the right (or should I say, wrong) circumstances, a twisted ankle, or worse, can easily happen. I gave up my beloved Merrell sandals for my more stable Eccos a couple of years ago. See what I travel with on our Gear & Books page.
Have back-up glasses. I lost a pair hiking once. It's simple to do. Best to have a backup pair.
Keep the bling at home. At this stage of life you may have some beautiful jewelry but that doesn't mean you have to take it traveling. Keep it at home where it's safe and you won't attract attention to yourself.
Don't promote the fact that you're away on social media. It may be exciting to be going on a solo adventure but don't announce it to the world. You want your home to be safe as you travel as well.
Also read Solo Travel Safety: 50+ Tips for Those Who Travel Alone.