Cape Breton, Nova Scotia keeps calling me back.
I first went there on a cycling trip when I was 18. The next time was a family trip when my kids were young. This year I got to explore it solo.
Why do I keep going back? Cape Breton has
spectacular scenery
Gaelic music
hiking and kayaking
history that's alive
delicious food
It's a destination rich with culture and friendly people that is perfect for a solo road trip. While you can pick up an organized tour of Cape Breton, to do it independently you will need a car.
On this occasion I went as a guest of Nova Scotia Tourism. I'm so glad because for the first time I went with the intent of gathering the details I need to properly share how to visit Cape Breton.  Here's the lowdown on my Cape Breton road trip itinerary. Here are the highways, biways and stopping points I covered in five days. I'd recommend that you take more time if possible.
Day 1 – Arrive and Head towards Cape Breton Island
From the airport. I flew into Halifax airport and stayed my first night in Guysborough.
Take a break on route: On my way to Guysborough I stopped in at

The Hillbrook Culture and Heritage Centre which is located just before you reach Truro and shows the arts, crafts, mythology and traditions of the Mi'kmaq people.
Truro's Victoria Park. Stretch and take a walk to the waterfalls.
Day 2 – A Busy Day on Cape Breton Island
Arrive on Cape Breton Island. Head out from Guysborough early in the morning. There is only one way to get onto Cape Breton Island by car. Take Highway 104 from the mainland and cross onto the island along the Canso Causeway which, in my memory, was much longer than it actually is. It's an easy drive.
Continue to St. Peter's. Continue along Highway 104 to Highway 4 and stop in St. Peter's, known as the Village on the Canal. The canal runs 800 meters joining the Atlantic Ocean to Bras d'Or Lake. If you're there on the right week you could attend Nicholas Denys Days named for a French fur trader from the 17th century. One of the many activities you can do during the festival is Swim the Canal.
Lunch at Rita's Tea Room. Continue along Highway 4 which runs along Bras d'Or Lake. Rita's Tea Room is about half way along the lake. Rita MacNeil was a country and folk singer from Big Pond, Cape Breton. She was a Canadian superstar in the music scene and released 24 albums in her lifetime. More have been released since. Continue on to Glace Bay.
The Miners Museum in Glace Bay. Now this may not sound like an amazing museum but it is! Coal mining began in Glace Bay back in the 1700s and ended in 2001. Shortly after closing the mine The Miners Museum was opened. This is not a typical museum with exhibits. It features a tour of an actual mine. You don't go 900 meters out under the ocean floor as the miners did when it was in operation but you do go 100 meters or so with a retired miner as your guide. It's a fascinating tour that gives you just a sense of the hardship miners faced. If you're lucky your visit to will coincide with a concert by The Men of the Deeps. Travel on to Louisbourg.
Dine on history and fun. Have dinner at the Beggars Banquet at The Point of View Suites. When you arrive they dress you in an 18th century costume. You and the other guests are seated at communal tables and there's constant entertainment. They sat me at a table with a family of three and another solo woman. At $39.95 for a lobster, snow crab, halibut or chicken meal including salads, dessert and coffee it's great value. Add to that the music, dancing and fun and it's a really good time.
Sleep well. There are many options in the town of Louisbourg. I stayed at The Point of View Suites.
Day 3 – Fortress Louisbourg and Travel to Cabot Trail
A bit about the fortress. On Cape Breton Island, east of Sydney is the Fortress of Louisbourg, once one of North America's busiest seaports. It was originally founded by the French in 1713 and destroyed by the English in 1758. After it fell, British engineers destroyed the town and dismantled its fortifications and shipped much of the stone to Boston. If you're familiar with Louisbourg Square in Boston you have seen some of the original stone from the Fortress. Fortress Louisbourg of today is about 1/4 of the original town and fort. A visit includes chats with people taking the roles of those who lived there in the 18th century.
Get to the Fort for opening. The hours of Fortress Louisbourg are usually 9:30am to 5pm but check it yourself as it changes in the off season.
Plan to spend the day. I arrived at 9:30 and didn't leave until 3pm. I could have stayed longer but I needed to move on as I was expected at my next hotel on the Cabot Trail that day.
Accessibility. To get to the Fortress most people take a shuttle bus and a bit of a walk. As with all national parks effort is made to make Louisbourg accessible. If you have mobility issues there is a parking lot that gets you much closer to the entrance. Many of the buildings have a step or two but not more and the roads are fairly smooth.
Schedule your visit for a special event. I was at Louisbourg for CultureFête, a weekend that celebrates food, fashion, music, dance, stories and songs with re-enactors who transport you back to the 1700s. There are all sorts of special events throughout the year.
Eat at the Hôtel de la Marine. Grandchamp House is the restaurant at Hôtel de la Marine. I ate a yummy pea soup with bread sitting at a communal table with a number of the volunteers who re-enact life at the Fortress most weekends.
Check out the schedule of activities. There are many free and paid activities. You can take a guided tour ($3.90) or fire a musket ($36.80) or even a cannon ($55.20).
Continue on to the Cabot Trail. Baddeck is the main town on east side of the trail. That's where I headed after leaving Louisbourg at about 3pm. I had hoped to go to a ceilidh (a ceilidh, pronounced kay-lee, is a night of traditional music) as the Baddeck Gather Ceilidhs are well known in the province but I found my accommodation to be a bit too far away. Another highlight of Baddeck according to my sister is The Outdoor Store.
Rest after a full day. I stayed at Chanterelle Inn & Cottages near North River and dined in their 100K Restaurant. It's a lovely spot but if you're going to stay in Baddeck for the ceilidh you may want to stay nearby as the drive to Chanterelle would be challenging in the dark.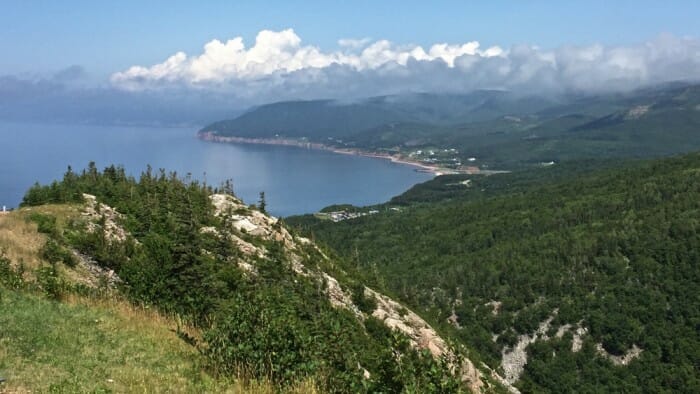 Just one of the many incredible views on the Cabot Trail.
Day 4 – The Cabot Trail
Travel the Cabot Trail. The big debate is always whether to travel the trail clockwise or counter-clockwise. My preference is counter-clockwise which puts you on the ocean side of the road for most of the trip and puts the grand finale, the view from Veteran's Monument, at the end. But I expect that in saying this I'll have many who argue the opposite.
Start with a full tank of gas. There are a few gas stations on the Trail but not many so why worry. Fill up before starting the trail.
Find local art. Stop into the Colouratura Art Gallery just past St. Anne in Indian Brook on the Cabot Trail. The gallery is housed in an old church and owned by Penny who was happy to show me around, give me background on many of the artists and, before I left, take out a map and give me points of interest she didn't want me to miss. She also holds a few concerts in the gallery every year. You must ask her the history of the John Broadwood Drawing Room grand piano which is a centrepiece of the gallery.
Ingonish Beach It may be a bit early for lunch when you get to Ingonish Beach but you could go to the Keltic Lodge for a coffee or take a break at the beach or hike Middle Head Peninsula (4km).
Cape Breton Highlands National Park. The Cabot Trail weaves in and out of the Cape Breton Highlands National Park. Stop at the Information Centre just north of Ingonish Beach to get recommendations for your time in the park and to pay $7.80 for your day pass.
Deviate from the Trail. Watch for the Neils Harbour turn off and take a right into this small village. There's a chowder house on the sea there where you might want to stop for lunch.
Go to White Point. From Neils Harbour head north along New Haven Road to White Point. Walk along the point for an absolutely spectacular view. Take White Point Road back towards the trail.
Stop often. While we think of the Cabot Trail in terms of ocean views, according to the National Park information "over 90% of the Park's surface area is Highlands Plateau" cut with valleys and canyons. I was stopping all the time because it was just spectacular. Here's a link to some of the better viewpoints along the trail.The iconic view of the Cabot Trail from the Veteran's Monument.
The Veteran's Monument. This is the view for which the Cabot Trail is most famous and another reason that I like traveling the trail counter-clockwise. Why not save the absolute best for last.
Walk the bog. If you don't have more than one day to spend on the trail you'll be short on time for hiking. This is a nice walk that will give you a break from the car. If you have more time for hiking on the Cabot Trail, check out the options here.
Explore the Acadian culture. Here are two small and wonderful museums in the area.

Les Trois Pignons is an Acadian cultural museum with a collection of traditionally hooked rugs, a genealogy resource centre and a library.
The Mi-Carême Interpretive Centre was a big surprise. It's a small museum that represents Mi-Carême fête, a traditional celebration that is celebrated on the fourth Thursday of the Lenten period. Here's a description from their site: "During Mi-Carême many people, called les mi-carêmes, disguised from head to toe, visit their neighbours, who try to guess their identity. When the guessing game is over, the mi-carêmes unmask and enjoy a treat before heading to their next destination where the game begins again."

Go to a ceilidh. You're in Nova Scotia and I would advise going to as many ceilidhs as possible. I went to one at Glenora Inn and Distillery where I had a fantastic dinner first.
Rest after another full day. I stayed at Glenora Inn and Distillery as well.
Day 5 – Golf, More Music and Heading Home
Take a distillery tour. Staying at the Glenora Inn and Distillery gives you the opportunity to take the tour of the distillery that uses the water that runs through the property. It's a great education on Scottish whisky-making.
Canada's #1 Golf Course. Forbes Magazine calls Cape Breton the Hottest Island in Golf. To stay at the Cabot Links you have to book about a year in advance but you will likely get a tee time with just a bit of notice or even the day of. Every hole is on the sea.
Inverness boardwalk. Cabot Links is in the town of Inverness. If golf's not your thing take a walk along their boardwalk.
A traditional music museum. On my way back to the Canso Causeway and then the airport I traveled along the west coast of Cape Breton on Highway 19 and stopped into  Celtic Music Centre. It's a great place for lunch. The museum they have onsite will take about an hour to enjoy.
Back to the airport. After the Celtic Music Centre I made a run for the airport and made it in plenty of time.
Clearly this was a fantastic trip. One that I highly recommend. Still, I must be clear, this trip was supported by Nova Scotia Tourism. As always the opinions and experiences are my own.