I do love a road trip!
Have I said that before? I must have because I really do!
And given that A Road Trip Alone: Top 10 Tips to Prepare is consistently a top 10 post on Solo Traveler I gather that many readers do as well. So, it's time to line up some of the road trips I've taken and tell you a little about each so that you can decide which is right for you. And now, my top recommendations for solo road trips in 2017. If you're new to road trips you may want to first read: A Solo Road Trip – Why You Can! And Why It Will Be Fabulous!
Best Solo Road Trips for 2017
My intention here is not to mention every road trip I've taken. For example, the trip I took in Emilia Romagna (pictured above) was simply a day trip. I'm focusing here on trips of a week or more. And given that I'm based in Toronto these are North American road trips. My driving adventure through Europe for 10 months is far too long ago now to give you much detail.  Perhaps there will be road trips beyond North America to share in the future.
Best Cultural Road Trip
The Acadian Coastal Drive, New Brunswick, Canada
Why go? Meet the Acadians, a fiercely proud people who have survived against all odds. The Acadians are descendants of the first French to colonize North America. In 1755 the British tried to oust them. Many left and in Louisiana the Acadians became Cajuns. Those who stayed or returned have declared Caraquet to be their capitol. On this drive you'll enjoy spectacular ocean views, the warmest ocean beaches north of Virginia and dozens of small harbours where you can watch the catch come in and, in season, buy lobster for a song. But there are also restaurants that feature Acadian food, the Acadian Village near Caraquet to give you a history of the people and Le Pays de la Sangouine which offers activities and entertainment springing from the novels of Antonine Maillet, a famous Acadian author. If you go in August don't miss the Tintamarre on August 15th. And, of course, the Canadian dollar makes it more affordable than going abroad for Canadians and a great deal for anyone coming from the US, UK or Europe.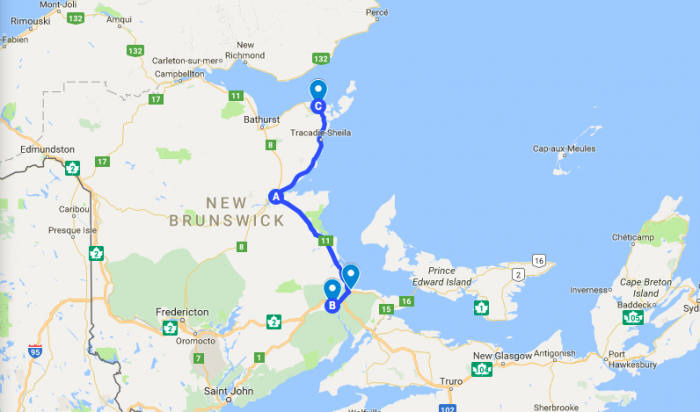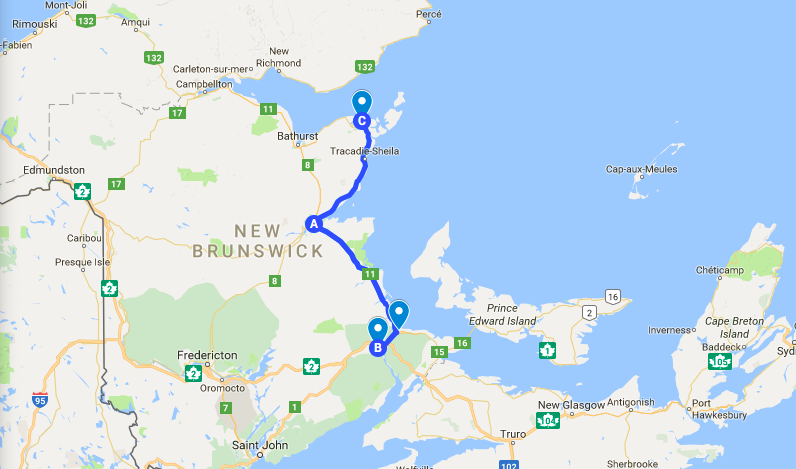 Level of difficulty: This is an easy drive.
Planning your trip: Moncton is the natural starting point for this road trip. You can get there by plane, train or bus. You can also rent a car or drive your own to your starting point. There are more details on what to do, where to stay and eat in the posts here:
Best Sea to Sky Road Trip
Cape Breton, Nova Scotia, Canada
Why go? Visit a bit of Scotland in North America. Nova Scotia means new Scotland and you definitely get the feeling of Scotland's highlands there, especially when you visit Cape Breton Island. The whole island has a population of about 150,000 spread over small towns and villages. It has fabulous music with ceilidhs (pronounced kay-lees) to be found everywhere, the top golf course in North America, the historical summer home of Alexander Graham Bell, great seafood, the Fortress Louisbourg and much more. Unlike Scotland, you get to drive on the right-hand side of the road and the Canadian dollar makes it more affordable than going abroad for Canadians and a great deal for anyone coming from the US, UK or Europe.
Level of difficulty: Most of this trip is easy driving. The roads in Nova Scotia are in good shape. However touring the Cabot Trail raises the level of difficulty somewhat. I met a woman who was 70 who did the trail alone in a small RV. It is definitely doable but it will be a slight challenge for some people.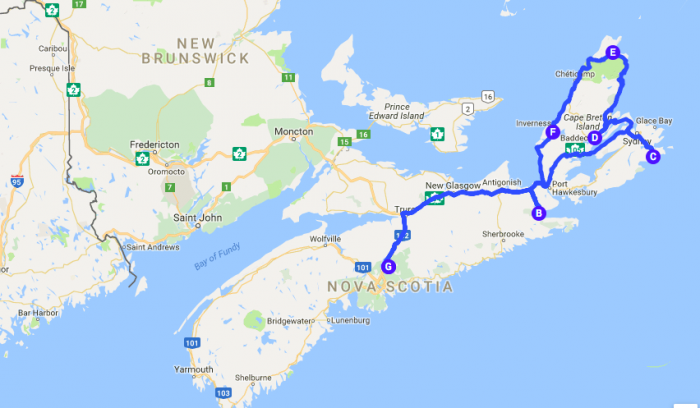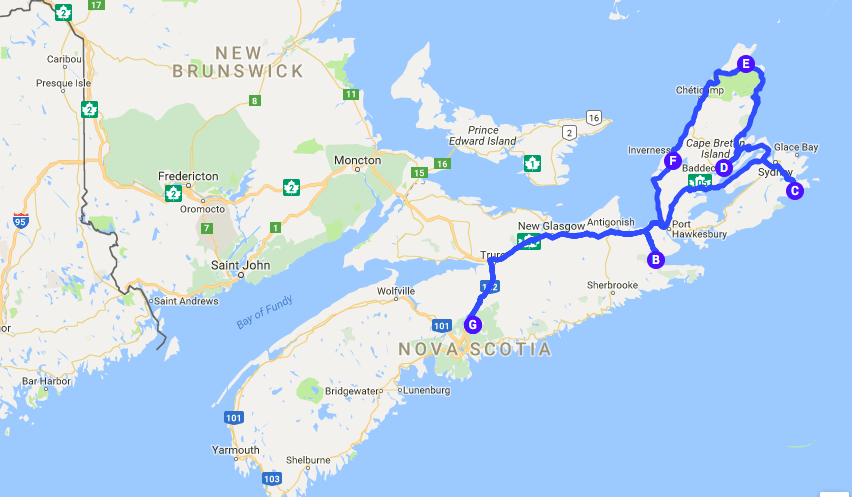 Planning your trip: You will likely either drive to Cape Breton or fly into Halifax Stanfield International Airport. I have been booking my flights with Flightnetwork and saved significantly on some trips by doing so. There are chain hotels on Cape Breton but you'll likely enjoy the small, family run enterprises better. Read these three posts for the highlights of any trip to Cape Breton plus where I stayed and what I ate.
For another Nova Scotia road trip story read:
Best Magical Road Trip including the Grand Canyon
American Southwest – Phoenix, Arizona to Denver, Colorado
Why go? Get outside of Phoenix and there is magic in Arizona. From the Arcosanti community to the Painted Desert to Sedona's new age stores, spas and galleries to the wonder of the Grand Canyon, there is magic everywhere. This road trip took me from Phoenix north through Arizona to the north rim of the Grand Canyon, to Zion National Park then across to southern Utah and Monument Valley and finally over to Colorado, Durango and Denver. It was an exciting trip that was diverse and across landscape I had never seen the likes of before. It was spectacular! Sedona is as new age as you'll find and Durango looks like it's out of the old west. Driving over the continental divide near the end of the trip was yet another thrill in this road trip that offered many.
Level of difficulty: Most of this trip was relatively easy driving but if you include Colorado you will likely be challenged by the Durango to Denver leg which includes the Million Dollar Highway between Silverton and Ouray. It's a two-lane highway with virtually no shoulder and a very steep drop off. I approached it very early in the morning to avoid traffic and was glad that I did.
Planning your trip: I flew into Phoenix and out of Denver and had a small RV for the trip. The RV was sponsored so I didn't face a drop-off fee but you likely will if you rent a vehicle. If you want to turn this into a loop I'd go as far as Mesa Verde National Park and then head back south through New Mexico back to Phoenix. You could also do much of this trip out by flying into Las Vegas if that is of interest to you. Here are the posts from that trip to help.
Best Circular Road Trip
Road trip around Lake Ontario
Why go? A circular road trip has symmetry to it. There's no backtracking. You're always moving forward and if you have rented a car you can easily return it to your starting place which saves money. In North America we have the Great Lakes: Superior, Huron, Erie, Ontario and Michigan. Circumnavigating any one of these lakes is an adventure. Given that I live on Lake Ontario, this is the lake that I traveled around. Starting from home I went east to Prince Edward County and further on to Kingston, Ontario, then south across the border into the United States and west to Rochester then further west and north back into Canada and Niagara-on-the-Lake. This trip takes you through three wine districts, charming towns with wonderful restaurants, the major theater center of Niagara, the opportunity for exceptional cooking schools (I took a class at the Waring House Cookery School in Prince Edward County) and a few unusual museums like George Eastman House.
Level of Difficulty: This is a super easy road trip. Other than two spectacular bridges, one ferry and crossing the border between Canada and the US twice, it's all pretty, easy, two-lane roads.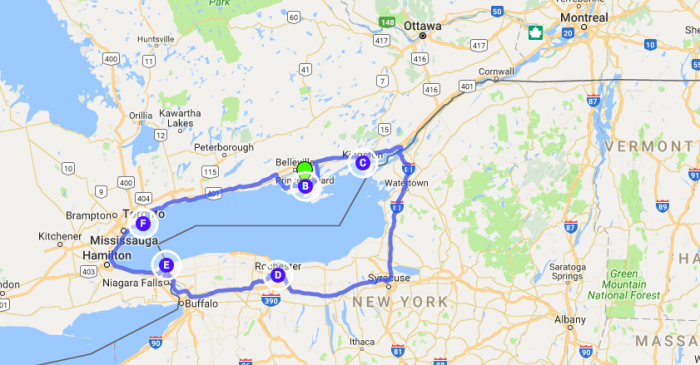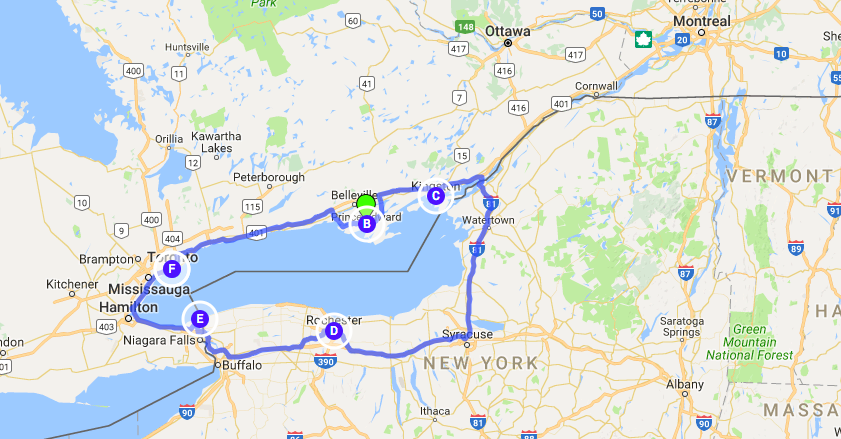 Planning your trip: I did my trip in a week though I would recommend longer. I suggest three nights in any one location which makes the trip more relaxing. It should have been a 10 to 12-day  trip rather than 7.
For more read:
Most Charming Road Trip
New York City to Bar Harbor, Maine
Why go? New England is charming. I took this road trip after attending a conference in New York City and it took me into a small-town paradise. Boston may not be a small town but when you walk the city it can feel so. Otherwise I was on Cape Cod relaxing on the beach, bopping around Provincetown or exploring Hyannis and the JFK House Museum there. Further north I was in Bar Harbor and I camped in Acadia National Park where the sunrise over North America can first be seen on Cadillac Mountain. This trip would be an especially beautiful trip in the fall when the trees are in full color.
Level of difficulty: The driving is easy but the navigation can be a bit tricky. Avoiding the freeways can demand quite a few turns on this route. I was happy to have a GPS with me.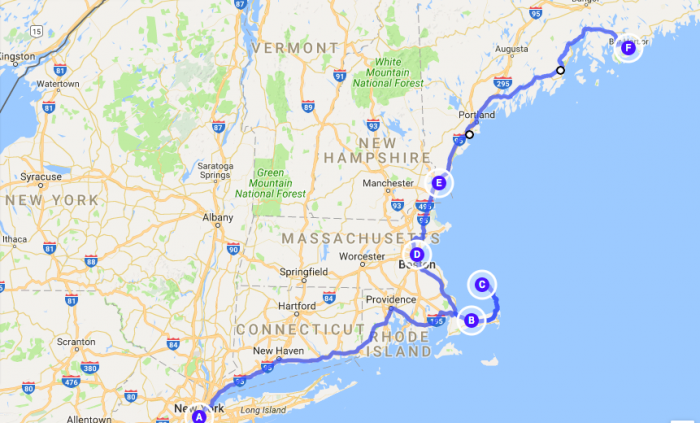 Planning your trip: Again, I prefer to stay at least three nights in a location. Otherwise I feel a trip is too compressed and there's not enough time for discovery. The road trip described is one way. To return from Bar Harbor to New York City is 8 1/2 hours. You need to plan for this unless you're dropping off a car somewhere.
More Road Trips to Consider
I'm not the only one who loves a road trip. Here's a report on Tracey's first road trip: My First Solo Road Trip: Nova Scotia. We've also had road trip posts submitted by a number of readers. Have a read…
And the tip posts on solo road trips: