Later this year, I will, as many of our readers already do, face the challenge of finding affordable travel insurance for seniors.
In my books, travel insurance has always been important. I have never traveled without it. As I age, I consider it even more important.
There are people who choose not to buy travel insurance. In essence, that means that they are self-insuring. Generally, I consider this to be penny-wise and pound foolish. I will get into the rare circumstance when not buying travel insurance does make sense below.
My purpose with this post is to simplify what can be a complicated purchase. While I can't change the rates or policies that travel insurance companies have for seniors, I can share with you some straightforward language to help you buy travel insurance according to your needs without overspending.
If you are under 70 years of age (65 in Canada) please read Going Alone? Travel Insurance is a Must.
If you're exploring travel insurance you're likely in trip planning mode. You may want to click here for your travel planning checklist.
One quick note. This article contains affiliate links which means that if you make a purchase we'll earn a small commission. This doesn't affect our analysis or your costs, but you will support Solo Traveler.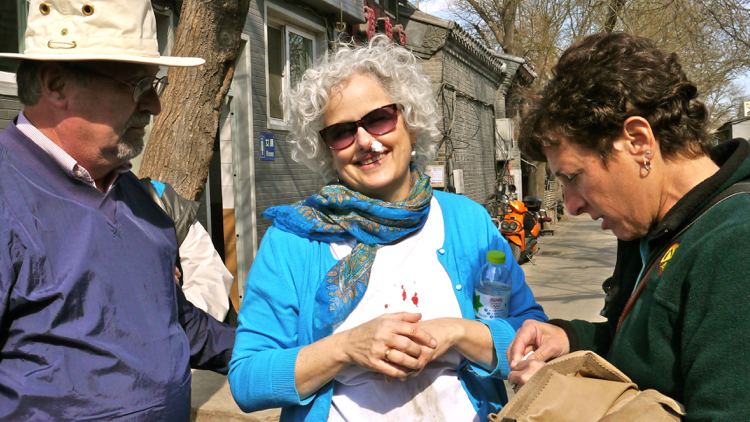 Top 3 Reasons Seniors Need Travel Insurance
As you age, more health issues arise. It's a fact of life. This also means that there are more reasons for seniors to buy travel insurance.
Here are the most important reasons seniors need travel insurance:
An unexpected health challenge causes a trip cancellation. Since seniors tend to have more health problems than younger travelers, it's not surprising that it is more common for seniors to encounter health-related issues that force them to cancel trips.
Family responsibilities force a trip cancellation. Whether it's a partner, parent, or child, seniors are responsible to many family members. When something happens to a close relative, your trip might need to be cancelled. You can read about my experience with this in The Trip that Was Just Not Meant to Be.
A medical emergency happens while you're traveling. Whether it's a fall, a temporary illness, or a new medical condition, many things can happen while traveling that require emergency medical attention. Read Travel Health Emergencies: Stories of Health Care Around the World.
The bonus of good travel insurance is that you will also be covered for medical evacuation, lost baggage, and possibly more.
Should I Buy Travel Insurance? Is Self-insuring a Good Option?
Trips and falls happen when we travel. On longer trips, it's likely that general health problems could arise as well. This is why it's worth purchasing a "bundled" travel insurance plan that includes trip cancellation, medical emergency, and evacuation coverage.
But is it?
You do have the choice to self-insure. This is the option of not purchasing travel insurance and covering any expenses or losses that arise out of your own pocket.
Let's explore a few scenarios to understand the implications of travel insurance.
Traveler details. My theoretical traveler is 70 years old and purchased a $6,000, two-week trip to France.
Insurance purchase. For $339.30 or 5.5% of the cost of the trip, the traveler purchased a bundled travel insurance plan. I took this quote from TravelInsurance.com. The coverage includes:

Trip cancellation: $6,000
Trip interruption: $9,000
Medical evacuation: $500,000
Emergency medical: $150,000
Baggage loss: $1,500

Flight accident: $75,000
Accidental death: $25,000

Scenarios:

The traveler can't go due to illness. The trip cancellation insurance will refund all expenses that are not otherwise refundable by the travel companies.
The trip is interrupted due to COVID-19 or another reason. The $9,000 coverage of this portion of the policy can be used for extra hotel nights, food, and flights. Should it be necessary to quarantine due to COVID-19, there is ample coverage for the costs.
Emergency medical care is needed. Here are three different possibilities:

Sprained ankle. The total cost of seeing a doctor, purchasing an ankle brace and supplies is US$75 in France. I lived this myself. It's certainly not a huge risk.
Broken leg. It's a simple break and does not require surgery. The cost of medical care in France would be approximately US$4,500. That's getting a bit pricey.
Hip replacement surgery. I can't find a definitive price for this but in France it seems to be about US$25,000. This is definitely not the most expensive medical emergency you can face.
Given the above travel details, coverage, and scenarios, I'd say that you would self-insure only if you are wealthy. If you have the money, you can afford all costs out of pocket. You can also afford to pay for a translator to help you navigate the healthcare system and a last-minute flight to get you home or even an evacuation flight. You have the funds to take the risk.
However, if these expenses would affect your life at home and/or your chance for future travels, I believe it's better to have complete travel insurance. $340 seems like a small price to pay to protect your financial future.
Here are a few things that I've received compensation for thanks to travel insurance:
replacement glasses when mine were lost in the UK: $300.
the cost of repairing a crown that came off a tooth in Sydney: $272.
a flight to Peru that I couldn't take due to my mother's ill health: $1,100.
Seniors with Pre-existing Conditions Can Get Travel Insurance
The term "pre-existing condition" is probably the most misunderstood aspect of travel insurance. Here's what you need to know.
What is a pre-existing condition? It is a medical issue that required you to seek treatment or consultation with a doctor or a change of prescription, whether the issue was diagnosed or not. Please note, that should a doctor reduce a prescribed medication because you are doing better, from a travel insurance perspective, this is a new pre-existing condition and is not stable.
What is a stability period? Insurers will usually cover your pre-existing condition if it is stable. The stability or "look-back" period is typically from 60 to 180 days. This is the number of days they look back to see if the pre-existing condition has been stable. If during the look-back period the pre-existing condition has been stable—i.e., there has been no change in prescription, no physician visits, etc.–as per the insurer's definition, the pre-existing condition exclusion won't apply.
Are you covered for a pre-existing condition? To know the answer to this question, look back six months to see how you have been treated for the condition. If there has been no change in treatment, symptoms, or tests, read the fine print and then contact the insurance company to clarify that you will be covered for your pre-existing condition. If you are not covered, you may be able to purchase a pre-existing condition waiver. Christopher Elliott explains the waiver here.
Will you be covered for other medical emergencies? Unless your medical emergency is created or affected by your pre-existing condition, you will be covered for a medical emergency.
In the United States, the factors affecting pre-existing conditions are in the fine print. There is no medical questionnaire required before purchasing travel insurance so your attention is not brought to the matter. However, this does not mean that you are covered for pre-existing conditions. As always, read the fine print.
In Canada, there is typically a medical questionnaire. The information gathered will be used to identify your pre-existing conditions and determine what you are covered for and the cost of your insurance.
Why is this important? If you make a claim, the insurance company will look into the possibility of pre-existing conditions carefully and any found that relate to your claim could nullify your coverage.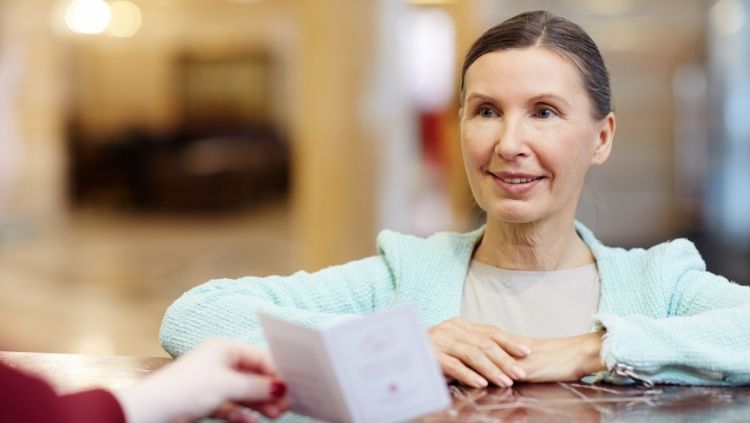 Tips on Buying Travel Insurance for Seniors
Travel insurance is not an off-the-shelf purchase for seniors. Here are tips to help you get the right coverage at the right price.
Shop around. Because the cost of travel insurance tends to get higher as you get older, it absolutely pays to do your research, particularly if you are relatively fit and healthy. Price comparison sites can be helpful for this. For Americans, we recommend travelinsurance.com for price and policy comparisons.
Purchase travel insurance as soon as you put money down on a trip. If you need to cancel a trip before you buy travel insurance, you're out of luck.
Ask for a deductible. Ask for quotes with different deductible options. A deductible is the portion of an expense that you will pay yourself. The higher the deductible, the lower the insurance cost.
Consider an annual plan.

If you travel frequently, an annual plan may save you money.

Understand pre-existing conditions. If your pre-existing condition is stable according to the terms of your policy, you will typically be covered. If you are not, you can look into buying a pre-existing medical conditions waiver. It is available for some (but not all) conditions.
Review your insurance before departure. It's possible that your health situation could change between the time you purchase your insurance and the time you leave for your trip. If anything has changed, review your coverage relating to pre-existing conditions.
Be aware of age limits. Some policies may not cover travelers over a certain age for specific pre-existing medical conditions (for example, asthma may not be covered if you're over 60). However, travel insurance is available for all ages.
Look at the individual policy limits. Different insurance providers offer different levels of coverage. You can lower the price of your premium by taking out a policy with a reduced amount of coverage. Be careful. Read the section titled "Should I Buy Travel Insurance" above.
Consider additional coverage. Most travel insurers offer a range of optional add-ons, such as cruise-specific coverage, to help tailor your policy to your needs. However, don't pay for things if you know you won't need them.
Get your questions answered. If you have questions about travel insurance for seniors, pick up the phone and get them answered clearly by either the insuring company or a licensed travel insurance broker. While travel agents, tour companies, and airlines can sell travel insurance, they are not allowed to give advice.
Specific Tips for Americans
Pricing. In the US, travel insurance prices are determined by age and the cost of the trip. While there is no medical questionnaire to complete at the purchase point, in the claims process you will have to answer questions about pre-existing conditions. Read the fine print to know the definitions of pre-existing, look-back period, etc.
Pre-existing conditions. No medical questionnaire is needed, however, pre-existing conditions are a factor when determining the payout of a claim. The fine print must be read to ensure that you have the coverage you want.
Status of pre-existing conditions. Insurers have a look-back period, typically from 60 to 180 days, depending on the plan and provider. This is the number of days they look back to see if the pre-existing condition has been stable. If during the look-back period the pre-existing condition has been stable—i.e. no change in prescription, no physician visits, etc. as per the insurer's definition, the pre-existing condition exclusion won't apply.
Medical coverage. Medicare does not cover you when traveling outside the United States. Medical travel insurance coverage can start at $25,000, however I suggest that you look for:

At least $250,000 in coverage for emergency medical expenses, including dental.
$1,000,000 in emergency evacuation coverage.
Medical staff available by phone 24/7 to help you get the care you need.
Translation services should you be traveling in a country where you don't speak the language.
Specific Tips for Canadians
Pricing. In Canada, the premium is determined by the traveler's age, trip length, and responses to a medical questionnaire (when applicable).
Medical coverage. In Canada, medical coverage is typically $5 million.
Pre-existing conditions. In Canada, pre-existing conditions are identified in the medical questionnaire when travel insurance is purchased. The insured must inform the insurer if there are any health changes before departure.
Status of pre-existing conditions. In Canada, insurers have a stability period where they are looking for no changes to the pre-existing condition. If you meet the stability period as determined by the insurer's criteria in their definition of stable, your pre-existing condition is covered.
Top-up insurance. If you have travel insurance through a group plan but are taking a trip longer than the plan covers, you can buy top-up insurance for the remaining portion of your trip.