Kauai is expensive.
Between the need to import most of what's consumed on the island and tourists driving demand and prices up (and, for me, the terrible exchange rate between the Canadian and US dollar) Kauai, Hawaii is an expensive choice for my first trip of the year.
Finding budget accommodation in Kauai was a must.
So if money is tight, why did I choose Kauai? If you recall I had to cancel a trip to Peru last spring which left me with a whopping credit with American Airlines that could only be used by me, all at once on a trip that only involved flying AA – no co-carriers allowed. (Read The Trip that Was Just Not Meant to Be) To use as much of that credit as possible, Hawaii was my choice.
With the cost of the flight under control, my next major expense would be accommodation. I see two ways of looking at the budget accommodation issue.
One is to spend as little as possible on accommodation throughout the holiday.
The other is to decide on an acceptable nightly rate and to stay at different places, from very cheap to more expensive, to get that average nightly rate but enjoy some nights in relative luxury.
I went for the latter. My nightly rates ranged from $38 to $174.77 per night and ended up being and average of $73.39/night. That's budget accommodation in Kauai and just about any destination for that matter.
Here's where I stayed and what I thought of each.
Budget Accommodation in Kauai: Four Options
I don't like to plan too much. I like to have my options open. So when I arrived on the island I only had my first three nights of accommodation booked. I'd done a fair amount of research so I knew of other options for budget accommodation on Kauai but I wasn't prepared to commit to them all. I wanted to see them first. Here's how it went down.
Beach Resort at Half the Price
This was my treat accommodation. I stayed at a hostel and a yurt camp, both cheap and quite nice, but this was my affordable treat. You can see what I spent for all my accommodation at the bottom of this post. Mixing it up between a smart way of buying luxury and cheaper accommodation and my nightly rate came out to $73.39 including tax.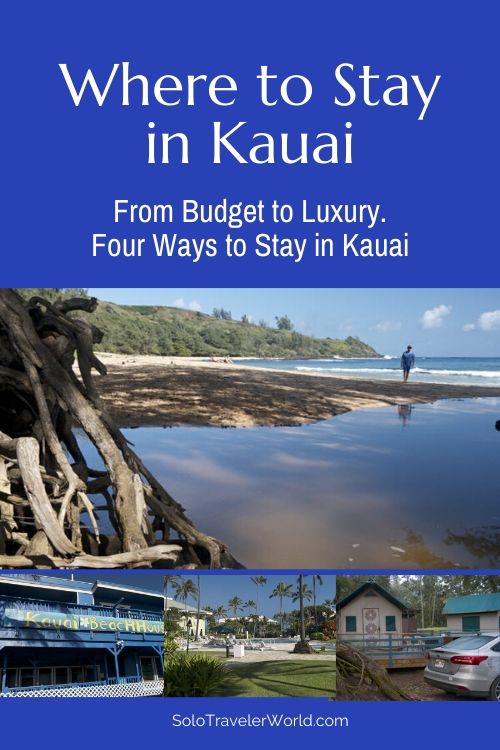 I don't think there is any such thing as a reasonably-priced beach resort in Kauai but if you book directly with an owner of a unit you can get a better price. I treated myself to two nights at the Aqua Kauai Beach Resort booked through VRBO.com. Given that I booked on short notice the owner reduced the rate by $20 per night.
It was a refreshing change to be at the resort. It felt very civilized – grown up. I arrived around 3pm, showered, rinsed out a few clothes and hanged them to dry, ironed other clothes to wear (which felt great) and went out for their 5pm music and dance performance which also included free Mai Tais (every Wednesday). I had dinner at Shutters, their bar. I had a glass of wine and a Margareta pizza which came in just over $20 with tip. Not bad for resort prices.
I enjoyed my time at the resort but it did make me feel cut off from Kauai. The resort is quite removed from daily life on the island, (something I like when traveling) but it was a nice short, luxury break.
Price and amenities. Through VRBO I paid $174.77 per night. For two nights it was $238.00 + #31.54 tax + $25 check-in and $55 checkout/cleaning fee for a total of $349.54. Amenities are extensive including multiple pools, live music in the evening, yoga in the morning… your usual. WiFi is free in the lobby but an extra $20/day to have full access. Because I couldn't get it in the lobby I asked for and was given full free WiFi throughout my stay.
Price comparison. The price quoted for a last-minute booking on Hotelstonight was $672.00 or $336 per night, almost double what I paid through VRBO.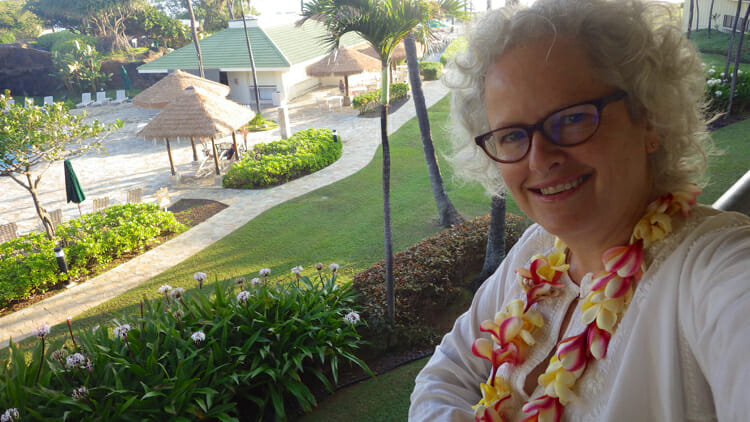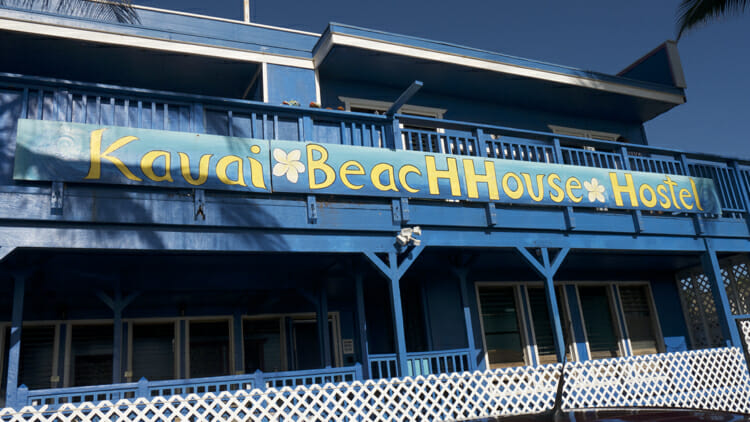 Kauai Beach House Hostel: Two Different Experiences
I arrived at the Kauai Beach House Hostel just after 11pm. It's neither my preference nor my habit to arrive late at night but I had little choice due to the AA flight schedule from Toronto. Fortunately, the hostel check-in person was waiting for me. He quietly registered me, showed me around, took the $15 late check-in fee in cash (that's fair as hostels don't have 24-hour desk service) and showed me to my bunk. I was in 8-bed female dorm. Each bunk was the size of a double bed. There was a sliding glass door off the room to a deck facing the ocean and a two-piece bathroom just off of it. The light in the dorm wasn't on so using my phone as a flashlight I quickly settled my stuff and slid into bed. I'd been up for 22 hours. Sleep was welcome.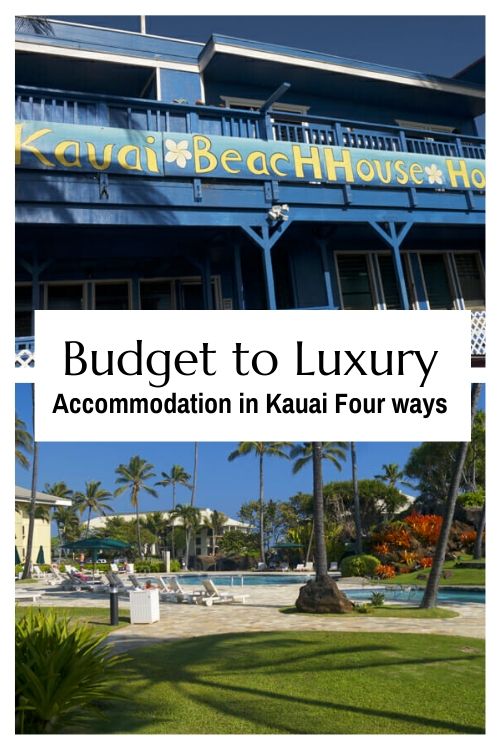 When I awoke the next morning I sat up and discovered a window at the foot of my bed offering a view of the ocean and the sunrise. The price of my bed: $38/night.
I stayed at the hostel three nights and the other women in the dorm were quiet, friendly and respectful. It seemed they all went to bed early as the dorm light was turned off by 10 or 11pm. The hostel itself was made quiet by 10pm with many lights turned off and the kitchen closed as activity there would disturb those going to bed. The large deck off our room overlooking the ocean and the Kapa'a path is just one of many shared spaces in the hostel and despite the hostel being full was always peaceful.
After the three nights I moved on to the Kumu Camp (described below) and then returned to the hostel for another two day stay. On my second stay I was in a private room for $78 per night. It was a bit removed from the hostel activity and didn't have an ocean view. It might be good for a couple but given the great experience I had in the female dorm, if I had to do it again I'd save my $40/night and stay in the dorm which I did when I returned for a final three nights at the end of my trip.
Price and amenities: Dorms are $38/night. Private rooms $78/night. They hostel offers free WiFi, the use of a well-equipped kitchen, bed linens and, as always, the friendly community of other budget travelers. The bathrooms are individual rooms and the showers are hot. The facility is kept very clean. Other than the locker room for your bags security is pretty lose. If the hostel is full they will let you stay on a couch. They also know how to take and keep a reservation without payment. They probably could have sold my bed many times over but they kept it for me despite my late arrival and lack of deposit.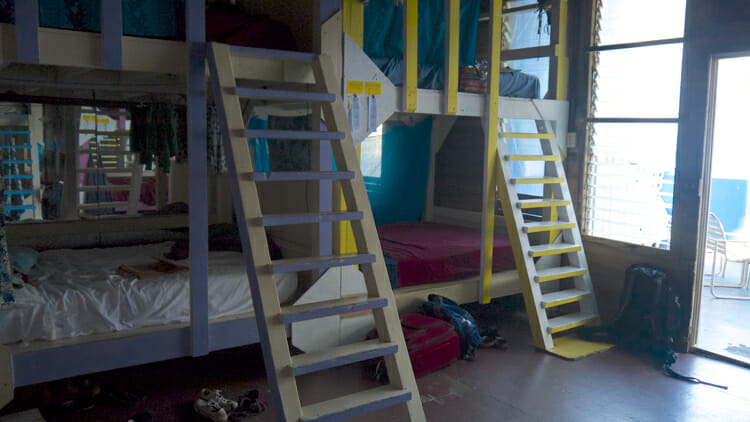 Kumu Camp: the Yurt Experience
After my second night at the hostel I really needed to make a plan for my next move so I spent the morning checking out my options and then visiting my first choice. I went to the Kumu Camp. There I met Tiffany who showed me around.
While the hostel was located on the ocean, it was not on a beach. Kumu Camp is on a beach that is not heavily used. You may see two or three people at any given time. If you want to swim, the state beach with a lifeguard is a short walk along the shore. This was the big bonus of Kumu Camp. Waking up and walking onto a natural, sand beach that goes on for miles without a soul in sight save perhaps a person with a couple of fishing poles – that's a sweet start to the day.
Two things I wasn't keen on:
It's really, really quiet in the evening. There was nothing going on and I missed the quiet energy of the people at the hostel. On the upside, I powered through two books while I was there.
Kauai is very humid and I found the sheets clammy at night. I'd bring a sleeping sheet (sheet sewn like a sleeping bag) with me next time. If you have your own sheet you can keep it in the car so it will be dry at night.
Price and amenities: $65 per night for one person. I'm not sure but perhaps they'd charge more if there were more in the yurt. The small yurts come with a double bed and a single bed. You have your own deck and a fire pit which I didn't use. If I settled in better and used these perhaps I would have enjoyed it more. The bathroom has one stall but I never saw another person there. The shower was hot. They also have a food truck that doesn't sell anything but is used as an open kitchen for the residents. If you stand near the office you can charge your electronics and get WiFi.
Public Camping
I didn't do this but if you're looking for really budget accommodation in Kauai you need to consider camping. Camping in Kauai is cheap and easy. Plus, you don't have to bring all your gear. You can rent your gear from Kauai Camper Rental for about $185/week. They also have VW Campers ($950/wk) but you need to book early to get one of them.
Price and amenities: $3/night at state parks. Cold showers.
My Budget Accommodation in Kauai Results
Clearly, I didn't go the cheapest I could have every night. My strategy was to end my trip with an acceptable nightly rate. To do so I stayed at different places where I spent (including tax):
$116.57 – 3 nights in women's hostel dorm
$195.00 – 3 nights at Kumu Camp
$176.39 – 2 nights in a private room in the hostel
$349.54 – 2 nights at the resort by using VRBO
$116.47 – 3 nights in women's hostel dorm
for an average of $73.39/night including tax. I'd say that's budget accommodation in Kauai. That said, if I were to do it again I'd book the women's dorm for the full two weeks. I was quite content there.