I am not a museum hound. An hour or two usually does me.
However, I spent an entire day at the Canadian Museum for Human Rights in Winnipeg.
It is a museum that points to the worst and the best of humanity.
It explores many of the atrocities and oppression that people in Canada and around the world have imposed and endured. It also digs deeply into the many ways that people have overcome the horrendous.
I left the museum better informed and, if you can believe it, optimistic.
One Goal, Many Ways
All around the world there are people engaged in defending human rights. They could be artists or politicians, scientists or students. They might be new to the cause or have years of experience.
What motivates their work? How did they come to it? What have they achieved? The answers to these questions are varied and inspiring – like the defenders themselves.
This statement from the wall of one of the exhibit halls explains why this museum can have such a positive impact.
Canada Held to Account for Human Rights Violations
Canada has done a lot and not enough when it comes to human rights. On the lower levels of the museum (which lack windows) are issues not yet well addressed such as indigenous rights, the residential school program, and the Sixties Scoop. There are also historical atrocities such the Great Acadian Upheaval which dispersed this French-speaking nation from eastern Canada back to France, down to New Orleans, to Santo Domingo, and as far away as the Falkland Islands.
However, on upper levels (that are full of light thanks to a glass cloud – see the last section) are some of the human rights successes of Canada, such as universal health care. Moving to the universal system was not simple. Fear of socialism was, as it still is in some jurisdictions, an obstacle for medicare. Did it belong in a society that valued free enterprise? Time has shown that the two can coexist. In fact, in 2004 when Canadians were asked to vote on the greatest Canadian of all time, Tommy Douglas, who is recognized for bringing medicare to Canadians, was the chosen one. He is likely unknown outside of Canada.
International Human Rights History in Context
No museum about human rights could avoid the Holocaust. Quite a large area is dedicated to it and how it could have happened. But again, Canada doesn't get off easy. Nor do the United States, Cuba, and other places.
"MS St. Louis was a German ocean liner known for carrying more than 900 Jewish refugees from Germany in 1939. Originally intending to debark in Cuba, they were denied permission to land. The captain, Gustav Schröder, went to the United States and Canada, trying to find a nation to take them in, but both refused." Source: Wikipedia
There is, of course, so much more. In the exhibition called "Turning Point for Humanity" moments of significant change in the battle against discrimination based on race, gender, religion, and sexual orientation are revealed. There's a history on the protection of children's rights to safety, access to education, and protection from forced marriage. The 1949 Convention for the Suppression of the Traffic in Persons and of the Exploitation of the Prostitution of Others was also documented, though I was surprised to find it there given the ongoing struggle against human trafficking and slavery. There is much work yet to be done.
Award-winning Museum of Human Rights
The museum was designed with great consideration for its purpose. Ground level is dark and without windows. As visitors wind their way towards the upper exhibition halls they enter a glass cloud. The movement from darkness to light is intentional as is the design of the ramp system between levels. It's made of alabaster, which is known for healing and spiritual qualities, and is illuminated from within. Many people believe that the design of the building as a whole represents a dove of peace.
The exhibition design firm, Ralph Appelbaum Associates (RAA), was presented with the gold award for "Best Scenography for a Permanent Collection" at the International Design and Communications Awards in 2016 for its work on the Canadian Museum for Human Rights. The museum has received awards beyond design. In 2017 it received an award for Advancing Human Rights Education at the National Black Canadians Summit Awards. It has also been inducted into the Circle of Excellence with an Accessible Cities Award presented by the Rick Hansen Foundation.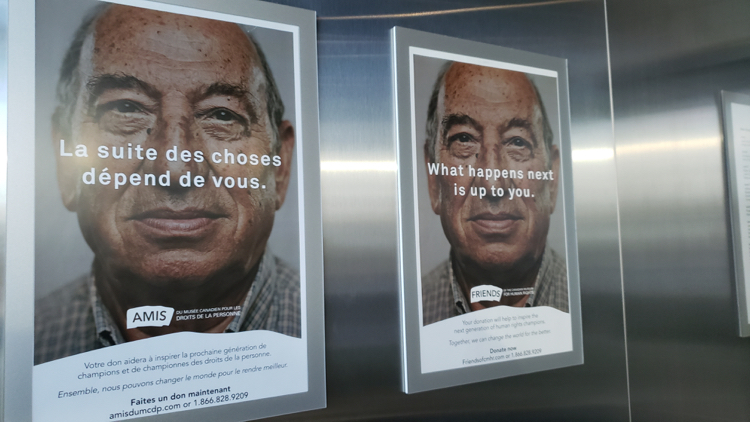 Leaving Optimistic
I left the museum feeling some responsibility to make a contribution to human rights issue. But the museum makes it very clear that this doesn't mean solving the problems of the world. As it demonstrates in many of its exhibits, small steps can add up to big change.
I also went to an outdoor spa while in Winnipeg. Read Going to the Spa Solo: Favorite Water Treatments Indoors and Out.