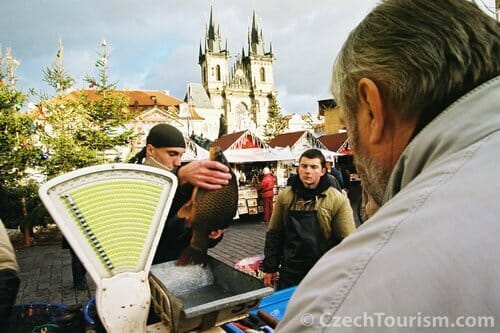 I have rarely spent the holidays away from home. But one very memorable year, I spent a solo Christmas in Prague.
I rented an apartment a short walk from Wenceslas Square and spent several days wandering around town in the frigid cold. There were lots of beautiful, festive sights to take in, but there were also some not-so-beautiful – though ultimately tasty – traditions to behold.
Prague's Old Town Square is transformed into a Christmas market around the holidays, with a huge, beautifully lit tree as its centerpiece. About 80 stalls offered up handmade ornaments, knitted scarves, and gifts galore. There were Czech sausages and ham, corn on the cob, sweets, and the lovely wafer cookies for which they are so famous. To wash it all down, and to warm myself up, I stopped for hot chocolate. To my surprise, it was served with a shot of rum. I'm not sure if it was the freezing night air, the sparkly surroundings or the Christmas spirit, but in that moment I was absolutely certain that no better pairing had ever been made!
By day, strolling along the streets of Prague, a very different Christmas tradition was on display – the Christmas carp. Traditionally served for Christmas dinner on December 24th, the fish can be purchased live from barrels on the street. Some people take them home and keep them alive in the bathtub for a few days before preparing them for dinner. Others have them killed, scaled and gutted right there on the street. As you can imagine, this makes for a bit of a bloody mess in the snow. Not the most festive sight, but if you have the stomach to watch, the fish sellers are amazingly skilled.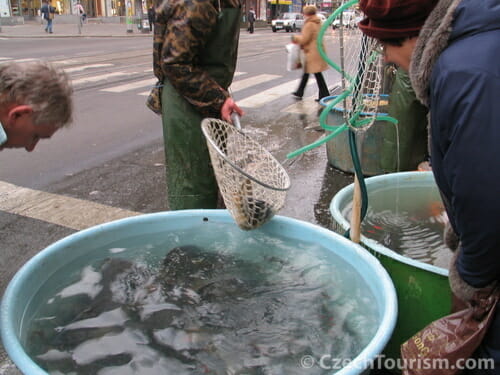 I was very lucky on this trip to have the opportunity to enjoy Christmas dinner in a Czech home. Along with the carp, which was breaded and fried, potato salad was served, as was a delicious barley dish with dried mushrooms. Interestingly, the Czech carp, much like my Canadian turkey, is really only served at Christmas. Equally interesting, in both cases, many of us are more in love with the idea of the dish, than with the actual dish itself. However, as a tourist, everything was new and exciting and delicious to me.
Back home, I haven't added carp to my Christmas table, but I highly recommend adding a splash of rum to your hot chocolate. Na zdravi!