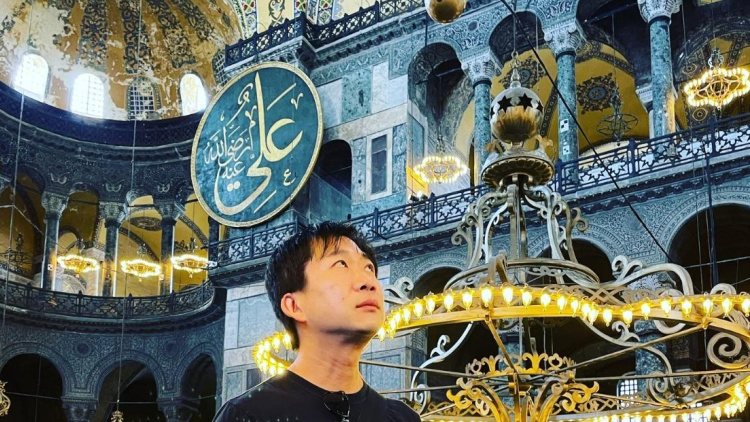 What a sweet time I had on my delightful Turkish adventure! Visiting Turkiye solo on a group tour was a beautiful experience.
Bordering Europe and Asia, Turkiye (formerly Turkey) sits in a unique spot between east and west. I thought I was knowledgeable about Turkiye before I arrived, but once there I realized that I knew very little about this beautiful and historic country. I was glad for the opportunity to fill this knowledge gap in my brain.
My First Impressions of Istanbul
Istanbul is more modern in appearance than I had expected for a city with such a long history. Most large historical cities, like the ones found in Western Europe, usually have a clearer separation between the ancient and the modern.
In Istanbul, I feel they have found a way to mix modern and ancient together so well that you don't even notice that an ancient monument is next to a modern structure. I feel this aesthetic is also reflected in the general population everyday. As you explore Turkiye solo, you'll see those dressed in very traditional attire next to those who look like they've just stepped off a runway in Paris, but neither looks out of place on the streets of Istanbul.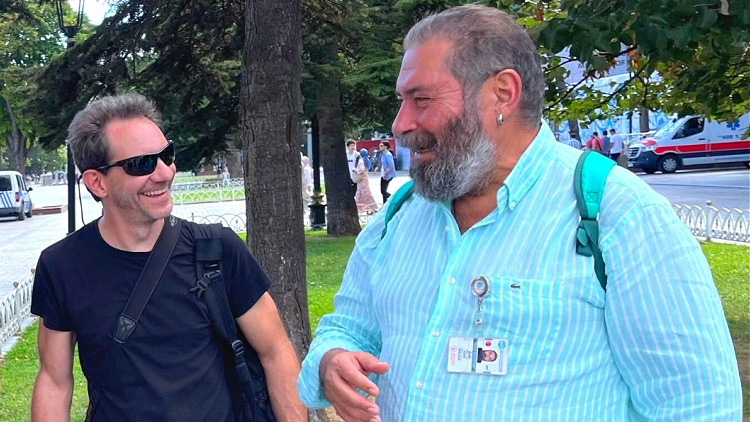 Meeting Our Guides
I was very fortunate to be hosted by Exodus Travels during my stay in Turkiye on their premium tour of Istanbul and Cappadocia. As always, their premium tours include a named expert local guide. For this tour we were lucky to have Semih Eser–who has over 30 years of experience designing and guiding tours in Turkiye–as our primary guide.
We were lucky to also have a bonus guide on our tour as we were joined by renowned National Geographic explorer, filmmaker, photographer, and Chapter Chair of the Explorers Club, George Kourounis. In addition to his incredible insights, it was reassuring to have someone like George along who is equally comfortable while surrounded by great white sharks or standing on the crater's edge of an exploding volcano. Who needs Bear Grylls when one has George Kourounis?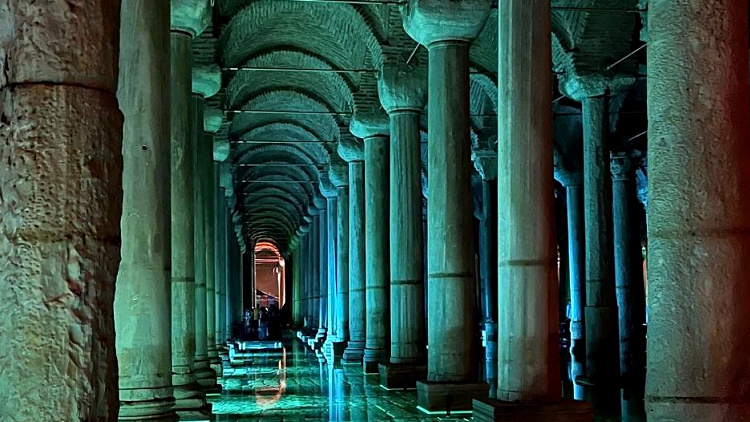 Put on Your Walking Shoes to Explore the Sights of Turkiye Solo
Our first day did not include any great white sharks or active volcanoes as we strolled through the ancient streets of Istanbul, but it did include many historical monuments that I've only learned about online or in popular culture.
Visitors to this great city should note that there is a good reason why Istanbul is called the City on Seven Hills, so be sure to wear comfortable shoes when exploring on foot. Walking and public transit are the best ways to explore the city as traffic can become quite congested during the day.
The Hagia Sophia was originally built as a Christian Church in the 6th century, but over time it was converted into a mosque, then a museum, and is now a mosque again. It was an important monument for both the Byzantine and Ottoman Empires. During your visit, don't forget to look up and admire the dome which is second in size only to the Pantheon in Rome.
The Sultan Ahmed Mosque, more commonly known as the Blue Mosque, gets its name not because of the blue dome on the exterior, but because of the blue tiles that encircle its interior walls. It has been a UNESCO World Heritage Site since 1985, and was built between 1609 and 1616. Unfortunately, during my visit it was mostly covered in scaffolding due to renovations, but what I did see was quite stunning, so I can't wait to return again after the renovations are complete.
Beneath the streets of Istanbul is the Basilica Cistern. Built in 523 it has beautiful columns that make it look cathedral-like, and while you may not have visited in person, any fans of James Bond will recognize it from the film From Russia with Love.
During your visit to the Basilica Cistern, look out for the column that has the upside-down head of Medusa at its base. I don't know if anyone truly knows the reason for this, please tell me if you do, but I was told the commonly accepted theory was that they were simply reusing building materials from a previous project to build this one. That makes sense to me as the chamber would have been filled with water and not intended as a tourist attraction at the time it was built.
The Best Exchange Rates in Istanbul
Starting in 1455, the Grand Bazaar in Istanbul is one of the oldest shopping malls in the world and one of the largest with over 4,000 stores! Visiting is a fun adventure, especially for shopaholics as you'll find just about anything here. You should definitely bargain with the merchants to really get into the spirit of things.
Surprisingly, I found that the currency exchanges in the Grand Bazaar had the best rates I'd seen in Istanbul. Unlike most other currency exchanges, the ones in the Grand Bazaar often had rates identical to what I would find online and there was no additional service charge for the transaction.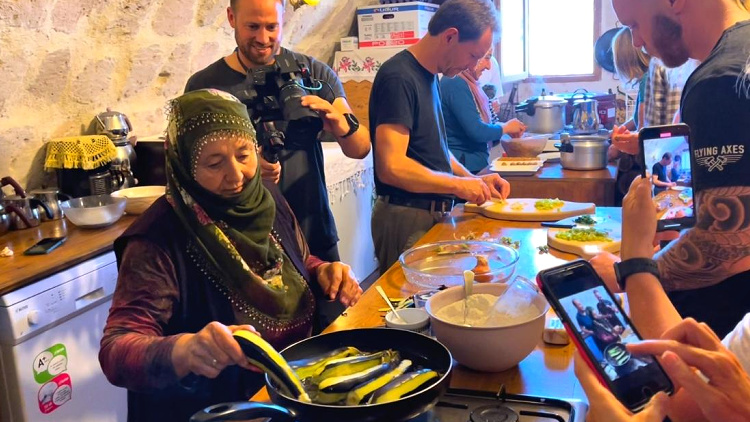 Enjoying Home Cooking in a Village House in Cappadocia
A quick flight from Istanbul to Kayseri settled us into the heart of Cappadocia where Exodus arranged for us to join a local family for a cooking lesson and a home cooked meal. We were warmly welcomed into the family's home, which had been renovated to accommodate a cooking school and restaurant for visitors.
It was amazing to be able to get to know this family and to get firsthand instruction on how to prepare traditional Turkish delicacies such as börek, dolma, manti, and so many more! I can't emphasize how much I enjoyed this experience and how lovely it was to meet this beautiful family.
I'm glad Exodus arranged this opportunity for us to directly support a local family business here in Turkiye. This is an example of an opportunity that is more easily accessed on a small group tour than when traveling independently.
I especially felt like a member of the family when grandma anointed me with the Turkish name "Kamil" so that she could more easily call me out when I was making culinary missteps. I promise my cooking skills are better than what was on display in Cappadocia. If you're traveling in Turkiye solo, but don't have time for a full cooking lesson, just swing by Cappadocia Home Cooking for a meal to experience some authentic and delicious Turkish comfort food.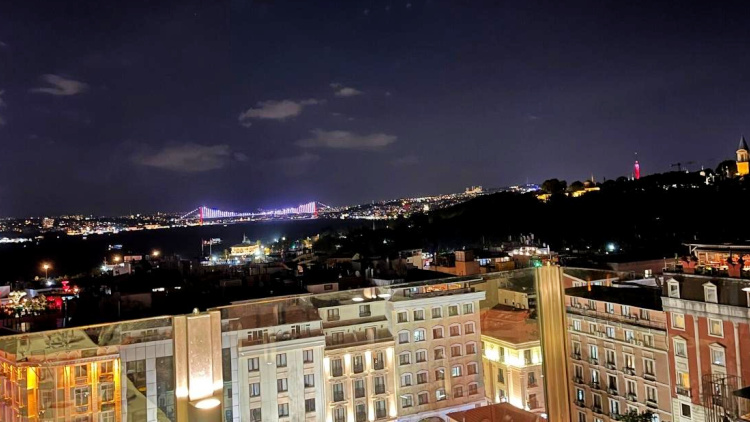 Quick Tips for Enjoying Turkiye Solo
I'll share more about my adventures in my next post. For now, here are a few quick tips that will make your trip to Turkiye go more smoothly.
Don't drink the tap water. While you can use it to wash your hands or shower, you'll want to get bottled water for drinking.
Don't accept the first price that you're given at the Bazaar or any shop where prices aren't marked.
If you see someone drop something, just inform them that they've dropped something and do not pick it up and return it to them. Unfortunately, there are many people looking to take advantage of tourists, and these artificial situations created to engage tourists often result in you being pressured to provide a donation.
It's common in Istanbul for foreign men to be targeted by locals in the evenings, near areas with nightlife. Scammers will attempt to befriend you and invite you to join them for drinks at a bar or club. Whatever you do, do not join them for this drink, as you will likely find yourself out hundreds or thousands of dollars when they leave you with the bill. The bill will also be accompanied by several large people who will be there to encourage you to pay.
Those on an organized tour–like the one I was on with Exodus Travels–will avoid the more serious issues I mentioned above as the scammers don't approach people with a professional tour guide. Your guide will also make sure to inform you of any safety concerns should you decide to explore on your own.
Even on a self-guided tour, Turkiye is safe for foreign tourists as long as you do the proper research and exercise the same precautions you would in any city.
Stay tuned for more fun as I share stories from this amazing trip!
Thank you to Exodus Travels for sponsoring my trip on their Walking the Ancient Trails of Cappadocia – Premium Adventure. All experiences and impressions are my own, and Solo Traveler maintains complete editorial control over all content.