I'm so pleased to share with you a post by Catherine, a Canadian member of the Solo Travel Society on Facebook. Here, she shares the story of a group tour in Iran that she joined in order to live out her dream of exploring the country.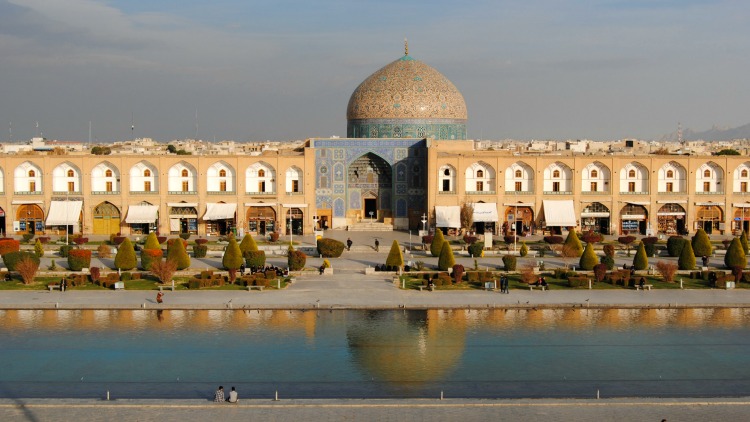 "Why?"
"Is that safe?"
These two questions and blank stares were the three most common reactions I received when I told people I was traveling to Iran on holiday.
It was obvious that most of my friends and family did not share the same excitement I felt when an email arrived from my Turkish friend to say he was leading a tour to Iran.
I signed up immediately. Immediately everyone questioned my sanity.
I have wanted to visit Iran for a long time. I majored in art in university and have always been fascinated by the beauty and history of ancient Islamic lands. Turkey is my favorite country, so Iran was the obvious next step for me.  
Why a Group Tour in Iran?
As a Canadian, in order to gain entry, I was required to take a group tour in Iran. Lots of great companies offer beautiful itineraries since we can't travel there alone. I chose to go with SRM Travel, a company based out of Istanbul, due to my connections and past experience with them. I knew it would be an amazing, well-run tour, and it was.

Assistance with the visa process was probably the number one reason I was so grateful to have signed up for a tour. Obtaining a visa for Iran is certainly not for the faint of heart – but so worth it once you get there – and I cried no less than four times before that visa finally landed in my hands at the very last second. I never handle bureaucratic things well, and this was a whole other level.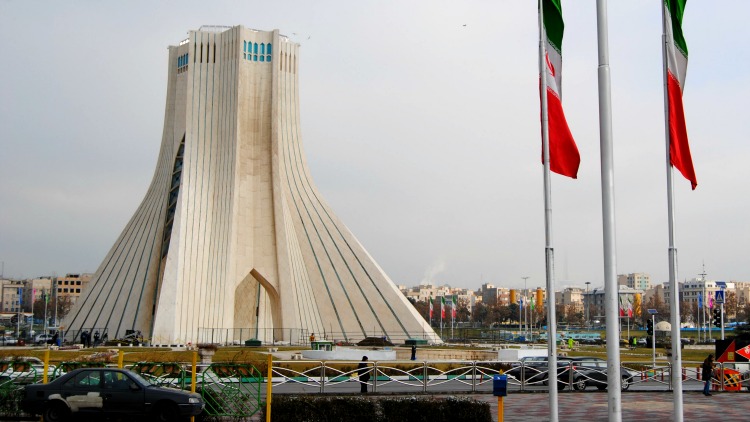 Setting Off for Tehran
Our group met and began our tour in Istanbul, a place most of us were very familiar with. It was nice to recover from our jetlag and get to know each other over Turkish food and a boat trip down the Bosphorus. The following day, we were off to Tehran. From the time we stepped on the plane, we were greeted with the friendliness and curiosity that we would continue to encounter from the Iranian people throughout our entire trip.

Upon arrival at Imam Khomeini International Airport, I think all of us were a little nervous about how we would be received upon entry. My entire group, except for myself and one other Canadian, were American. Luckily, my experience was painless as the officer just looked in his computer, then at my passport, and pleasantly thanked me. I couldn't see what was happening with my American friends as we were separated, but eventually we all arrived on the other side, let out a collective sigh of relief, and were ready to begin our adventure!

We hopped on our coach and headed to our hotel. As I looked out the window at the insane traffic and bustle of a big city that was so different from any big city I'd ever visited, with its lack of anything familiar, it finally sank in as to where I was. I couldn't believe it!

I love cities, but unfortunately, I felt like our group tour in Iran didn't provide enough time to really explore Tehran. However, we visited some amazing and important sites, similar to ones that you would expect to find in any capital city: the Museum of Ancient Iran and the Museum of the Islamic Era with its ancient artifacts; the Iran National Bank, which houses the exquisite Imperial Crown Jewels of Persia; and the magnificent Golestan Palace, with its beautiful gardens and sweet stray cats.

Our trip was in late November, and although the Persian gardens had a unique beauty at that time of year, it was nowhere near what it would be like in the spring. I think that would be the best time to visit Iran.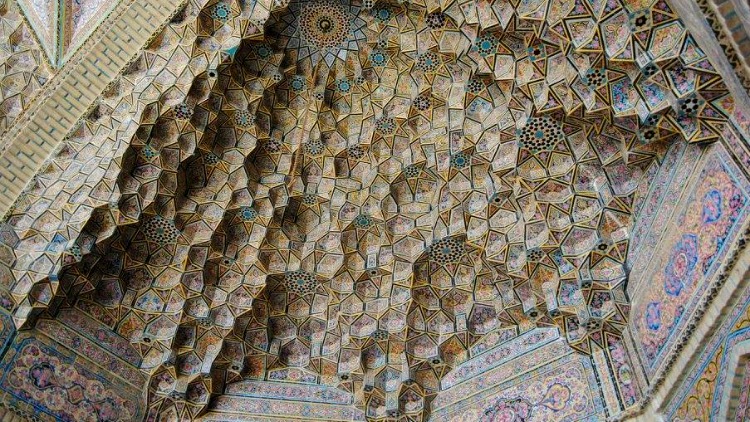 Next Stop: Shiraz
There is no place more wonderful for gardens than Shiraz, our next stop, where we spent a cool and sunny day visiting the Eram and Narenjestan Gardens. Shiraz is also famous for its art and poetry and we could not leave without a visit to the mausoleum dedicated to the famous poet Hafez.
As in all of Iran, Shiraz has plenty of beautiful mosques. My favorite is the Nasir-Ol-Mulk with its gorgeous stained glass windows which create breathtaking colors throughout the mosque when hit by the light. And, of course, no visit would be complete without some time wandering around the Vakil Bazaar and being tempted by all the beautiful textiles, jewelry, and spices. I had to be extra careful with my money in the bazaar, not because of crime and pickpocketing, but because Iran is very much a cash society. ATM's are not readily available for foreigners, most places do not accept credit cards, and there are limited opportunities to exchange money. I was not happy to have to strongly consider wants vs. needs. I wanted to buy everything!

Shiraz and its surroundings are located in the province of Fars. We spent some time exploring the sights and learning about the ancient dynasties of the area on our way to meet the Qashqai nomadic tribe, who make their home in the mountains outside Shiraz. I think everyone on my tour would say that this was one of the highlights of our trip. The hospitable Qashqai people taught us about their history and way of life and treated us to a delicious and huge homemade lunch as we sat on the beautiful carpets in their yurt.

A visit to Persepolis would be our final big day in Shiraz and the day I had been waiting for. Never in my life did I think I would ever get to see this. The complex is grand and magical, and we had a spectacular day exploring and mingling with Iranian tourists. Then we made our way to discover the ancient tombs and UNESCO sites of Naqsh-e-Rostam and Pasargadae.

Islam is the religion that comes to mind when we think of Iran, but the Zoroastrian faith was the predominant religion in ancient times and this was the focus of our next stop in the city of Yazd. We visited the Zoroastrian fire temple and the Towers of Silence, the burial place for Zoroastrians, and learned a little bit about their beliefs and history. We also explored the cozy, narrow streets of the old town and visited their famous wind towers. Our evening was capped off with a visit to a Termeh textile shop and candy shops in the Amir Chakhmaq Complex.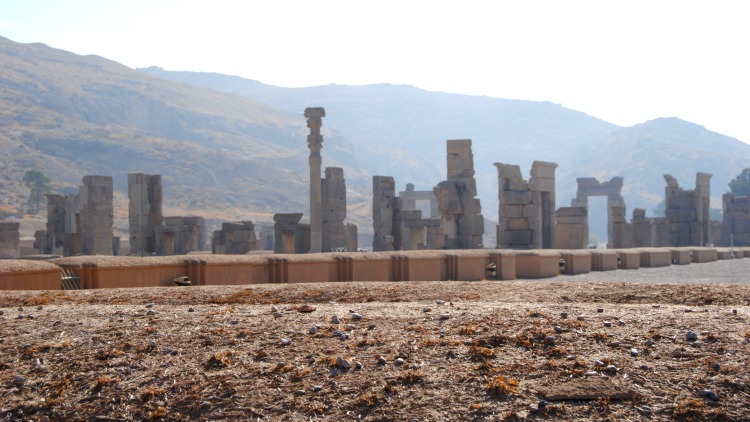 Exploring the City of Isfahan
Isfahan was the city I was most excited to visit and it did not disappoint me. It is a vibrant, youthful city with a cool vibe and stylish people. My hotel balcony had a stunning view of the famous Si-o-Se Pol bridge and the (dry at that time of year) Zayandeh River, with its beautiful riverbank walk and park area. It was a short stroll through the city to the magnificent Naqsh-e Jahan Square where you could easily spend a full day visiting the Imam Mosque, the Sheikh Lotfollah Mosque, the Ali Qapu Palace, the Qeisarieh Bazaar, and just hanging out in the lovely square chatting with locals. We also learned about the Armenian presence in Isfahan by visiting the stunning Vank Cathedral and a neighborhood carpet shop.

No group tour in Iran would be complete without enjoying the delicious food! I love Persian food and I live in an area with a large Iranian population, so I was very familiar with what I would be eating. Our typical meals on our tour would be either buffets or shared platters of grilled kabobs, tomatoes, salads, stews, and rice. The meals were delicious. However, by the time we got to Isfahan, and being a group of North Americans, we couldn't resist sampling all the fast food which was everywhere in Isfahan (to the amusement of the locals, of course). Iranians do great fast food and I think it is actually real food, as it tasted so much better than what I get at my local joints. We indulged in burgers, fried chicken, fries, and hot dogs and it was a funny and memorable experience – three nights in a row.  
Our final overnight stop was in the rust-colored village of Abyaneh where we visited a school and met the kids, some of whom would later take us on a tour of the surrounding mountains. They knew where to get the good photos! We enjoyed meeting the local people and learning about their traditional dress, sipping tea in a wonderful tea house covered in outrageous knickknacks, and strolling slowly in the quiet village streets.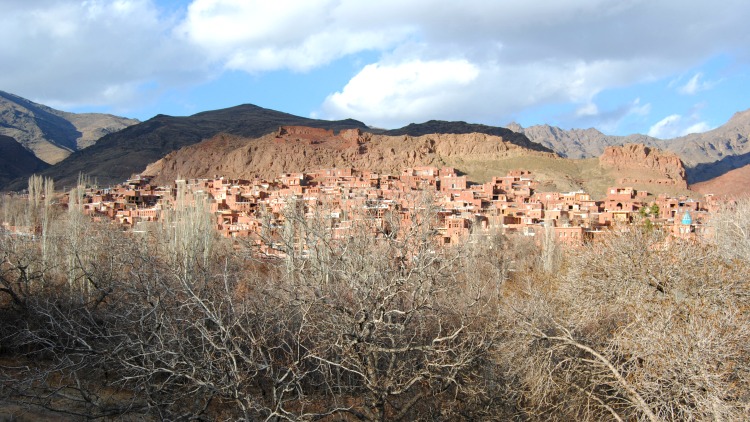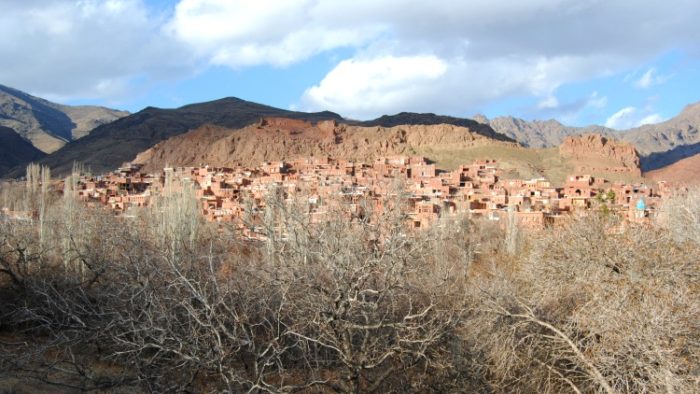 Heading Back to Tehran
On our way back to Tehran, we stopped in Kashan to visit the Tabatabai Residence, one of the historic mansions which Kashan is famous for, and visited the Khomeini Mausoleum, which I couldn't tell you a thing about other than it's very grand. Immediately upon passing through security, a young woman grabbed my friend and I because she wanted us to talk to her and her family. We sat on the beautiful carpets and just chatted with them until we had to go. That is Iran. You have to accept that you may not get to see everything because everyone wants to talk, and it's wonderful.

On our final, snowy day in Tehran, we took photos at the Azadi Tower and stopped to visit the US Embassy. I find the political complexities of Iran very difficult to understand, especially when it comes to relations with the US, but I don't think anyone could go to Iran and not give thought to the politics of that country with all of the visual imagery that surrounds you. I did not encounter any hostility being from North America and all of us – Canadians, Americans, and Iranians – just wanted each other to understand that governments are not a reflection of the people. Even if it was just for a short time, I think we all proved that it is possible to have meaningful and special connections despite the animosity that other agendas try to create between us.

As a Canadian, I was not met with the same level of fascination as my American friends, but I can say that all of us could not have asked for a warmer, more hospitable welcome from the people of Iran and meeting them was the most special part of our trip. They never hesitated to approach us to practice their English, get to know us, take photos, and show off their history and culture. They wanted nothing more than to welcome visitors and share their beautiful country.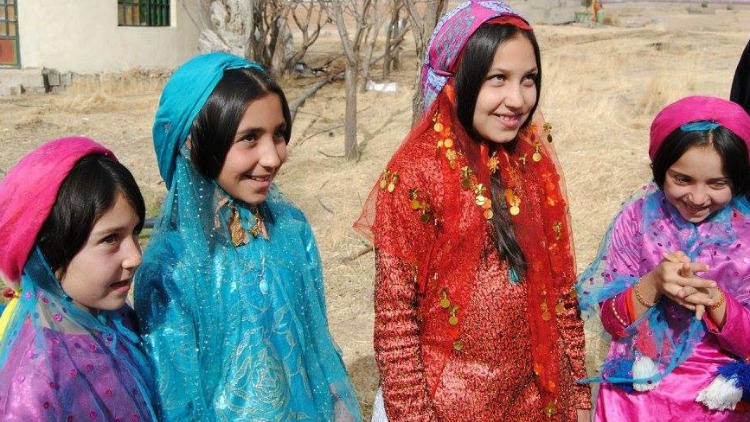 A Dream Fulfilled on a Group Tour in Iran
As for the big concerns my friends and family had around safety, I found Iran perfectly safe to visit. I think a tour is great for an introduction to a country that is very different from one's own, with customs and a culture that visitors must adhere to. I found it easier and more fun with a group. It is a special place, and it was nice to have people to share that with. The biggest danger I encountered in the country was the traffic, but even then, as you nervously cross the road, you'll receive a warm smile and a wave as the locals zoom around you.

My group tour in Iran definitely fulfilled a dream for me. The only complaint I have is that it wasn't long enough. Twelve days offered a great introduction to this incredible country, but it is a place that demands and deserves so much more time. Oh, well. I have a good excuse to go back!
You might also enjoy this post: Solo Travel Destination: Iran.