I'm pleased to introduce my friend and semi-solo traveler, Elizabeth. I say semi-solo because on her trip to South Africa last year she traveled solo through London then landed in the lap of friends in Cape Town. But, true to her adventurous spirit, she traveled solo again as she took on challenges that didn't interest her hosts. Elizabeth's adventurous side and huge enthusiasm for life is well worth sharing. You can read her travel story below. On her website you can learn how she helps people juggle priorities with less stress making more time for themselves.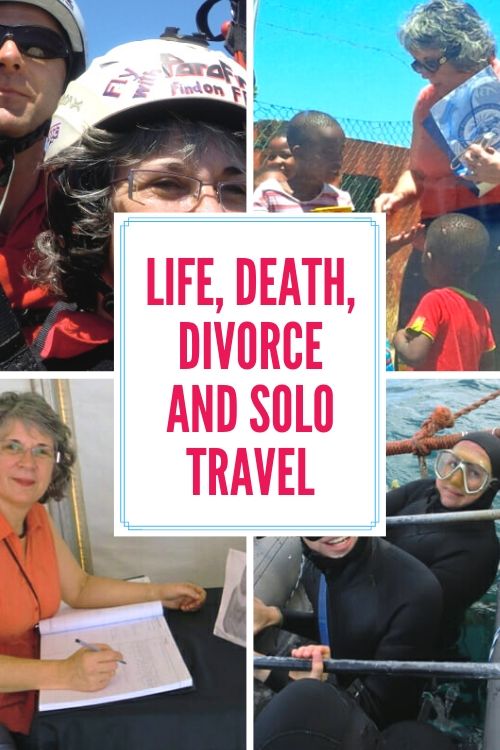 To mark my divorce, I took the trip of my lifetime in December 2013 to Cape Town, South Africa. After 36 years of marriage, I felt I'd earned something special. Something to launch me into my new reality.
This trip had the perfect blend of meeting new friends, adventure, and experiencing history. It brought into focus the dance between life and death, and how I am choosing a brand new path!
New Friends
Moving into an apartment of my own I gained new neighbors and new friends. One invited me to visit her family in South Africa. I decided to accept her kind offer and arrived in Cape Town a few days before she herself returned home for her annual visit. I met her lovely mother and extended family before she arrived. They welcomed me like one of their own. Her family hosted a party while I was there and I met many local friends. I was lucky enough to spend Christmas with them too – my first Christmas in a hot climate.
Solo Adventures
As soon as I booked my trip, I knew that I wanted to go Shark Cage Diving. While such activities were high on my list, they were not on my friends' so this I had to do solo. It was all that I had hoped for in a safe adventure. We went out into the ocean about 15 minutes and were able to attract five Great White Sharks with bait outside the cage. They swam toward the bait, gliding silently past the cage. An amazing sight to behold! The rules are simple. Keep you hands and feet well within the cage and no one gets hurt. I have to admit that I had to move my hands quickly at one point, when a dorsal fin of a shark entered the cage as he turned away. I was in no real danger, but my heart did race a little faster.
My second solo adventure was Tandem Para Gliding. Ok, I wasn't solo in the air but again, I was the only one that went for this opportunity – on Friday, December 13. I had not planned to jump off Signal Hill (just outside of Cape Town), but the trainer seemed to think it was a good idea. Before we departed, he was having trouble getting the wind current App working on his phone which made me a little nervous. He reassured me that he had been doing this for 15 years, even before the App was invented. So I went with it and even took over the controls for a bit though I didn't enjoy that as much as I thought I would. The biggest surprise up there was that it's absolutely silent. You watch life go on below like an eagle, and it sounds like you're in a sound vacuum. No noises. No wind. Quiet. Calm. Very peaceful.
Experiencing History
I departed Toronto on December 5 – the day that Nelson Mandela died. I learned of his death in the departure lounge at Pearson International Airport. I arrived in Cape Town two days later as world leaders started to arrive. While I had mixed feelings about what Mandela's death might mean for my trip, it was a privilege to celebrate his spirit in his home country. I was concerned about the reaction to his death, but I met only one woman who thought there might be violence once he was buried. Happily, this was not the case.
There were tributes to Mandela all over the world but what took place in Cape Town was special. A seven-hour tribute at the stadium. To get in locals had to provide ID and even then there were only a limited number of tickets available. My friends were kind enough to arrange for tickets and allow me to have one. I will always be grateful that I had that unique experience. The day was filled with speeches and music by local African artists and performances by international musicians as well. Beyond the stadium, there were political parades and gatherings. And, at City Hall, I was able to add to a book that will go to his family. I was proud to write that Canadians deeply admired what Mandela had done for his country.
Connecting with My Personal History
It is commonly believed that the Indian and Atlantic oceans meet at the tip of Cape Point. There is some controversy about the exact point where they meet. Most now agree that it is at a point, the actual southernmost point of the continent, just southeast of Cape Point. My Grandfather sailed around the Cape of Good Hope when he went to sell his ship in 1919. He had sailed from Liverpool, Nova Scotia and it gave me goose bumps to think about that journey. Once he sold the Success, he took the train to a nearby port commonly visited by ships he knew and hitched a sail home. He must have taken over a year to get home to his family. In that time, his wife had discovered that she was pregnant and birthed a baby girl who only lived 9 months before she died. I was inspired by the strength of my grandmother to have gone through all that on her own.
Stepping Out of My Reality
My new friends and I had accomplished a long list of fun things when we decided to buy some small gifts and visit a few children in an Informal Settlement or Township. Visiting Kya Mandi Township changed me.
This is where the working poor live with their families. Their homes are made from salvaged or stolen building materials and the electricity is tapped from the power lines. There is no social safety net. It's generally unsafe for outsiders to venture into these communities.
We drove into this Township with the idea of looking for a store to buy a drink and wait for the children to arrive to see the tourists. We hoped to have the chance to speak to a few of the children who were on their summer vacation while we were there. We drove in and it was not long before we saw a small group of children playing on the sidewalk. When our car stopped they knew what to do. They ran over calling "Teacher, teacher" and were very eager to meet us. We gave out chalk and balls, and got out of the car to show them how to use the chalk for the childhood games we knew. And they asked for sweets, which we had not thought to bring.
We saw women working hard, washing clothes in basins outside their small shacks. There was laundry hanging out on many lines. The children were clean and well taken care of but the streets in the Townships smelled awful. The shacks are the size of an average dining room in my world yet they house entire families. There is no running water in these homes. We saw children peeing in the streets. We could smell the feces but did not see any.
The children were grateful for our small gifts and I wished I'd brought more. When I returned home to Toronto and saw the reactions of Canadian children I know opening their lavish Christmas gifts, I wished I could see some of the excitement that the South African children had with our small gifts. I wished I could set up a virtual child exchange program. And how can I send some of the children I know to experience these things so that they might appreciate the privilege of being raised in Canada?
I met 20 or so children and I wonder if all of them will live to become adults. Each day, 9,000 children die in Africa of preventable diseases. That's ½ of the children that die daily worldwide.
Yes – my visit to Kya Mandi changed me. I've seen these images on TV but to be there and interact with these sweet children amplified everything. After experiencing the stench and their tough living conditions, I wonder how I might have an impact on these conditions.
I'm left searching, and with amazing memories of this special trip. My trip of a lifetime has impacted the way I think about the images I see and the stories I hear. It's been an important part of my life makeover. I'm continuing to grow and search. And, I strive to live fully, all the days of my life.