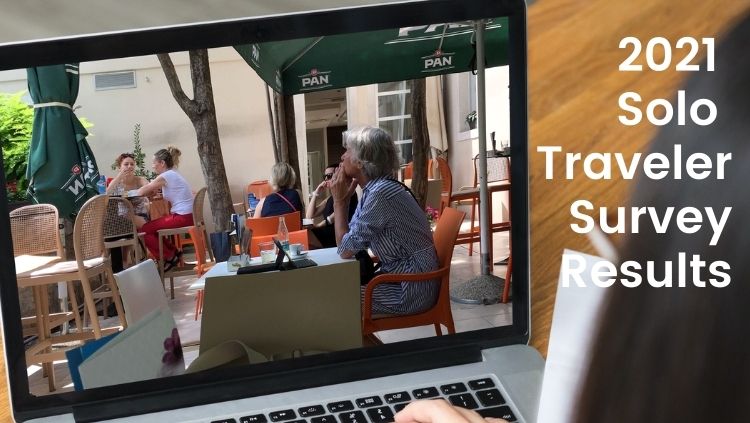 Our 2021 Solo Traveler Reader Survey results are in! We received a total of 2,359 responses this year. For a site our size, that's a huge number and significant enough for the travel industry to look at the results and take note!
Our thanks go to all readers and a special thanks to those who took the survey.
We are a small team of four at Solo Traveler and we have to use our time wisely. With your input, we can. And while we may make changes to what we deliver, our goals remain the same. We aim to provide:
Inspiration
Information
Advocacy
We try to make sure that every decision we make, every post we publish, and every project we take on serves at least one of these priorities. As always, this year's Reader Survey will help us fine tune our work in an effort to deliver what you need.
Some of the Reader Survey results shared below are comparing last year to this year. Others compare the responses from those over 55 to those under 55. Slicing and dicing the responses has revealed some interesting results.
Reader Survey Results: Solo Travel and COVID-19
What a difference a year makes.
When we launched our 2020 survey, a vaccine was still a theory. It was not yet available to anyone. Now that the vaccine has been widely distributed, priorities have shifted.
Last year, 77% of respondents said they would travel internationally if there was no requirement to quarantine at the destination. 65% wanted their destination to be open without an outbreak and 60% wanted there to be a vaccine before they would travel. Now, with the vaccine widely available, these standards have gone by the wayside. The largest portion of respondents, 66%, are looking for travelers and staff to be vaccinated on a trip and 58% want to see a high vaccination rate at their destination.
Why, How & Where You Want to Travel Solo
As you can see above, we've dug into the Reader Survey results to see the difference between travelers over and under the age of 55. It should be noted that the sample size of those over 55 was six times the size of the one under 55.
Interestingly, respondents over 55 were somewhat more restrained when indicating why and how they travel solo. Those under 55 ticked off more boxes indicating more reasons that they travel solo. They demonstrated a greater passion for more solo travel styles (with the exception of group travel) than those 55+.
Across all age groups there is very little appetite for traveling domestically exclusively, while about a quarter of people are only interested in international travel. The majority, three-quarters of respondents, are open to both domestic and international travel.
As for spending habits, most people in both demographic groups indicated that they typically spend $1,000 to $2,000 on a week of travel, excluding airfare. Beyond this group, those under 55 are more inclined to spend less and those over 55 are inclined to spend more.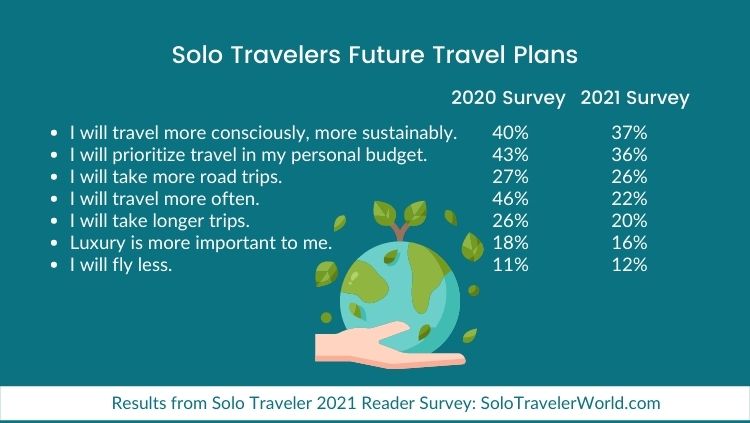 From all of us at Solo Traveler – Tracey, Simon, Tycko, and Janice – our heartfelt thanks for taking the time to share your thoughts and experience.
In addition to the Reader Survey results, you can find more information, industry research, and trends here: Solo Travel Statistics and Data: 2020-2021.