Are you dreaming of solo travel to India?
If so, you've come to the right place. Our friend, Canadian writer and India travel expert, Mariellen Ward not only publishes a travel blog about India called Breathedreamgo, she also offers tours through her company India for Beginners. What's more, she has travelled in India extensively over the past 17 years and has lived in the country for five years. Here she shares insightful tips for anyone planning to travel to India.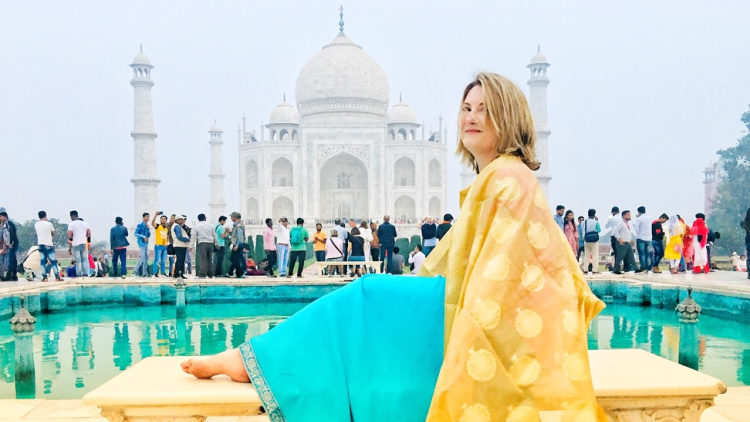 India is vast, crowded, and often overwhelming to first-time visitors. It helps to have either a friend or a bit of know-how in order to navigate the culture shock and the steep learning curve to travel in India. With these tips for first-time travelers to India, I hope to give you a head start on your India journey.
The more you can slow down and immerse yourself in the culture, the more you will get from your trip.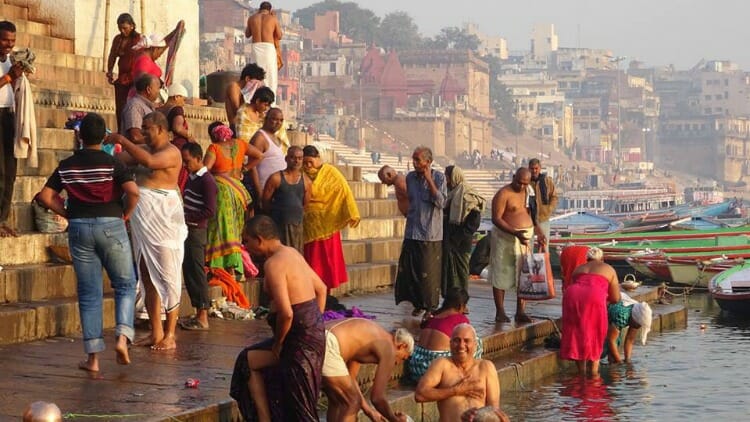 About Solo Travel in India
Solo travel in India is actually very popular. I am a solo traveler and I have spent more than eight years solo traveling and living in India altogether. Personally, I think India is a great destination to travel alone for several reasons. One, the people are friendly and warm, and traveling by yourself helps you to engage with local people and experience the culture. Two, India is a particularly good destination for voyages of self-discovery or spiritual quests. 
Many people, myself included, feel India is the most transformative travel destination for Westerners – and solo travel is the best way to have a transformative experience.
In fact, India is the destination of choice for many solo travelers and spiritual seekers.  Western travelers from Mark Twain to The Beatles, and from Steve Jobs to author Elizabeth Gilbert (who wrote the phenomenal bestseller Eat, Pray, Love) had profound experiences in India. If you go to India with an open attitude, you may also find the experience affects and changes you. 
Best destinations in India for spiritual transformation:
Rishikesh
Varanasi
Tiruvannamalai
Pushkar
Dharamsala
Safety Tips for Solo Travel in India
Safety is, of course, a concern for all travelers and especially solo travelers. The usual cautions about doing research, using common sense, following safe travel practices, and listening to your gut instincts apply, and here are several culturally specific tips to follow.
Watch for scams. The biggest danger tourists face in India is getting scammed. There are scam artists and con men everywhere, not just in the markets and bazaars. They prey on tourists at the airport and train stations, and in popular tourist spots, to take advantage of unsuspecting newbies. If a "helpful" man tells you that your hotel burned down, the chances are 100% that it's not true. It's hard to know who to trust in India, so you do have to have your wits about you.
Get a local SIM card. India runs on apps and WhatsApp so you will need it constantly so you can stay in touch.
Arrive during the daytime. Try to time your travel so that you don't arrive late at night, especially at train stations. If you absolutely have to arrive late at night, arrange for a driver to pick you up. They can wait on the platform, at your coach, so you don't have to be alone in the station.
Dress modestly. For women, ensure your shoulders, legs, and cleavage are covered, and avoid skimpy, tight, and see-through clothing. The exceptions are the beach in Goa and certain parts of Mumbai such as Bandra.
Take a tour. For your first solo travel to India, or the first few weeks if you are planning a long trip, take a group tour or a custom tour. You can take the time while on a pre-organized tour to learn about how to travel in India and build up your confidence.
My top safety tips for women traveling in India post offers more in-depth travel tips, specifically for women.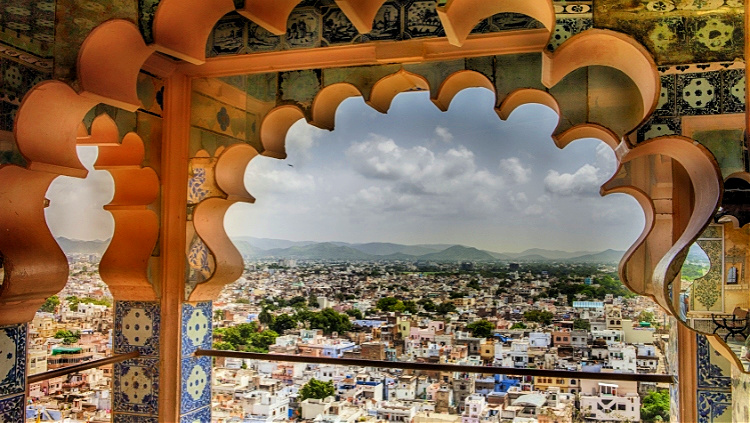 Where and When to Go
India is the seventh largest country on earth by size, and the most populous. The culture changes drastically from state to state. In fact, India is more like Europe, a collection of very different cultures, than one homogenous culture. And it's also a subcontinent, which means you have almost every type of geography and climate from the high Himalayan mountains to the searing hot Thar Desert, and from the lush jungles of Central India to the tropical beaches of the south.
When you travel solo to India, deciding where to go is the first order of business. A lot will depend on the weather. India has three seasons: winter (October to March), summer (April to June), and monsoon (June to September). Most people find October to March to be the most pleasant time to visit India. However, it can get very cold in North India in December and January, and also very foggy. Expect travel delays, especially around the Delhi area. In the very north, for example, Ladakh, it can be very cold and snowy in winter. June to September is the best time to go to Ladakh. May and June are the hottest months and best avoided.
The three seasons in India:
winter (October to March)
summer (April to June)
monsoon (June to September)
Most foreigners fly into either Delhi or Mumbai, both great cities to start exploring. Delhi is the gateway to the so-called Golden Triangle, which refers to Delhi-Agra-Jaipur. These cities are equidistant to each other and within driving distance, and they each offer a wealth of incredible monuments, bazaars, and experiences. Jaipur is the capital of Rajasthan, a very popular state that is well worth exploring.
Do not believe the negative media about Delhi and skip spending time in India's capital. There are so many things to do in Delhi – it is one of the most historic cities on earth and a culinary and cultural capital, too. Agra, on the other hand, is not a great place to spend a lot of time. Stay one night and see the Taj Mahal at sunrise. 
Best Destinations in North India
Golden Triangle (Delhi-Agra-Jaipur)
Udaipur
Jaisalmer
Amritsar
Rishikesh
Dharamsala
Mumbai is the gateway to South India for those who want to experience the tropical climate, palm-lined beaches, and unique cultures of states such as Goa and Kerala. South India is the ideal destination in December, January, and February when it is cold in North India.
Best Destinations in South India
Mumbai
Goa
Gokarna, Karnataka
Kochi, Kerala
Varkala, Kerala
Pondicherry, Tamil Nadu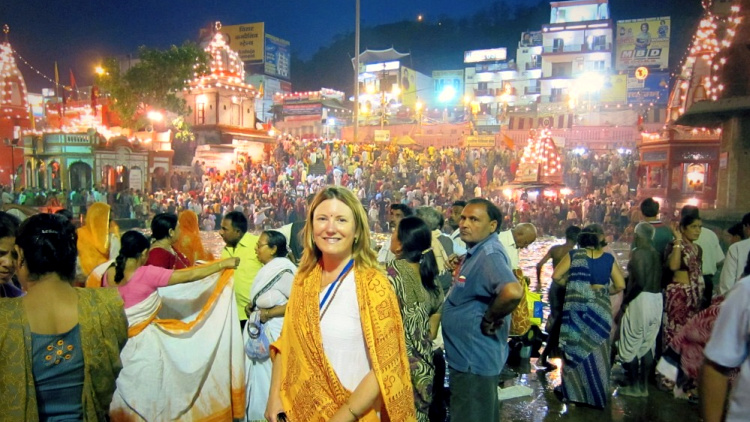 Things to Know When You Travel Solo in India for the First Time
India is a very different experience for many first-time travelers, especially those from Western countries, and the culture shock and sensory overload are real! There is a lot to learn about etiquette, customs, shopping, eating, and much more. These are just a few tips to get you started.
Avoiding Delhi Belly
Many travelers to India are understandably worried about getting sick. While there are no guarantees of avoiding Delhi belly, you can help prevent it by:
drinking clean water
avoiding ice and watery sauces
eating fresh, cooked food
eating fruit that is peeled
Staying Hydrated Safely
Buy bottled water (check to make sure the seal is unbroken) or carry a reusable bottle and refill it with filtered water. Every hotel, restaurant, and home in India has an RO (reverse osmosis) filter, and the water is absolutely safe to drink. On hot days, make sure you stay hydrated. Fresh lime soda, which is made with soda water, freshly squeezed lemons, and a mix of salt and sugar, is extremely hydrating and delicious.
Navigating Bathrooms
Indians traditionally don't use toilet paper, though that is changing and you will find it in higher-end hotels, fancy restaurants, and upper-class homes. Nevertheless, you can't count on it, so carry a small tissue pack and hand sanitizer with you. Most bathrooms have either a water hose (aka "bum gun") or jug so you can wash with water, and then pat yourself dry with tissue paper. But please don't put toilet paper in the toilet – use the trashcan (called dust bin in India). The plumbing in India can't handle toilet paper.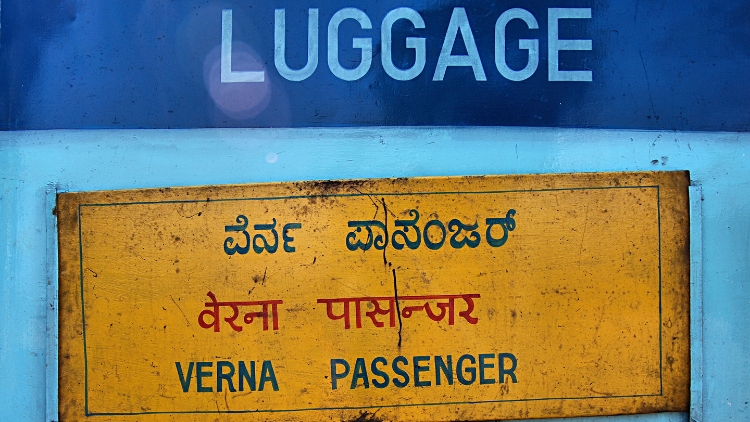 Train Travel
Traveling by train is a fun way to get to know India. The trains are often crowded and can be dirty, too, but if you have a sense of adventure, you should be fine. As a solo traveler, I have been all over India by train. You will have to book well in advance as trains often sell out weeks ahead of time. It is getting harder and harder for foreigners to use their credit cards in India – as India has an OTP (one time password) security system – so you may have to get a local or a travel agent to book your tickets. 
The train system in India is massive and confusing and will take time to understand. The best trains are:
Vande Bharat Express
Rajdhani
Shatabdi
Book 1AC (first class air conditioning) or 2AC (second class air conditioning) or EC (executive chair car) or CC (chair car), depending on the train. If you are on an overnight train, use a cable lock to lock your luggage to the bed frame, and bring a small bag with essentials you will need such as a toothbrush, tissue paper, hand sanitizer, socks, ear plugs, a flashlight, etc. You will be given bedding, but may want to use your own sheet sleeping bag for hygienic reasons. You can read all about train travel in India here for more tips.
Solo Travel in India: Accommodation
These days, you can book most accommodations in India on Agoda or Booking.com or Airbnb. These platforms may not be as reliable as they are in other countries so you do have to be extra diligent. There are a lot of fake reviews, for example, and even fake photos. Among other things you should check is location. Make sure you are in a safe and tourist-friendly area. In Delhi, I highly recommend staying in leafy, prosperous South Delhi. There are upscale hostels, charming guest houses, and small hotels to choose from, as well as some of the big brand hotels such as Marriott and Hyatt.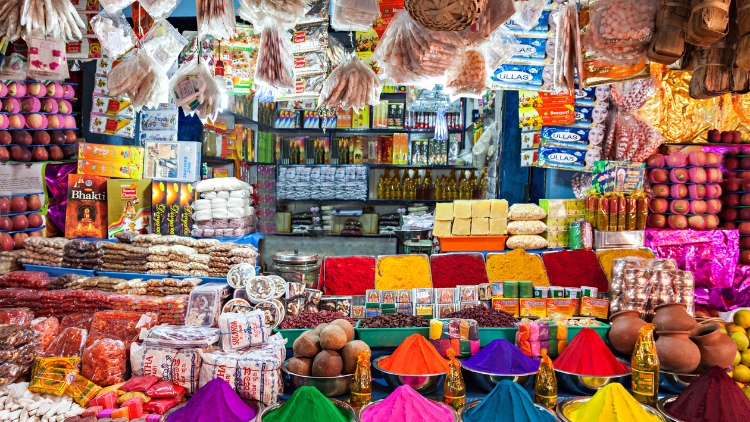 Shopping
India is a shopper's paradise. There are a lot of beautiful things to buy and you will be tempted. However, my advice is to not make impulsive purchases, especially if this is your first time traveling solo to India. It is almost guaranteed you will see something similar again during your trip. Take the time to learn about the quality of products so you don't end up buying things that fall apart in a week.
If buying expensive items such as jewellery, rugs, pashmina shawls, and furniture, get them authenticated before purchasing. There are a lot of unscrupulous salespeople who will happily sell fakes to naive and unsuspecting tourists. If you hire a guide or driver cheaply, the chances are very high that he will take you to a commission shop, where you will be fleeced.
You can bargain at outdoor markets and street bazaars, but many stores – especially upscale stores – sell only fixed-price goods. A good rule of thumb is to offer 50% and gradually settle on a price. In India, haggling is a fine art and should be done in a spirit of fun and friendship.
Here are some more posts to help you in your travel planning process: